Wearever Supreme c1950-1951
by Jim Mamoulides, December 29, 2002, updated March 19, 2017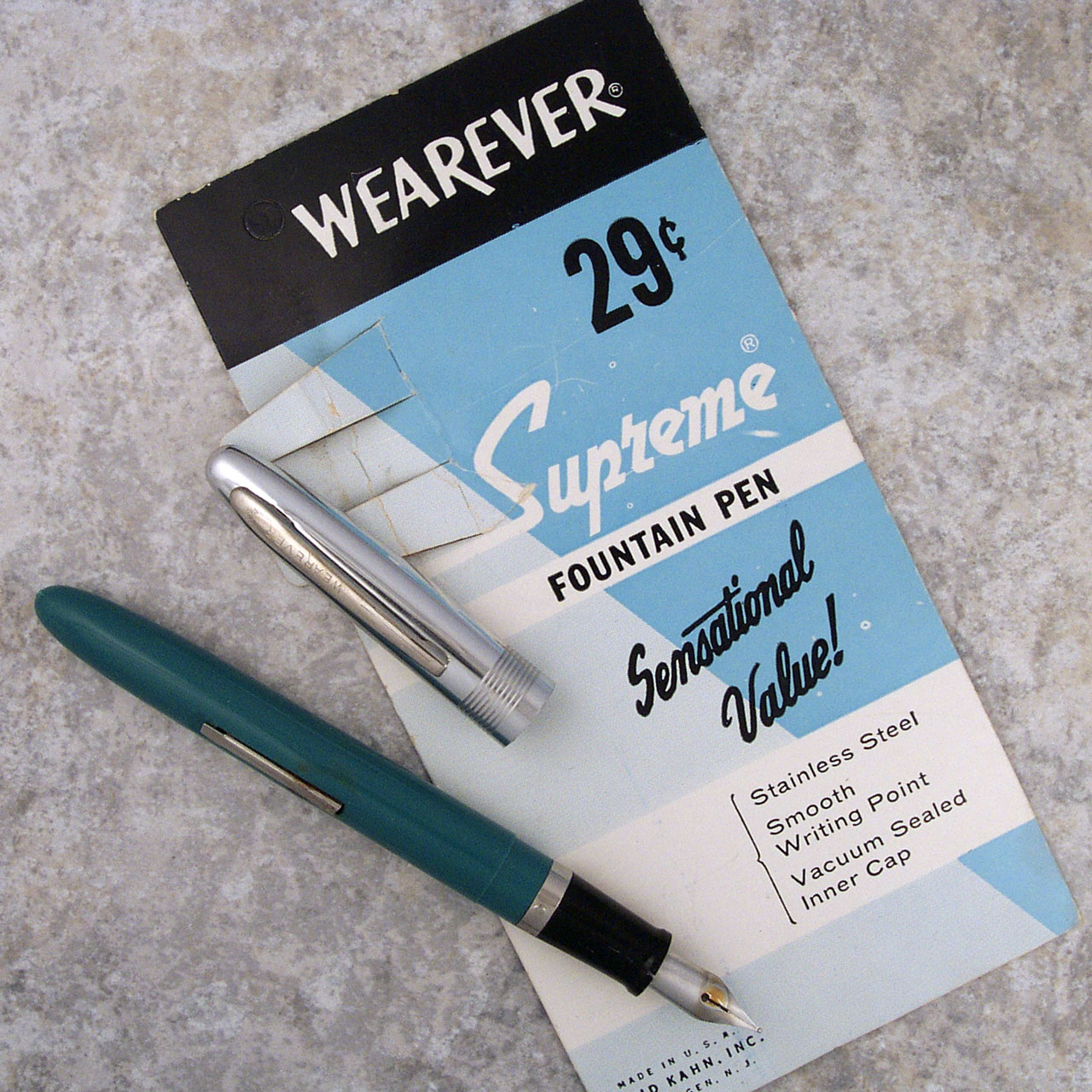 A Wearever Supreme fountain fen with its store hanger card
Supreme Act Two
Wearever applied for the Supreme name as a trademark in May, 1933 and used the Supreme name for its line of 14 karat gold plated stainless steel nibs. The nibs came in all gold plate for $2.50 a gross and half gold plate for $6.00 a gross. Wearever also sold a late 1930s line of plastic lever-fill pens similar to the Parker Parkette under the Supreme name.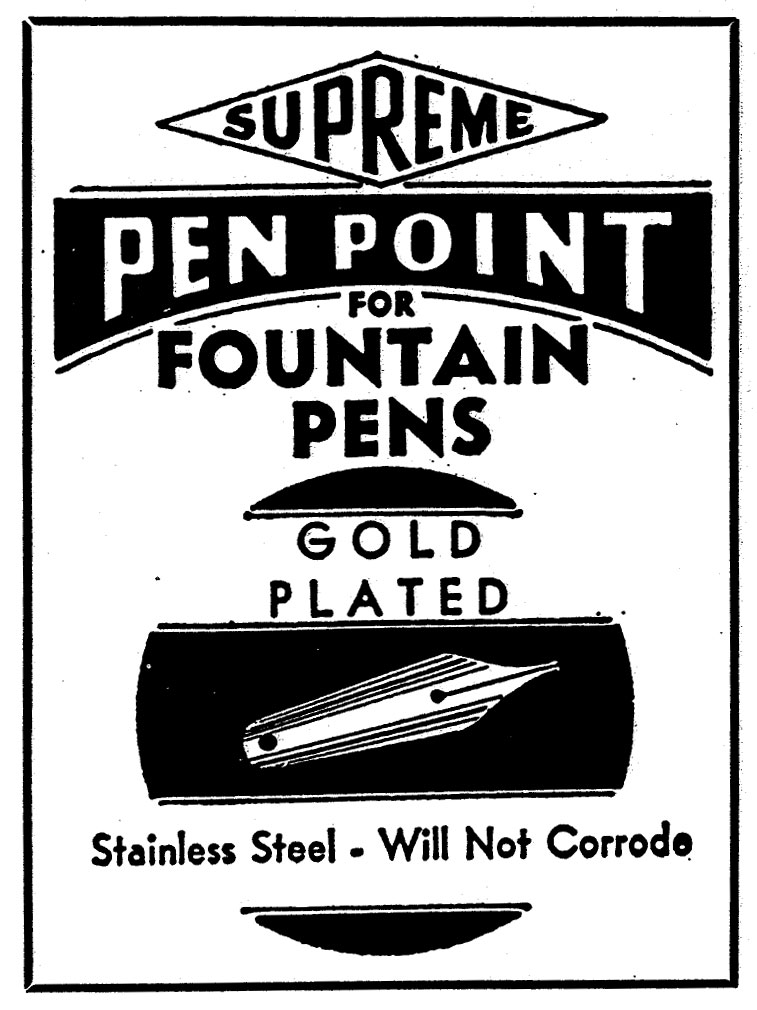 Detail from Wearever 1936 catalog
The late 1930s Supreme had a two layer cap top and barrel end. Some of these early Supremes came in wild colors, making them interesting collectibles, though not highly valued. These pens can usually be identified by "Supreme" stamped on the nib. The early Supreme's cap had gold or chrome plated rings and an angular front mounted clip similar in style to a Waterman Patrician clip. Some versions were pen / pencil combos. These Supremes are decidedly upscale from the pen so named in the 1950s, with 14-karat gold plated nibs and much detailing.
The poster child of cheapie pens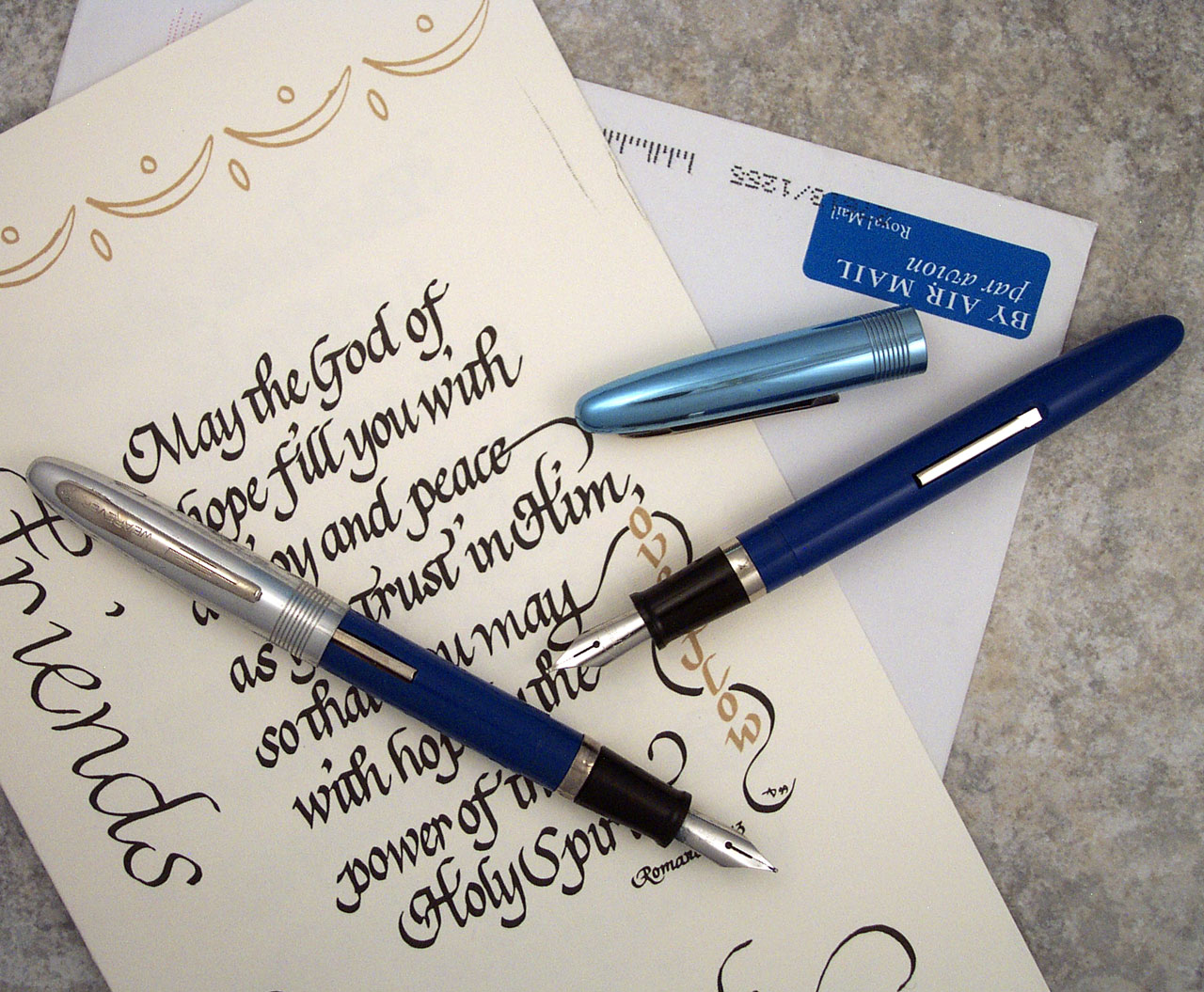 A pair of Wearever Supremes: blue with stainless or chrome cap and blued metal cap
The Wearever Supreme of the early 1950s is the consummate cheapie. This is the pen I think of as the example of how to make a cheap pen. It only sold for twenty-nine cents, so a lot of extras simply can't be put in.
Slip on cap? Not to follow the example of the Parker 51, but a necessity. No threading of the cap and barrel required, one manufacturing step out of the way. Everything chrome plated or bare aluminum? Keeps manufacturing simple. Stainless nib? Check. Solid injection molded plastic bodies? Check. File off the injection molding flan? Why bother? Check.
This is the ultimate simple pen. The cards they came on (Box? You want a box for 29 cents?), don't even have filling instructions printed on them. Everyone knows how to use a fountain pen! Check.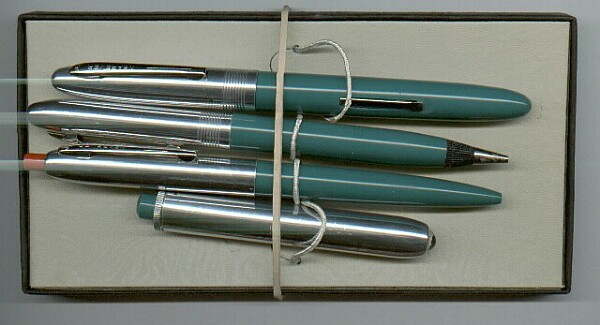 An interesting Wearever Supreme four piece set in Teal with fountain pen, pencil, ballpoint and penlight
The only upselling of Supremes is when they were sold in sets. Supremes eventually had matching twist tip pencils and push button ballpoints, which were sold separately on cards. Wearever packaged these into multi item carded and boxed sets. An interesting four piece set included a penlight that used single AA battery.
Identification guide and features: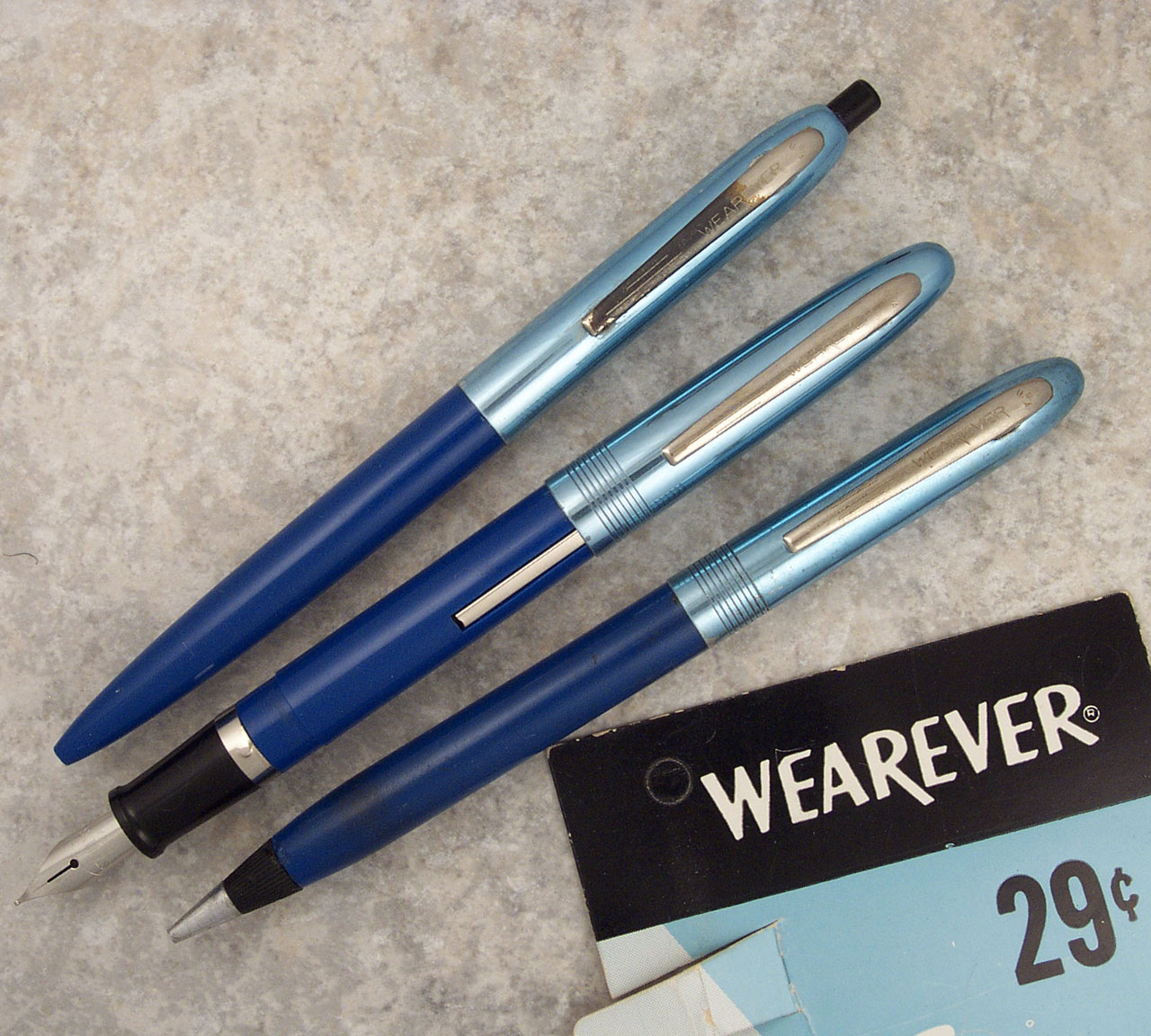 A Wearever Supreme Trio Set: ballpoint, fountain pen, and pencil in Blue with Blued caps
Wearever Supreme fountain pens were sold to dealers in a package containing a box of 24 pens and a countertop stand up display that the pens could be inserted into.
Injection molded plastic barrel
Metal cap (possibly lightweight steel or aluminum) with eight engraved lines as a cap band
Slip on cap
Plated clip with Wearever name stamped on the face
Stainless steel medium nib stamped "STAINLESS" over "U.S.A." on the face
Nib has no tipping - the tines are folded over to form a tip
Lever-fill mechanism
Standard barrel colors were black, red, green and blue
About 5 1/4 inches long capped and 5 5/8 inches with the cap posted on the end of the barrel
Retail price was $0.29
Sold loose or on hang cards
Noted variations:
Blue and gold tone color caps observed
Teal and bright red barrels observed
Gold plated nibs available, per a catalog page
Boxed sets with various combinations of matching pencil, push button ballpoint pen and penlight observed
Performance
I test drove two Supremes, both blue barrel pens, one with a standard metal (aluminum?) cap, and one with a blue tone metal cap. Both pens have stiff, but smooth stainless steel medium nibs. They write decently, but there's nothing memorable about it. This defines cheapie writing. I know some have extolled the virtue of writing with cheapies, but this is not cheapie nirvana. There are other Wearevers that write much better. The Supreme is a better writer than some other cheapies, certainly, but it's not a great writer.
The Supreme is a standard size pen, about 5 1/4 inches long capped and 5 5/8 inches posted. The cap and barrel are very lightweight, the cap is so light, in fact, that you almost don't notice it when it's posted. The cap posts easily and deeply. It's not coming off.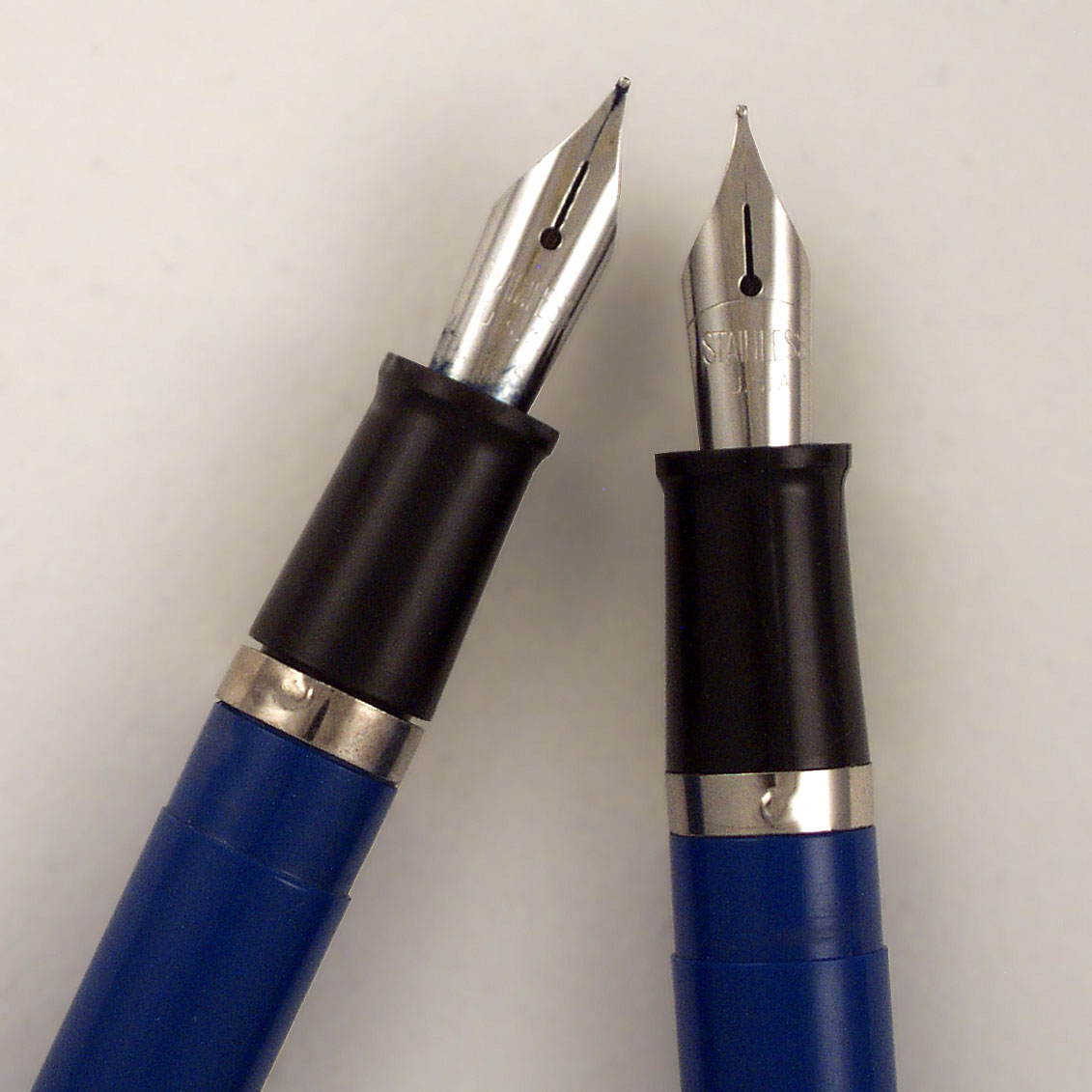 Two Wearever Supreme nibs
The pen has the right balance for writing, and could be used a long time without fatigue. This is a simple writing tool. It fills with a couple of hard strokes and a count to ten. The clip is very tight and will probably only fit over thin shirt material. There's no spring. The pen sits high in the pocket, due to the front mounted clip.
Everything about this pen says, "made in big batches really fast." The fit and finish are of the snap and go variety. Lots of variation and gaps everywhere. No sign of exacting standards being used. These pens were tools, not baubles, and it shows. I suppose you could polish up a shine on the plastic, but good luck on the cap.
You can get boatloads of Supremes for not a whole lot of money, but I would wonder about making a big collection of them. If you're a die-hard cheapie fan and must have a big collection of them, look for mint examples. The caps are very prone to scratching, the metal plated parts will rust or corrode, and the stainless nibs will stain. On the plus side, if you like the way they write, they all write the same. Don't expect an untipped nib to last a long time, though. And like BIC ballpoints, if you lose it, you can probably find more just like it. There are a large variety of them out there.
---
References
Trademark Serial Number 73258955 stating first use May, 1933 issued to David Kahn, Inc.
Wearever Catalog countertop stand dated 1936, page 28
Wearever Supreme countertop stand dated 1950
Undated 1951 Montgomery Ward catalog page showing Wearever Supreme and other Wearever writing instruments
Undated Wearever Supreme hang card
Interact
Comments on this article may be sent to the author, Jim Mamoulides