Sheaffer Snorkel, Fern Green 1957-c1959
by Jim Mamoulides, August 21, 2016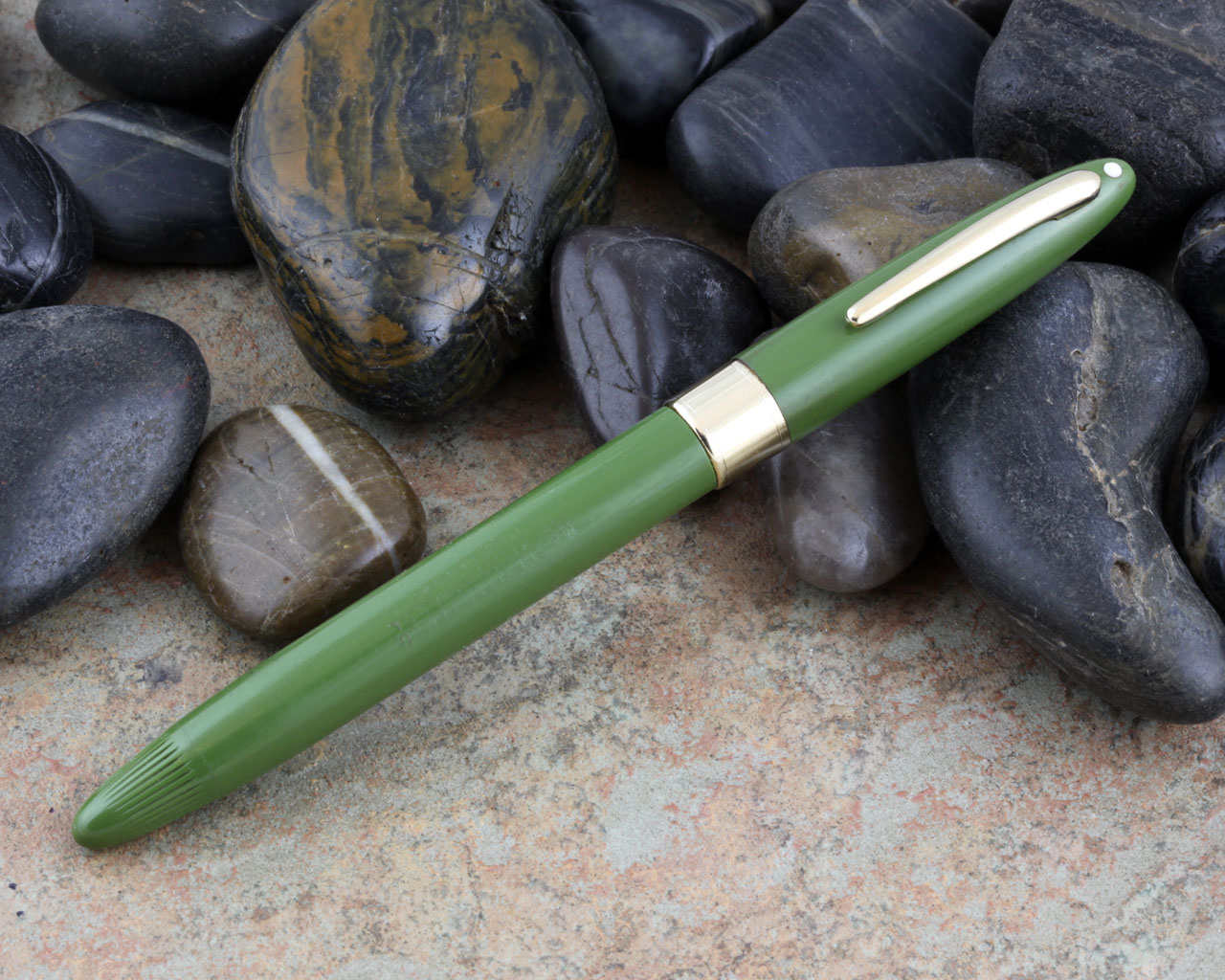 Sheaffer Snorkel Valiant Fern Green, closed
Click the image above to see a full screen slideshow
Avocado. That was my first impression seeing a Sheaffer Snorkel Fern Green pen. Some people have less flattering names for this color. It's lighter than the very common Pastel Green and darker than Sage Green. Many collectors say it's one of the most difficult colors to find, especially a pen with a Fern Green cap and barrel. I've been looking for a long time and I tend to agree. This is a tough color to find.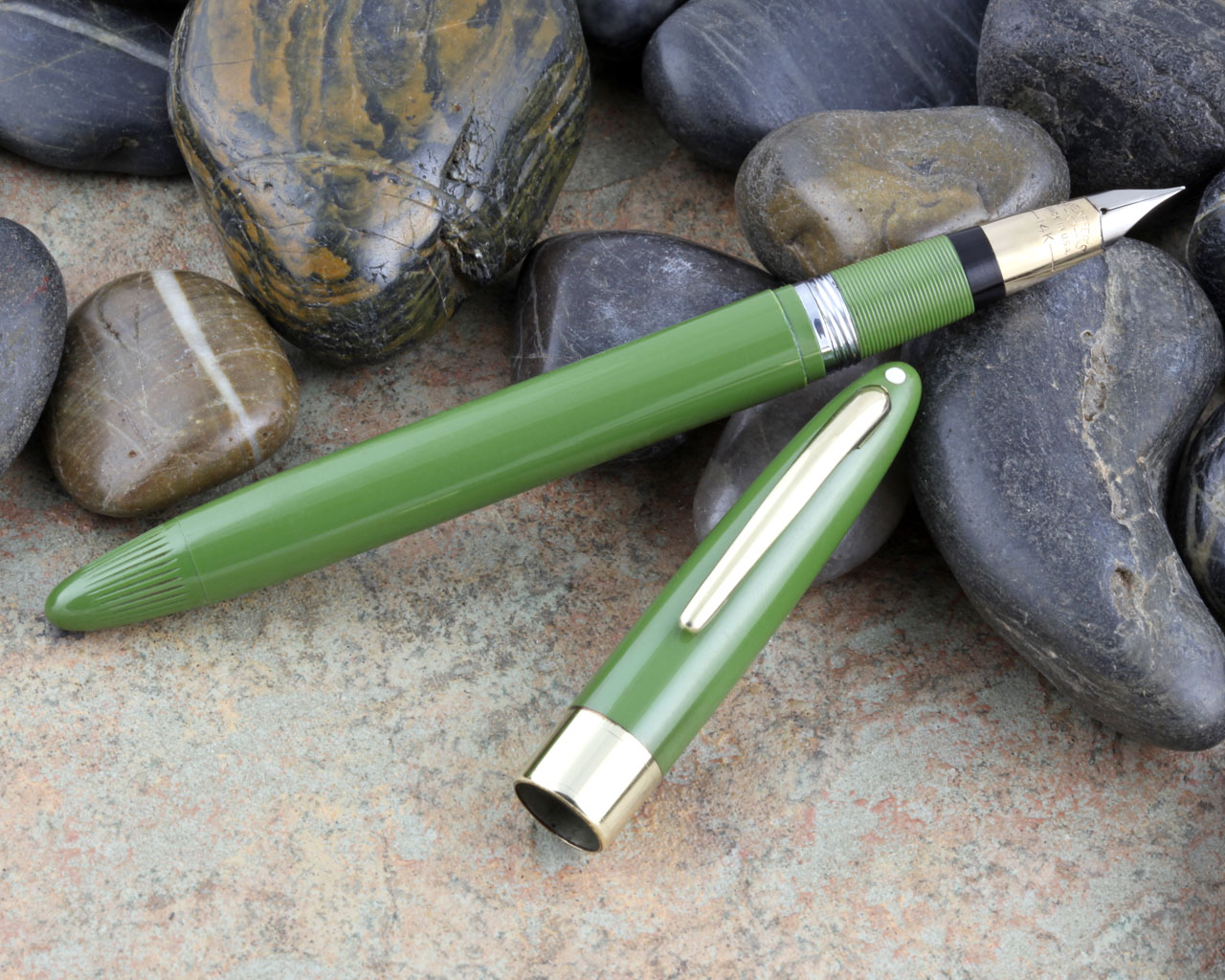 Sheaffer Snorkel Valiant Fern Green, open
At the 2016 Washington, D.C. Pen Show, I had the amazing good fortune to not get just one Fern Green pen, but two! A very nice Fern Green Valiant and another nice Fern Green Sentinel. Sheaffer made three Snorkel models in Fern Green: Valiant, Sentinel and Crest. I wanted a Fern Green Snorkel in order to show the three Snorkel green colors, Pastel Green, Fern Green and Sage Green side by side and to show each model variant. I at least needed an all plastic cap and barrel Valiant to represent all three versions if I swapped the caps from a Sentinel and Crest.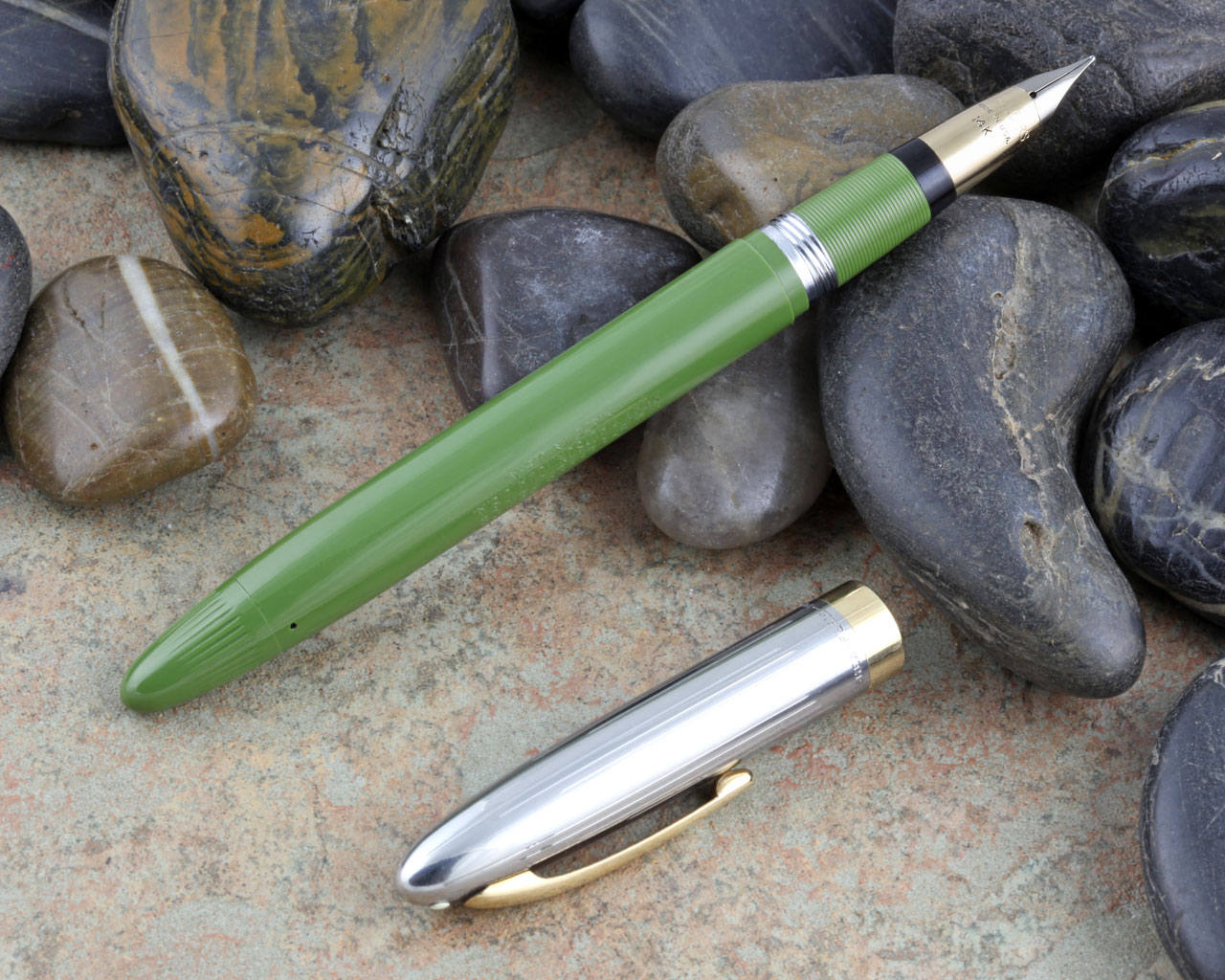 Sheaffer Snorkel Sentinel Fern Green, open
Getting the two Fern Green pens made me re-visit the history of Sheaffer Snorkel colors. Sheaffer began the Snorkel era in 1952 with five colors, not including the brown desk pen: Black, Burgundy, Pastel Green, Pastel Blue (or Aqua), and Pastel Grey (or Grey). All of these pens had black nib sections.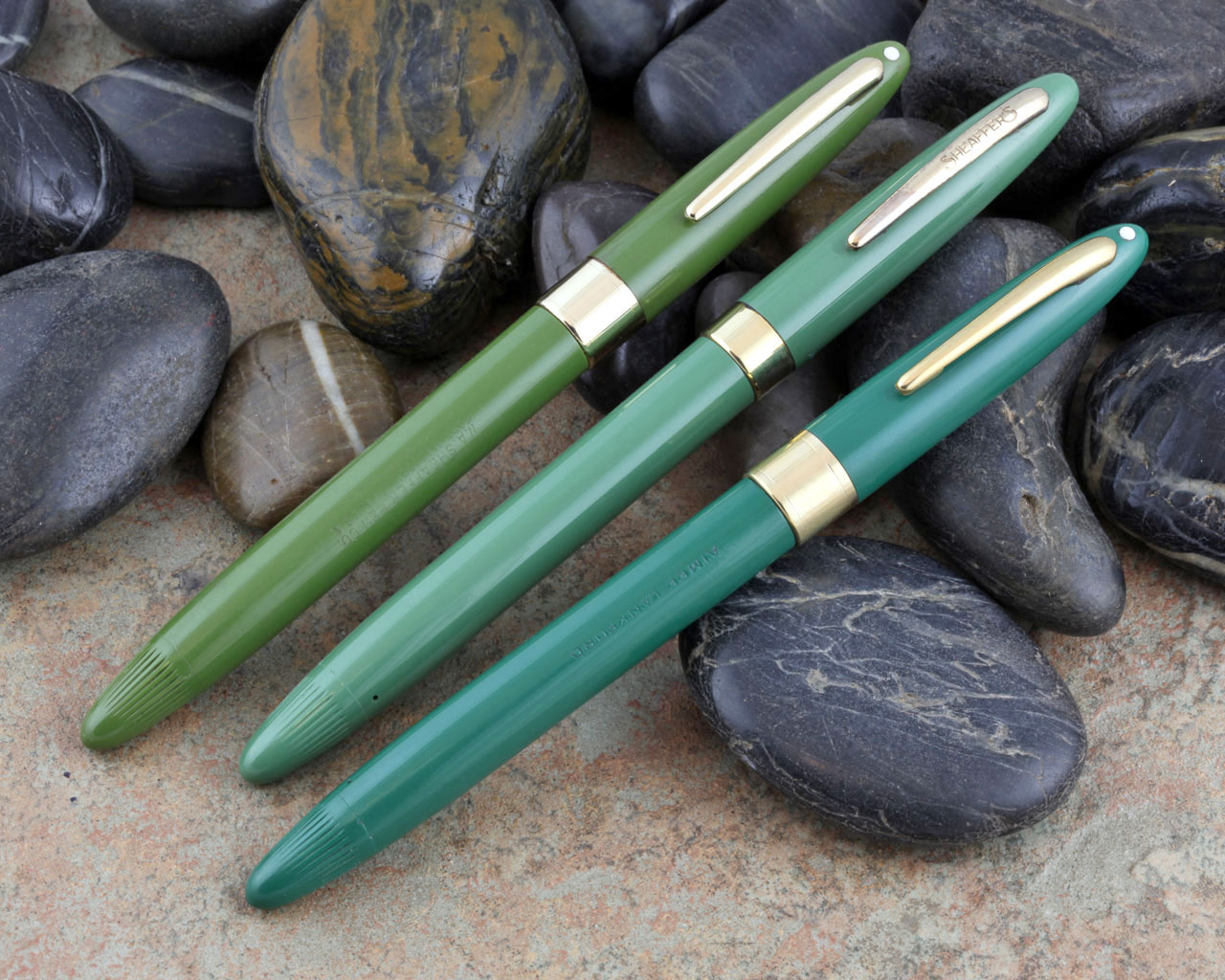 Sheaffer Snorkel Valiant Fern Green, Admiral Sage Green, and Valiant Pastel Green, left to right
When were the "new" Snorkel colors introduced?
Fern Green was one of 32 "new" Sheaffer colors introduced starting in 1956, according to the 1962 Sheaffer's Service Manual. Many references date Snorkels with the nine new Snorkel colors of Burgundy (new), Fiesta Red, Vermillion, Mandarin Orange, Sage Green, Fern Green, Peacock Blue, Periwinkle Blue and Buckskin Tan starting in 1956, based on that data point. The other key new thing for Sheaffer Snorkels was the addition of nib sections that matched the color of the cap and barrel. Out with black sections! With no Sheaffer catalog or price list available showing the new colors in the 1956 model year, the only other reference point would be advertising, and the advertisements tell a different story.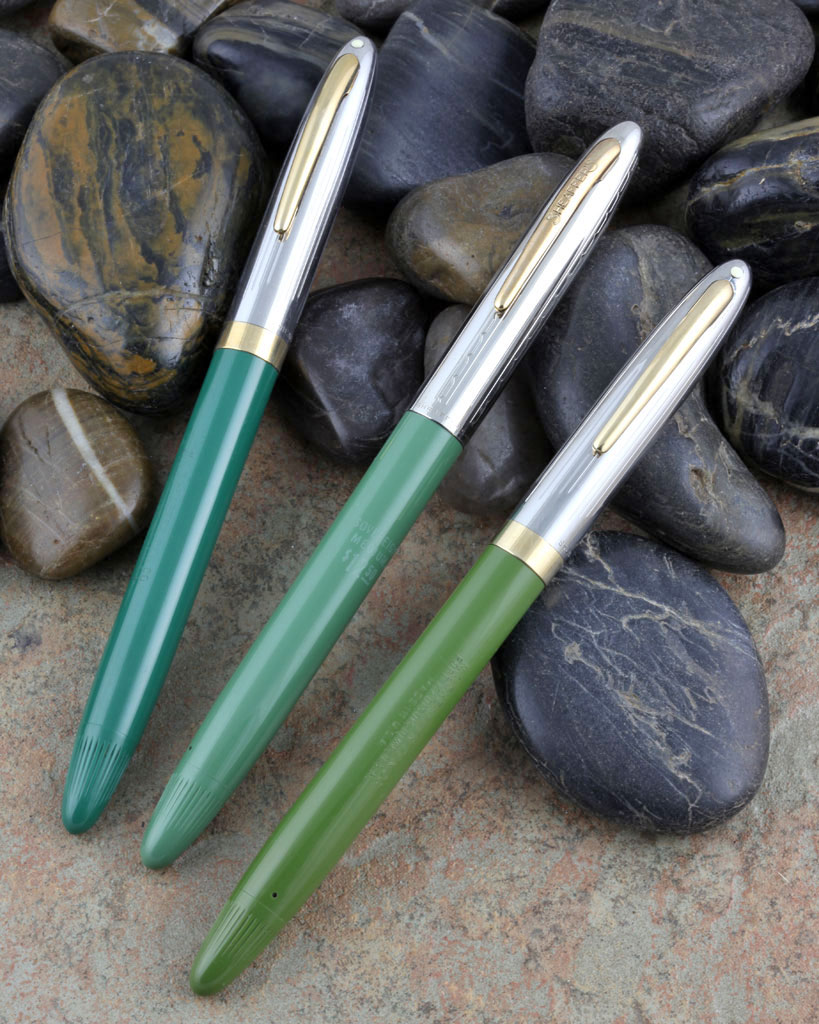 Sheaffer Snorkel Sentinel Pastel Green, Sovereign Sage Green, and Sentinel Fern Green, left to right
Sheaffer was still advertising black section Snorkel pens as late as May 20, 1957, as shown in a LIFE magazine advertisement listing a Snorkel Clipper fountain pen and pencil ensemble offered in the five original Snorkel colors of black, burgundy, pastel green, aqua, and grey. I have found no evidence of any of the new Snorkel colors being offered before August, 1957.
The earliest advertisement showing a Snorkel with a section that matches the cap and barrel color that I have been able to locate is a LIFE magazine advertisement dated August 19, 1957, showing a burgundy Snorkel Statesman ensemble. More advertisements follow showing pens with matching color sections, indicating production had changed and the new colors were being offered. As Sheaffer typically issued their catalogs in the summer and their new product advertising campaigns in the fall, this would place the introduction of the "new" Snorkel colors with matching color sections in the 1957 model year.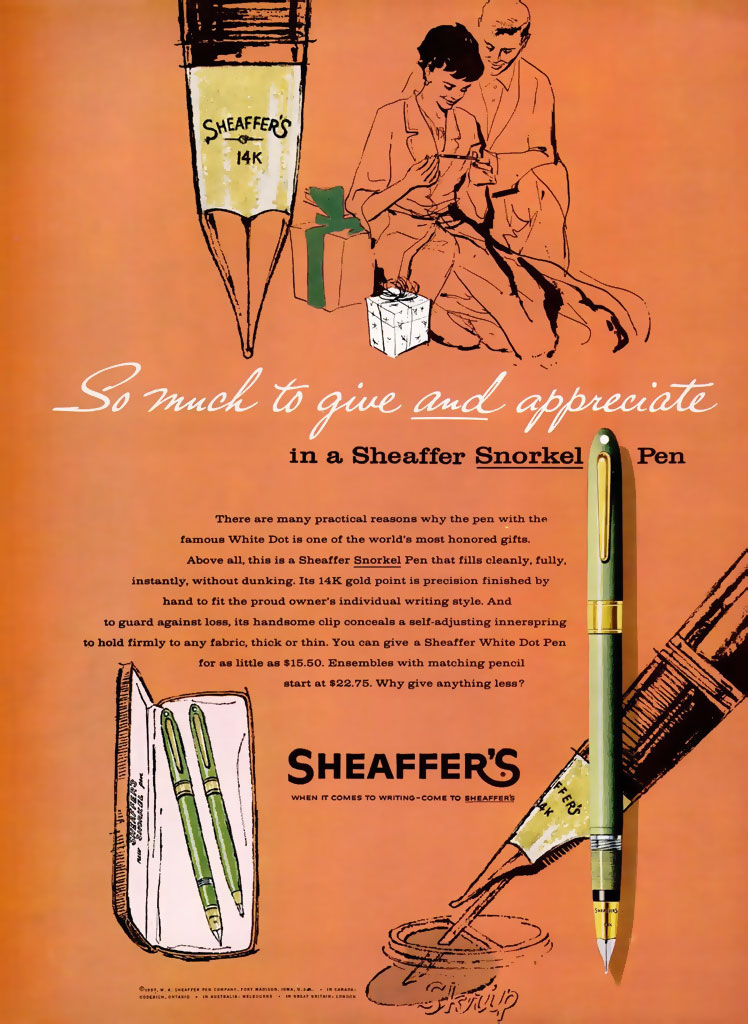 Sheaffer Snorkel Advertisement, 1957
The earliest documented appearance I found of Fern Green is in a December 2, 1957 LIFE magazine advertisement. The advertisement does not name the color, but the illustration shows a Snorkel Valiant with a green color match section. Sage Green was not used on the Valiant, and Pastel Green pens have black sections. If the new Snorkel colors were introduced in phases, Fern Green would have been one of the early colors, part of the 1957 model year.
Obviously, the clinching piece of evidence would be a 1956 and 1957 dated catalog or price list listing the new colors. With the evidence I have, I conclude that the new Sheaffer Snorkel colors were introduced in the 1957 model year. I can't say for certain which colors were introduced when, but no evidence exists that I have seen showing any but the original Snorkel colors prior to August, 1957.
Identification guide and features:
Sheaffer made three Snorkel models in Fern Green: Valiant, Sentinel, and Crest. Based on evidence discovered in researching this article, the Fern Green color was introduced in the 1957 model year. It is not known if Fern Green pens were made for the 1958 or 1959 model years. A short production run may account for their scarcity in the field, but that is speculation.
The Valiant model has a plastic cap and barrel with gold plated trim, retail was US $19.75
The Sentinel model has a stainless steel cap, plastic barrel with gold plated trim, retail was US $22.50
The Crest model has a gold filled cap, plastic barrel with gold plated trim, retail was US $25.00
Screw on cap
Gold plated spring loaded clip
White Dot in cap above clip
Two-tone palladium plated 14 karat gold Triumph nib
16 available nib grades: fine, extra fine, flexible fine, flexible extra fine, medium, flexible medium, accountant, shorthand, coarse, flexible coarse, stub, broad stub, left oblique stub, flexible left oblique stub, flexible stub, music
About 5 5/8 inches long capped and 6 3/8 inches with the cap posted on the end of the barrel
Touchdown filling mechanism with Snorkel ink fill
Each model had a matching pencil and ballpoint
Performance
Operationally, the Sheaffer Snorkel Fern Green is like every other Sheaffer Snorkel pen. Neither of these example pens had been serviced yet, so the writing impression is from the same model, different color. The Snorkel is a long and lighter weight pen that rides securely in your pocket with its innerspring clip until ready to use.
Snorkels are filled by unscrewing the barrel cap, which extends the Snorkel tube, pulling out the Touchdown tube and dunking only the end of the Snorkel tube in the ink bottle. A quick downstroke of the plunger fills the pen after a 10 count. Retracting the Snorkel tube by twisting the end cap and the pen and the pen is ready to write with no wiping. As complex as Sheaffer Snorkel filling units are, they are easy to fill and with no mess.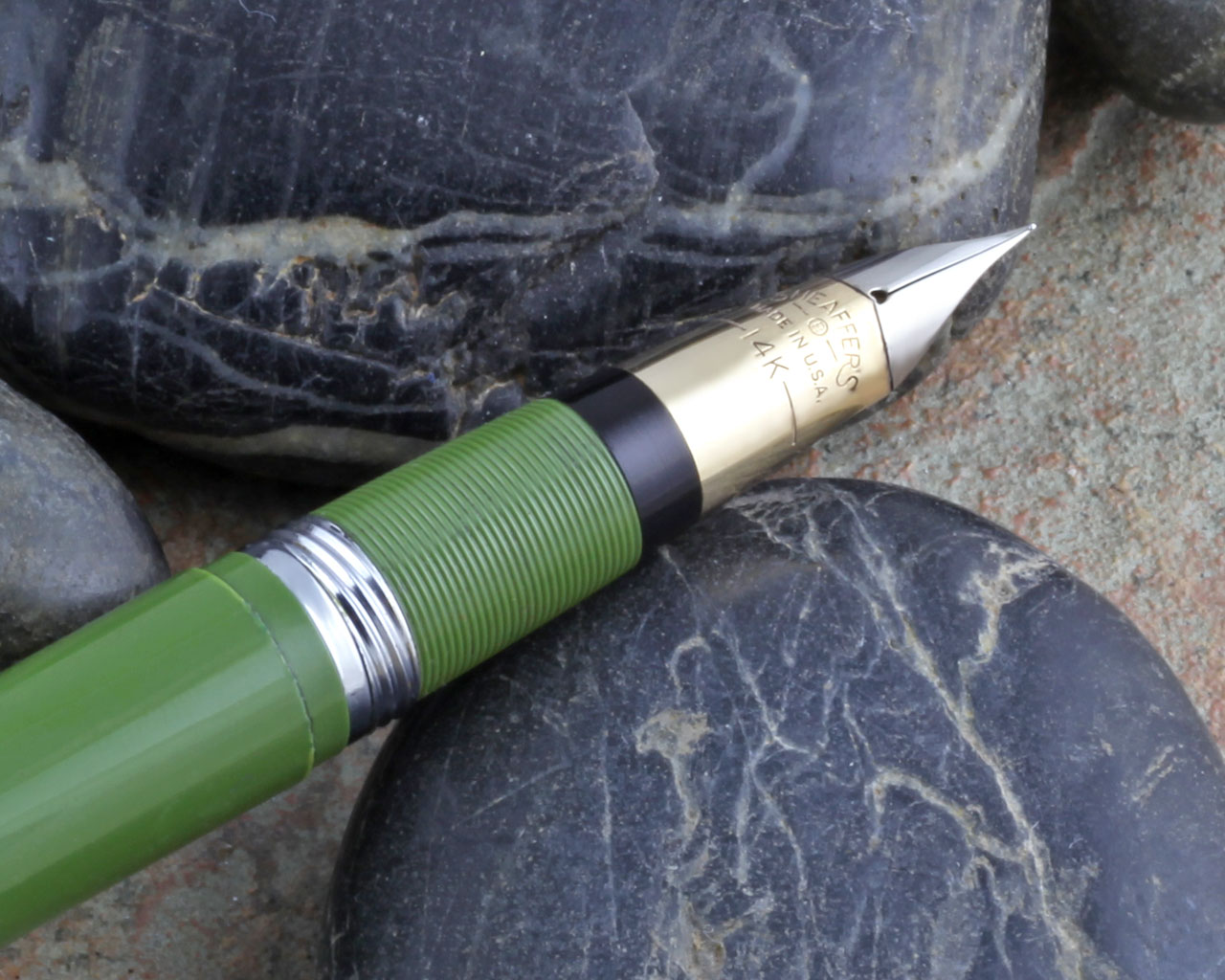 Sheaffer Snorkel Fern Green nib section detail
Sheaffer nibs to me have a pencil-like feel on paper, which gives great feedback when writing. Extra fine and fine point pens ink paper at a touch and leave a nice even and not overly wet line.
Fern Green is an acquired taste, as far as I'm concerned. According to the Sheaffer's Service Manual, this color was used on only one other pen type, the 500/875 cartridge pen. I believe Fern Green Snorkels fetch high prices primarily due to the scarcity of the color, not because of it's beauty. If you like Avocado, a great 1970s color, Fern Green Snorkels may be right for you.
---
References
Profile: Sheaffer's Snorkel, Richard Binder, © 2016 RichardsPens.com
LIFE, December 10, 1956
LIFE, May 20, 1957
LIFE, August 19, 1957
LIFE, December 2, 1957
LIFE, December 9, 1957
LIFE, November 24, 1958
Sheaffer Catalog, August, 1953
Sheaffer Catalog, July, 1955
Sheaffer dealer price list, October 1, 1955
Sheaffer dealer sell sheet, August, 1959
Sheaffer dealer sell sheet, Undated, c1959
Sheaffer's Service Manual, 1962
Interact
Comments on this article may be sent to the author, Jim Mamoulides