The First Sheaffer Imperial, Model AS9 c1960
by Jim Mamoulides, August 13, 2015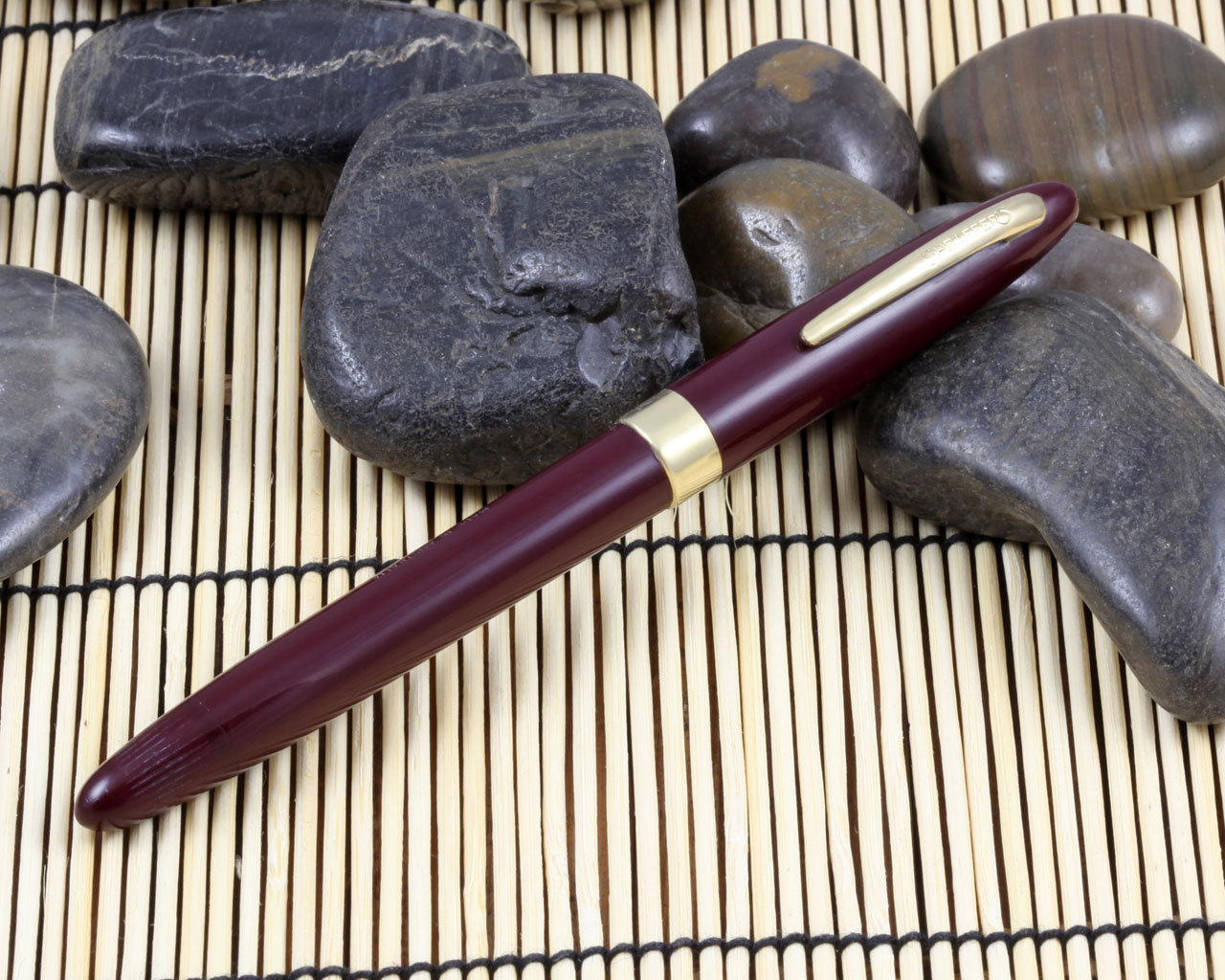 Sheaffer Imperial AS9 burgundy fountain pen, closed
Click the image above to see a full screen slideshow
I admit I am often drawn to less celebrated or obscure pens simply because they represent a mystery that needs to be solved. One of my favorite non-pen collecting activities is reading or watching mysteries, especially those of the famous Belgian detective, Hercule Poirot. One of my many pen mysteries was embodied in a small Sheaffer Touchdown pen that I ran across several years ago. It is a solid black cap and barrel pen with gold trim and the Sheaffer's name stamped on the clip. So far, nothing special. I've seen a lot of Sheaffer Touchdown pens.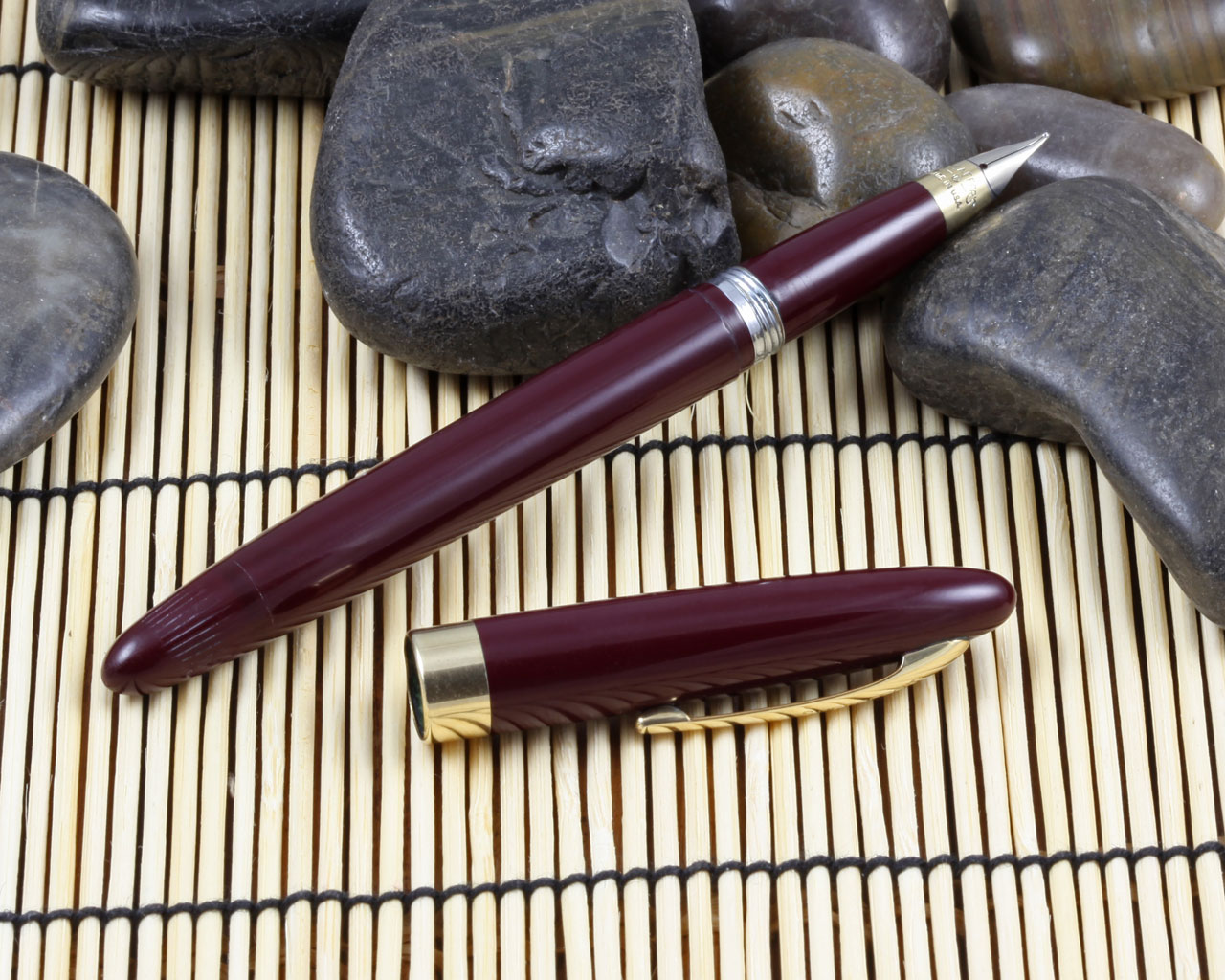 Sheaffer Imperial AS9 burgundy fountain pen, open
Unscrewing the cap revealed an unexpected two-tone short Triumph nib instead of the usual open or standard Triumph nib. The Sheaffer's Repair Manual also calls this a Short Sheath Nib. Although it looks very similar, this pen is definitely not one of the Sheaffer Thin Model (TM) Touchdown Pens made from 1950 to 1951. That nib first appears in 1958 on the Sheaffer Skripsert and Lady Sheaffer cartridge pens. Is this some kind of Frankenpen?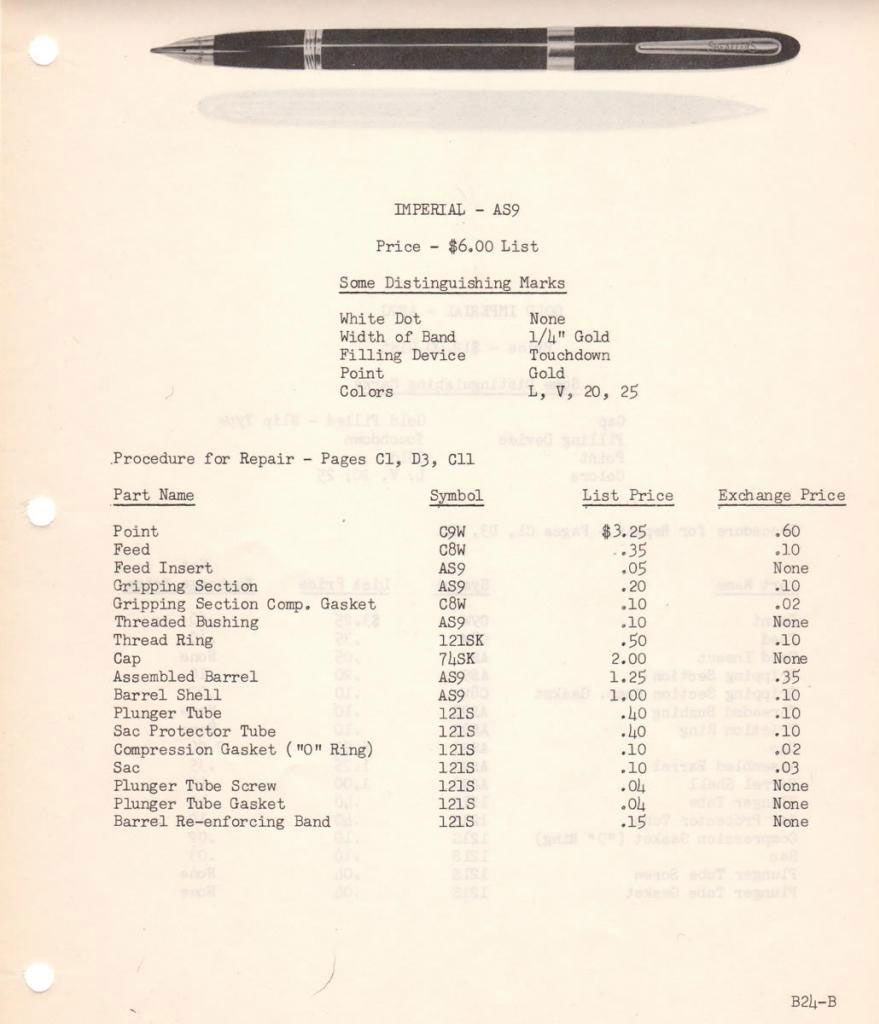 Sheaffer Imperial AS9 description in the Sheaffer Service Manual, image courtesy Gary Ellison
No, this is an Imperial, model AS9 to be exact. By the way, the model number, not something you ordinarily encounter when seeing these pens in the field, tells you something about the pen and its configuration. According to the "Identification Data" section of the Sheaffer Service Manual, the model letters and numbers are coded to tell you what the product is, with the first letter indicating fountain pen, ballpoint, or pencil, the second letter indicating what type of product, typically by what filling system is used, and third, a number indicating the point type for a fountain pen. AS9 translates to A=pen, S=Touchdown, long, and 9=9.2 karat gold Short Sheath Nib.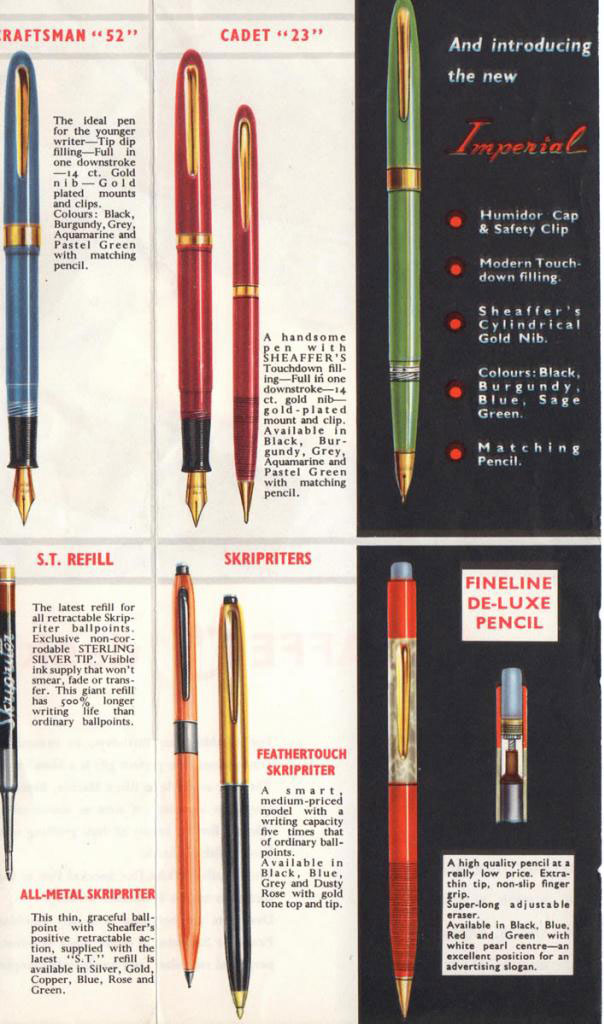 Page from Sheaffer Catalog, c1960, image courtesy Gary Ellison
The next part of the mystery is, if this is an Imperial, then why is it nothing like the later Imperials that look like junior size PFMs? How does it figure into the pantheon of Sheaffer Imperials? We need to work backwards from the introduction of the Imperial IV, the first Imperial that used an Inlaid nib, first mentioned in the January, 1961 Sheaffer's Review. The Imperial IV's profile is the one that comes to mind when the words "Sheaffer Imperial" are used today and it is one of Sheaffer's most familiar designs and variants of it have been manufactured through the late 1990s. To distinguish it, I'm going to henceforth call the Imperial shown in this article the Imperial AS9.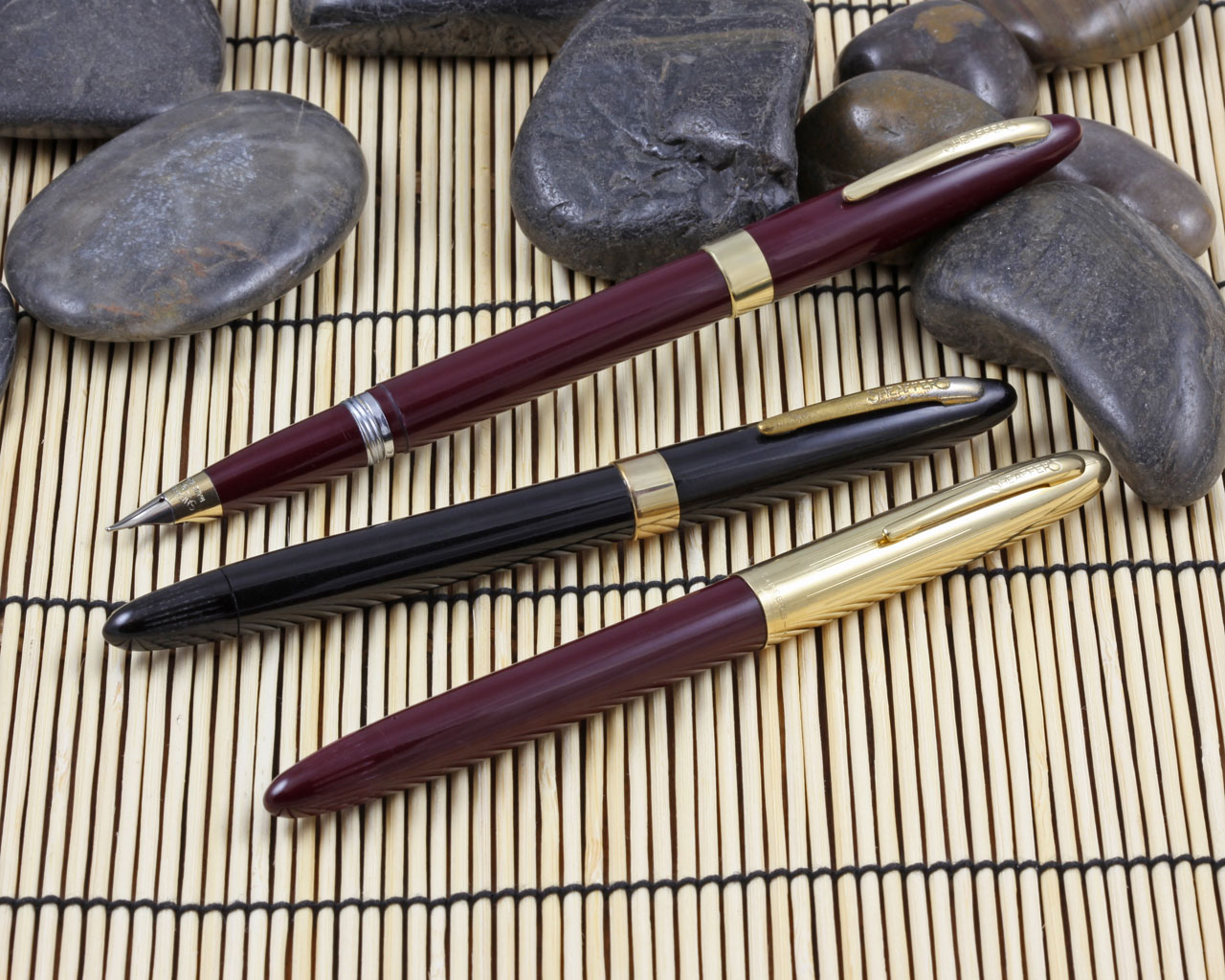 Sheaffer Imperial AS9 burgundy and black fountain pens with a Sheaffer Gold Imperial AS9G
There is no mention of the Imperial AS9 in the August, 1959 Sheaffer catalog, which features the PFM, Snorkel and Cadet pens. The Imperial AS9 makes no appearance in the 1961 catalog, which contains not only the Imperial IV, but a whole line of pens complimenting its design and bearing the Imperial name. The Imperial AS9 is shown in what is believed to be the 1960 catalog as the "new" Imperial. This would make the Imperial AS9 the first use of the Imperial name on a Sheaffer pen line. There are examples the Imperial AS9 in existence with "IMPERIAL" screen printed on the barrel, as was the Sheaffer practice at the time. By process of elimination, the Imperial AS9 was likely introduced after August, 1959 and was retired by December, 1960, to make way for the new PFM-like Imperials that we commonly associate with that name today. This timing likely also holds with its two metal cap siblings, also called Imperial, but that is the subject of another article.
Identification guide and features:
There is limited original documentation on this first model of Imperial. The primary sources are an undated catalog and repair manual page. I've been unable to find any other specific references in Sheaffer's documents. Examples of all four catalog colors of this pen exist and show USA, Canada and Australia imprints. Examples exist with both the plain gold nib as shown in the Sheaffer Service Manual as well as examples with a two-tone gold nib, possibly a repair replacement or a production change.
Injection molded cap and barrel
Catalog colors: black, burgundy, blue and sage green
Screw on cap
Gold plated clip and 1/4 inch wide gold plated cap band
Clip has "SHEAFFER'S" stamped down the face
9.2 karat gold short Triumph plain gold or two-tone palladium plated nib
Nib stamped "SHEAFFER'S" over "MADE IN USA"
Barrel imprinted with factory information such as, Sheaffer USA or Sheaffer Australia imprint
Unknown number of nib grades: fine and medium observed
About 5 3/8 inches long capped and 6 1/8 inches posted
Touchdown filling mechanism
Retail price was US $6.00
Available with matching pencil
Performance
In the hand, the Sheaffer Imperial AS9 is basically the same size and weight as a Sheaffer Thin Model (TM) Touchdown pen made from 1950 to 1951. In a way, it looks like a parts bin pen, with a cap and barrel similar to the Touchdown Sovereign, but with a clip similar to the Touchdown Admiral. The Imperial AS9 barrel is longer that the Thin Model (TM) Touchdown pen and the filler knob is different. The Imperial AS9 cap appears to be very similar to the Snorkel Admiral. Removing the cap reveals a nib section that looks like it belongs on a 1958/1959 Skripsert. I would say that visually cheapens the pen a bit from the Thin Model (TM) Touchdown pens, which have a very similar nib unit to the ones used on the Snorkel. I would guess these design decisions were made to clearly distinguish the Imperial AS9 from the more expensive Snorkel line and establish it at the lower $6.00 price point, higher than the Cadet, but lower than the cheapest Snorkel, the Special.
Because of its similarities to the Thin Model (TM) Touchdown pens, the Imperial AS9 will likely appeal to 1950s era Sheaffer collectors. The pen has the same bullet shape, spare frills, and good visual balance both capped and posted. Unlike the ribbed sections on the Thin Model (TM) Touchdown and Snorkel pens, the Imperial AS9 has a smooth section, which feels just fine in the hand. I would imagine using a ribbed section on this pen would look odd with the smaller nib. As will all 1950s Sheaffer products, the Imperial AS9 is well made, with everything fitting tightly together.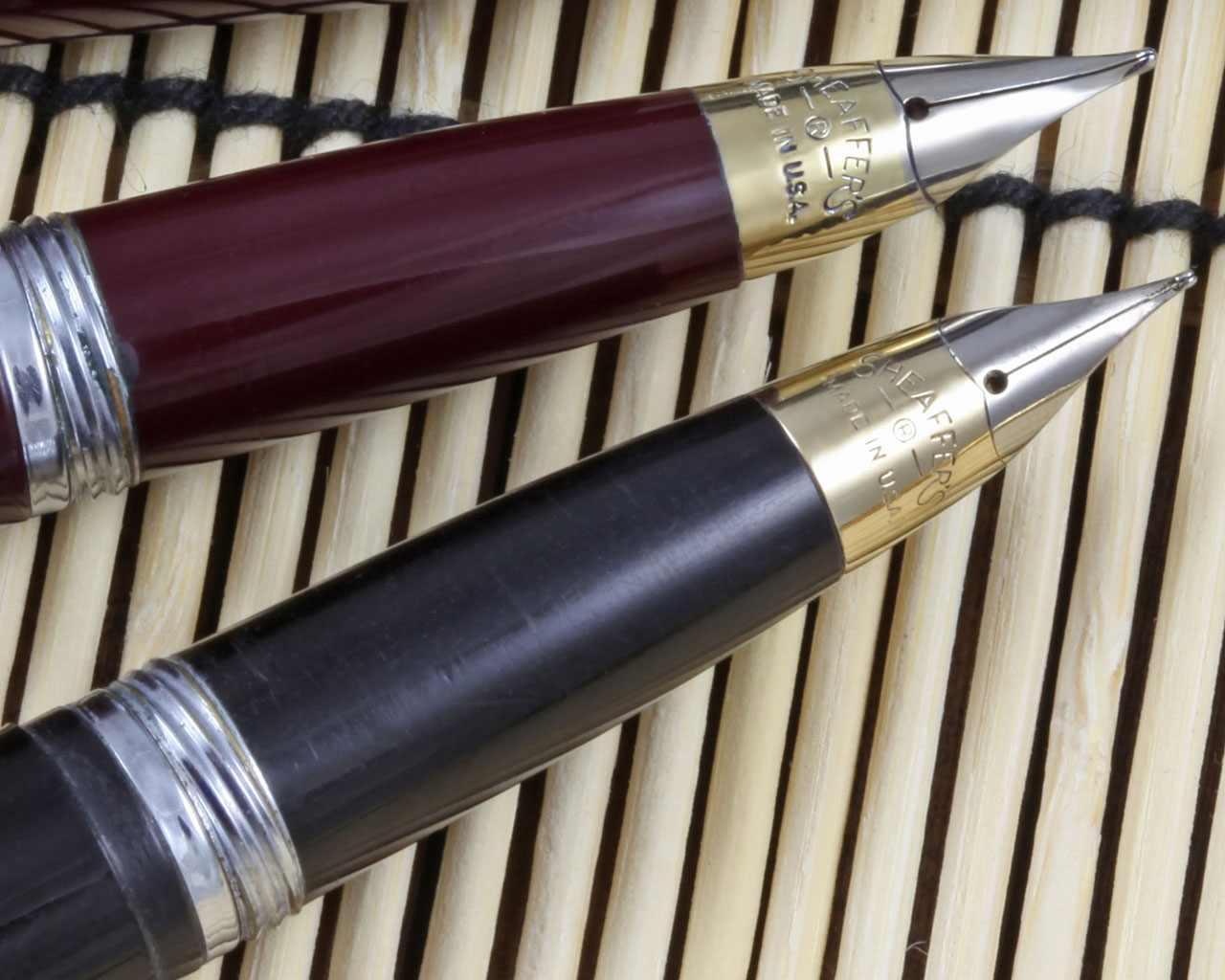 Sheaffer Imperial AS9 burgundy and black fountain pens nib section detail
This is a light pen in the hand, weighing only .5 ounces. It fills efficiently. The Sheaffer Touchdown system is simple. Just unscrew the end cap of the barrel, pull out the plunger, dip the nib in the inkwell, push in the plunger, and count to twenty. Remove the nib and wipe it and you are ready to write! I'm glad the short Triumph nib unit is on this pen rather than an open nib. Visually it works well and they are good writers. Both pens I tried write very nicely, very smooth and not overly wet.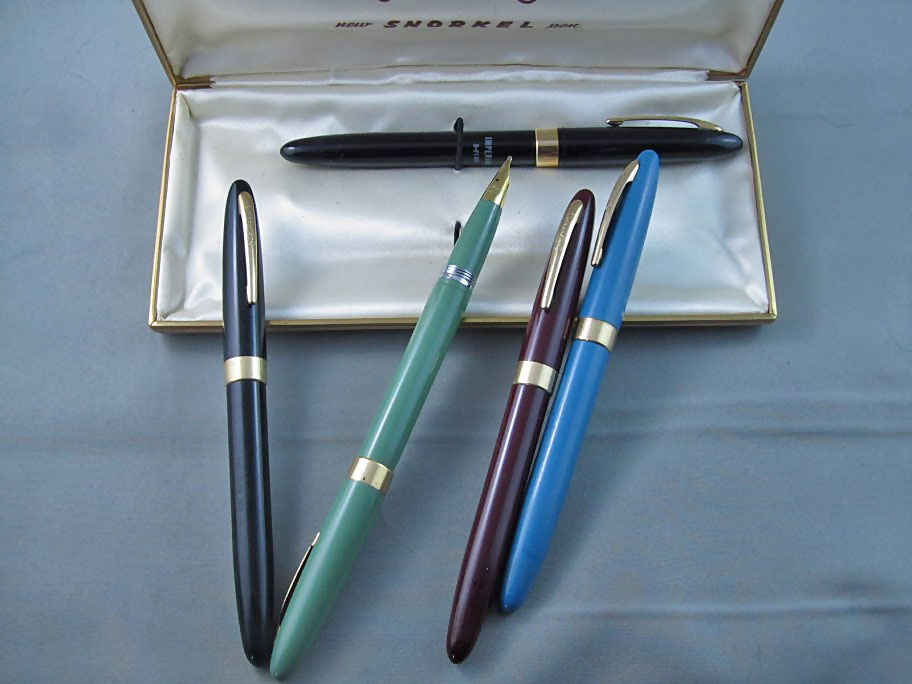 Examples of all four colors of the Sheaffer Imperial AS9, black, burgundy, blue and sage green. The foreground pens are all made in Australia. Note the screen printing on the barrel of the pen in the case. Image courtesy of Hugh Cordingley
From a collector's point of view, the appeal of these pens is that they are pretty uncommon. When offered for sale, they won't be much different in price than Sheaffer Thin Model (TM) Touchdown pens, and generally less than Snorkels. They do sell quickly when offered. There are only four colors to find and having not seen enough of them to have an idea as to which colors are harder to get, observation says black seems to be the easiest, followed by burgundy. There are examples with plain gold as well as two-tone gold nibs, which leads me to believe that these are later repairs or that Sheaffer just used up whatever they had and shipped the pens out. Neither appears to have more collectible value, though the Sheaffer Service Manual shows the plain nib as the "correct" one. I also would consider that availability may mean a collection composed of both USA and Australian made pens. In my opinion, if you want to focus on something that may take some time to complete, not necessarily take up a lot of money, and would be a good "bet you haven't seen one of these" pens, completing a collection of the Sheaffer Imperial AS9 would be fun!
---
Acknowledgement
Thanks to Hugh Cordingley for providing detailed observational information and a photograph of all four colors of the pen.
Thanks to Gary Ellison for providing Sheaffer catalog and service manual images.
Thanks to Ernst Bitterman for providing Sheaffer catalog images.
Thanks to Andy Evans of Andy's Pens for loaning the burgundy Sheaffer Imperial photographed in this article
References
"Imperial - AS9," Sheaffer's Service Manual, undated c1961, page B24-B
Sheaffer's Service Manual, 1962
Sheaffer's Review, April - May, 1960
Sheaffer's Review, June, 1960
Sheaffer's Review, January, 1961
Sheaffer Catalog, undated, c1960
Sheaffer Catalog, August, 1959
LIFE, May 5, 1958
Boys' Life, September, 1958
Interact
Comments on this article may be sent to the author, Jim Mamoulides