Parker True Blues: True Beauties 1928-1929
by Jim Mamoulides 2/25/02 - Updated 7/4/03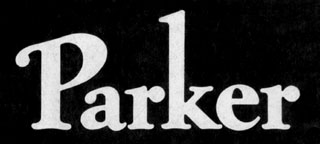 Several times in the mid to late 1920s Parker attempted to capitalize on the popularity of the highly successful and expensive Duofold line by introducing low-priced lines of pens. The first attempt at this was in 1926 with the black "Duofold Quality" or "DQ" pen. These pens sold for US $3.50, half the US $7.00 the Duofold commanded. The DQ was soon followed by the "Pastel" line, a series of Junior length slim pens in moire pastel colors.



Parker True Blue Flattop Lucky Curve Fountain Pen c1928
In 1928 Parker introduced one of the most sought after of these low-priced pens, known today as the "True Blue." This new slender blue and white swirled Permanite pen was called the "Three Fifty" in Parker advertisements and the color was called both "Modernistic Blue" and "Modern Blue-and-White." The line has many variations, but probably ceased production in 1929 with the streamlined versions.


Parker True Blue Flattop Lucky Curve Imprint
The first pens were flattops, like their larger Duofold siblings, and were initially sold in a pen, pencil and ladies' ring-top version. The pencil sold for US $3.00. The pens carried the "Lucky Curve" imprint and stated on the nib. The pens followed all the same construction and design elements of the larger Duofold in every way, being essentially a slightly shorter(5 1/4 inches vs. 5 1/2 inches) and more slender.


Parker True Blue Flattop Lucky Curve Showing Open Blind Cap and Filler Button
Parker had evidently test-marketed the pen, stating in ads, "'We passed a tray containing a dozen different kinds of pens to seven hundred people. They selected this one." Even though it was a low priced pen, it was sold on Parker quality and its style and color.



Parker True Blue Streamline Fountain Pen c1930
When Parker streamlined the Duofold line in 1929, the True Blue followed suit. The streamlined pen is shorter than the flattop, being 5 inches long, but is about the same girth.


Parker True Blue Streamline Imprint
Parker also dropped the Lucky Curve feed in 1929, in favor of a straight feed. As a result, imprints on the pens dropped the Lucky Curve banner.




Nib Detail Showing Side by Side the Flattop, Streamline and Junior Nibs
As a result of the change in the feed, the Lucky Curve mark was also removed from the nib.



Parker True Blue Streamline Juniorette Fountain Pen c1931
The streamline True Blue also came in pen, pencil and ladies' ring-top versions. It also came in a Juniorette version, which is a clip version of the ring-top.


Parker True Blue Streamline Juniorette Imprint
The True Blue line probably ceased production by 1929, when Parker was retooling to streamlined designs. The True Blue line was not particularly popular, so they are not generally common, as are other larger Duofold models.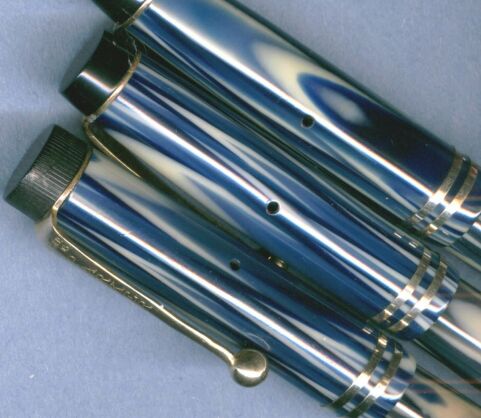 A Collection of Parker True Blue Fountain Pens
As with many Parker Permanite pens, True Blues are highly susceptible to discoloration stemming from ink staining and sac reactions to the plastic. True Blues are very often seen with strong variation in color between the cap and barrel. Caps tend to retain the original color well, a bright blue and cream white swirl, where discoloration tends to amber the white in strong contrast to the cap. Mint True Blues are rare and will be quite pricey. Even moderately discolored True Blues will sell for similar prices as excellent Big Reds.
Performance
The three True Blues all have medium nib, with a range of flex. These three examples range from stiff to flexxy to very flexxy. As with Duofolds, they can be expected to write very well and very smoothly. They are all quite slim, and range in length from about 5 1/4 inches capped and 6 3/8 inches posted for the flattop, 5 inches capped and 6 inches posted for the streamline, and 4 5/8 inches capped and 5 5/8 inches posted for the Juniorette.
All of the pens have a very bright and shiny appearance, as the Permanite plastic polished to a nice gloss. The blue and cream white swirl pattern is very attractive, and passes both the wife and the 11-year old daughter "What a cool pen!" visual test. These are really neat pens.
As they are very slim, one is either going to like or dislike writing with them. One who is used to writing with many of the much larger fountain pens of the day may find these pens more like holding a BIC. As with larger Duofolds, the caps all post well, though not deeply, and they stay put.
Button fill pens are simple to use, unscrew the blind cap, stick the nib in ink and press the button. The sac is compressed, and as it expands, it sucks in ink. All work fine.
All the pens write well, appear to be very durable and well made, and do not show any sign of being overly fragile. If you like a slender pen, one of these with a flexxy nib would make a very expressive daily user, whether in writing or in the pocket.
---
Comments on this article may be sent to the author, Jim Mamoulides
PenHero.com Bibliography