Inkograph Ink-D-Cator Hooded Nib Pen c1943-1947
by Jim Mamoulides, November 30, 2002, updated January 5, 2012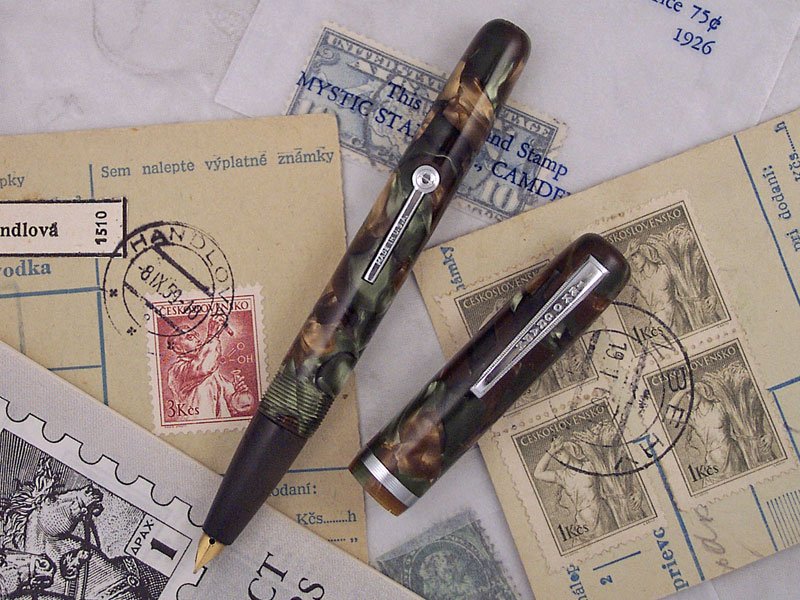 Inkograph Ink-D-Cator with semi-hooded nib c1944-1949, open
Inkograph's lesser known hoodie
Inkograph is most associated with making stylographic pens. A stylograph is a pen with a nib made from a hollow tube with a fine wire inside that moves up and down with pressure from the tip, allowing ink into the paper. This is a nib design that dates to the mid 1800s, with possibly the earliest "ink pencil" being that of Elizah Jordan, patented in the USA in 1849. This design was later improved on repeatedly until it became the modern stylographic pen.
The Inkograph company was organized somewhere between 1914 and 1918, depending on which version of the company origin one wishes to believe, with the 1928 catalog saying "a little less than ten years ago" and a 1947 advertisement saying "been working for 33 years." Whichever the story, Inkograph would be a latecomer to the stylographic pen market, entering certainly at a time when traditional nib pens were clearly leading the market. Inkograph marketed their pen as a major improvement with many of the best qualities of a pen and pencil combined.
By the 1940s, Inkograph was secure in this niche market and pretty much had it to itself. Most of its advertising focused on the stylographic pen line, but the company had almost always offered a line of traditional nib pens, and mechanical pencils, likely to keep their customers in the fold. The open nib pens of the 1920s were marketed under the Wallace name, as can be seen in a 1928 company sales brochure, while the pencils were sold under the Leadograph banner. Inkograph followed the prevailing styles with their products. Sometime in the 1930s, Inkograph began marketing open nib pens with an ink-view window in the section under the Ink-D-Cator brand, as can be seen in 1935 dated flyers, including a Mickey Mouse pen line offered in 1935.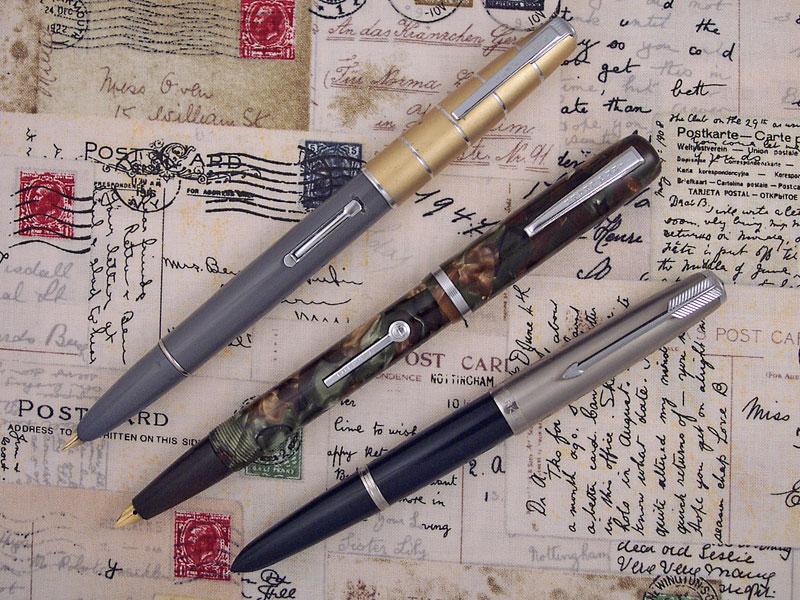 Three hooded nibbed pens from the 1940s: Waterman Taperite Crusader Gray / Inkograph Ink-D-Cator / Parker 51 Demi
When Parker introduced the hooded nibbed 51 in 1941, it changed the landscape of pen design. Hooded nibs were now "in", and with very few exceptions, most manufacturers created a hooded nib model as part of their main line. Inkograph was on the bandwagon and created this hooded nib model to keep up.
This Inkograph hooded nib pen is traditional lever-fill pen, as was the rest of the line, and was appointed in the same manner - heavy chrome plated metal fittings including the front mounted clip stamped with "Inkograph" down the length, spiral stamped cap band, and round end lever stamped "Made in USA" and with the Inkograph logo. All metal parts are highly detailed. A generally high quality, well-made pen at a very reasonable price: Inkograph stylographic pens were heavily advertised in the 1940s as US $2.00 pens, much less than pens by the leading makers. It is fitted with a very smooth writing unmarked nib.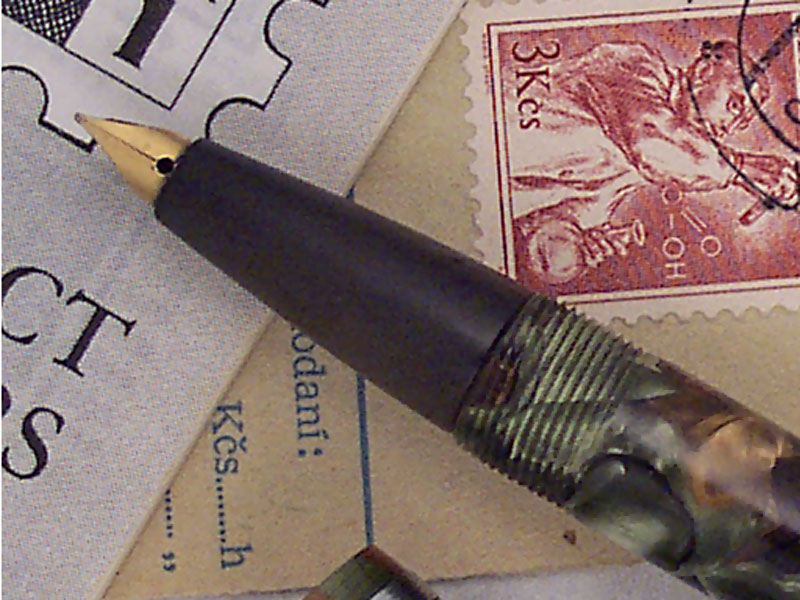 Detail of Inkograph Ink-D-Cator hooded nib
Dating this Ink-D-Cator
This 1940s hooded nib Inkograph pen is not well documented, as compared to the main line stylographic pens, so research on the model, pricing, and advertising was quite difficult. It actually turned into more of a Sherlock Holmes deduction exercise based on specific facts.
Firstly, I could find almost no documentation on this pen other than actual examples with a clip stamped "INK-D-CATOR". Much more is available about the earlier Wallace and Ink-D-Cator lines from the 1920s and 1930s.
I'm dating the pen c1943-1947 primarily because the cap, barrel and clip design match the advertised Inkograph stylographic pen shown in Inkograph advertisements from 1943-1947. I would believe that this model, like earlier Ink-D-Cator pens, was a traditional nib offer in the same cap and barrel as the stylographic pen.
I have seen Inkograph hooded nib pens in red and green marbled plastic with a clip stamped "INK-D-CATOR", which leads me to believe that this model carried that name, as did previous models. Since the stylographic section and the hooded nib section are about the same length and the caps swap, I believe this pen is a section exchange with a stylographic model. The semi-hooded nib dates the pen from early to mid 1940s, and Inkograph was likely a follower here. The leaf color plastic is a left over from the 1930s, so that style was likely out by the end of the 1940s, when solid color pens became popular.

Inkograph 1944 advertisement, note similarities in design with the Ink-D-Cator pen
Identification guide and features:
Red, green or brown marbled plastic cap and barrel, solid colors may also have been available as they were available on the Inkograph stylographic pen

Barrel imprinted "INKOGRAPH CO., N.Y."

or "INKOGRAPH"
Chrome plated trim
Clip stamped "INK-D-CATOR" down the face
Unknown nib types offered

Nib is unmarked and it's not clear if it is gold or gold plate

Screw on cap
About

4 7/8 inches long capped and 6 1/4

inches long with the cap posted on the end of the barrel
Weighs 1.0 ounces
Lever filling system
Retail price unknown, but the standard Inkograph stylographic pen was advertised at $2.00
Unknown gift packaging
Performance
I really did not know what to expect when I found this pen. When I first picked it up and saw Inkograph on the clip, I thought I had found a stylograph, and was intrigued, as the only one of those I have owned have been the wonderful and funky Rapidograph drafting pens. Opening up the cap revealed a tapered section with a small semi-hooded nib tip showing, a similar configuration to the Waterman Taperite pens.
The section is a semi-smooth solid color that is easy to grip. The cap and barrel are a semi-translucent leaf marble pattern plastic that was easy to polish to a pleasant shine. The bright chrome plated hardware is very shiny and is obviously very heavily plated, and gives the pen a "minty" appearance. Overall, the pen is lighter than its size would indicate, but has a very well made feel to it.
It's fairly large at 4 7/8 inches long capped and 6 1/4 inches long with the cap posted. The pen sits fairly low in the pocket because of the high placement of the front mounted clip, and rides securely. The lever is a long pull action that fills well after two long strokes.
The nib is a smooth and wet writing firm medium with no visible markings. No surprise that it is pretty stiff, both from the fact that Inkograph made stylographs and that stiff was the fancy of the mid 1940s.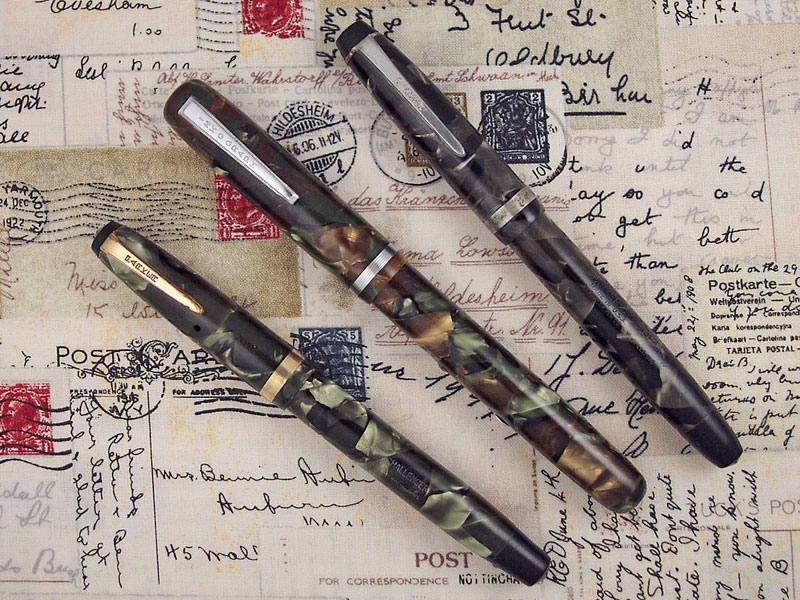 Grouping of leaf pattern plastic pens from the late 1930s and 1940s, left to right: Parker Challenger / Inkograph Ink-D-Cator / Parker Challenger
This is a very nice everyday user pen for those that want something well off the beaten path. It's well made and works well. Inkographs aren't common to begin with, and one with a semi-hooded nib is fairly unusual. Valuable? Probably not much more than a contemporary stylographic model. This would be classed in the "unusual finds" category and consider picking one up if you find it.
Selected References
Fountain Pens of the World, Andreas Lambrou, Copyright © 1995, Zwemmer, London, England
Inkograph Mickey Mouse Promotional Material, Copyright © 1935, Inkograph Company Inc., New York, NY
The Inkograph Story, Copyright © 1928, Inkograph Company Inc., New York, NY
Interact
Comments on this article may be sent to the author, Jim Mamoulides
---
Pen Clubs
Fountain Pen Discussion Forums
Social Media