PenGallery

PenInHand

PenSurveys
Wallpaper
PenBookmarks
PenHero Store

New Sheaffers

VintagePens

Prints & Cards
eBooks
Calendars


Wahl Art Deco Machine Engraved Patterns 1921-1929
by Jim Mamoulides 1/12/04

A Canvas For Wonderful Designs
The first self-filling pens made under the Wahl name, the "Wahl All Metal Fountain Pen," introduced in 1921, were not constructed as other contemporary pens using metal overlays around a hard rubber core. The existing construction method was a logical step for companies that made eyedropper pens which needed the hard rubber core to store the ink. Entering the fountain pen market late, Wahl could skip this step and use the metalworking expertise learned from mass producing Eversharp pencils to create an all metal fountain pen line. Wahl took advantage of the differences of the new pens and advertised the advantages of lighter weight and yet greater strength than hard rubber pens, calling them"wear proof" and "unbreakable." Wahl also boasted of greater ink capacity because the barrel chamber was larger, making room for a larger sac.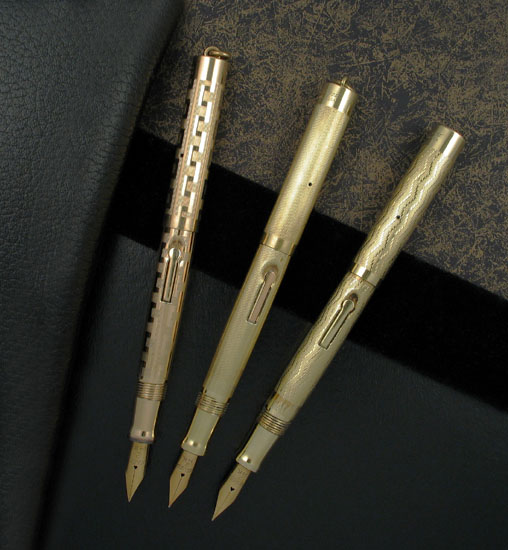 A Flight Of Wahl Ringtop Pens From The 1920s
(Left To Right) Grecian Border, Colonial, and Ripple
The all metal construction also made a great canvas for a host of wonderful machine engraved designs, which were very popular and stylish in the 1920s. Most of the patterns are cut into the metal with an engraving machine, or "engine turned" as catalog and advertisement text states. Almost all patterns have a blank space, or cartouche, for personalized engraving. Many examples found today will include jeweler engravings, some of which are quite ornate in themselves and can enhance the attractiveness of the pen.
Both the pens and the Eversharp pencils, were offered in these highly decorative styles, several of the more popular and interesting are included in the following list:
Checkerboard: an alternating cut that creates checkered boxes

Check: a large light relief repeating arrowhead or "V" pattern, may also be known as Unique

Colonial: a longitudinal chasing the length of the cap and barrel

Detail of Colonial Pattern

Colonnade: a circular chased pattern with contrasting longitudinal enameled windows, similar to the Waterman "Night and Day" pattern

Detail of Colonnade Pattern

Console: a medium relief pattern of long windows decorated with "bell" shapes

Detail of Console Pattern

Coral: a coral or "brain" pattern

Detail of Coral Pattern

Crisscross: alternating longitudinal wave cuts, almost a ring shape

Dart: a large light relief linear arrowhead or "V" pattern, with longitudinal lines between the arrows

Detail of Dart Pattern

Diamond: an elaborate cut of grouped short line pairs that end in diamond shapes

Grecian Border: a large light relief key pattern

Detail of Grecian Border Pattern

Herringbone or Unique: a linear herringbone pattern, chased with plain between the cuts

Ribbon: an alternating wave and straight line pattern

Detail of Ribbon Pattern

Ring Colonial: a triple enameled ring pattern widely spaced and repeated along the cap and barrel, with longitudinal chasing in between

Ripple: a zigzag or wave dotted line pattern

Detail of Ripple Pattern

Wave or Zigzag: a grouping of four longitudinal wave cuts together with wave one cut opposite

Plain: smooth, with no decoration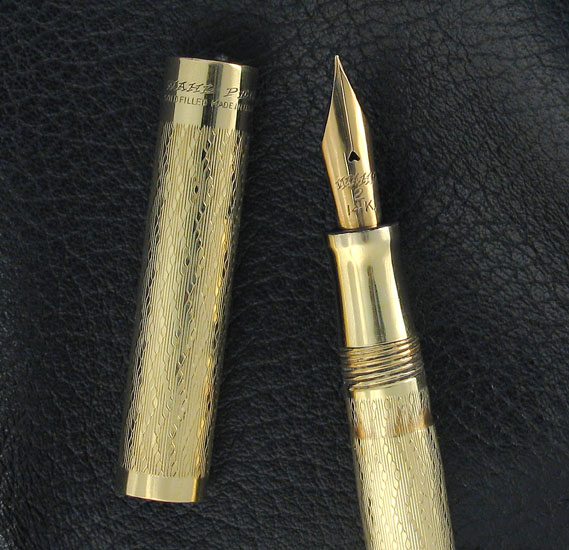 Detail Of Wahl Ladies Ringtop Ripple Pattern Pen
Wahl machine turned pens have become a focus niche, with some collectors seeking complete sets of the patterns across all the pen lines, including hard rubber pens, which also carried some of the same patterns as the metal pens. Other collectors focus on just the pencils, in their various sizes and designs, or the ringtop pens, tiny jewels, which also came in several types. A very large and interesting collection can be made, and there are many examples available.
---
Acknowledgement
Thanks to Scott Miller for the Coral Pattern photo and to David Nishimura for data on pattern names.
Comments on this article may be sent to the author, Jim Mamoulides
PenHero.com Bibliography