Eversharp Skyline Modern Stripe 1941-1948
by Jim Mamoulides, May 27, 2002, Updated May 30, 2002

In the late 1930s the Wahl company was losing ground to Parker and Sheaffer with its less popular Doric line. The company had always had good sales of its pencils, to the point that "Eversharp" was a common term for mechanical pencils, much as other products, such as "Kleenex" were coming into common usage. In 1940, the company reorganized under the Eversharp name and embarked on design of a new pen and pencil line to revive sales. Eversharp engaged industrial designer Henry Dreyfuss (1904-1972) to design the new line, introduced in 1941. The pens were initially called "Skyliners", which was soon shortened to "Skyline". The name probably was intended to evoke the excitement of the fledgling airline industry and advertisements touted the pen's ability to work well "high in the air".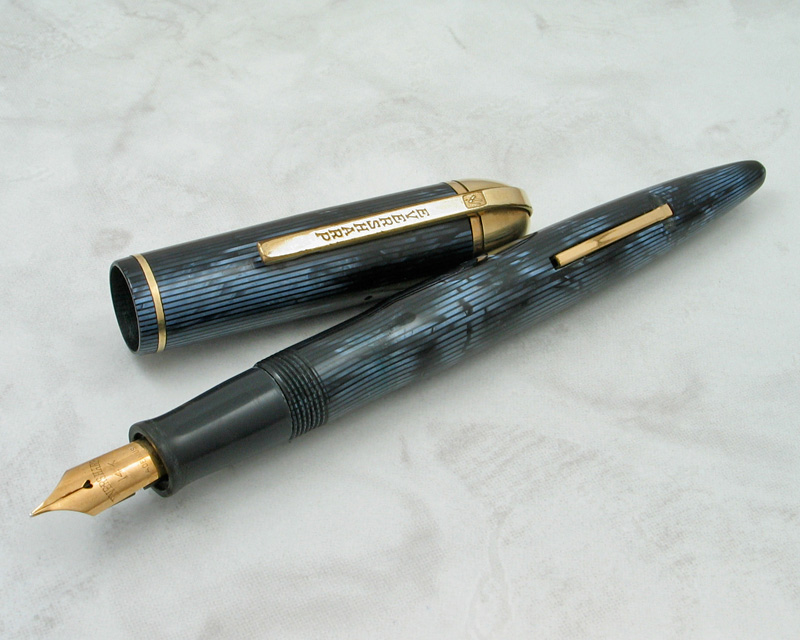 Eversharp Skyline Modern Stripe Blue Standard Size c1941-1948
Note uncommon gold derby and cap band
The Skyline is a radical departure from previous Wahl Eversharp models, owing more to its design than any technical refinements, such as introduced by Parker or Sheaffer. The pen is a conventional lever filler with a dome or "derby" cap top with a strongly tapered body that looks very top heavy capped but very balanced posted. The pen features the extremely good Eversharp nibs, notable in being very smooth writers and available in a wide range of styles and flexibility. The Skyline was a huge success for Eversharp, eventually becoming, by 1945, the best selling pen in the USA. Skylines faded from Eversharp advertising after 1945 in favor of other models, but was produced until 1948, with the advent of the Symphony line.
Skylines were produced in a broad variety of colors, with all plastic, plastic and metal cap models, and all metal models. Three pen sizes were made, Demi or Lady, Standard, and Executive, and the pens sold in a wide price range, from low-cost all-plastic pens to all solid 14 karat gold models: pens from US $5.00 to $75.00, pencils from US $2.00 to $50.00, and pen and pencil sets from US $8.75 to $125.00. An ill-fated ballpoint was also made.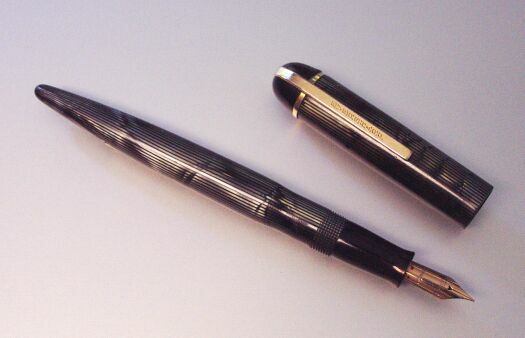 Eversharp Skyline Modern Stripe Gray Standard Size c1941-1948
Striped pens, with contrasting laminated plastic, came into vogue with the highly successful Parker Vacumatic pens, introduced in the 1930s. Nearly every pen manufacturer followed suit, but almost all subsequent pens have stripes that run the length of the pen cap and body. Stripes must have been popular, as Parker and Sheaffer made huge numbers of striped pens in the late 1930s and early 1940s. In my opinion, the striped celluloid used by Eversharp on the earlier Pacemaker and the Modern Stripe Skyline are among the most attractive and interesting of all from that period.

A Collection of Eversharp Skyline Modern Stripe Pens in All Five Colors Left to Right:
Gray / Gray / Gray / Brown / Green / Green / Blue / Burgundy
Scan Courtesy of Siegmund Stadtbäumer
Modern Stripe Skylines were probably made throughout the production run of the Skyline pens. Examples can be found of early model Skylines with ink-view sections and later solid sections. Modern Stripe Skylines came in five colors: blue, brown, gray, green and burgundy, with the burgundy color being the hardest to find. Blue may be the most common color. The plastic is a celluloid sheet wrapped into the pen shape with a noticeable seam on most pens. The design is narrow contrasting lines running the length of the pen body and cap with jagged "veins" running tangentially. The color stripes are wider than the thin contrasting black stripes. The material has a rich color and a lot of depth and play in the light, making it very visually appealing and very different from other Skyline models. There is a Skyline version with a striped cap that has wider stripes, but it is decidedly tamer than this material.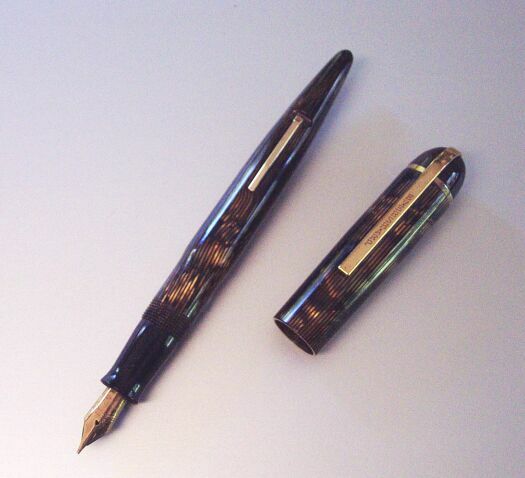 Eversharp Skyline Modern Stripe Brown Demi Size c1941-1948
The Modern Stripe was made only in the Demi (4 3/4 inches capped) and Standard (5 1/4 inches capped) size with matching repeater pencils and in three trim variants: bandless, narrow cap band, and wide cap band. The trim level also was indicative of price difference, with the bandless being the cheapest pen and the wide cap band pen being the most expensive. Bandless pens have a complimenting solid color plastic dome cap and a plain over the top gold-filled clip with "Eversharp" engraved. The dome cap color is a darker version of the color of the celluloid, with the gray pen having a black dome cap.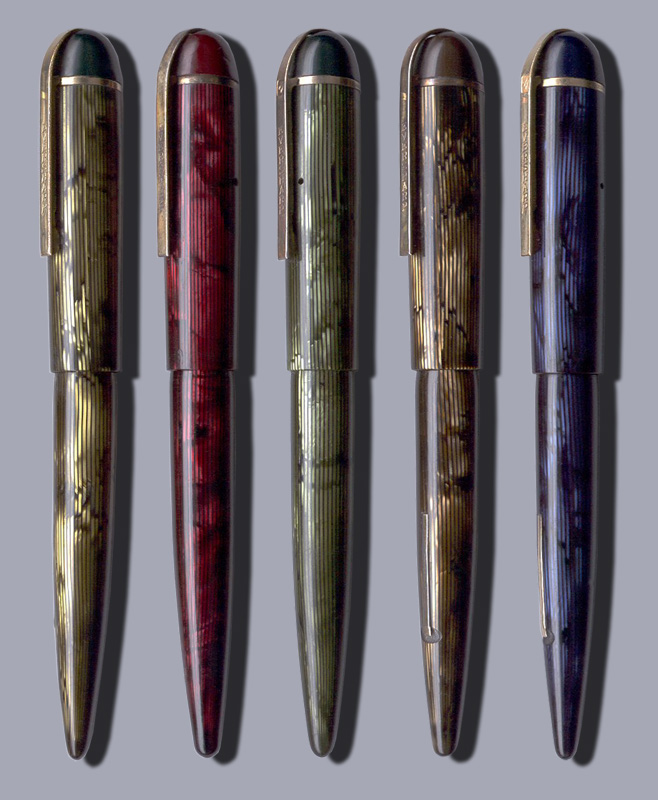 A Collection of Eversharp Skyline Modern Stripe Pens Left to Right:
Green / Burgundy / Green / Brown / Blue
Scan Courtesy of Siegmund Stadtbäumer
The other two versions have either a wide (about 1/4 inch) or narrow (about 1/8 inch) gold-filled cap band, a gold filled dome cap, and the gold-filled clip has the Lifetime Guarantee two checkmark logo at the top in addition to the Eversharp name. Occasionally the clip will have the Wahl name, instead of Eversharp. Eversharp did this to keep the Wahl trade name alive. There is no imprint on these pens.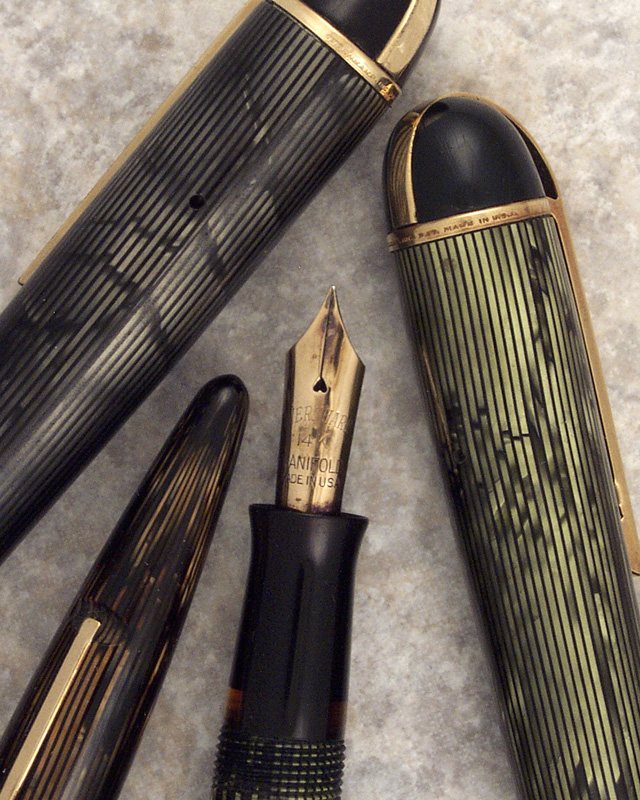 Eversharp Skyline Modern Stripe Manifold Nib
Skylines may have been a radical design externally, but they are very conventional in operation, being straight-forward lever fillers with open nibs and feeds. As with all things Skyline, there are no hard and fast rules on what nib to expect on what pen. In general, one may find a plainer nib having only the Eversharp name in a semi-circle and the 14 karat mark on the lower-end bandless pens and the "banner" nib on the higher-priced cap-band pens, but don't expect that to be the rule. Many different nibs were produced, so expect anything. The nib and feed on the Demi pen is smaller (and in proportion) than on the Standard size pen.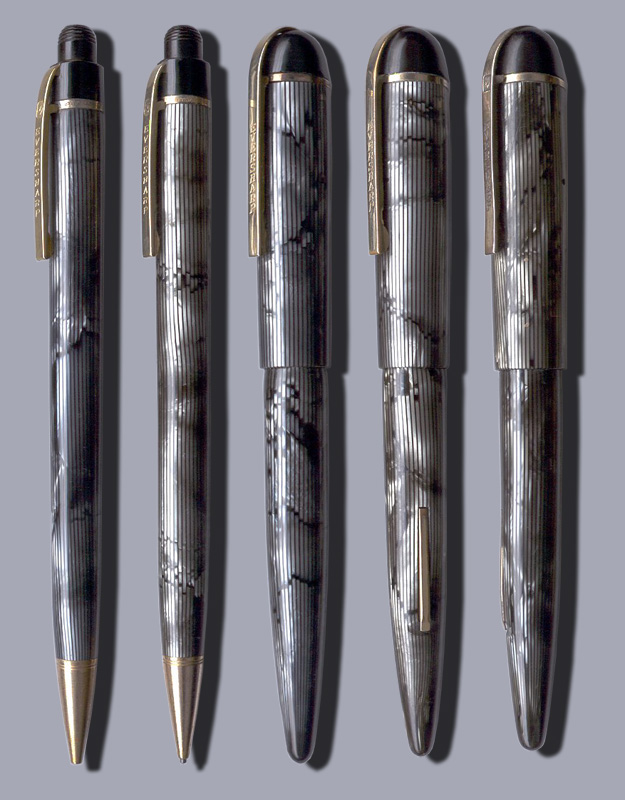 A Collection of Eversharp Skyline Modern Stripe Gray Pens and Repeater Pencils
Scan Courtesy of Siegmund Stadtbäumer
Of all Skyline models, the Modern Stripe is one of the harder ones to find and therefore command much higher prices than the more common all solid color, striped and gold capped pens.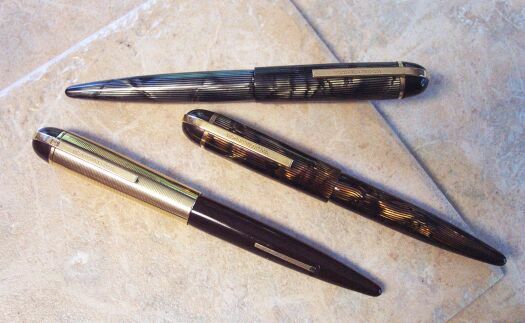 Eversharp Modern Stripe in Gray and Brown with a Gold-Filled Cap Presentation Skyline
Models
Modern Stripe or "Moire" - Models with single color longitudinal striped caps and barrel in silver gray, green, blue, red and brown. The Modern Stripe pen came only in the two smaller sizes. The color stripes are wider than alternating black and have a radial grain. Three styles in order of price, lowest to highest: no cap band with derby cap matching body color, narrow gold filled cap band with derby cap matching body color, and wide gold filled cap band with gold filled derby cap. The plastic derby color matches the barrel color. Trim is gold filled. The Modern Stripe pens were also low price entry level pens. We have a poor scan of an undated 1940s price sheets showing solid color pens in both Men's (standard) and Ladies (Demi) sizes at US $3.50 and matching pencils at US $1.50. Solid color pen and pencil sets listed at US $5.00. Because the price sheet lists the Gold Award pen and pencil set for $19.75, and 1942 advertisements show the set at $22.50, we believe the price list is from 1940-1941.
Table of Models and Prices for the Eversharp Skyline Modern Stripe:
| | | | | |
| --- | --- | --- | --- | --- |
| Type | Men's Pen | Men's Pencil | Ladies' Pen | Ladies' Pencil |
| Price | $3.50 | $1.50 | $3.50 | $1.50 |
| Color / Model | | | | |
| Black | 75 | 175 | 74 | 174 |
| Blue | 75B | 175B | 74B | 174B |
| Green | 75G | 175G | 74G | 174G |
| Silver Gray | 75S | 175S | 74S | 174S |
Performance
Restored vintage Skylines can be among the very best writers in any collection. Eversharp may not have been as innovative as Parker or Sheaffer in the late 1930s or 1940s, but they certainly knew how to make nibs and a great variety of them. For this review I have the pleasure of testing both a Standard and Demi Modern Stripe Skyline.
The pens shown in this article are both fitted with somewhat flexible medium nibs. The Standard size pen is 5 1/4 inches long capped and posts very deeply and securely at 5 5/8 inches. The Demi size pen is 4 7/8 inches long capped and 5 1/4 inches posted. These pens post like they were meant to be used that way and have excellent balance. The only thing I really dislike about the Skyline design is that the cap tends to wear on the lever when posted and is the source of lever brassing found on many used pens. The over the top clip design makes the pen sit low and snug in the pocket.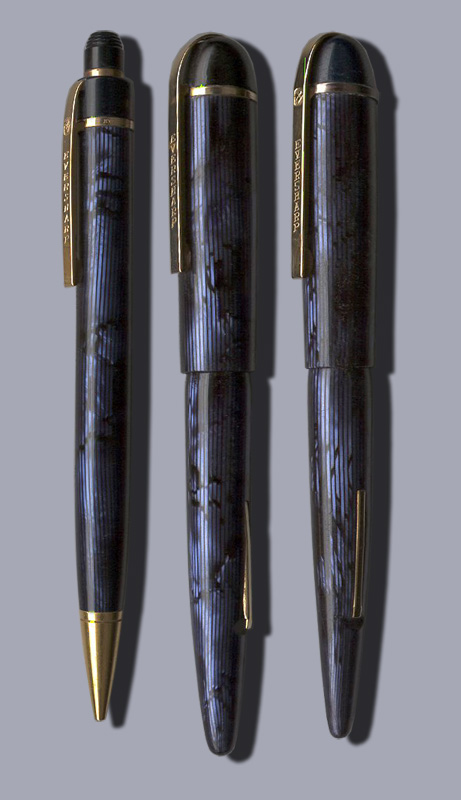 A Collection of Eversharp Skyline Modern Stripe Blue Standard and Demi Pens and Repeater Pencil
Scan Courtesy of Siegmund Stadtbäumer
The barrel shape and taper means that the ink sac in these pens is somewhat smaller and holds a bit less ink than a similar sized lever filler. Compared to a standard sized vacumatic, these pens hold a lot less ink. The design sold the pen, not the ink capacity.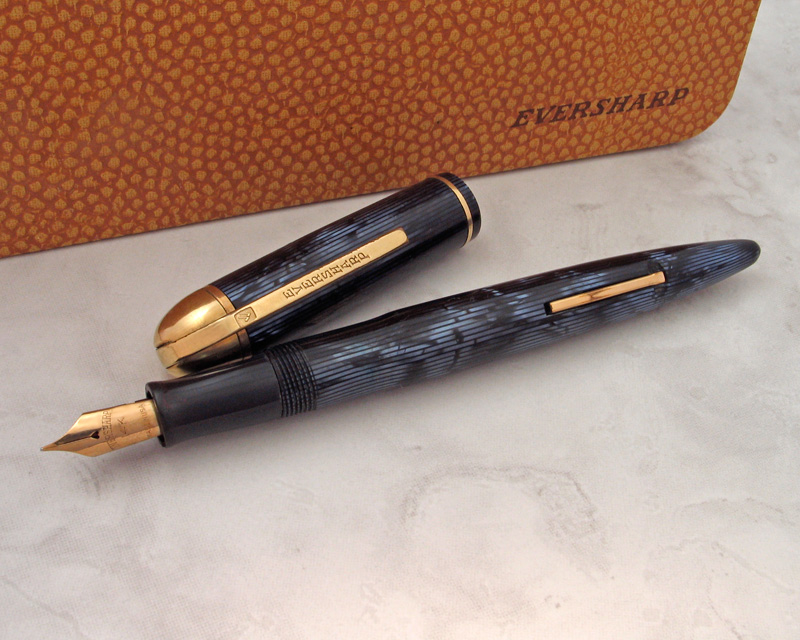 Eversharp Skyline Modern Stripe Blue Standard Size c1941-1948
Note uncommon gold derby and cap band
Skylines have a checkered reputation for plastic problems. Apparently the plastics used, especially during the war, are subject to shrinkage and operations such as sac replacement can be tricky, lest the barrel crack while removing the section. Plastic dome caps or derbies have been known to shrink and clips have been known to loosen. The Modern Stripe plastic apparently is more brittle than the plain plastics.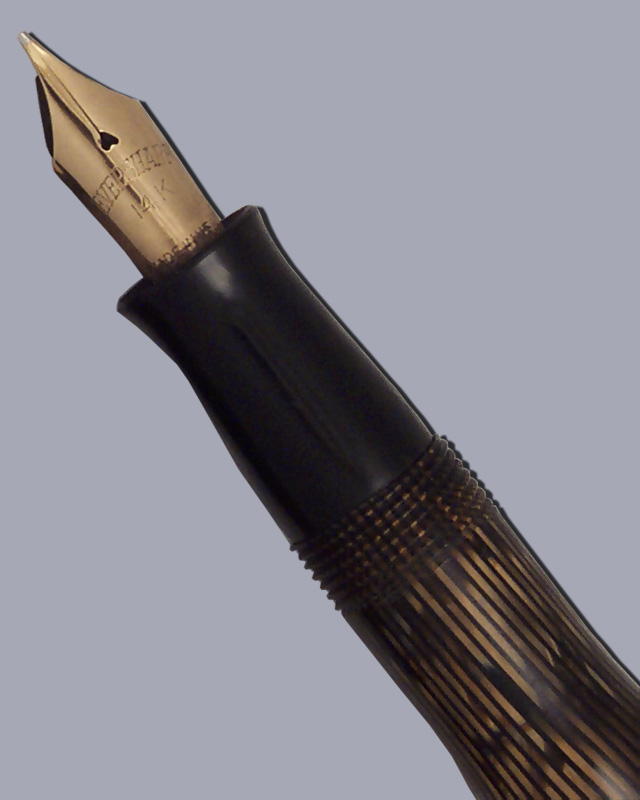 Eversharp Skyline Modern Stripe Brown Demi Size Nib
The pens fill easily with a single stroke of the lever. The nibs on both write a wet, smooth line as expected of the other Eversharp Skyline pens I've tried.
These pen have extraordinarily attractive plastic that polishes wonderfully and is really difficult to capture in pictures. The detailing is excellent, and overall, these pens present themselves very well, giving a sense of very high quality.
The Modern Stripe pen is very uncommon, and sought after by collectors. Unlike some pens that are collectable because of their rarity, I believe the Modern Stripe Skyline is so attractive that it would be popular even if abundant. The pen, as with all Skylines, is well made and a great writer. It's not fragile, so it could be a great daily user. I would focus on obtaining an already restored pen, as the possibility of damage during restoration is small, but real. Expect to pay a premium for this model, more than most other versions of the Skyline, save the solid gold models.
---
Acknowledgement
Grateful thanks to Siegmund Stadtbäumer for additional scans of pens from his personal collection.
Discuss / Recommend what you read on PenHero.com
Follow us on Twitter: PenHero
Add a link to PenHero.com on your blog:
(Copy & paste code)
Please only use the photo provided. Use of other photos requires permission.
The provided link photo will change as we update the site.

Comments on this article may be sent to the author, Jim Mamoulides
PenHero.com Bibliography