John Holland Jewel Inlaid Pearl and Black Stripe c1938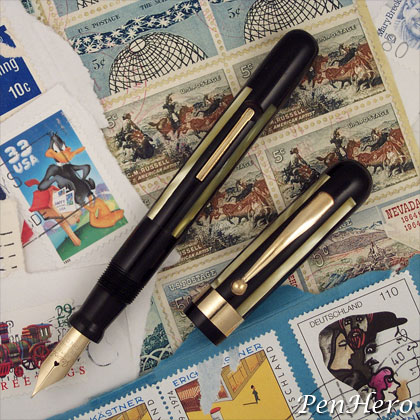 John Holland Jewel Inlaid Pearl and Black Stripe c1938
Fresh with some new catalog and pricing information, we track down more on this gorgeous inlaid black and pearl pen.
Sheaffer Balance Blue N3TC c1931-1932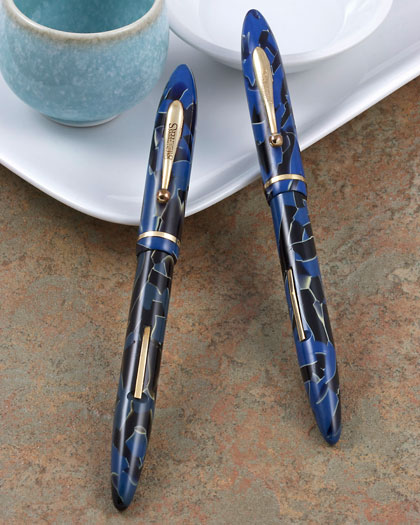 Sheaffer Balance Blue N3TC c1931-1932
Sheaffer only took one shot at blue in the Balance line, and only from 1931 to 1932. Named simply "Blue," many collectors call this finish "blue and black" as the darker blue discolors to a muddy black shade. Offered only on lower rank non-White Dot pens, this blue color is sought after and pens with excellent color fetch high prices.
Wearever Advertising on Railway Express Agency Trucks c1946-1947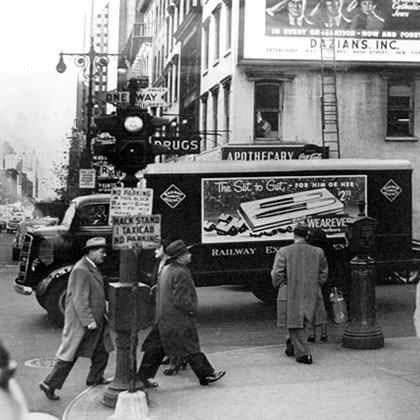 Wearever Advertising on Railway Express Agency Trucks c1946-1947
In August, 2015, after a trip to the Washington, D.C. Pen Show, I was contacted by Tom Heath, who furnished the photos in this article. He told me they represented an advertising campaign on the sides of Railway Express Agency delivery trucks in New York City by David Kahn, Inc. for its newest Wearever pen lines. You never know what mysteries unfold from the side of a delivery truck!
Sheaffer Snorkel Fern Green 1957-c1959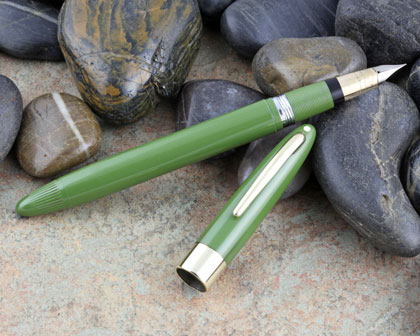 Sheaffer Snorkel, Fern Green 1957-c1959
Avocado. That was my first impression seeing a Sheaffer Snorkel Fern Green pen. Some people have less flattering names for this color. It's lighter than the very common Pastel Green and darker than Sage Green. Many collectors say it's one of the most difficult colors to find, especially a pen with a Fern Green cap and barrel. How does it compare to the other two Snorkel greens and when was it made? Find out!
Sheaffer Snorkel Triumph c1955-1959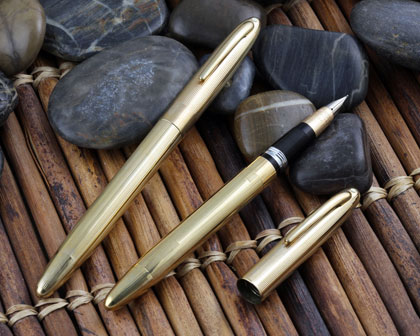 Sheaffer Snorkel, The Two Triumphs c1955-1959
For some reason the Sheaffer Snorkel Triumph pens don't get a lot of press. The Triumph is a handsome pen, all gold filled with long engraved lines in sets of five running the length of the streamlined cap and barrel. What makes the Triumph particularly interesting is that Sheaffer made two versions. Find out more about BOTH Triumphs in this new article.
Indian Fountain Pen / Pencil Combo c1930s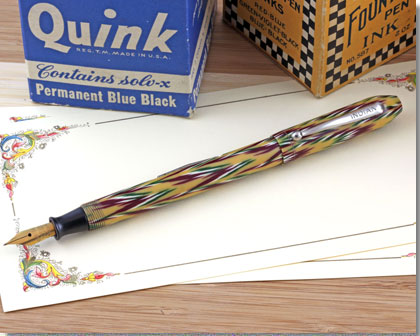 PenInHand: Indian Fountain Pen / Pencil Combo: An unsolved mystery
The Indian fountain pen / pencil combos are one of the more attractive pens from the 1930s. They are also one of the lower tier brands that lack any primary information. What do we know about these pens? Why Indian? There is a lot of pen folklore and speculation here. Some facts and deductive insights about these dazzling pens.
Waterman Reflex da Vinci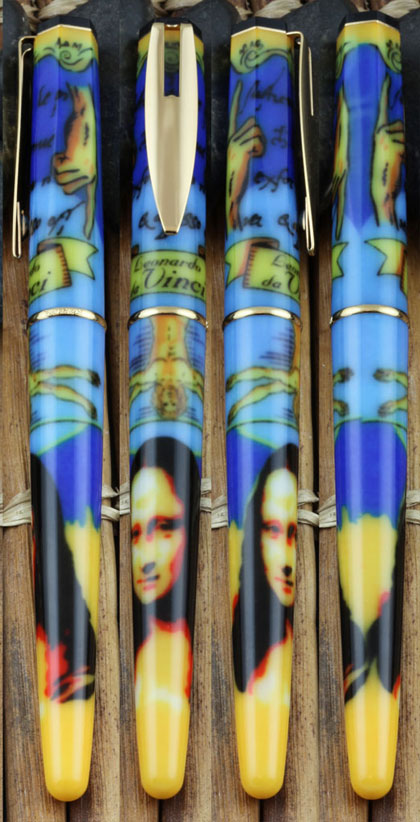 PenInHand: Waterman Reflex da Vinci: Two fun, yet very collectible, value priced pens
It's not every day that a fairly ordinary pen becomes a hot collectible. Sometime between 1995 and 2000, Waterman introduced Reflex fountain and pushbutton ballpoint pens in two screen printed designs to honor Leonardo da Vinci. Because of the primary colors of the two designs, the two versions are often referred to as the "red" da Vinci and the "blue" da Vinci. Read more about these dressed up entry level pens that are hot collectibles now.
Norma Pencil Company Advertising Gallery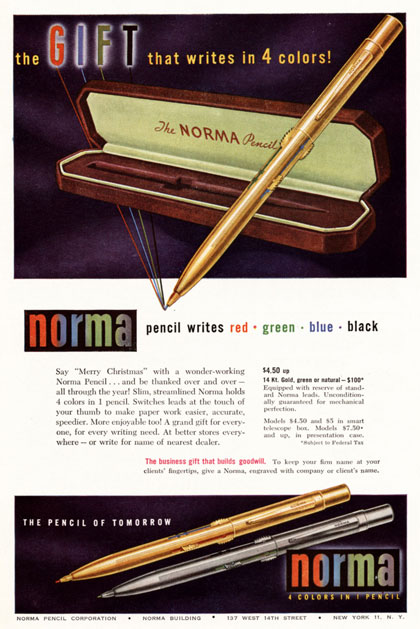 UPDATE: Norma Pencil Company advertising
We've updated the Norma Pencil Company advertising page, including a slideshow of 7 original advertising scans. Use the controls to advance, go back, and click to view full screen!
Wearever De Luxe "Mother of Pearl" c1940-1943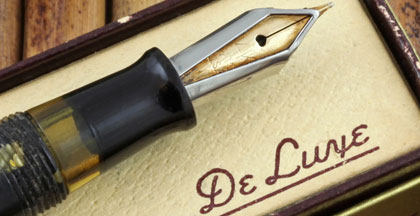 Major Update: Wearever De Luxe "Mother of Pearl" c1940-1943
This Wearever De Luxe model is reminiscent of a favorite collectible pen, the Sheaffer Ebonized Pearl Balance pens made from 1934 to 1939. The green pearl pattern pen originally shown in this 2003 article is now joined with a brown pearl pen picked off eBay in 2016. More information is included about the pen, dating, and the unique, patented nib unit.
Venus Campus Pen Blue c1953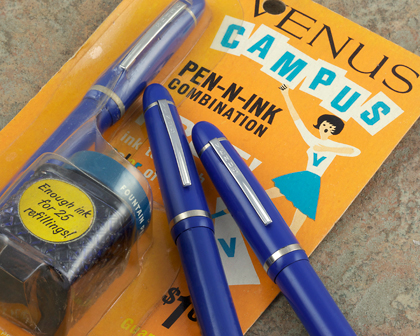 PenHero 365: Venus Campus Pen Blue c1953
What could you get for a dollar in the 1950s? How about a "Pen-N-Ink" combination, with FREE ink that matches your pen? And the ink bottle comes with enough ink for twenty-five fillings! Can't beat that!
Eversharp Slim Ventura 1953-1957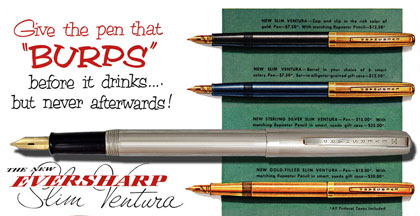 UPDATE: Eversharp Slim Ventura 1953-1957
We've updated our article on the Eversharp Slim Ventura, the last high end quality fountain pen marketed by Eversharp before the company was sold to Parker. The new pen was introduced in 1953 and shared its name with the prior lever-fill Ventura, which was not much more than a revamped Symphony sporting a new cylindrical cap. Check out all the new details and the updated larger pictures!
Sheaffer Triumph Masterpiece c1942-1944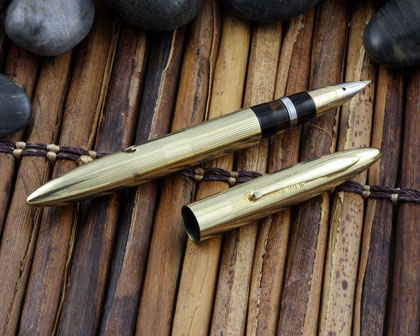 PenHero 365: Sheaffer Triumph Masterpiece c1942-1944
What does the word "masterpiece" bring to mind? If we turn to a dictionary, we are told it is "a work of outstanding artistry, skill, or workmanship," and "an artist's or craftsman's best piece of work." A pen with that name would have to stand up the very highest standards. Let's take a look at the war time top of the line Sheaffer Triumph Masterpiece c1942-1944.
Sheaffer Snorkel Fiesta Red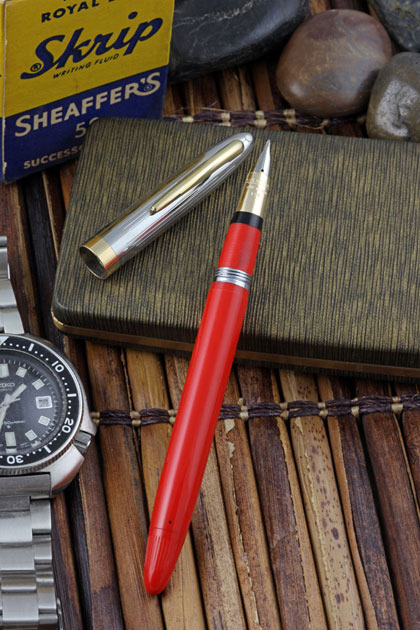 PenInHand: September, 2015: Snorkel Fiesta!
Fiesta Red is one of the brightest and boldest colors in the Sheaffer Snorkel palette and will draw the eye in any collection. If you like Snorkels and bright red pens, you will find any Fiesta Red pen a challenge, both in difficulty and price!
Vaporite Brush Pen c1946-1956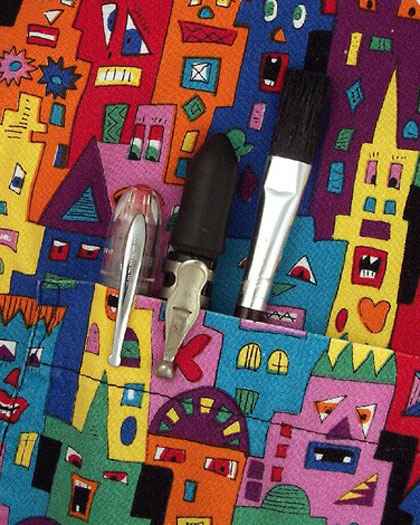 An update to our article on the Vaporite Brush Pen with some new photos and details. Will the Vaporite Brush Pen sneak into your rotation and become your everyday user? Maybe if you're Banksy. The pen does what it was made to do - write really big letters and stuff. This is the pen world's blunt instrument. If huge is your passion, this is your pen!
Ultra Fountain Pen c1958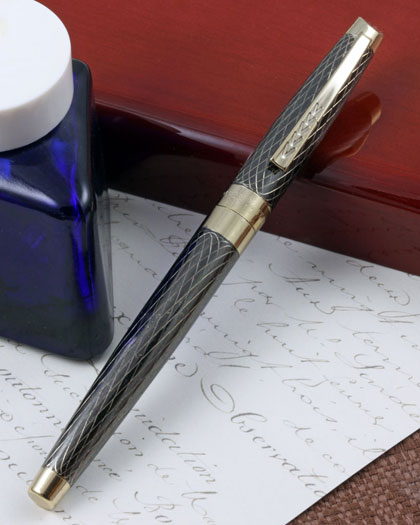 PenGallery: Ultra Fountain Pen c1958
I stumbled onto the Ultra Fountain Pen line while on an annual trip to Maine. Would these pens be sensational to write with? Would the Ultra Fountain Pen live up to its billing as, "One of the World's Finest Fountain Pens?" That's a towering claim, indeed. And all the way from Italy! I bought the lot and took them home for closer inspection.
Sheaffer Imperial, Model AS9 c1960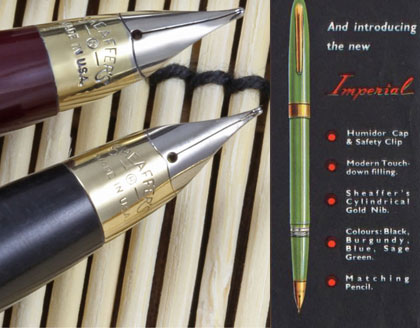 PenGallery: The First Sheaffer Imperial, Model AS9 c1960
Less celebrated or obscure pens are interesting simply because they represent a mystery that needs to be solved. A favorite non-pen collecting activity is reading or watching mysteries, especially those of the famous Belgian detective, Hercule Poirot. Join us in solving the mystery of this uncommon Sheaffer Touchdown pen that bears the Imperial name!
Lambrou Pens LK1 Serenity 2015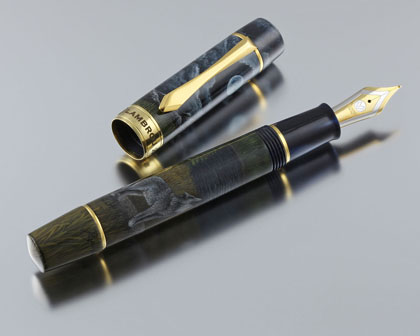 PenInHand: Lambrou Pens LK1 Serenity 2015: A stunning artist's proof pen in gold trim
The new Lambrou Pens LK1 Serenity is the brain child of one of the Lambrou Pens working group members, it was born from the LR7 Moonlight. They wished for a wolf, in sterling silver howling at the Moon, with a second wolf nearby. This month's PenInHand article is about a one-off artist's proof LK1 in stunning gold plated trim.
Waterman Vanguard c1960-1967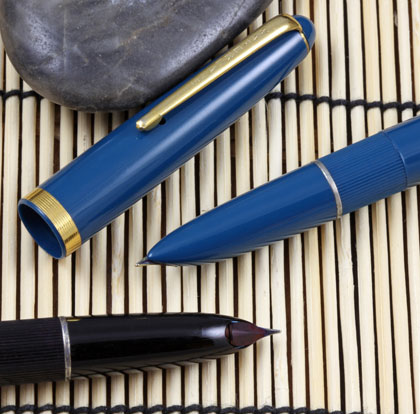 PenHero 365: Waterman Vanguard c1960-1967
When I first ran across one of these lightweight sold color pens in a cup in an antique store, I thought they were all plastic Parker 51 knockoffs. The stamping on the clip was so faint I didn't notice it at first, but I did see the "MADE IN ITALY" stamped on the barrel. Looking again and seeing "WATERMANS" stamped lightly down the length of the clip made me wonder even more. Is this a knockoff made in Italy and using the Waterman name?
PenHero on Social Media




---
Pen Show Calendar
Updated as of February 28, 2017!
March, 2017
---
North Little Rock Wyndham Hotel
North Little Rock, Arkansas, USA
Hotel Montblanc
Barcelona, Spain
Hotel CITY
Villach, Austria
April, 2017
---
Leonardo Royal Hotel
Köln, Germany
Hofstra University Student Center
Hempstead, Long Island, New York, USA
Dalmeny Hotel
Lytham St Annes, UK
Florence Pen Show
April 8, 2017
AC Marriott Hotel
Florence, Italy
Wyndham Atlanta Galleria
Atlanta, Georgia, USA
Click here for links to all 2017 shows!
---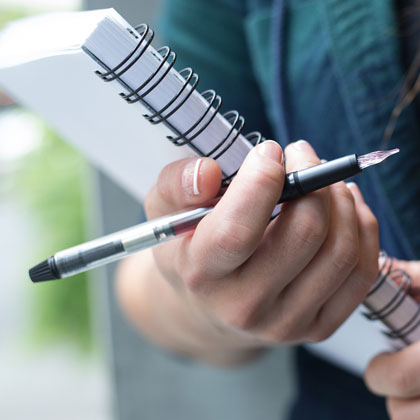 Wink Pen First Edition Fountain Pen 2017 PenHero.com, January 22, 2017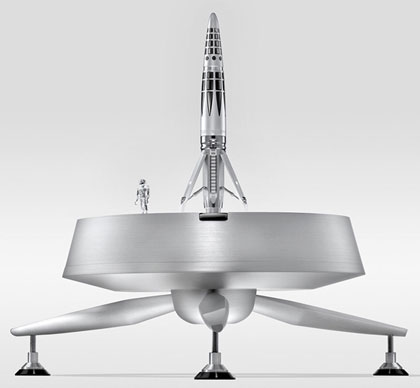 Caran d'Ache Astrograph Limited Edition 2016 PenHero.com, January 27, 2017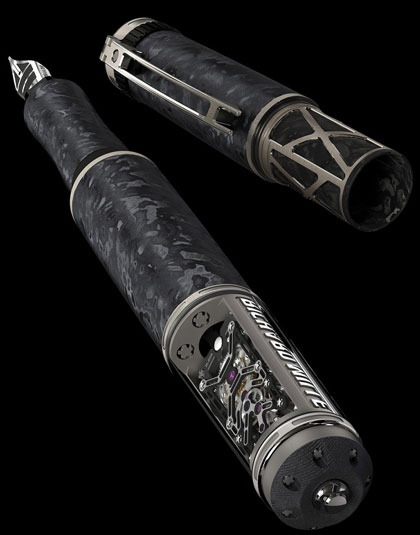 The Coolest Fountain Pen Goes To: Richard Mille's RMS05 Charmian Leong, The Peak Magazine, March 14, 2016
The Richard Mille RMS05 Is A $105,000 Pen With A Mechanical Heart Iunal Giumali, A Blog To Watch, February 24, 2016
SIHH 2016: Richard Mille RMS05 Mechanical Fountain Pen Alexander Linz, watch-insider.com, January 29, 2016
Richard Mille Made a $105,000 Mechanical Fountain Pen Stephen Pulvirent, Blooberg, January 21, 2016
The RMS05: Richard Mille's New Signature Charles Edwards-Freshwater, Lux Worldwide, January 19, 2016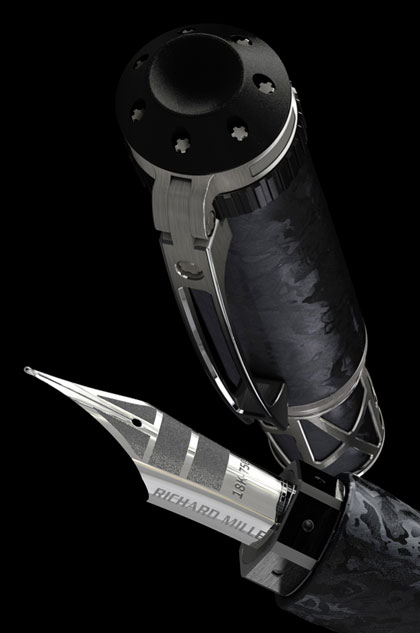 Richard Mille RMS05 Mechanical Fountain Pen 2016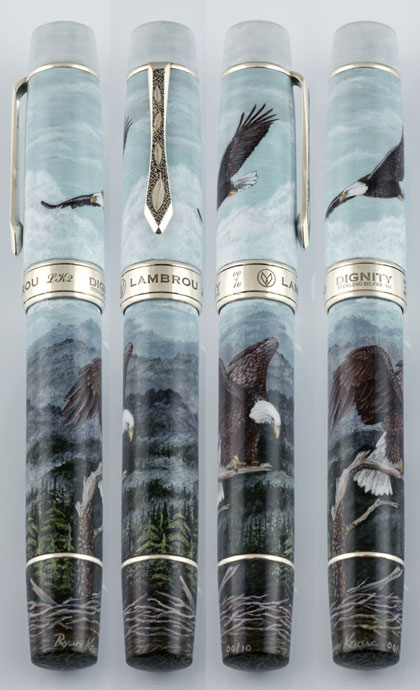 Lambrou Pens LK2 Dignity 2016: Soar with the eagles! Jim Mamoulides, PenHero.com, April 27, 2016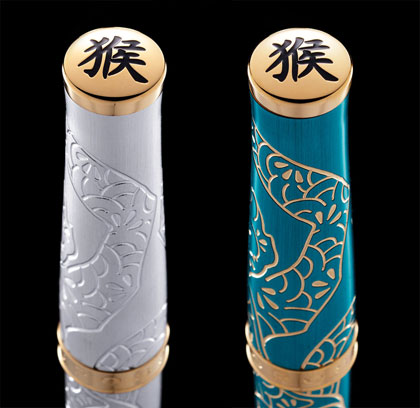 Cross Year of the Monkey Special Edition Collection 2016 Jim Mamoulides, PenHero.com, December 11, 2015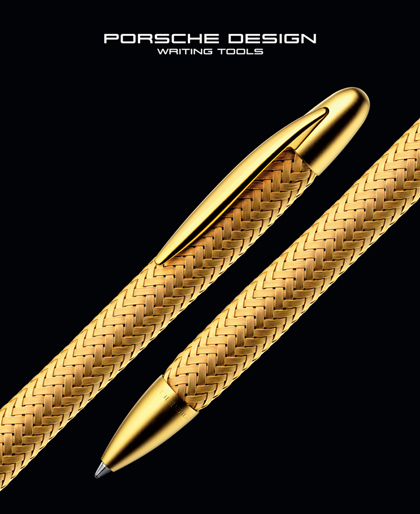 Porsche Design Tec Flex Gold Special Edition 2015 Jim Mamoulides, PenHero.com, October 11, 2015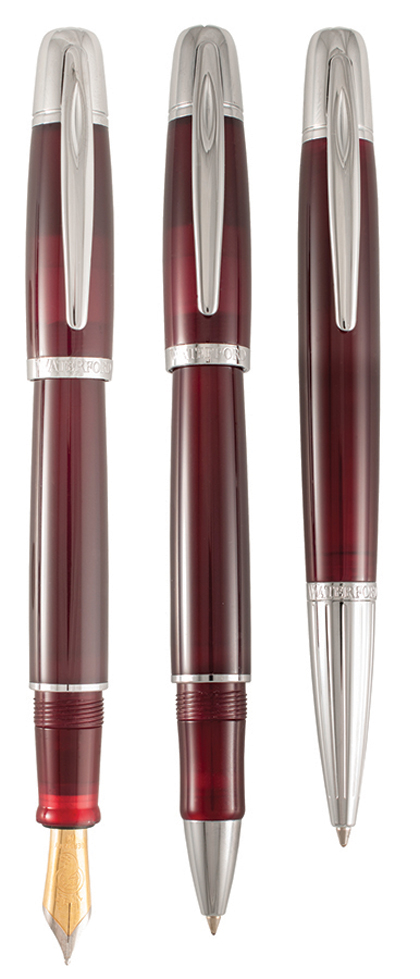 Waterford Pallas Marsala 2015 Jim Mamoulides, PenHero.com, October 9, 2015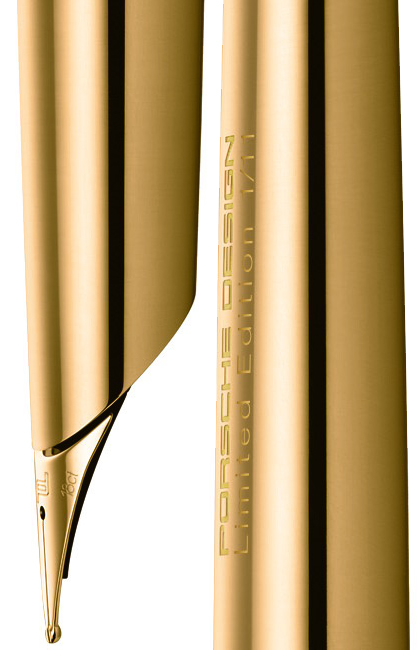 Porsche Design Solid Gold Limited Edition 2015 Jim Mamoulides, PenHero.com, October 7, 2015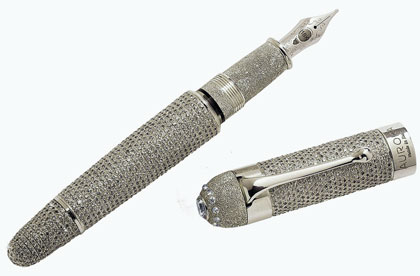 10 most expensive pens in the world Jagran Post, October 1, 2015
Le stylo BIC / The Ballpoint pen France-Amerique, October 1, 2015
---
Interact
Contact us:
Click here to send us an email!
Pen Clubs
Pen Forums
---
Your on-line writing instrument magazine, featuring detailed reviews, history, news, shows, and product announcements, and more links to writing instrument focused sites than any other source. PenHero.com is tablet and smart phone compatible!