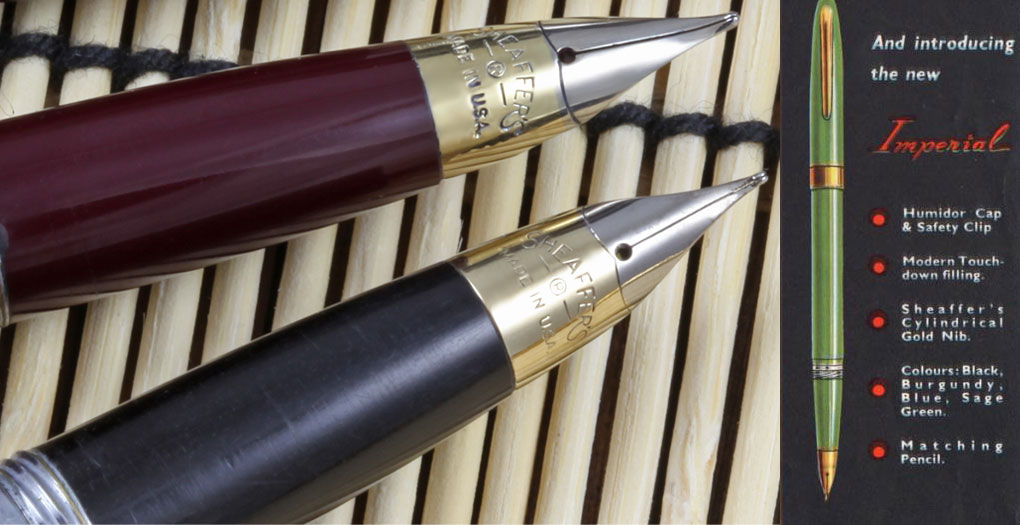 PenGallery: The First Sheaffer Imperial, Model AS9 c1960
Less celebrated or obscure pens are interesting simply because they represent a mystery that needs to be solved. A favorite non-pen collecting activity is reading or watching mysteries, especially those of the famous Belgian detective, Hercule Poirot. Join us in solving the mystery of this uncommon Sheaffer Touchdown pen that bears the Imperial name!
Update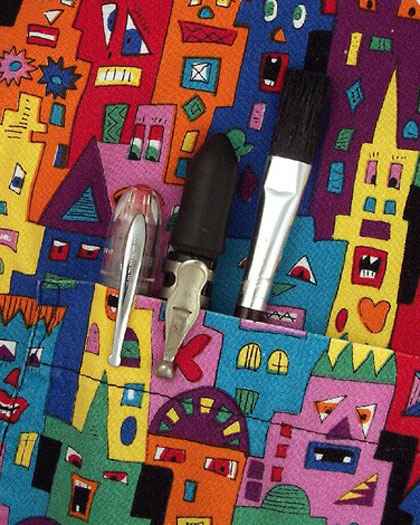 An update to our article on the Vaporite Brush Pen with some new photos and details. Will the Vaporite Brush Pen sneak into your rotation and become your everyday user? Maybe if you're Banksy. The pen does what it was made to do - write really big letters and stuff. This is the pen world's blunt instrument. If huge is your passion, this is your pen!
Featured Articles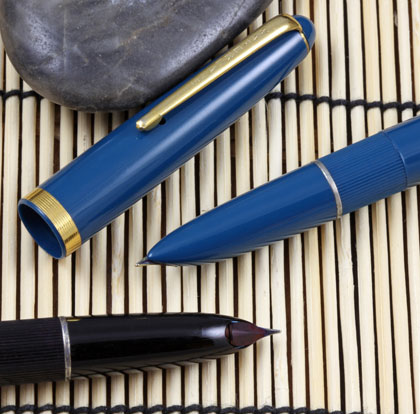 PenHero 365: Waterman Vanguard c1960-1967
When I first ran across one of these lightweight sold color pens in a cup in an antique store, I thought they were all plastic Parker 51 knockoffs. The stamping on the clip was so faint I didn't notice it at first, but I did see the "MADE IN ITALY" stamped on the barrel. Looking again and seeing "WATERMANS" stamped lightly down the length of the clip made me wonder even more. Is this a knockoff made in Italy and using the Waterman name?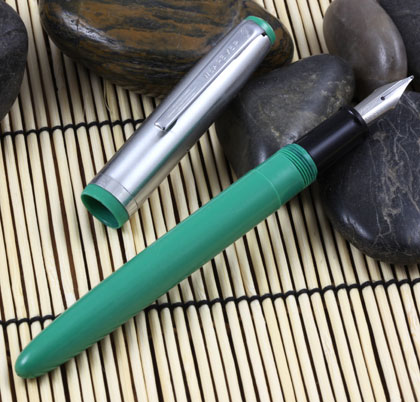 Wearever Saber c1958-1962: The Pennant evolves into a cartridge pen!
Often confused by collectors as the "cartridge Wearever Pennant," the Wearever Saber cartridge fountain pen was introduced in 1958 and marketed at least through 1962. Read how David Kahn, Inc. competed with the big boys with a cartridge version of its top selling fountain pen! Introduces a new line up photo feature showing each color and variation along with a full screen slideshow including each photo in the article.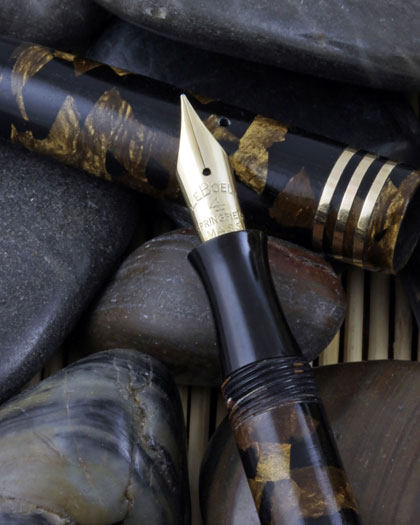 PenInHand: July, 2015 - Finding something wonderful - a LeBoeuf Ringtop Sleeve Filler c1932
Once in a while, when searching through antique stores looking for old pens, something truly wonderful turns up. On a recent trip I spotted this very attractive brown and black marble ringtop pen and saw an imprint and nib stamping I had not previously encountered in the wild: LeBoeuf. Of course, I snapped it up!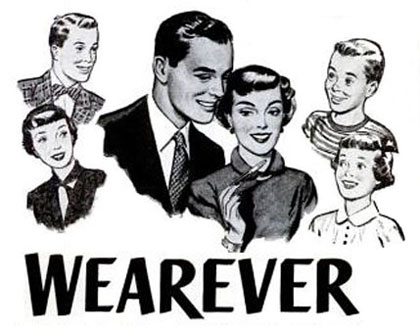 Wearever Pennant: The Pen That Solves All of Life's Problems!
Long the biggest manufacturer of inexpensive pens, Wearever launched the $1 Pennant pen in 1950 with an aggressive ad campaign that featured strongly worded headlines, lists of value features, emphasis on the $1 price point compared to other pens, and most interestingly, comic vignettes showing how Wearever solves life's problems.
Library of Vintage Pen and Pencil User Guides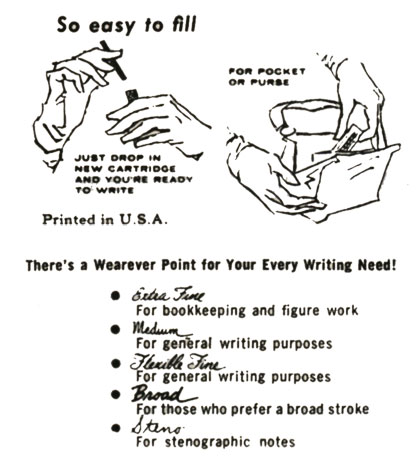 Library of Vintage Pen and Pencil User Guides
We've updated the Library of Vintage Pen and Pencil User Guides with more Sheaffer and Wearever user guides. The total count is now up to 91 vintage user guides! You can contribute to this database - just click on the link on any of the pages.
PenInHand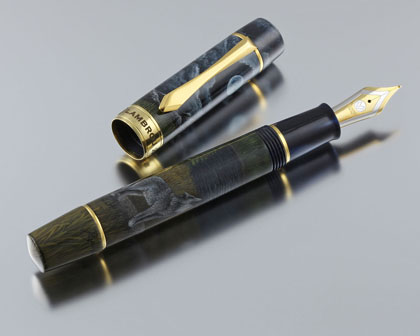 PenInHand: Lambrou Pens LK1 Serenity 2015: A stunning artist's proof pen in gold trim
The new Lambrou Pens LK1 Serenity is the brain child of one of the Lambrou Pens working group members, it was born from the LR7 Moonlight. They wished for a wolf, in sterling silver howling at the Moon, with a second wolf nearby. This month's PenInHand article is about a one-off artist's proof LK1 in stunning gold plated trim.
Update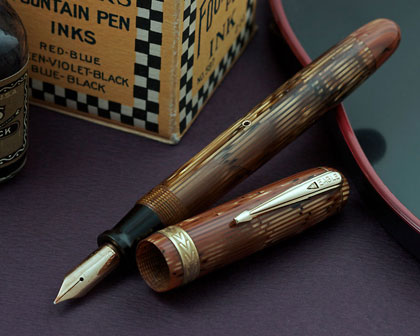 An update to our Eagle Prestige story with a detailed examination of the Eagle Prestige mechanism and restoration written by Matthew Greenberger. The pen's operation reminds him most of the Waterman Ink Vue, but with an inner barrel. Filling feels like filling an Ink Vue. See what the INSIDE STORY is on this very uncommon pen!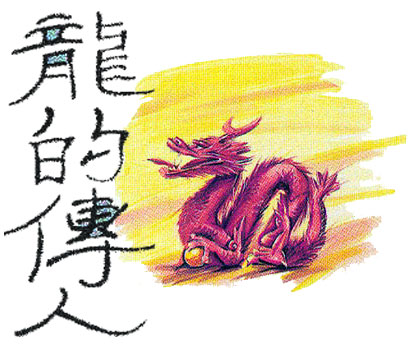 Élysée Dragon Pen Special Edition 1998-1999
The final Élysée Special Edition pen is named for the mystical image of the Chinese dragon executed in gold on a black lacquer background. The Dragon Pen Special Edition was introduced in the April, 1998 Élysée catalog. The edition celebrates the coming 2000 Year of the Dragon on the Chinese calendar.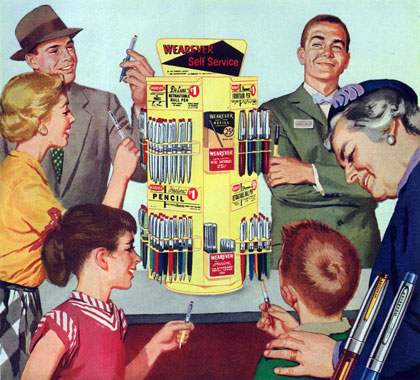 Next to the Supreme, the Pennant is probably the most common Wearever you will find in the field. The Pennant is the consummate "dollar pen", sold from about 1950 through the early 1960s. It was cheap and nearly indestructible and Wearever sold them by the bucket full. Pennants would be seen typically on card racks and counter top carousels at drug stores and dime stores along with other Wearever products.
Pen Show Calendar
August, 2015
---
Sofitel San Francisco Bay
Redwood City, California, USA
September, 2015
---
Hotel Medium Conqueridor
Valencia, Spain
Tilburg Pen Show
September 26, 2015
Natuurmuseum Brabant
Tilburg, Holland
Parking Carrefour Mont Saint Jean
Waterloo, Belgium
Doubletree Hotel Dallas
Dallas, TX, USA
Click here for links to all 2015 shows!
---
How The Ballpoint Pen Killed Cursive Josh Giesbrecht, the Atlantic, August 28, 2015
Apple's Marc Newson Designs A Space-Age Fountain Pen John Brownlee, Fast Company, August 20, 2015
ST Dupont launches Grand Prix collection TradeArabia News Service, Trade Arabia, August 16, 2015
Schrade Tactical Pens does more than just write Edwin Kee, CoolestGadgets.com, August 14, 2015
Visconti's Marvelous Marble Pens: Look Out, Michelangelo! Nancy Olson, Quill & Pad, August 13, 2015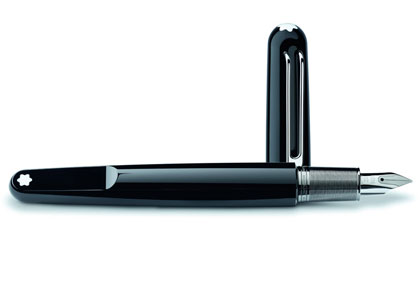 Marc Newson teams up with Montblanc to launch luxury pen range Dan Howarth, de zeen magazine, August 13, 2015
Here's Your Very First Look at Montblanc's Collaboration With Marc Newson Brock Cardiner, Highsnobiety, August 13, 2015
Ten Years Of Giuliano Mazzuoli: An Independent Made in Italy Elizabeth Doerr, Quill & Pad, August 12, 2015
Designer Marc Newson on Fountain Pens and the Sad State of Cars J. J. Martin, The Wall Street Journal, August 12, 2015
What Is It? The Answer Bill White, The Morning Call, August 5, 2015
---
Interact
Contact us:
Click here to send us an email!
Pen Clubs
Social Media
Pen Forums
---
Your on-line writing instrument magazine, featuring detailed reviews, history, news, shows, and product announcements, and more links to writing instrument focused sites than any other source. PenHero.com is tablet and smart phone compatible!