PenHero 365: Waterman Vanguard c1960-1967
by Jim Mamoulides, August 3, 2015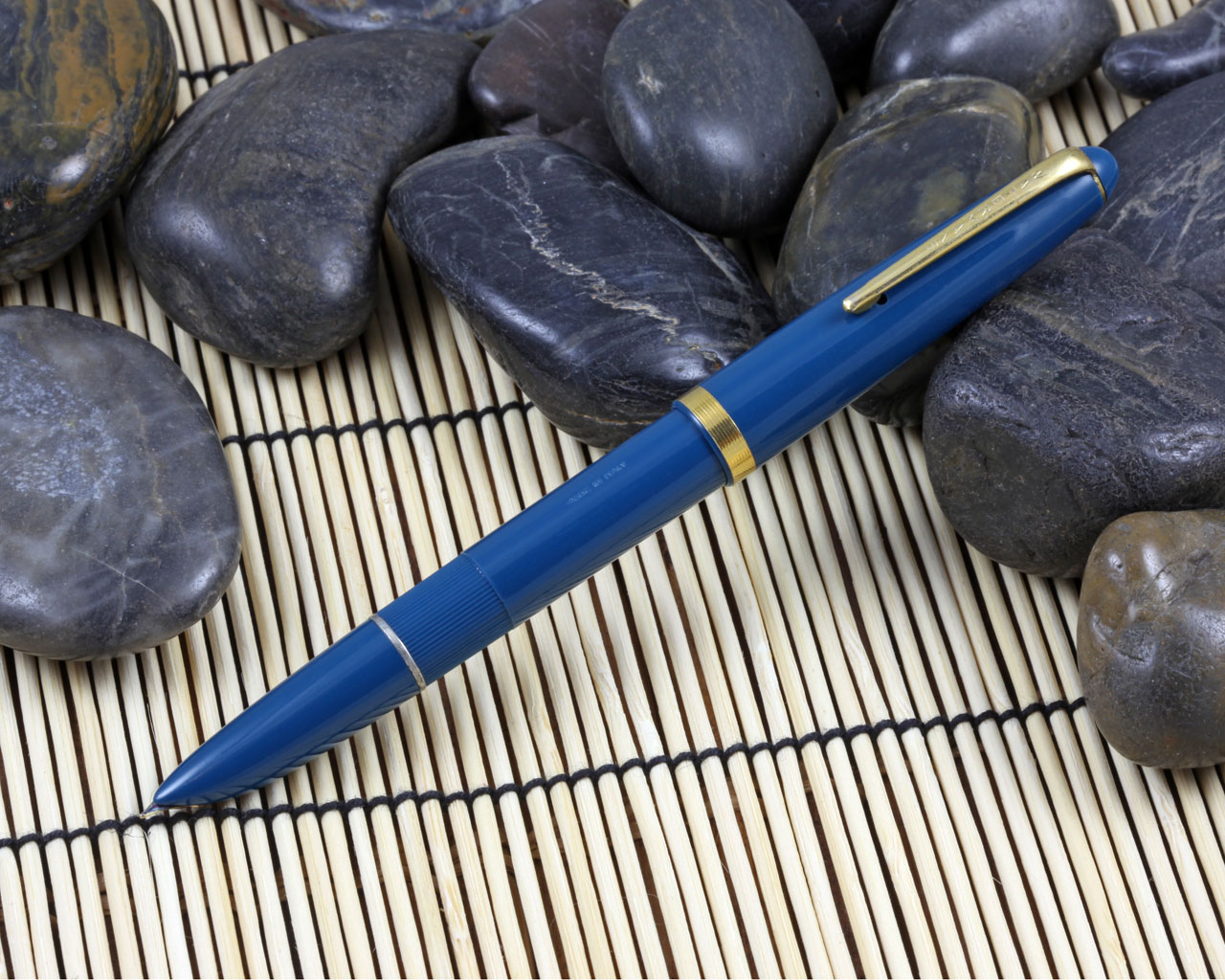 Waterman Vanguard fountain pen in blue, open with cap posted
Click the image above to see a full screen slideshow
When I first ran across one of these lightweight sold color pens in a cup in an antique store, I thought they were all plastic Parker 51 knockoffs. The stamping on the clip was so faint I didn't notice it at first, but I did see the "MADE IN ITALY" stamped on the barrel. Looking again and seeing "WATERMANS" stamped lightly down the length of the clip made me wonder even more. Is this a knockoff made in Italy and using the Waterman name?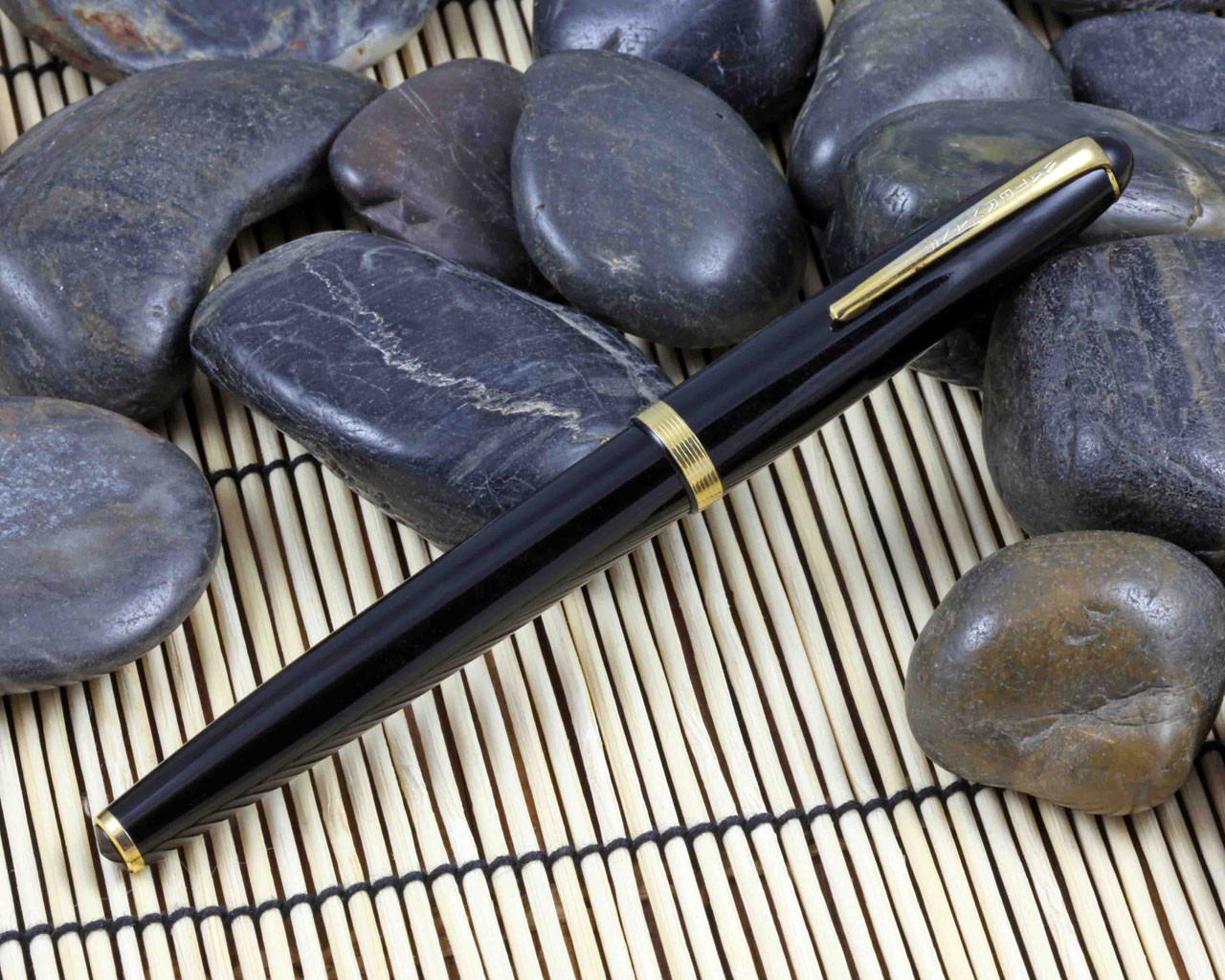 Waterman Vanguard fountain pen in black, closed
A lot of searching went into figuring out what I had, now that I have two of them, one black and one blue. It turns out that this is the Waterman Vanguard, a pen offered from 1960-1967, based on advertisements in Canadian newspapers. I found nothing showing them advertised in the USA. It doesn't surprise me finding them in Maine as there is a lot of traffic between the USA and Canada and certainly things bought in Canada would make their way south.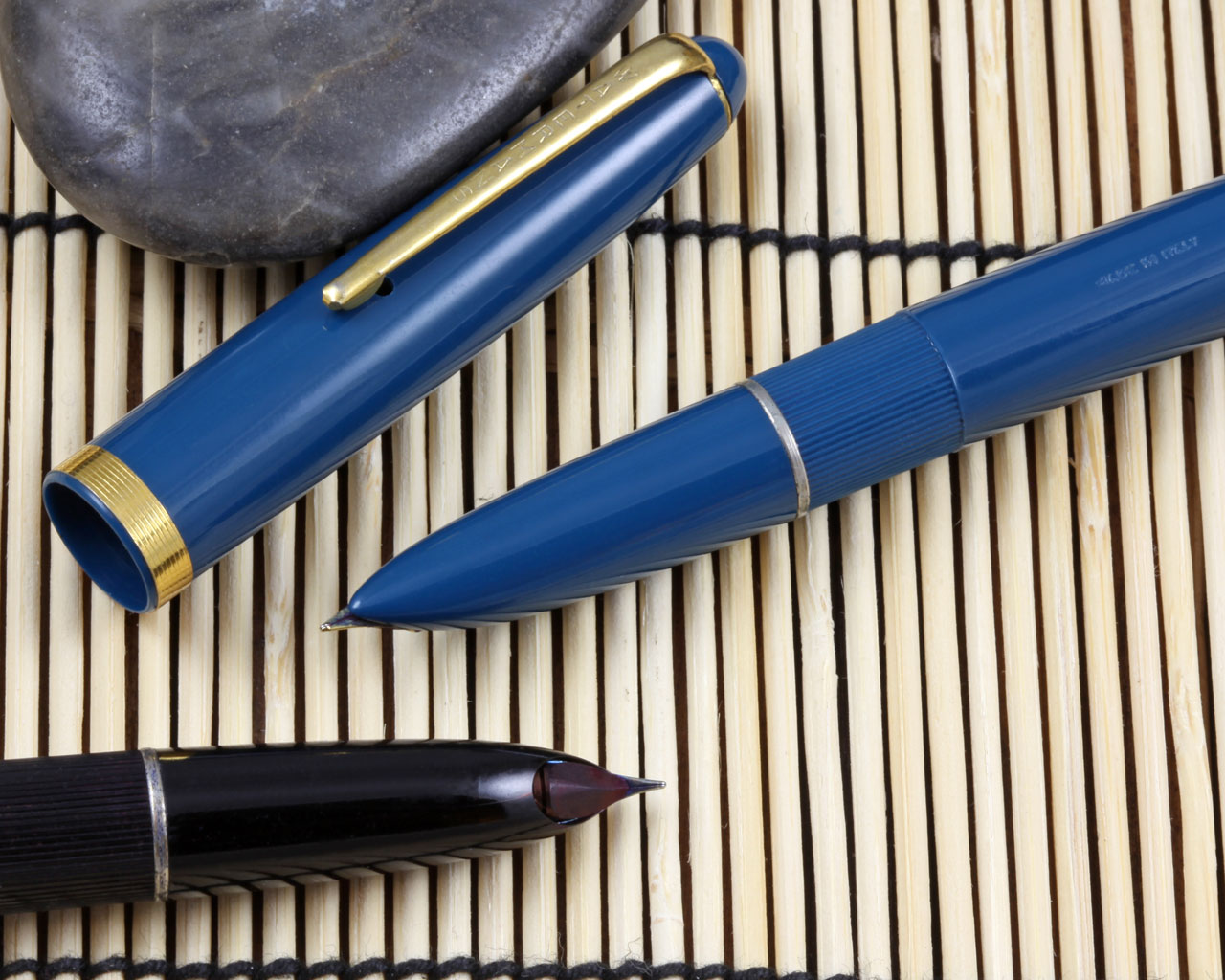 Detail of Waterman Vanguard fountain pens in black and blue showing hooded nib section, ribbed section at top of barrel, "MADE IN ITALY" barrel imprint, and clip "WATERMANS" stamping
Now identified, why made in Italy? I posed the question on several internet forums and got some traction from Giovanni Abrate. Giovanni sees a lot of similarities between the Vanguard and pens made by Stilus in about 1961 or 1962 in Settimo Torinese in the province of Turin, Italy. Giovanni writes, "The cap has a strong similarity with that of the Stilus 211 and the barrel looks like the one from the Stilus 311. Stilus in the early 1950s was a Brand owned by the Pagliero company of Settimo Torinese. My guess is that this pen was made by Stilus. This pen was made at a time when Waterman did not have the resources to produce a school pen for the lucrative Italian school market."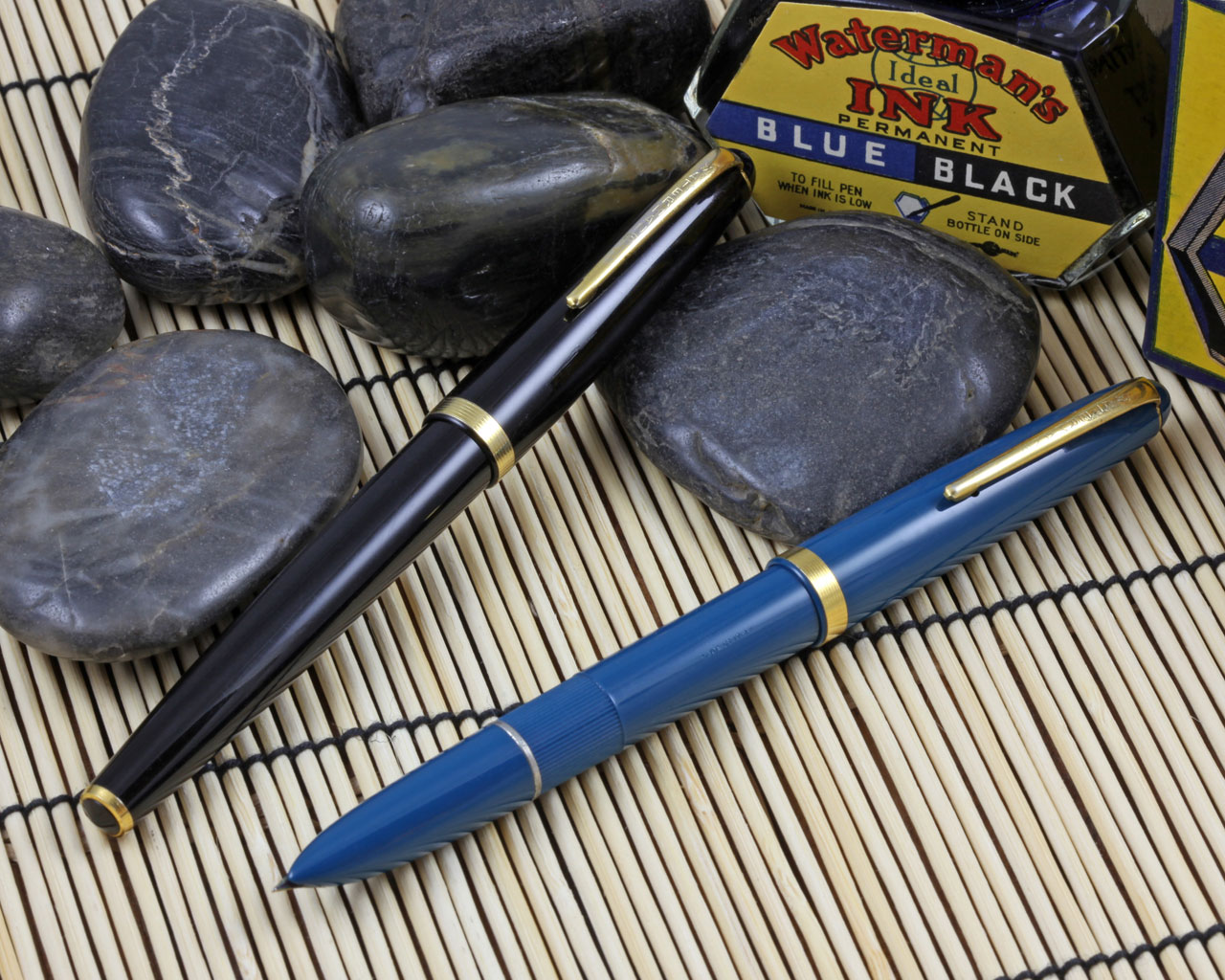 Waterman Vanguard fountain pen in black and blue
Identification guide and features:
There is very limited information on the Waterman Vanguard. I've had to scrape to find newspaper advertisements that range from 1960-1967. Only one of those has an image and no reference to colors or nib sizes offered, but they are consistent in stating that the pen came with 4 cartridges. There are a few photos of the pen in the original packaging, a paperboard box with a clear plastic cover and the Vanguard name printed on the side next to the Waterman's logo.
Injection molded cap and barrel
Observed colors: black and blue - it's likely more colors were offered
Barrel has 1 inch molded-in ribbing near the section
Gold plated clip, cap band and barrel end trim band
Clip has "WATERMANS" stamped down the face
Gold plated hooded nib
Barrel imprinted "MADE IN ITALY"
Unknown number of nib grades: fine and extra fine observed
About 5 1/8 inches long capped and 5 1/2 inches posted
Cartridge pen, compatible with Waterman C/F converter
Advertised price ranged from CAN $1.95 in 1960, CAN $1.49, to CAN $.97 by 1967
Packaged in white paperboard box with clear plastic cover, along with 4 cartridges
Performance
The Waterman Vanguard is a visually appealing pen. It has good visual balance both capped and posted, accented with treats like a ribbed cap band and a trim band on the barrel end. The ribbing at the top of the barrel near the section is an especially nice touch - literally. The clip is long and tapered, and fits well with the pen's design. Everything about the fit and finish is done well. All parts fit perfectly and all the trim pieces are tight. Those are the high points: the first impression is the Vanguard looks great.
In the hand, the pen gives quite a different impression. First, this is a very light pen. It's only .3 ounces empty and .5 ounces with a cartridge or converter installed. The plastic does not appear to be brittle or prone to warping as plagues other fifty year old plastic pens, but the cap and barrel are really thin walled. I would worry about putting too much pressure on the clip as for fear of cracking the cap. The gold plated trim must have looked very bright and sharp when new, but based on these examples, the plating is thin and cheap and does not wear well. The "WATERMANS" stamping on the clip face is rather light and in simple block letters. I actually think this particular point is a reveal. There is some belief that the pen may have been jobbed to an Italian pen maker in Settimo.
The Vanguard is a slender and very light pen in the hand. I prefer filling it using the Waterman C/F squeeze converter, which happened to be in one of the pens at acquisition. From advertising and information on packaging, these pens were not sold with converters. Opening the pen reveals that the section thread is made of clear plastic, though this does not provide an external ink view feature for this pen. A couple of quick squeezes on the converter and the pen is ready to write. The nibs on these two pens are extra fine and fine and are dry writers. Each will need a little tweaking to write well. They are reasonably smooth, but not pleasantly so. To me, this pen feels better with the cap posted, and it posts quite deeply and securely. With some nib flow adjustment, and a little bit of smoothing, these could actually be decent everyday note taking or school pens.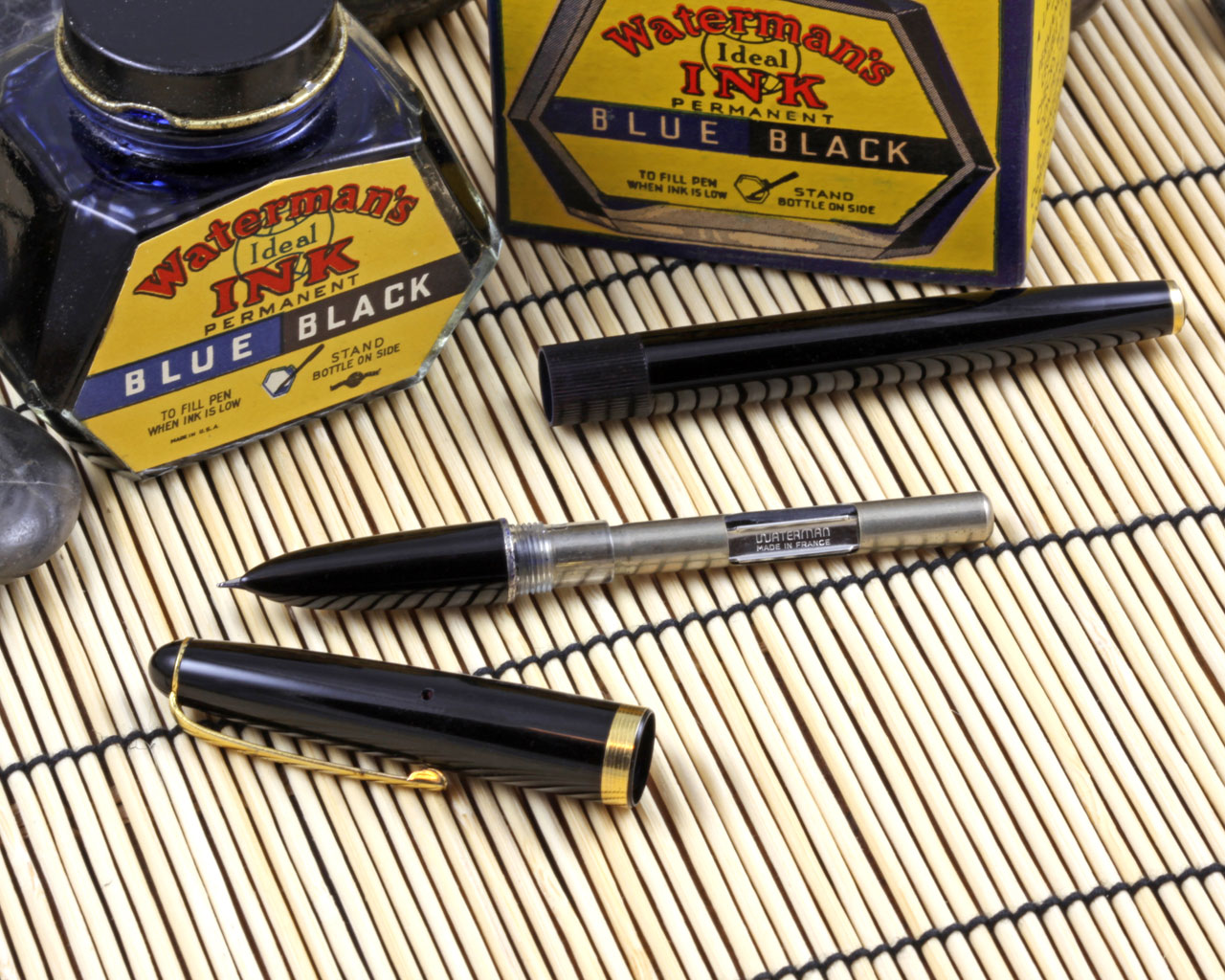 Waterman Vanguard fountain pen in black, open with C/F converter
The Waterman Vanguard may not have been sold in the US market. I have only found evidence of sales in Canada. They appear to have been sold from about 1960-1967 and offered as a low price entry level pen, but with nice packaging. Even with that long a sales run, I've only found them a couple of times, both in antique stores in Maine. So far I've only seen this pen in black and blue, even in the very few internet photos I've found. I would imagine that there is likely a burgundy or red and a green pen as well, though nothing to back that up. Another interesting find and at least some of the mystery is solved for now!
---
Acknowledgement
Thanks to Giovanni Abrate for his help in identifying the probable Italian manufacturer and design source for the Waterman Vanguard.
References
"The Pens of Settimo Torinese," by Giovanni Abrate, Pentrace, © 2014
"My Old Drawer," [Waterman] made in Italy "Vanguard" (c.1960s)
The Chilliwack Progress - December 6, 1960, Page 4
The Brandon Sun - February 10, 1964, Page 12
The Brandon Sun - March 30, 1964, page 16
The Brandon Sun - October 19, 1964, page 16
The Brandon Sun - December 18, 1964, page 16
The Brandon Sun - May 1, 1967, Page 14
Ottawa Citizen - August 29, 1967, page 42
The Brandon Sun - November 6, 1967, Page 12
Interact
Comments on this article may be sent to the author, Jim Mamoulides