PenHero 365: Sheaffer TM Autograph Music Nib
by Jim Mamoulides, January 19, 2010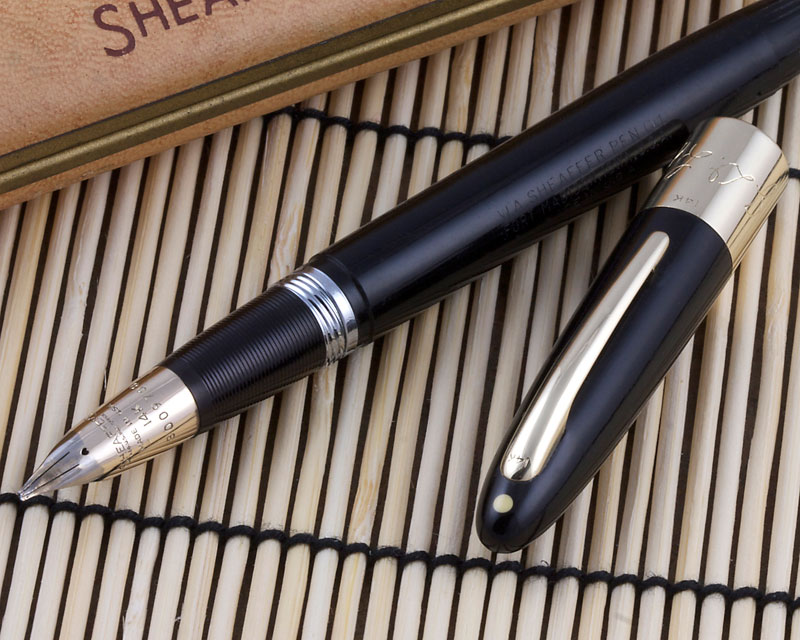 Sheaffer TM Autograph Music Nib fountain pen open, showing cap and nib detail and barrel imprint

Ever wonder what you can find in a cigar box full of pens and pen parts in the attic of an antique store? I have found quite a few oddities and interesting pens and parts in the junk sections of antique stores. Many stores will put out what they think are the most sellable items in their display cases and leave the less desirable items behind the counter or in their junk sections. There is a large antique store I frequent that has a whole building dedicated to the detritus that they feel is not worthy of their main boutique style store. This building is several jumbled floors of things that need attention, are damaged or broken, haven't yet been sorted through and the like. I find such places an opportunity and on this particular trip I found a real jewel.
This store sets aside a few old paperboard cigar boxes on one of the floors just for old pens and pencils. Just about anything makes its way into these boxes, and every time I visit I see old friends still waiting to be taken home, like misfit toys, and always some newcomers, as they replenish the boxes from time to time as new items come in. At least there is some level of organization!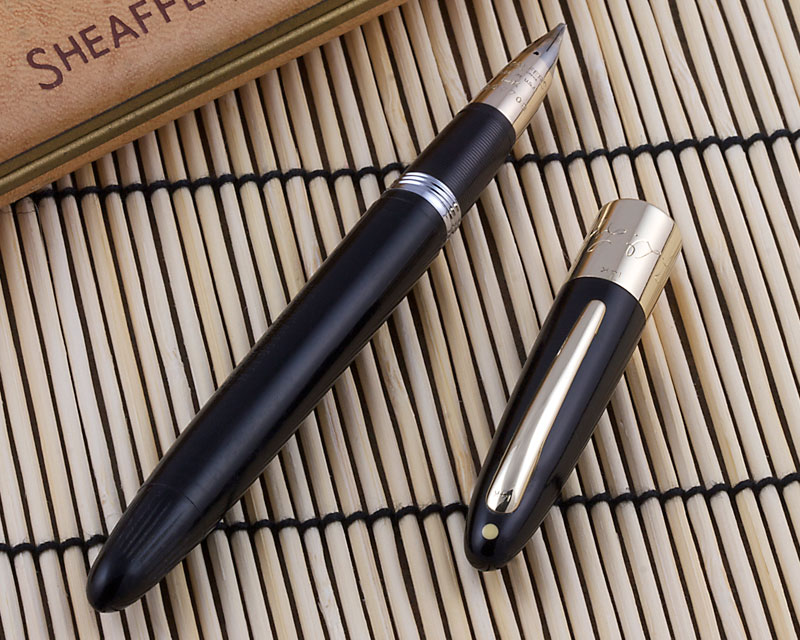 Sheaffer TM Autograph Music Nib fountain pen open
Most of the time the boxes are replete with Wearevers of literally every stripe and color. One trip I picked up a fist full of very nice condition 1950s Pacemakers, as they are generally good pens and are easy to repair. Sometimes there will be some lower line models of higher brands, usually Sheaffers and Eversharps and some second tier pens. That day I found a dirty black Sheaffer pen and immediately knew it was an early 1950s TM or Thin Model Touchdown pen. From the looks of it, it was a Valiant, a nice pen with a 14 karat gold Triumph nib. An unusual find in the junk section. Unscrewing the cap to look at the nib revealed a blacked and caked over mess. Too hard to tell much about it, but at least the pen could be used for parts, if necessary. With all the other pens I bought from the boxes, this one worked out to a cost of five dollars.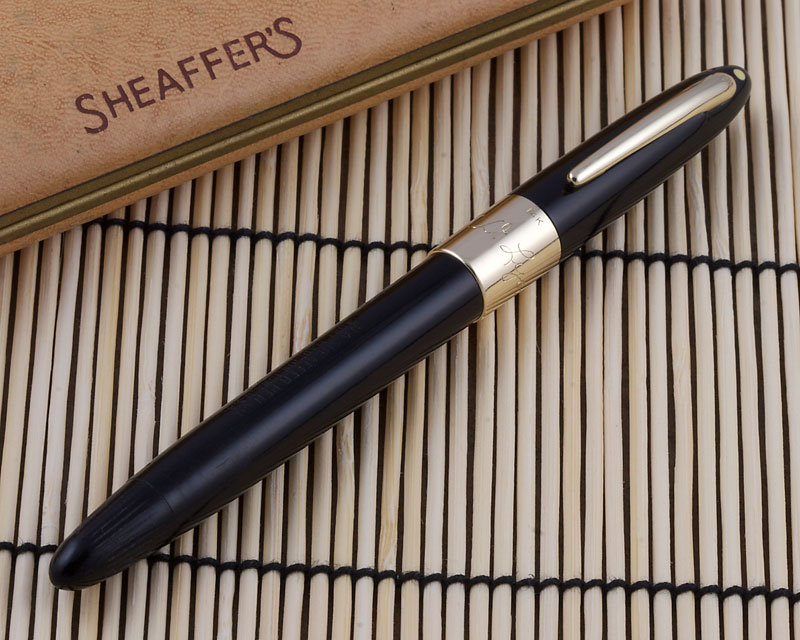 Sheaffer TM Autograph Music Nib fountain pen closed
Back at the house, I cleaned up the nib and discovered that this nib had a wide, flat tip and two slits. This is a Music Nib, a special nib type designed to write on music notation paper with a very wide and wet writing stub-like design, hand cut at the factory, a rare find. This nib alone will command a premium on any pen and is very unusual on a 1950s Sheaffer, especially the 14 karat gold Triumph type. I had a beat up TM Autograph in my to-do boxes of pens and decided to swap the cap with this pen to give it a more premium look.
The Sheaffer TM was introduced in 1950, replacing the fatter Touchdown line and foreshadowed the size and look of the upcoming Snorkel line. These were reliable Touchdown pens with ink-view windows in the ribbed section, but they tend to take second place to Snorkels with collectors so the same model pen in TM will usually be less expensive. They are also simple to repair, usually replacing a standard ink sac and a gasket in the barrel will put the pen in working order.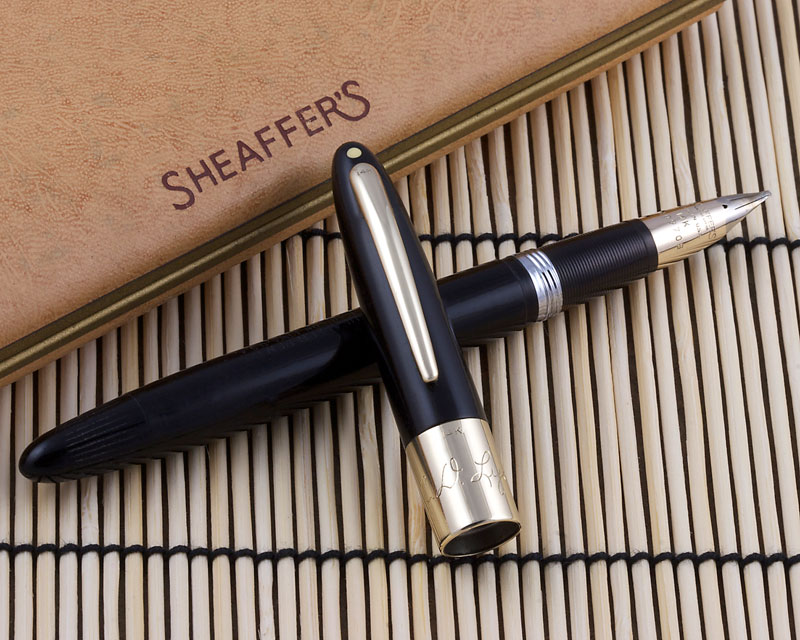 Sheaffer TM Autograph Music Nib fountain pen open
The Autograph model was a special version of the Valiant with a wide 14 karat gold hallmarked cap band intended for the owner's signature. Sheaffer included a card with the pen where the owner could sign their name, return the card and the pen, and the pen would return with the owner's signature copied onto the cap band. The clip was also solid 14 karat gold and hallmarked.
This Sheaffer TM Autograph Music Nib is a small and lightweight pen, weighing 0.6 ounce and being 5 1/4 inches long with the cap on and 6 1/8 inches with the cap posted on the end of the barrel. It's a little small in the hand unposted, so I usually use TMs with the cap posted on the barrel.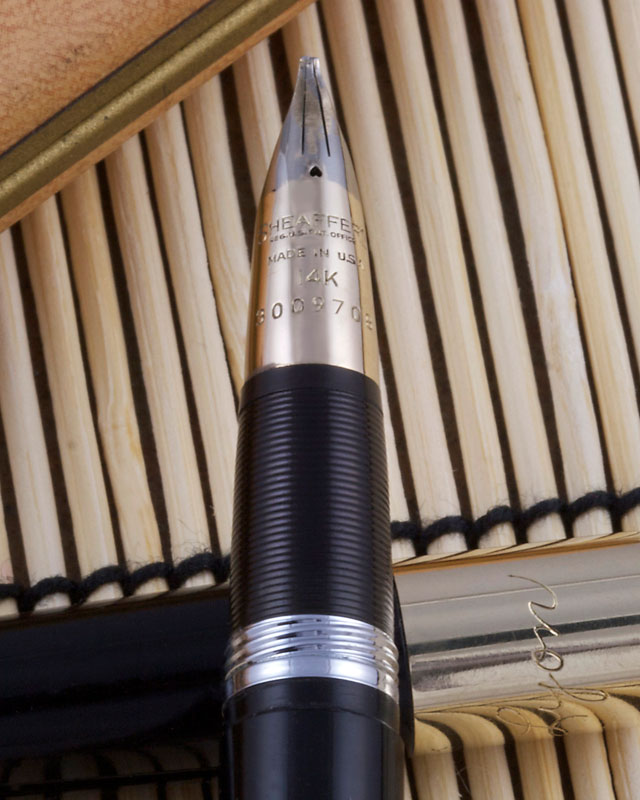 Sheaffer TM Autograph Music Nib fountain pen Music Nib detail, note scuffing to tines
The Sheaffer Touchdown filling system is quite cool. Take note that you should check these pens before you try to fill it. If the sac is defective, attempting to fill the pen may cause ink to get all inside the barrel, making a big mess. The barrel unscrews and the metal sac protector pulls off. If the ink sac is stiff or brittle, you will need to replace it. The gasket in the back of the barrel should also be replaced, a tricky, but easy job with a dental pick. To fill, the plunger is first pulled all the way out before the pen is inserted into the inkwell, then the nib section is inserted in the inkwell, and then the plunger is quickly pressed down once, creating a vacuum inside the pen, instantly sucking ink in the ink sac. Wipe the nib and section carefully, as the section is grooved.
As you can see, once I cleaned up this Music Nib, it shows some plating loss and some scuffing across the tips of the tines. I wonder if someone tried to use India ink with this pen and then tried to use a wire scrubbing pad to get the dried stuff off. Never use India ink in a fountain pen! This nib writes like a paintbrush, putting down a huge, wide, wet line on down strokes and a narrow line on cross strokes. There is a little bite at the edges and upstrokes, so a little tweaking is in order.
I have no idea if I will ever actually use this pen, as it looks like it would use a bottle of ink per page! It's fun to write with and show off to pen friends, but not really that practical for me. The real fun was finding a unicorn in the cheapie box!
---
Discuss / Recommend what you read on PenHero.com
Follow us on Twitter: PenHero
Add a link to PenHero.com on your blog:
(Copy & paste code)
Please only use the photo provided. Use of other photos requires permission.
The provided link photo will change as we update the site.

Comments on this article may be sent to the author, Jim Mamoulides
PenHero.com Bibliography