PenHero 365: Pelikan M800 Black / Blue
by Jim Mamoulides, January 5, 2010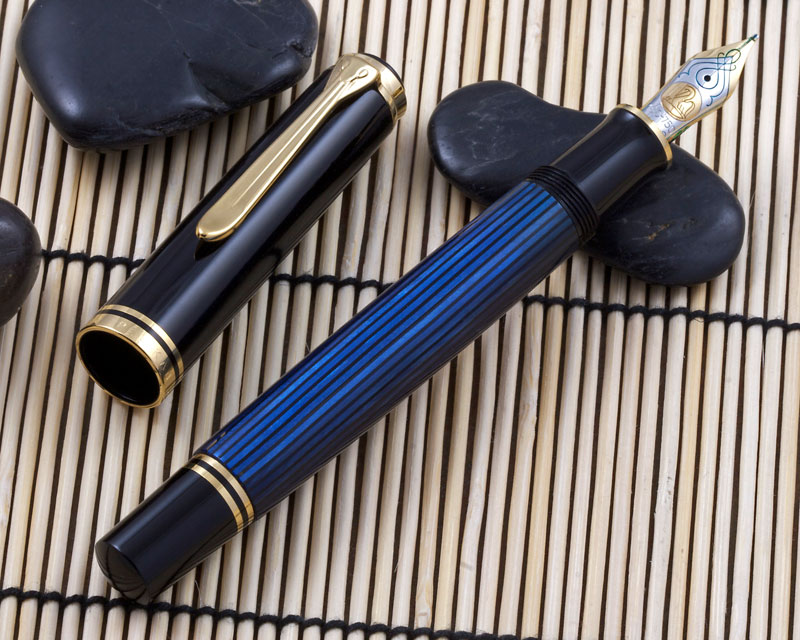 Pelikan M800 Black / Blue fountain pen open

Trading pens with other pen collectors can be a lot of fun. It's a chance to try out something new without any cash outlay while at the same time finding a home for a pen that just maybe wasn't exactly making it into the daily rotation. A few years ago I made a deal with a hard core Wearever collector, arranging a swap of a large number of my extra, but less common Wearever examples for some pens he had that I was interested in. One of those pens was this nice condition Pelikan M800 Black / Blue fountain pen.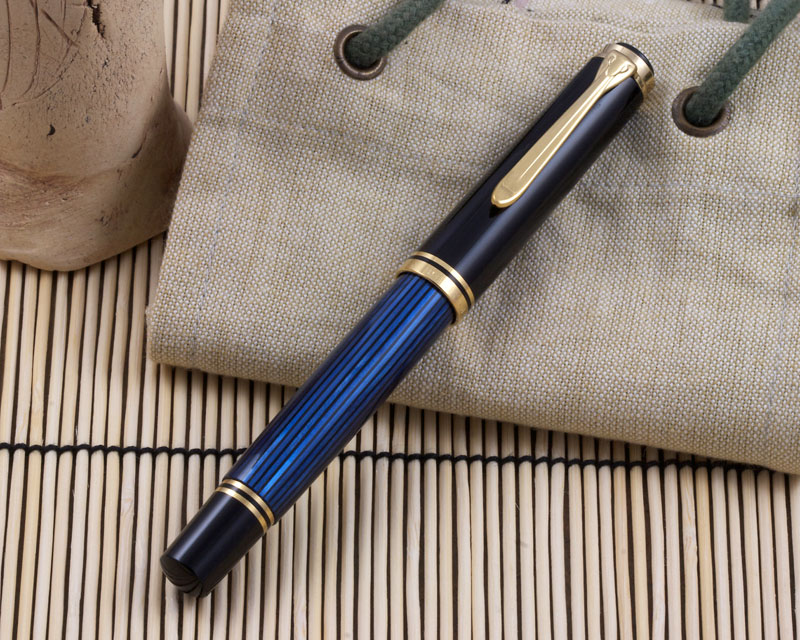 Pelikan M800 Black / Blue fountain pen closed
The Pelikan bug never bit me. Not like the Sheaffer bug, that's for sure. Before this trade I had only owned two. One of my very first fountain pens was a Pelikan 120, which I bought as a kid so I could do calligraphy. That was a fun pen and I loved the smooth italic nib, the convenient piston filling system, and the inkview window. I sold it much later. The only other Pelikan I owned was one of the really gargantuan M1000 fountain pens, which I still have. I bought it new, and at the time I thought that it would be all the Pelikan I would ever want. It's a great pen, but really, really huge.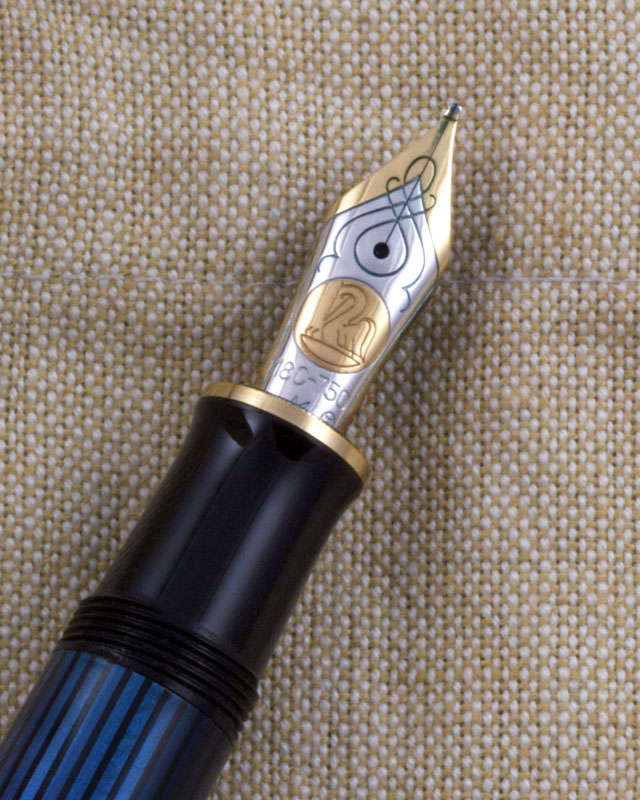 Pelikan M800 Black / Blue fountain pen nib detail
I know a lot of collectors who rave about Pelikan fountain pens. They have great nibs, the piston filling system is wonderful, the design is a classic, harking all the way back to the 1950s, and so on. And in my experience, all of that is pretty much true. Pelikan provides a vast array of really great writing nibs that are easily interchangeable. I really like the piston filling system, and it runs a close second in my eyes to the Sheaffer Snorkel. Probably the only type of filling system Sheaffer never got around to using. Since my M1000 is a monster, I thought maybe the M800 would be a nice middle ground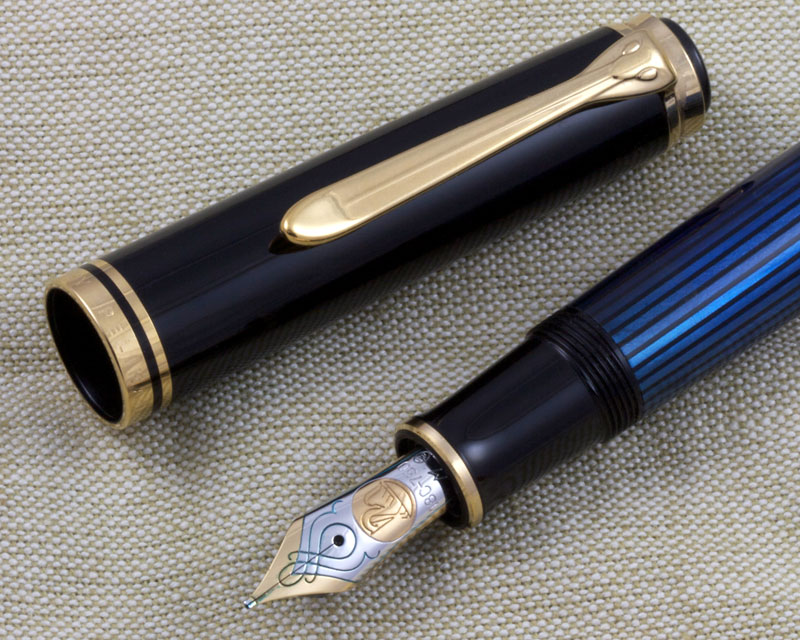 Pelikan M800 Black / Blue fountain pen cap and nib detail
Pelikan introduced the M800 in 1987 as the flagship of the new Souverän (Sovereign) series of writing instruments, and the big new pen was intended to compete with the slightly larger Montblanc 149. The original M800 was fitted with a 14 karat gold two tone platinum masked nib, later upgraded to 18 karat gold.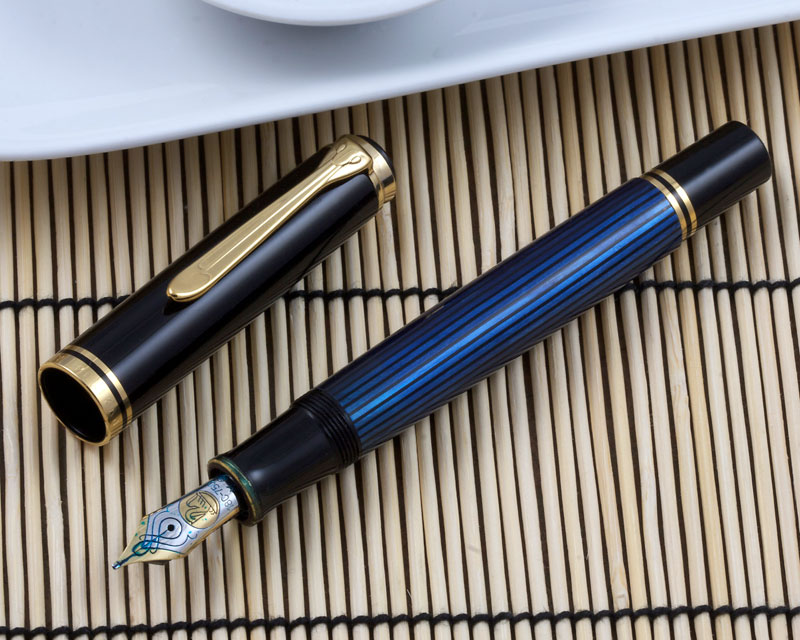 Pelikan M800 Black / Blue fountain pen open and inked
This pen is my go to pen when I am not using one of my Sheaffers or my Parker 51 Flighter. I have it inked all the time and switch among blue, blue-black and turquoise ink. One of the great things about this pen is when you put it away for a long time, it is immediately ready to write. I've never had a hard start or a skip with this pen.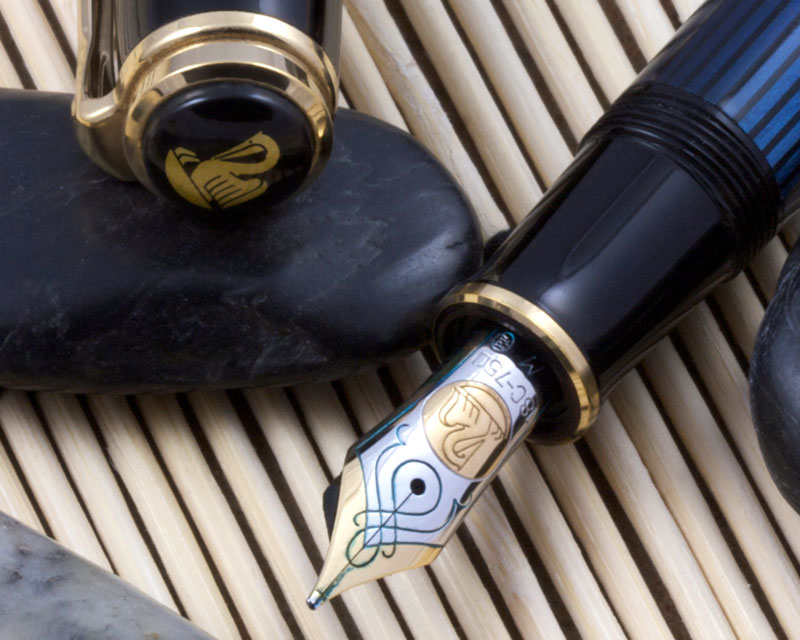 Pelikan M800 Black / Blue fountain pen cap top and nib detail
Being second place in the Pelikan hierarchy does not mean that the M800 is that much smaller. It's chunky without being overly hefty, weighing 1 ounce and being 5 7/16 inches long with the cap on and 6 3/8 inches with the cap posted on the end of the barrel. The 18 karat gold platinum plated nib is very large and the scrollwork is beautiful. Because the barrel is also the ink chamber, the pen holds a lot of ink. You can write a long time with this one.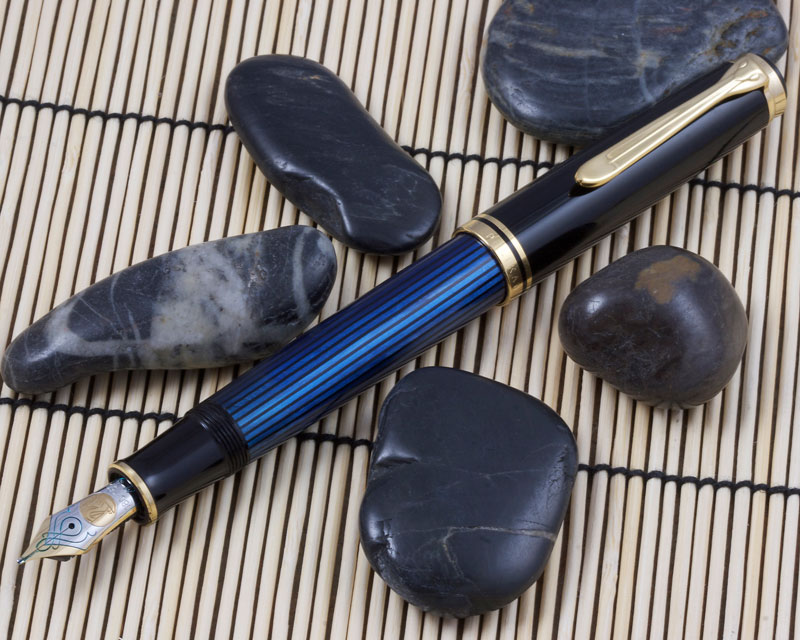 Pelikan M800 Black / Blue fountain pen posted
My M800 has a very smooth and wet writing medium nib. In my experience, Pelikan nibs write wider and wetter at the same nib grade than Sheaffer or Aurora pens. I like the feel of this pen in the hand and almost always post the cap, as it posts very deeply and securely. For a large pen, it's not heavy, so I can use it for long writing sessions. It travels well, having been on planes and long trips with me without upset. I've recommended this pen to friends who want a big statement pen that is not overly heavy.
---
Discuss / Recommend what you read on PenHero.com
Follow us on Twitter: PenHero
Add a link to PenHero.com on your blog:
(Copy & paste code)
Please only use the photo provided. Use of other photos requires permission.
The provided link photo will change as we update the site.

Comments on this article may be sent to the author, Jim Mamoulides
PenHero.com Bibliography