Universal / Empex Aqua Pen c. 1959-1963
by Jim Mamoulides, January 21, 2010, updated January 13, 2018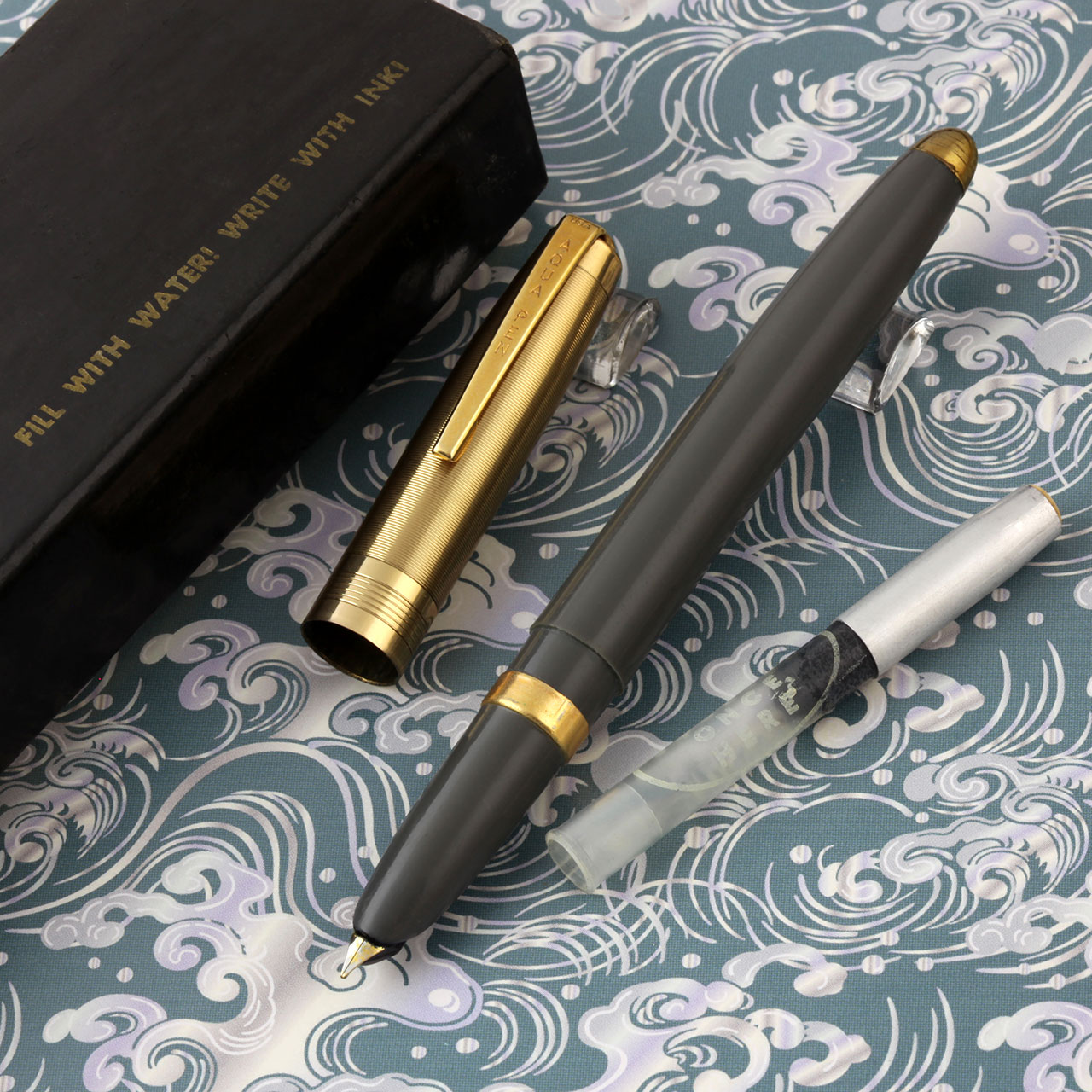 Empex Aqua Pen c. 1961-1963
Click the image above to see a full screen slideshow
The Aqua Pen, the patented brainchild of Max Goldman and Alex Goldman of the Universal Fountain Pen & Pencil Company, Inc., is actually an idea that goes back to the Trench Pens of World War I. Trench pens were eyedropper pens that stored dry ink pellets in a compartment in the barrel. When the user ran out of ink they would drop one or two pellets in the barrel, fill it with water and give it a few shakes to make ink. The idea was revisited in the 1940s as the Graph-O-Matic Inkmaker, which used dry "ink batteries" that were filled when the pen was immersed in water.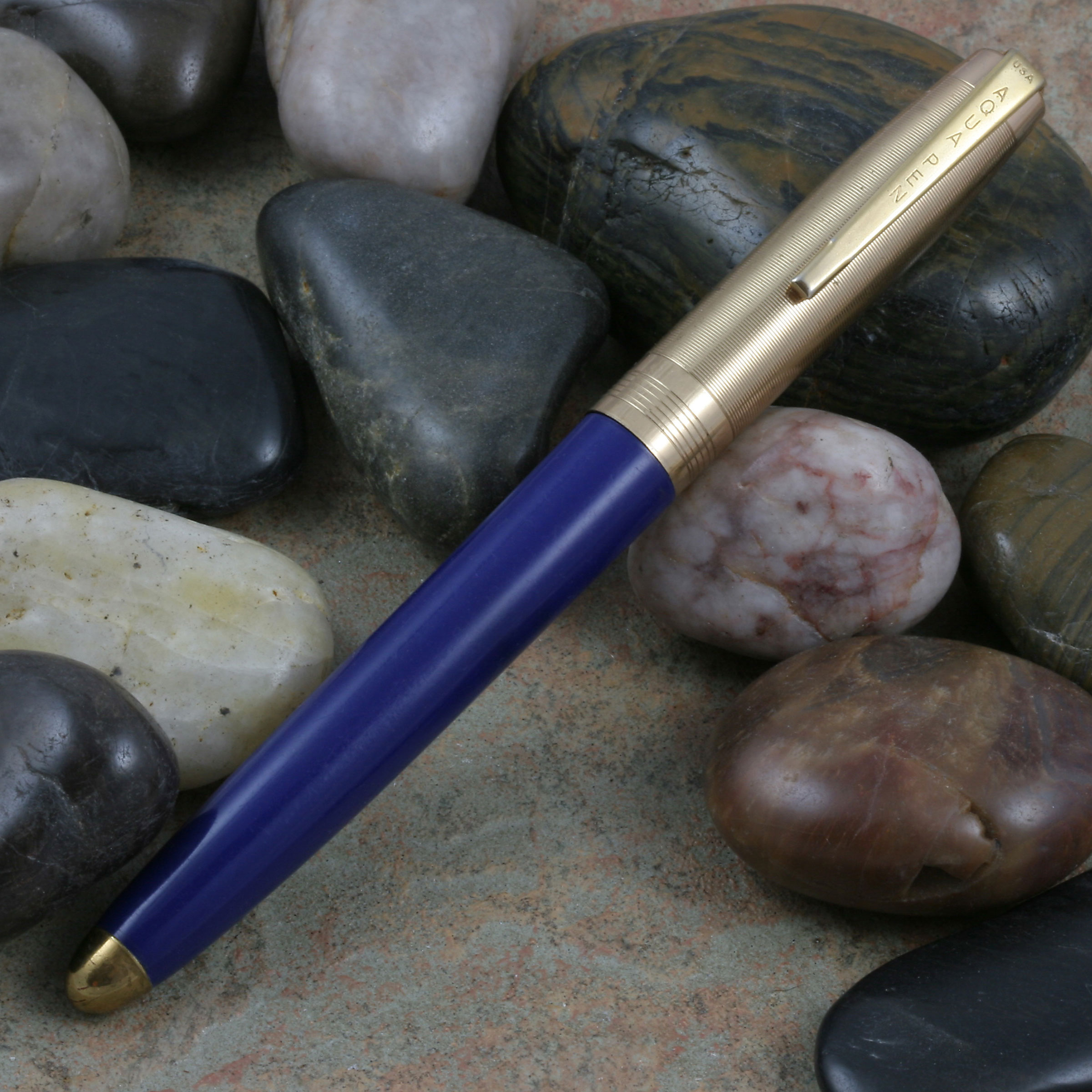 Empex Aqua Pen c. 1961-1963
The Aqua Pen further modernizes these ideas by combining them with the modern cartridge pen. The first patent applied for by Alex Goldman and Max Goldman essentially inserts an ink tablet inside the ink sac of a lever-fill fountain pen, applied for on December 10, 1957, and granted on September 15, 1959 as US patent number 2,904,008. Their March 31, 1959 patent, number 2,879,744, applied for on January 22, 1958, is for a "Sponge activated water filled ink cartridge pen." In it inventors Alex Goldman and Max Goldman describe three versions of a new dry ink pen concept using a sponge laced with ink powder. In each case activating the dry ink sponge and making ink was accomplished by filling the pen. The first design was a lever fill fountain pen with a dry ink sponge cartridge inside of the ink sac: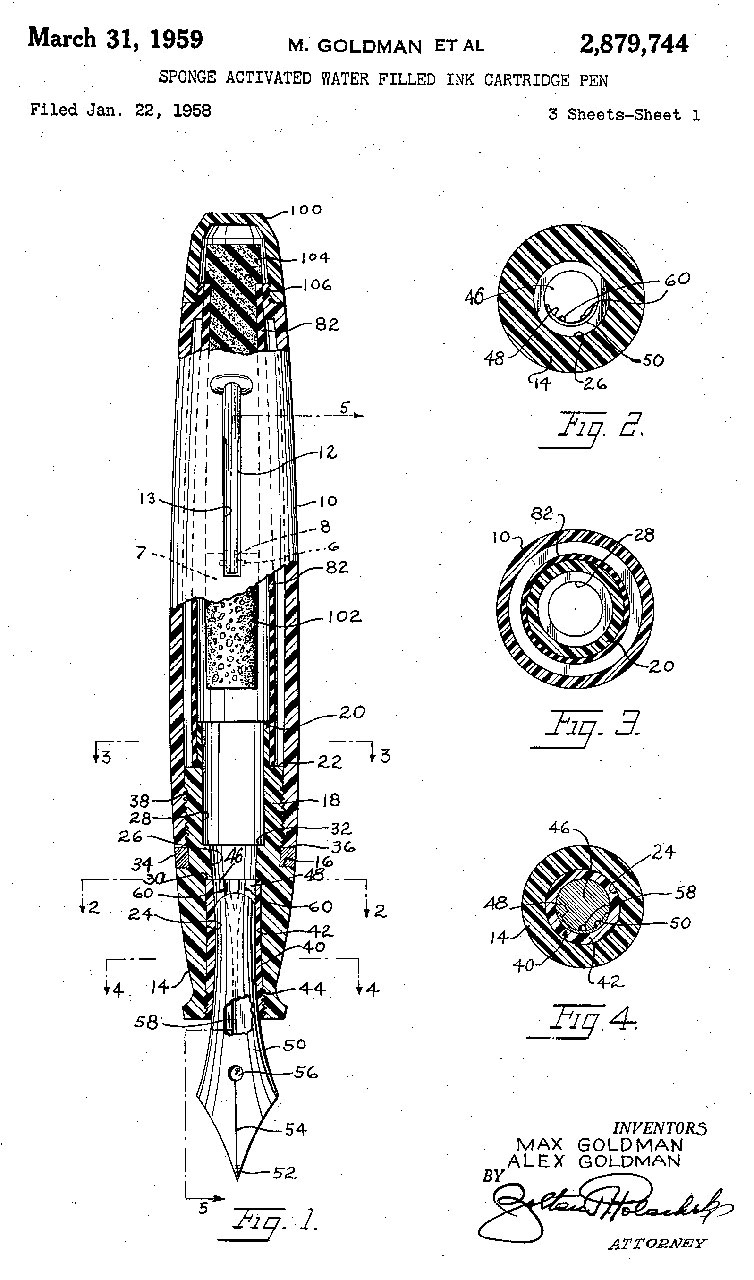 1959 Aqua Pen Patent showing lever fill concept
The second design was a leverless pen that would operate by squeezing a pliable end cap to compress and fill the dry ink sponge inside the ink sac. The patent even offers that the end cap (item 110 in the drawing) could be transparent in order for the user to see inside. Note figures 9-12 in the following image: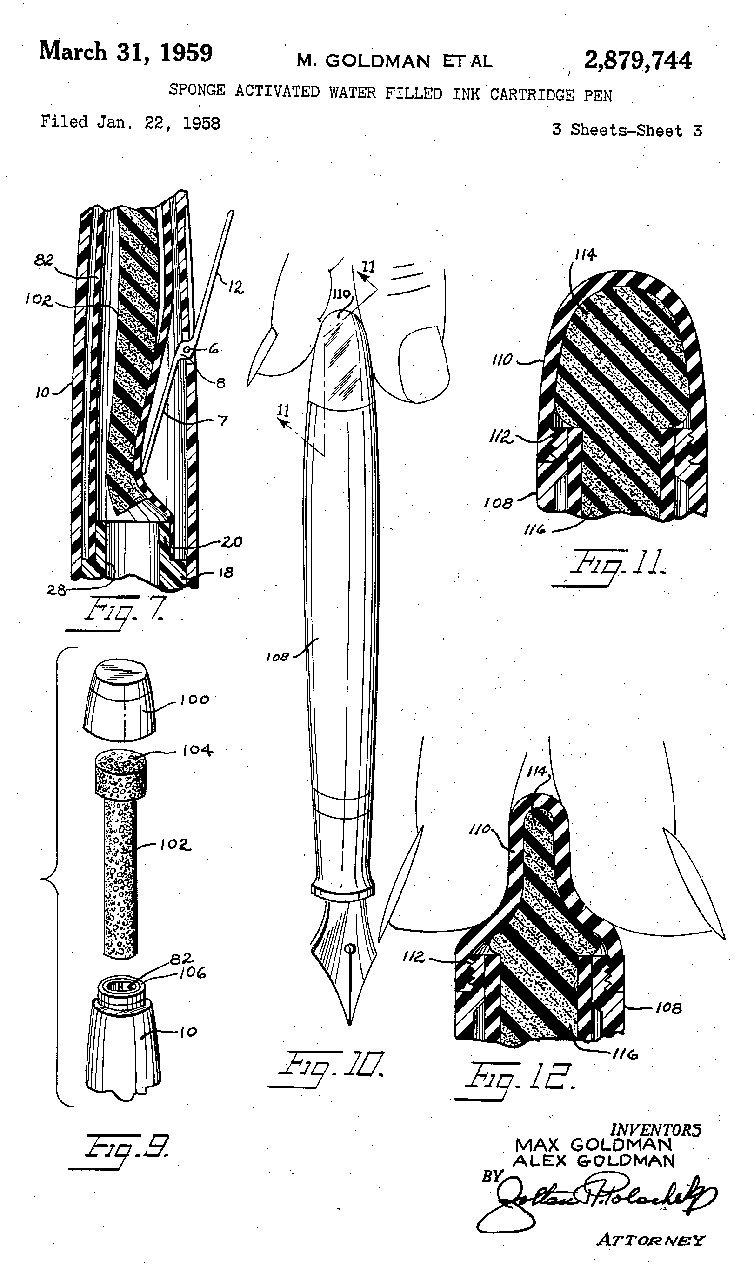 1959 Aqua Pen Patent showing pliable end cap fill concept
The third design is similar to the first but leaves a space which serves as a reservoir for ink with a gasket between the bottom end of the cap and the top of the barrel to seal the ink in the pen. See figure 13 below: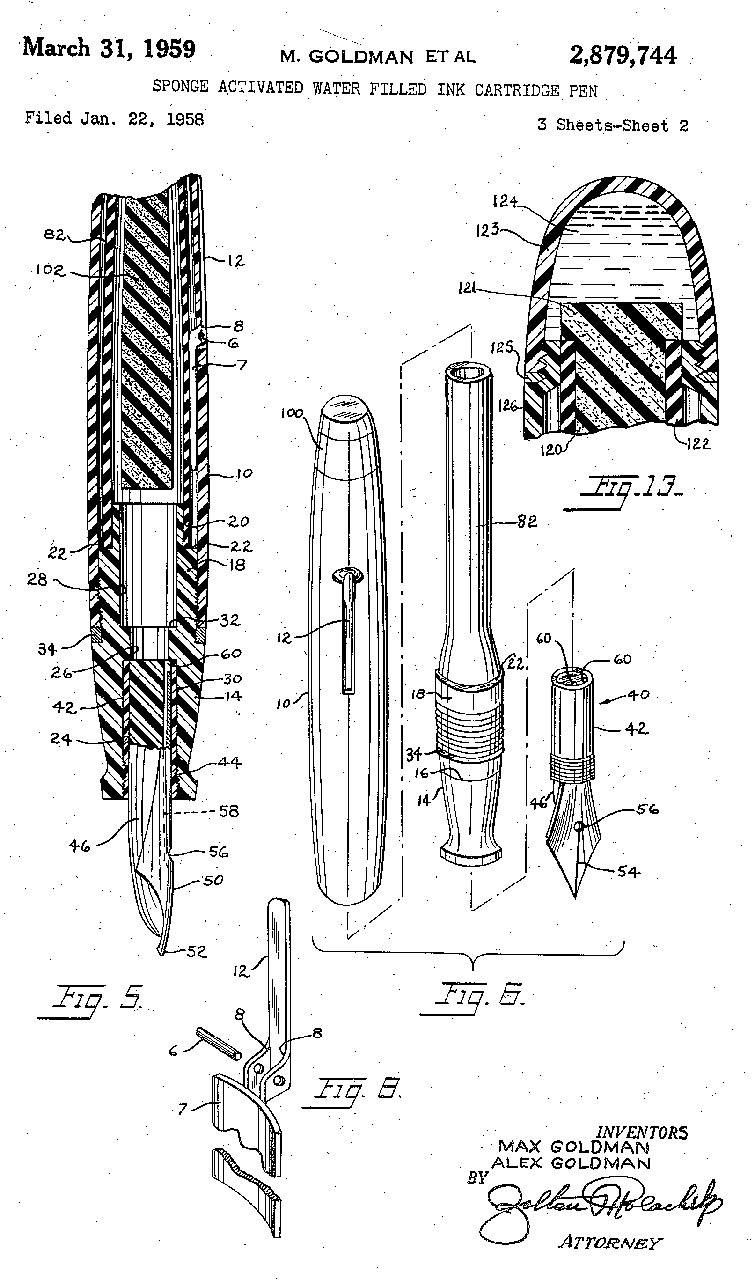 1959 Aqua Pen Patent showing pliable end cap fill concept
What became the Aqua Pen is a variation of the second design. The ink sponge is now in an "Ink Activator Cartridge" made from the same pliable plastics as used in squeeze bottles. The unit is now removable, instead of depending on an externally operated mechanism. The Ink Activator Cartridges were initially advertised as good for 10 refills in 1959 but by 1963 were being advertised as good for 15 or as many as 25 refills in separate advertisements that year. That would make them a much better value than ink cartridges sold at the time.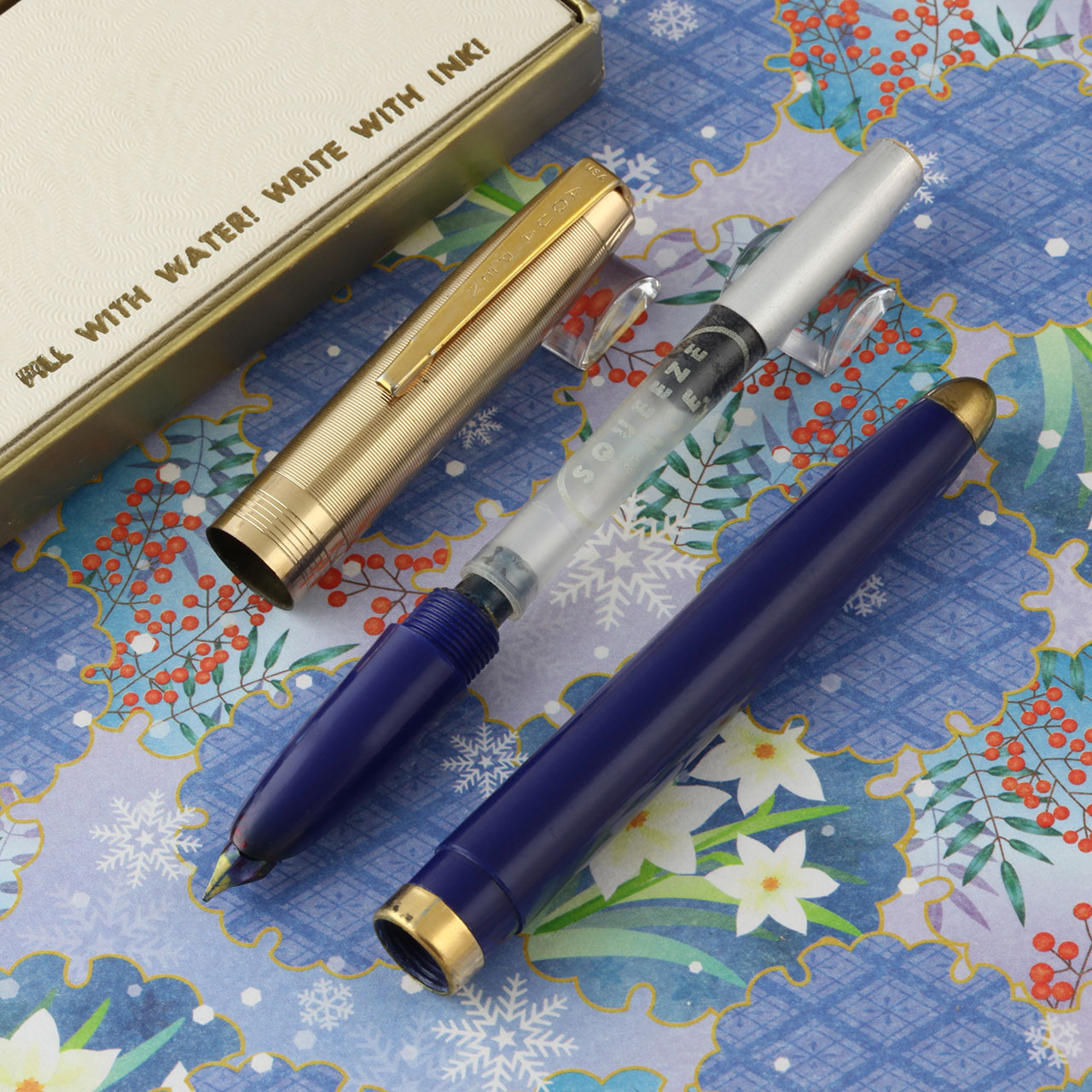 Empex Aqua Pen c. 1961-1963
The Aqua Pen replaceable ink activator cartridge is a clear cylindrical unit similar to a Sheaffer Skrip cartridge, though with a metal end opposite the opening that contains the ink sponge. The cartridge is inserted onto the back of the feed, just like a modern cartridge pen, the nib is dipped in clear water, and the cartridge is filled by squeezing it, mixing the water with the dry ink. The cartridge has SQUEEZE ONCE HERE TO FILL and the patent number, 2,879,744 silk screened on it.

Universal Aqua Pen advertisement, LIFE Magazine, August 31, 1959
The earliest Aqua Pen advertisements from 1959 use the slogan, "Fill with water – Write with ink!" The earliest pens have a gold plated pull off metal cap, an injection molded plastic barrel, a semi-hooded gold plated stainless steel nib, and UNIVERSAL stamped on the clip. They sold for $1.49 with one cartridge and replacement cartridges were 29 cents. Each ink cartridge was said to be reusable for up to ten fillings. The company name, Universal Pen & Pencil Company, Inc., and address, 808 Driggs Avenue, Brooklyn, NY, appear in these early advertisements. The pen continued to be made under the Universal name and the same price point through at least 1961.

Pittsburgh, Pennsylvania Gimbel's newspaper advertisement from 1961
The Aqua Pen was sold under the Universal name from 1959 to 1961 for $1.49 and the replacement ink activator cartridges were 29 cents each. In 1962 the pens were marketed by the Rohill Company of 1133 Broadway, New York, NY for $2.98 and each replacement ink activator cartridge was 35 cents. The Rohill Company was actively seeking distributorships for the pen in 1962 and 1963. This transition was likely when the Empex brand name started being used as Empex branded Aqua Pens have "AQUA PEN" stamped on the clip, are packaged in paperboard boxes labeled "Empex Aqua Pen," and the included instructions are from the Rohill Company. An advertisement in April 1963 has the pen selling for $3.50, 3 replacement ink activator cartridges were $1.00 and the matching pencil was $1.00.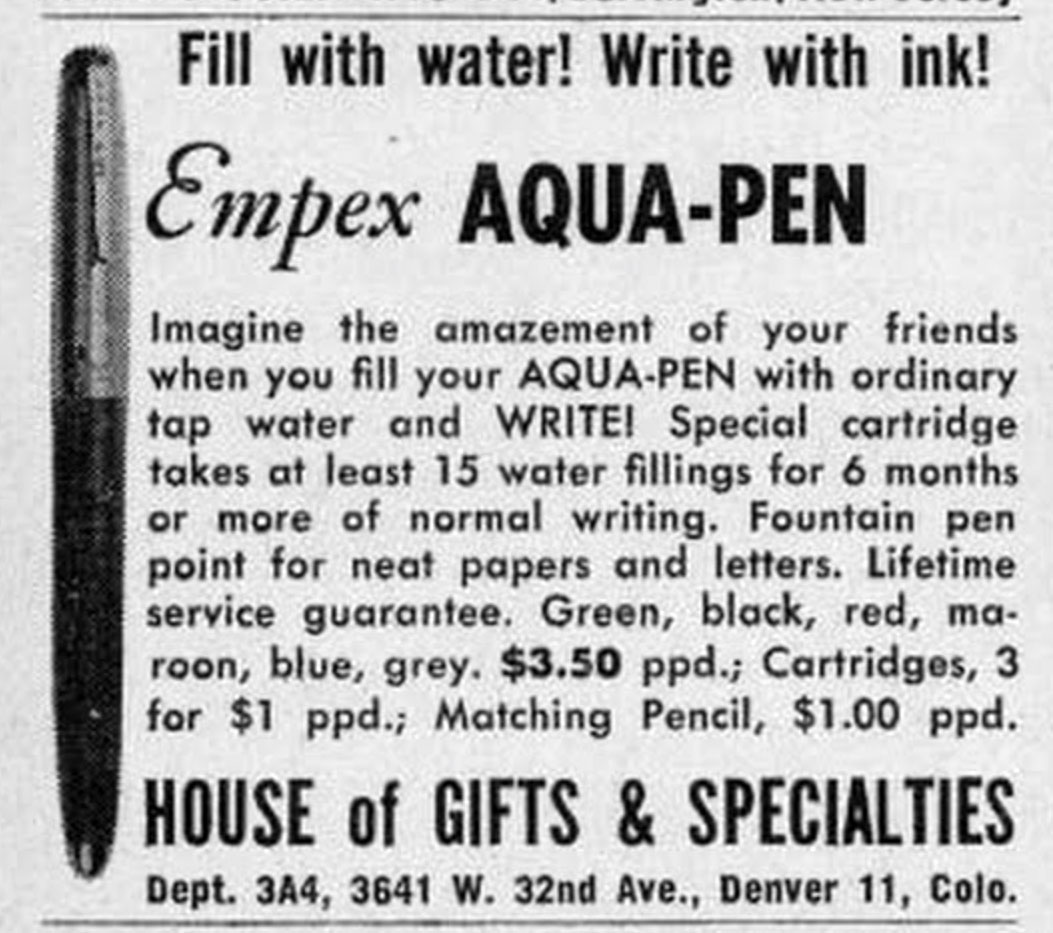 Des Moines Register, Des Moines, Iowa, newspaper advertisement from 1963
The Aqua Pen may have been inspired by the c. 1959 Italian LUS Atomica Magica, a pen that used ink pellets and a special plunger type removable converter to mix them with water drawn into the pen. The LUS Atomica Magica was marketed as, "You fill it with water, it writes with ink!" and the LUS pen could also be used with regular ink cartridges.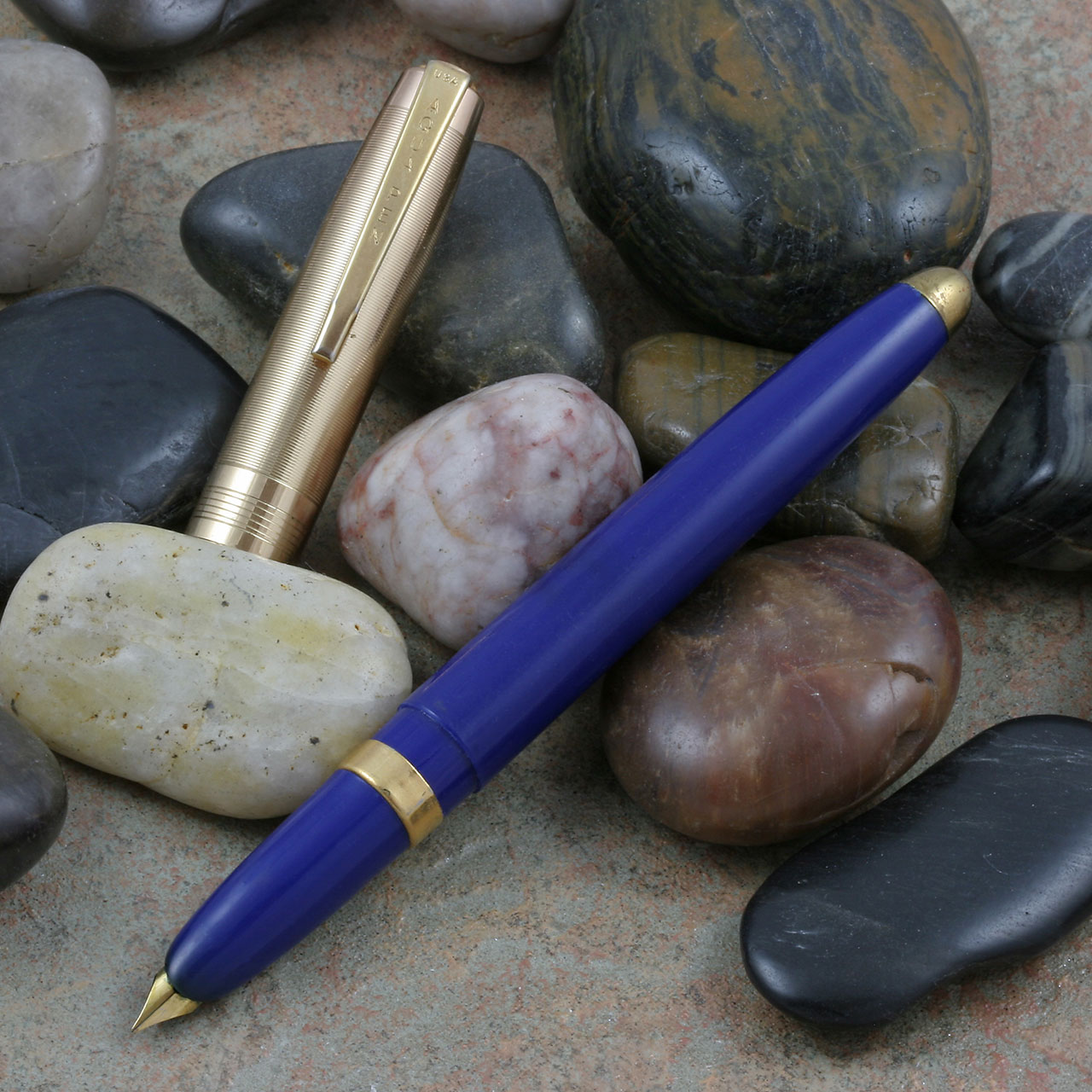 Postal Reservoir Pen c1925-1926
Identification guide and features:
There are three known versions of the Aqua Pen. The earliest version has UNIVERSAL stamped on the top mounted washer type clip and a metal cap with a three band design, as shown in the 1959 advertisement. This version was possibly made from 1959 through 1961. The second version is very similar but has EMPEX stamped on the clip, production dates unknown. The third and most commonly found version has AQUA PEN stamped on the clip and the metal cap has a tight ribbed design with a wide cap band with a ribbed section, as shown in this article. Primary information on the details and colors of the earlier versions are limited, so the following information applies to the third version.
Gold plated metal cap
AQUA PEN stamped on clip face
Cap pulls off
Injection molded plastic barrel with gold plated round end cap
Barrel colors included green, black, red, maroon, blue, and grey
Gold plated trim
Nib grades unknown, but advertising and sample pens suggest one grade, probably fine/medium
Nib appears to have folded tines instead of tipping material
Ink cartridge filler where the dry ink is activated by squeezing water into the cartridge through the nib
5 1/8 inches long capped
Lifetime service guarantee
Sold in paperboard boxes
Fountain pen sold for $2.98 and later $3.50
Replacement ink activator cartridges were 35 cents, or later 3 for $1.00
Matching pencil was $1.00
Performance
I like pens with interesting filling systems. Whenever I am out pen hunting, I will scoop up anything that has something other than a lever or cartridge fill system. It doesn't matter that many of these finds fall into the cheapie category. If it's off the beaten path, I'll snag it.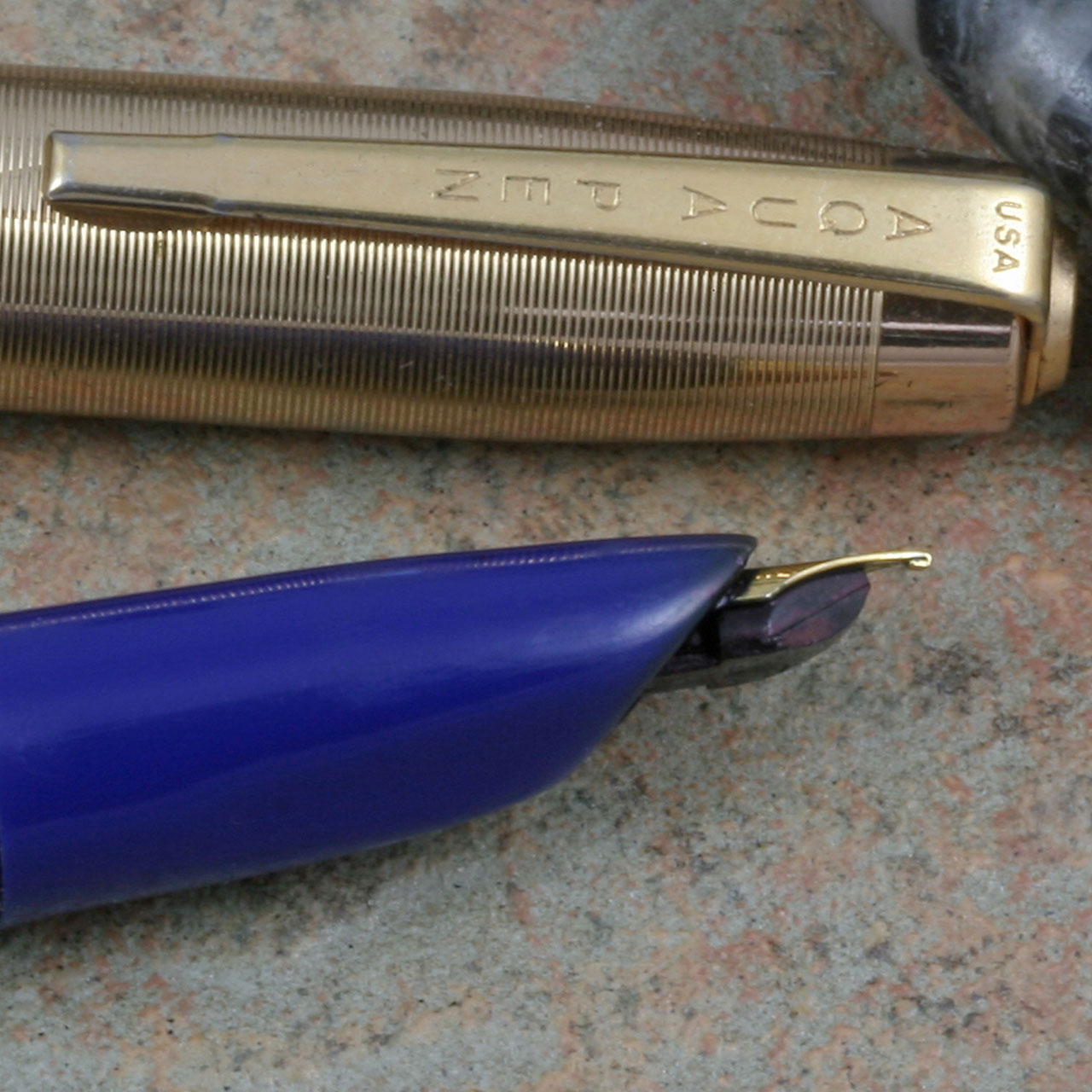 Empex Aqua Pen c. 1961-1963
This blue Empex Aqua Pen was in a cigar box in the upstairs of an antique shop in Maine. The box was full of cheapies, including a slew of Wearever Pennants. When I first noticed this one, the cheaply plated gold cap with radial lines and soft injection molded plastic barrel made me think it was a Sheaffer Fineline, and I already have plenty of them and I hate their cheap plating that goes foxy weird at the drop of a hat. I started to set it down but noticed the gold button on the end of the barrel, so I gave it a closer look. The clip said, "Aqua Pen." I pulled the cap off and saw a cheap plated semi hooded nib. Unscrewing the barrel revealed only a nipple on the end of the section. Nothing was inside. I almost left it there thinking it was a cheap cartridge pen, but the name bugged me. What the heck is an Aqua Pen? I decided to buy it.
The blue Aqua Pen stayed in the cheap pen cases I use for "to be repaired" pens for a couple of years before I looked at it again. I try to organize these by brand and type periodically, as I send many of them off to be fixed, so I need to know which pens are up for the next round of trips to the pen spa. I pulled it out, looked it over carefully and decided to do a little research.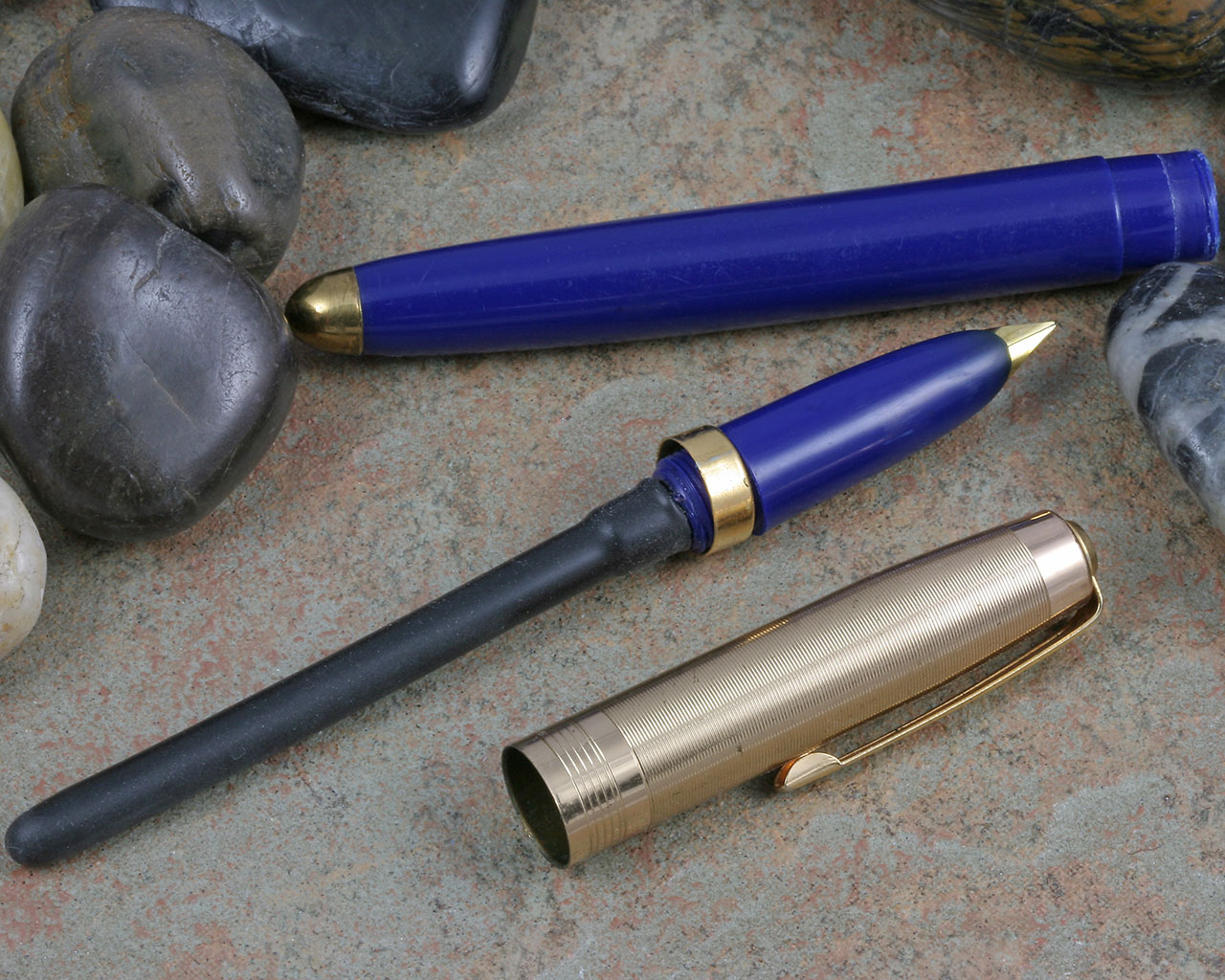 Empex Aqua Pen c. 1961-1963
Since originally I didn't have any amazing ink activator cartridges, I slipped an ink sac over the section nipple and squeezed in some already mixed ink I have that comes in convenient bottles.
The Aqua Pen is small, slender and light by today's standards, the 0.5 ounce pen being 5 1/8 inches long with the cap on and 5 3/8 inches with the cap posted on the end of the barrel. The tiny steel nib and trim are 14 karat gold plated, and its a pretty cheap job, as the plating is worn all over the pen. The plastic barrel is prone to warping and some examples of these pens have bent barrels, a problem also seen on Aqua Pens offered for sale.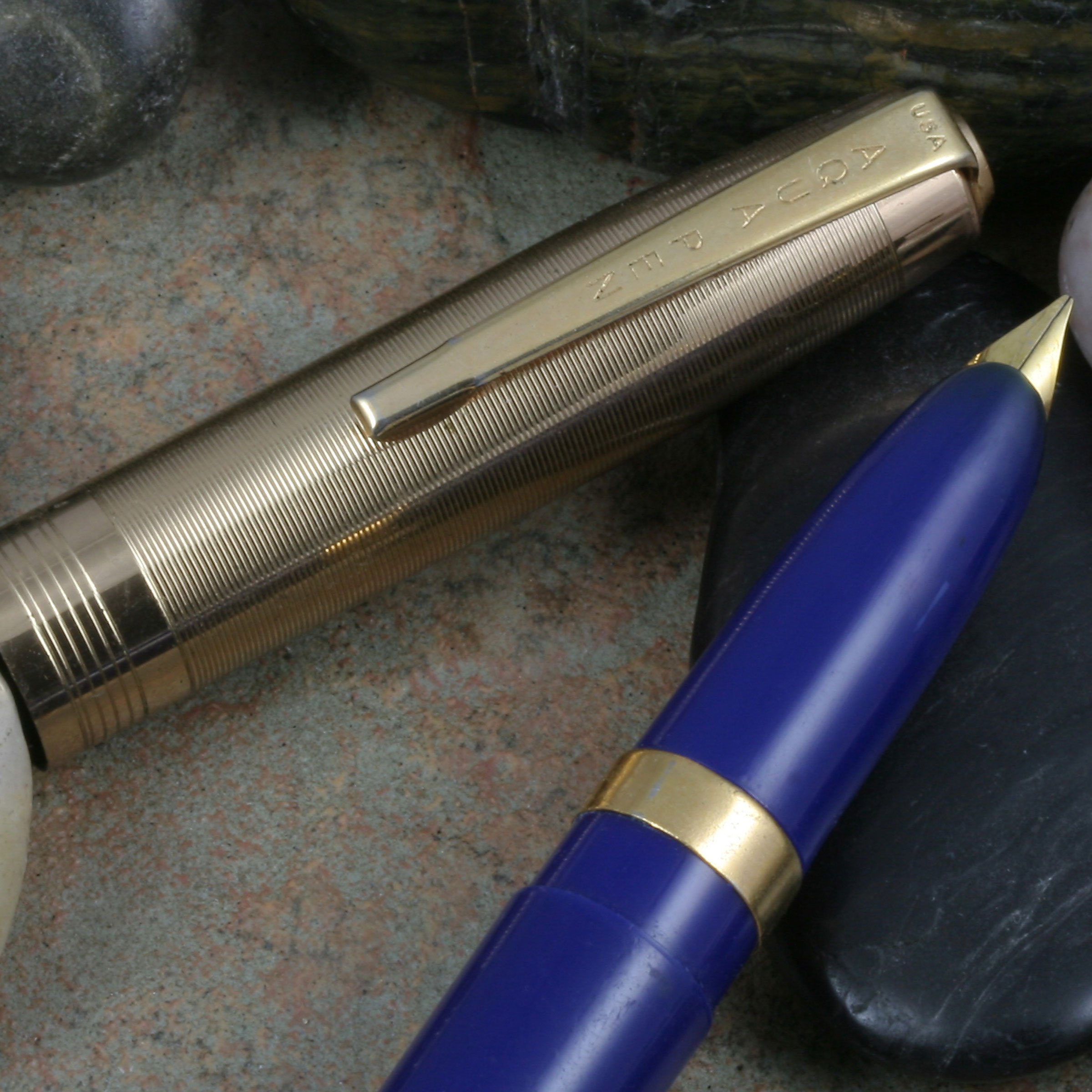 Empex Aqua Pen c. 1961-1963
The surprise is the very nice and wet writing medium nib that acts like a stub on paper, wide up and down and narrow left and right with smooth edges. This is a really nice writing pen. I have actually picked this one up and used it on many occasions after I put the sac on it. I'm not sure if I like it because it was such a surprisingly nice writing pen, or the fact that the nib turned out to be a stub, but I do like using it! I'm not sure how long it will last, as the nib appears to have no tipping material, but looks like the ends of the tines are folded over, creating a tip bulge that does the same job, but will not be as hard or as long lasting.
Empex Aqua Pen Logo c. 1961-1963
Since the original review, I was able to obtain an Aqua Pen with ink cartridges and decided to take it out for a test drive. The cartridge is pliable and works like any squeeze filler though without the metal frame. Surprisingly it still had ink powder and made decent, though not deeply colored ink. As Consumer Reports found, the pen is a novelty and if I planned on using it regularly I would put an ink sac back on it and use it as a squeeze filler with modern ink. I wonder how many owners did that once their ink activator cartridges were used up?
---
References
Boys Life, April, 1963
Billboard, August 18, 1951
Consumer Bulletin Annual 1961-1962, Consumers' Research, Incorporated, 1961, page 188
Kiplinger's Personal Finance , July, 1959
LIFE, August 31, 1959
Popular Mechanics, October, 1962
Popular Mechanics, March, 1963
The Bronxville Review-Press, Thursday, June 19
The Des Moines Register, Des Moines, Iowa, Tuesday, January 1, 1963, Page 30
The Library of Congress Copyright Office, Catalog of Copyright Entries, Part 4, Volume 38 for the year 1943
The Library of Congress Copyright Office, Catalog of Copyright Entries, Part 4, Volume 39 for the year 1944
United States Trade-Mark 437333 registered March 16, 1948
United States Trade-Mark 521161 registered April 22, 1947
United States Trade-Mark 595483 registered December 26, 1950
United States Patent 2879744 granted March 31, 1959
United States Patent 2904008 granted September 15, 1959
Interact
Comments on this article may be sent to the author, Jim Mamoulides