PenHero 365: Waterford Pallas Ocean Blue
by Jim Mamoulides, January 1, 2010
With the start of 2010, I thought I would start a new feature on the site, a take on the periodic "What's in your pocket?" posts one sees on many of the pen forums on the internet. I have been thinking about this all year as kind of a challenge after seeing the film, Julie and Julia. This is a really fun movie, but I liked the scenes with Julia Child much better than the Julie parts, and almost wished the movie had been a straight biopic of the great French chef. I love to cook and own both volumes of Mastering the Art of French Cooking, by Julia Child, but I haven't found a way yet to integrate my love for cooking and my enjoyment of pens ...yet.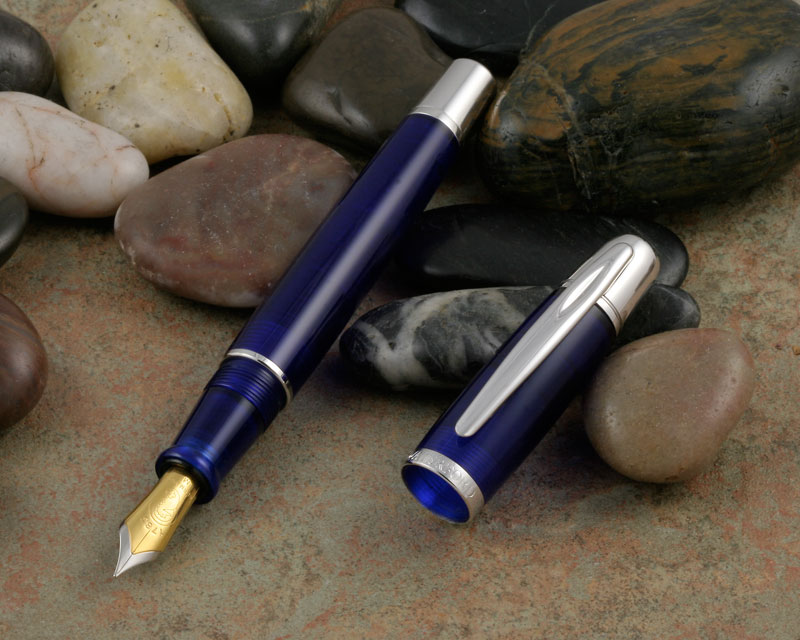 Waterford Pallas Ocean Blue fountain pen

To give myself a similar challenge, I am going to attempt each day to write about and photograph a personal pen that I enjoy. This in addition to the routine maintenance, photography and writing I do for the site. I'll be picking a pen based on what I fancy that day and give an overview of it, what I like and don't like about it, and what it is like to use it. I won't be delving deeply into the history of the pen,leaving that to the more formal articles here. This will be for fun and about writing, nothing else. A bonus is that a lot of my pens have stories, which is my favorite part about collecting pens.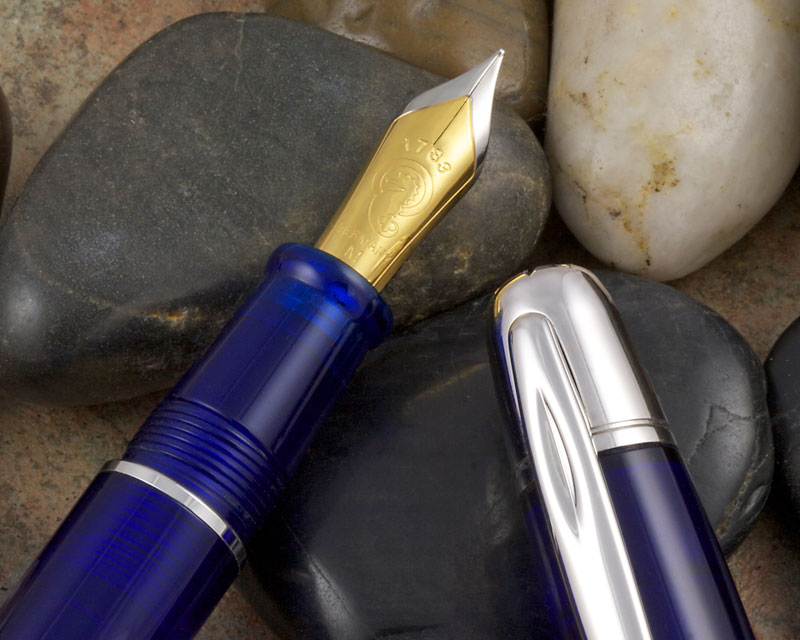 Waterford Pallas Ocean Blue fountain pen nib and cap detail
Today's pen is one I coveted after we started selling the discontinued Waterford Pallas Ocean Blue pens. There weren't any fountain pens left, so I actually got this one from our Waterford rep after all the remaining stock was cleared. This turned out to be one of my favorites and the pen I happened to pick up for today.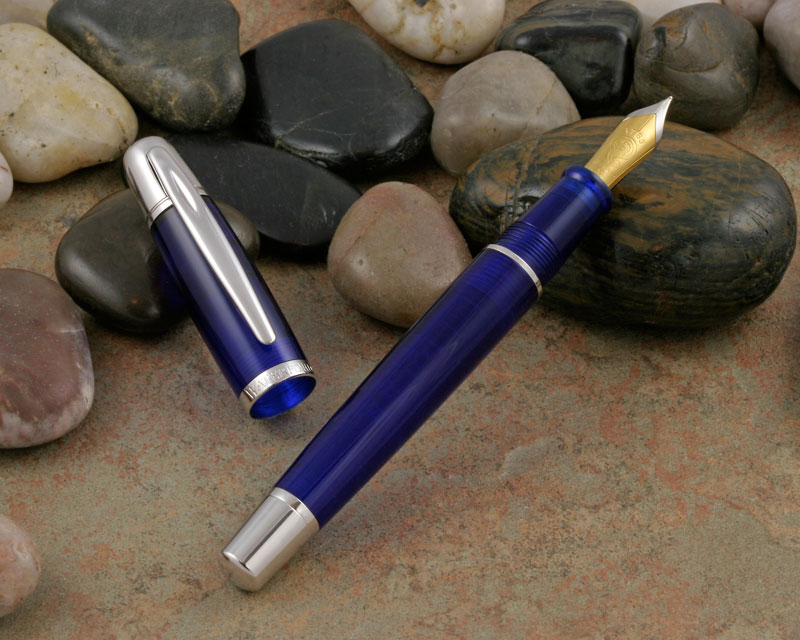 Waterford Pallas Ocean Blue fountain pen open
Of all the Waterford models, I like the Pallas the best. It's a very simple and straightforward design. I think this is because the Pallas does not strike me as a derivative design so often seen in modern pens. The cap has curves in a gentle arc from the cap lip to the crown, topped with the cut-in Waterford star pattern. The barrel is a straight gradual taper from the large platinum plated button end to where it meets the cap, with a traditional section and very large nib stamped with the Waterford seahorse logo.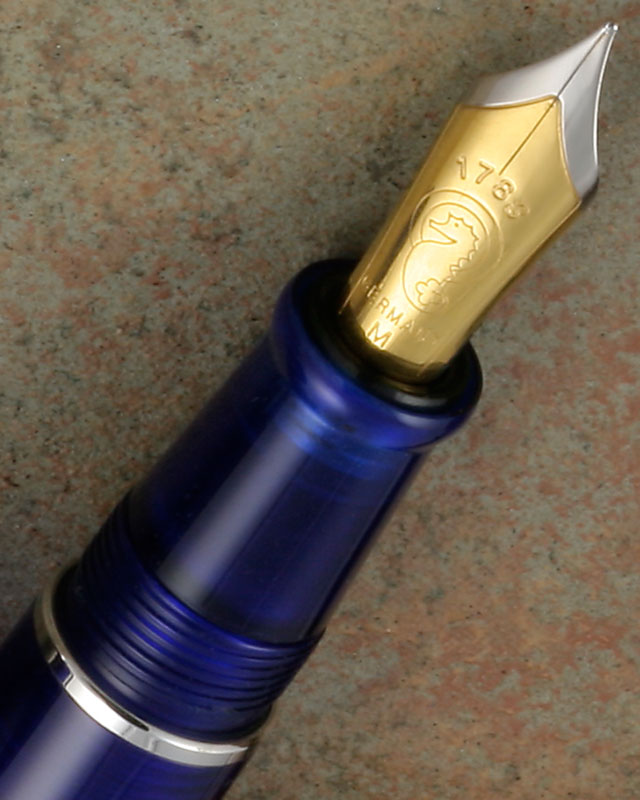 Waterford Pallas Ocean Blue fountain pen nib detail
The Pallas Ocean Blue's cap, barrel and section are made from turned and polished transparent dark blue resin with platinum plated trim and is fitted with a two-tone 22 karat gold plated stainless steel medium nib. There is a lot of bright work on this pen, all in silver, the hallmark trim color of the first decade of the 21st century, but the trim itself is all smooth curves and lacks embellishments, making the overall look of the pen very clean and contemporary. The gold plating and traditional logo on the open nib brings a traditional element to this design.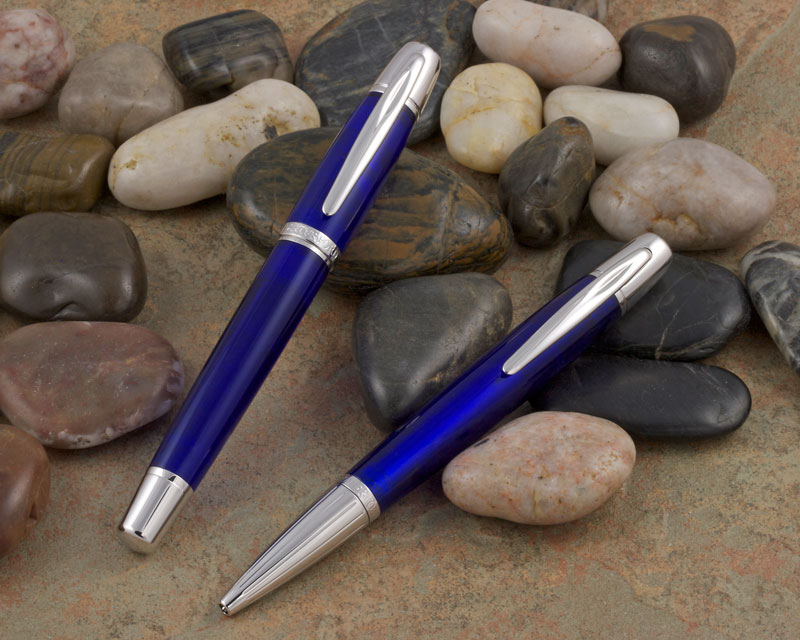 Waterford Pallas Ocean Blue fountain pen closed with ballpoint pen
The Pallas is a full size, medium weight pen, weighing 1 oz. The fountain pen and rollerball pens are about 5 5/16 inches long capped. The rollerball is 5 3/4 inches and the fountain pen is 6 1/8 inches posted. The matching ballpoint is 5 3/16 inches long.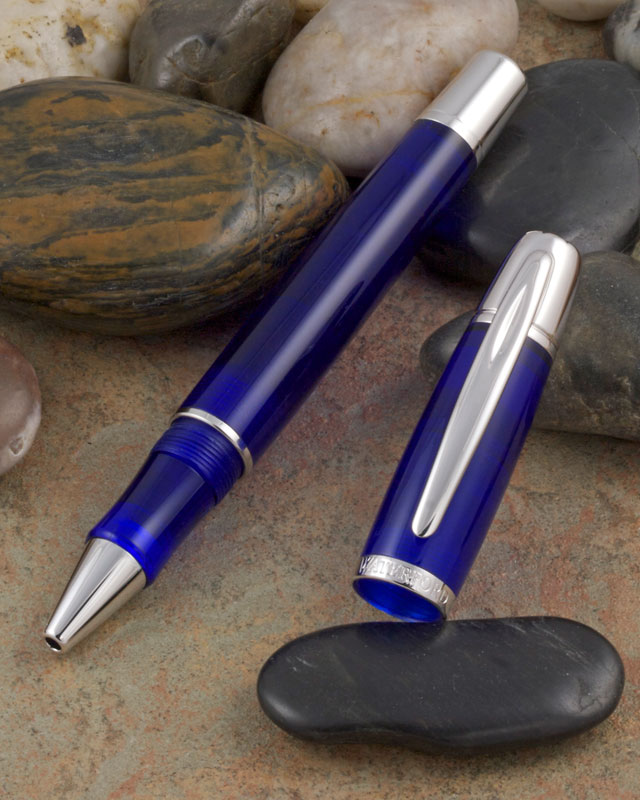 Waterford Pallas Ocean Blue rollerball pen open
The whole "demonstrator" pen craze began in 1993, with the release of the Pelikan Blue Ocean. This was a 5,000 piece limited edition version of the M800 fountain pen with a special blue transparent resin cap and barrel that became crazy popular and these pens still command high prices. It wasn't even the first demonstrator type pen Pelikan made, being proceeded in 1992 with an unnamed 3,000 piece limited edition M800 in green transparent resin. I personally think the Blue Ocean name was a brilliant move that helped the pen's cachet, and I don't think this was lost on Waterford in naming this transparent dark blue resin Pallas model "Ocean Blue." The dark blue resin is a little too dark to make this a "real" demonstrator, but the innards can be seen in bright light. You won't be easily checking ink levels through the barrel, however.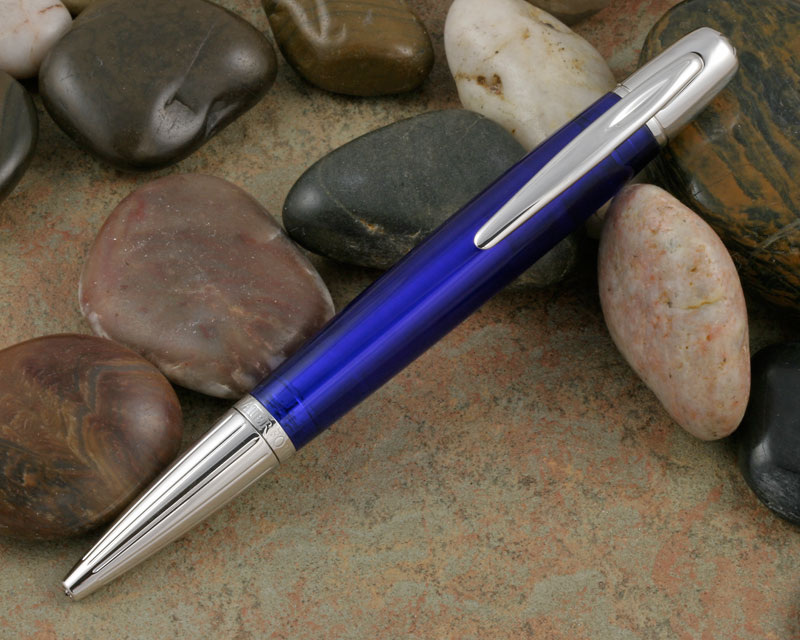 Waterford Pallas Ocean Blue ballpoint pen
Writing with the Pallas Ocean Blue is the best part. The pen fits nicely in my hand and I prefer to use it without the cap posted. It uses international cartridges or a converter. The big german made stainless steel nib glides smoothly on all the paper I use, and puts down a very even line that is not too wet. I like the look of the nib while writing and the feel of the resin in the hand. I have it loaded with Sheaffer Turquoise and there is no doubt that this one is going to stay ready for writing all year this year.
---
Discuss / Recommend what you read on PenHero.com
Follow us on Twitter: PenHero
Add a link to PenHero.com on your blog:
(Copy & paste code)
Please only use the photo provided. Use of other photos requires permission.
The provided link photo will change as we update the site.

Comments on this article may be sent to the author, Jim Mamoulides
PenHero.com Bibliography