PenInHand: September, 2017
Parker Trench Pen in red brown and black mottled ebonite c1916-1918
by Jim Mamoulides, September 30, 2017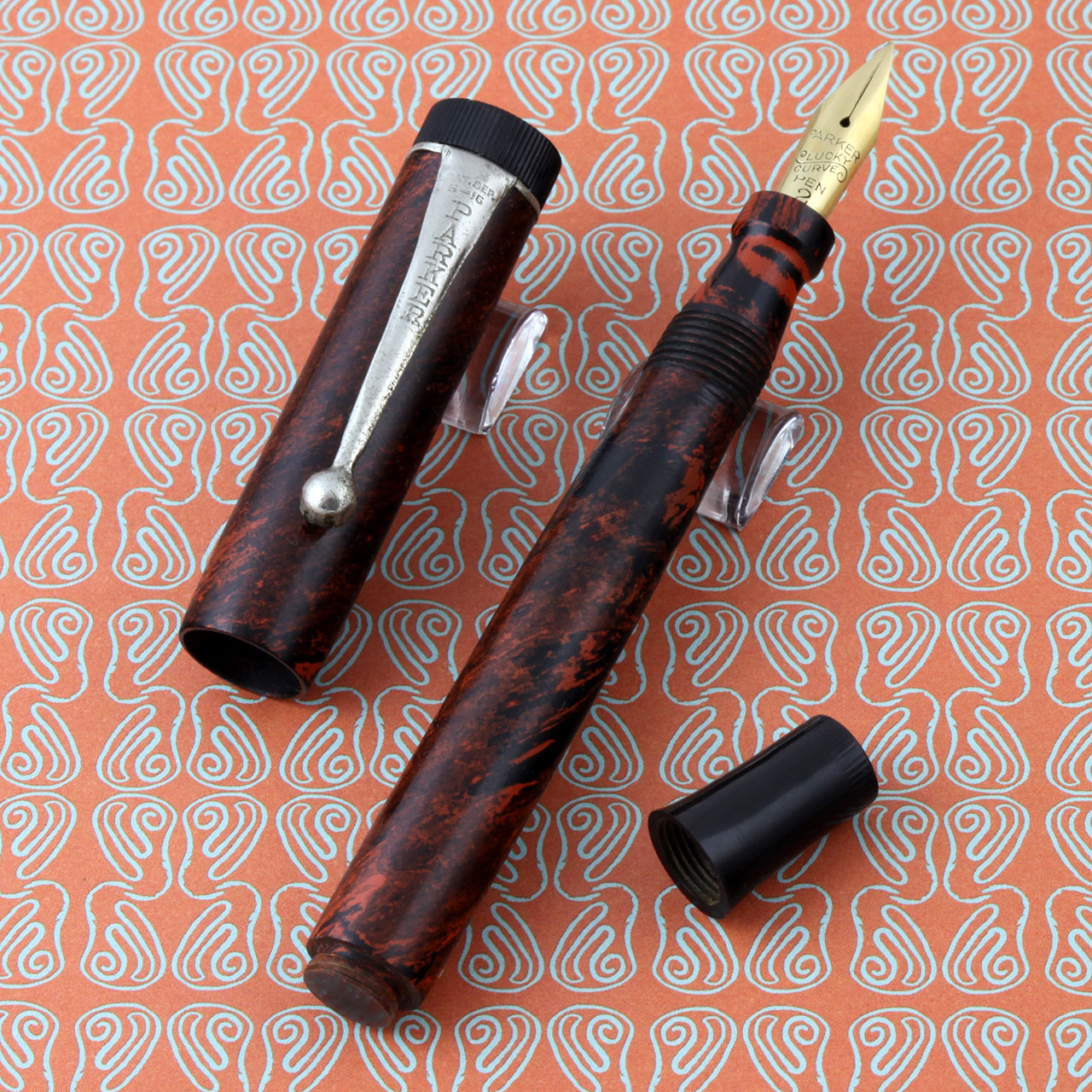 Parker Trench Pen in red brown and black mottled ebonite c1916-1918
Click the image above to see a full screen slideshow
The Parker Trench Pen was designed to meet the writing needs of World War I American soldiers in the field who could not bring bottled ink with them. The pen is a standard Parker Jack Knife Safety eyedropper pen with an extra-long end cap intended for storage of ink pellets. Parker claimed that the pen could store enough tablets to make a half pint of ink.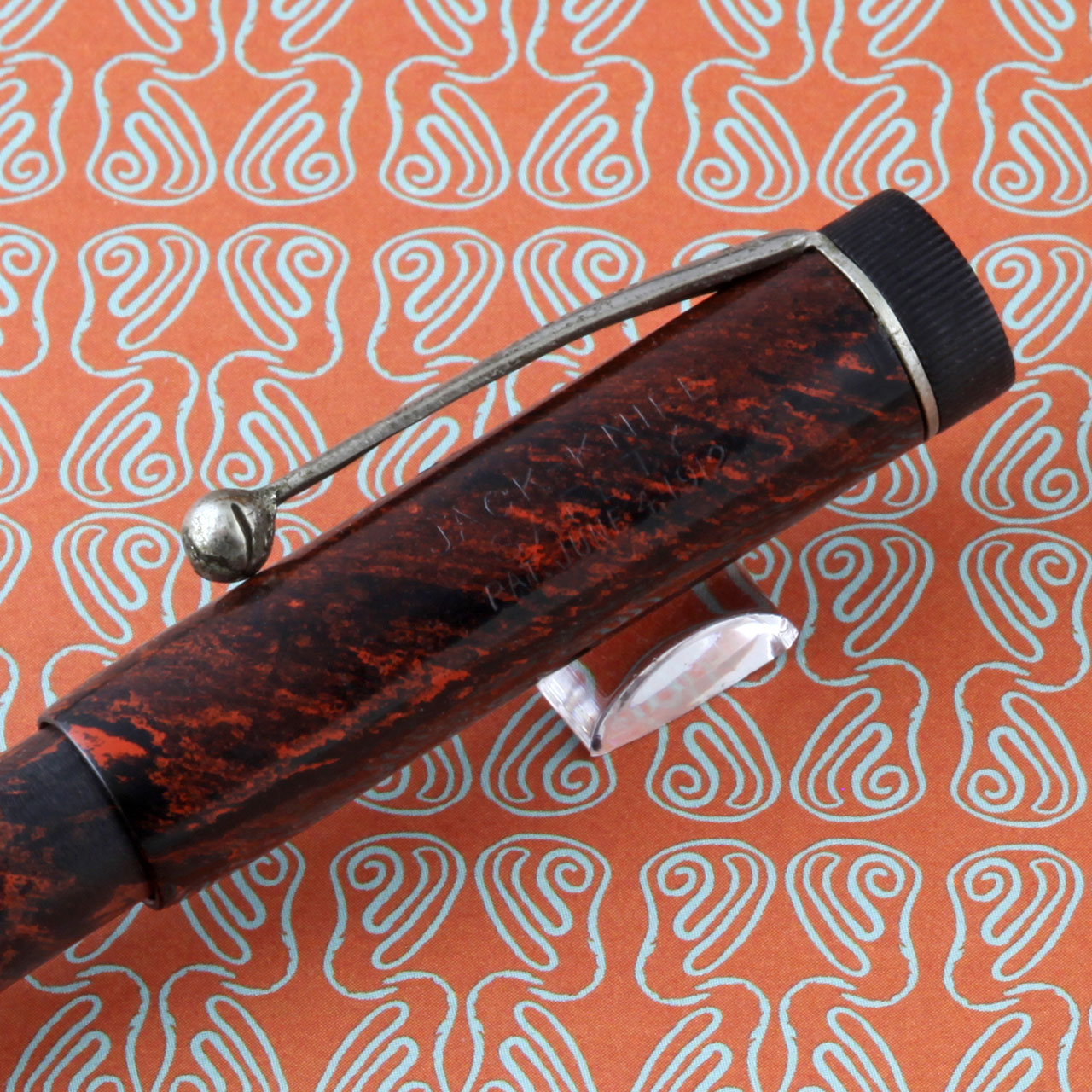 Parker Trench Pen cap detail showing Jack Knife Safety imprint
The pen was introduced in 1916 and production continued through 1919. It uses the 1912 patented screw on safety cap and was initially offered with a choice of clipless or with the 1916 patented washer clip for a small additional charge.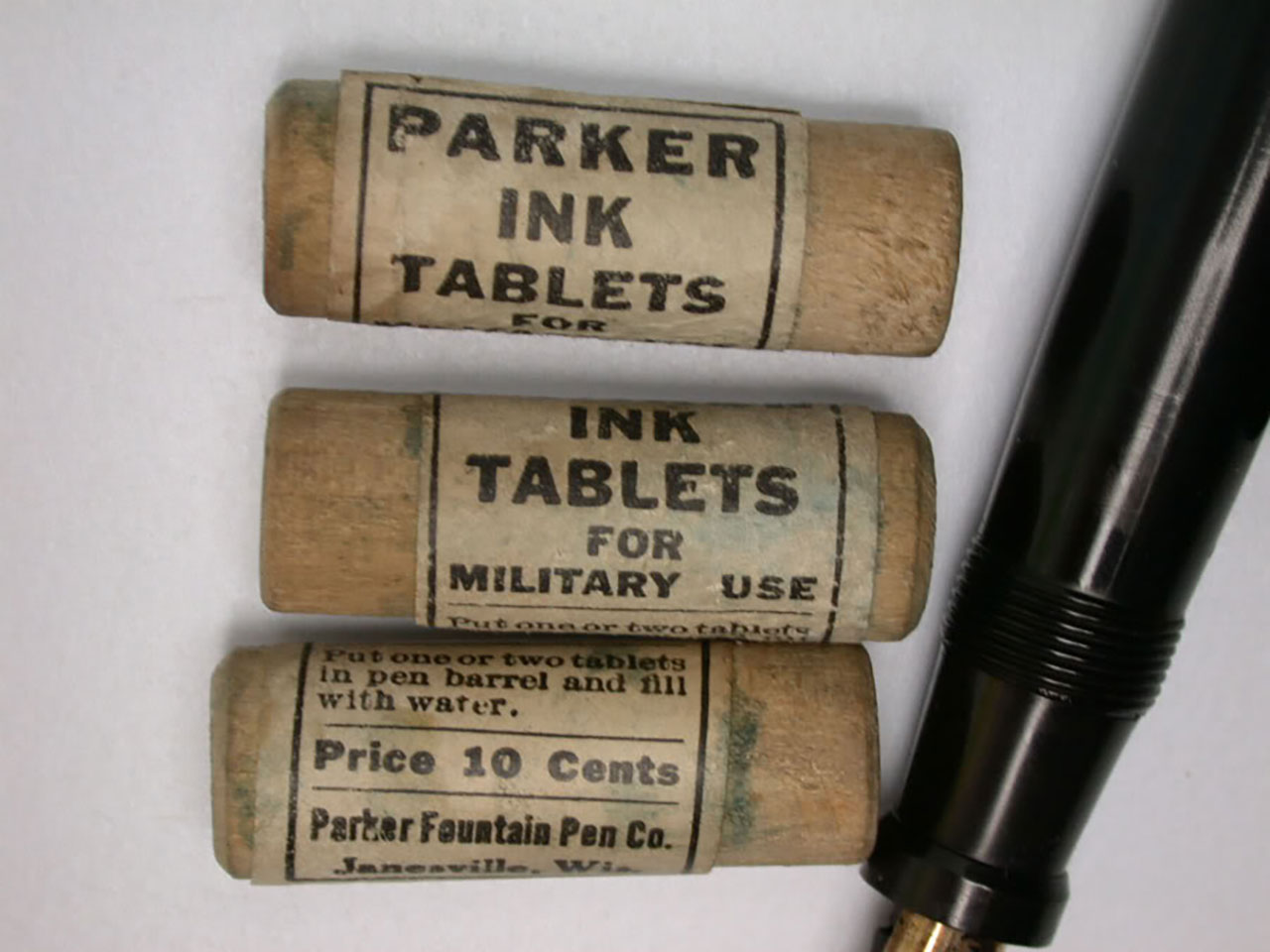 Parker Trench Pen ink tablet containers
The barrel is the same as a self-filler without the button fill mechanism or the hole in the bottom of the barrel for the button. To refill, the user would take one or two tablets out of the end cap, unscrew the nib section, drop them in the barrel, add water, and the tablets would dissolve, making ink. This eliminated soldiers having to carry ink bottles. Parker recommended two tablets for the first use and subsequent fillings would only take one tablet due to pigment residue left in the barrel. Tablets were available for 10 cents for a package of 36.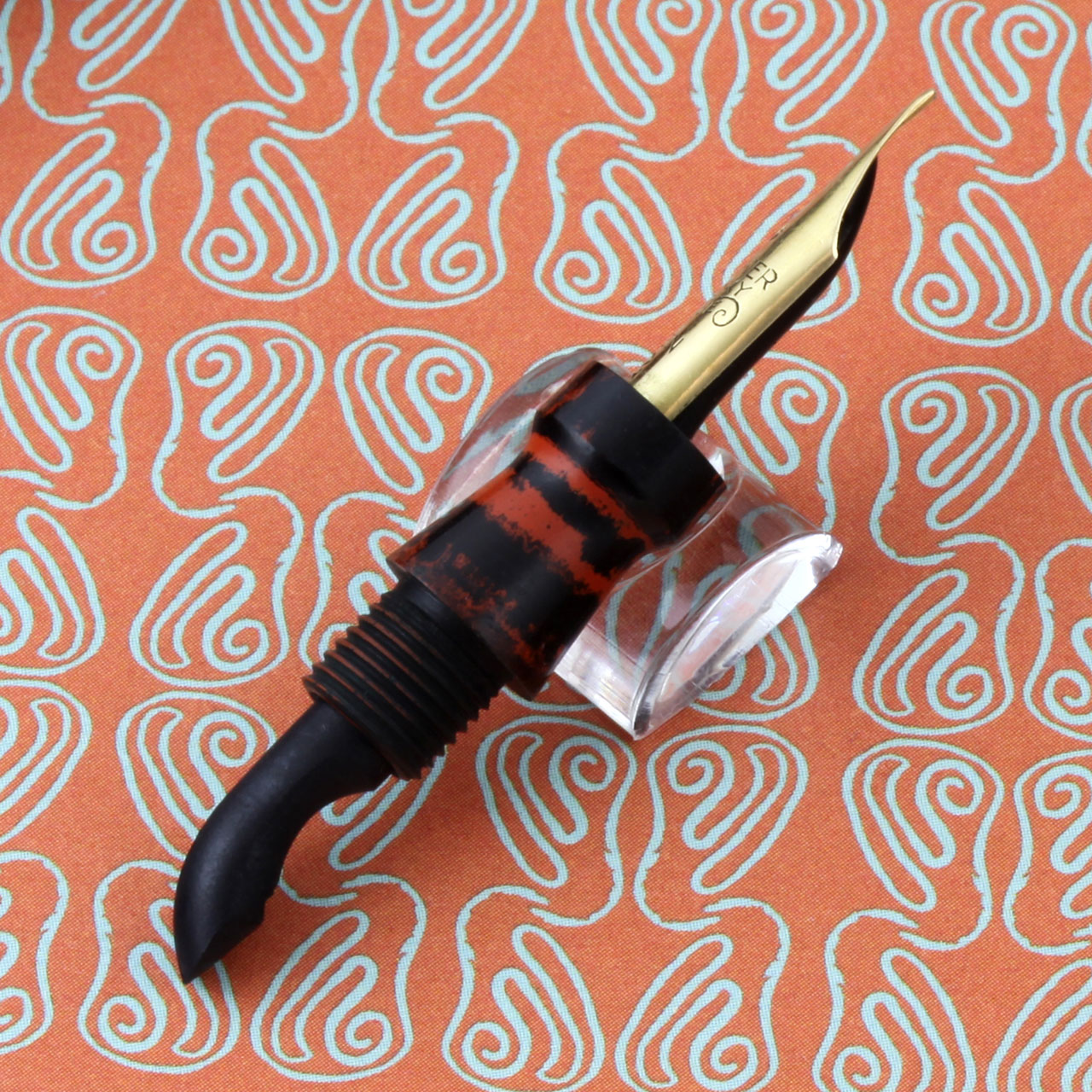 Parker Trench Pen nib section showing Lucky Curve feed
Trench pens came in four sizes in 1916, with the prices increasing with the sizes: $2.75, $3.75, $4.25 and $5.25.
In the 1918 catalog, the Trench Pen models and prices were:
Number 20 - $3.00
Number 23 - $5.00
Number 24 - $5.00
Number 25 - $6.00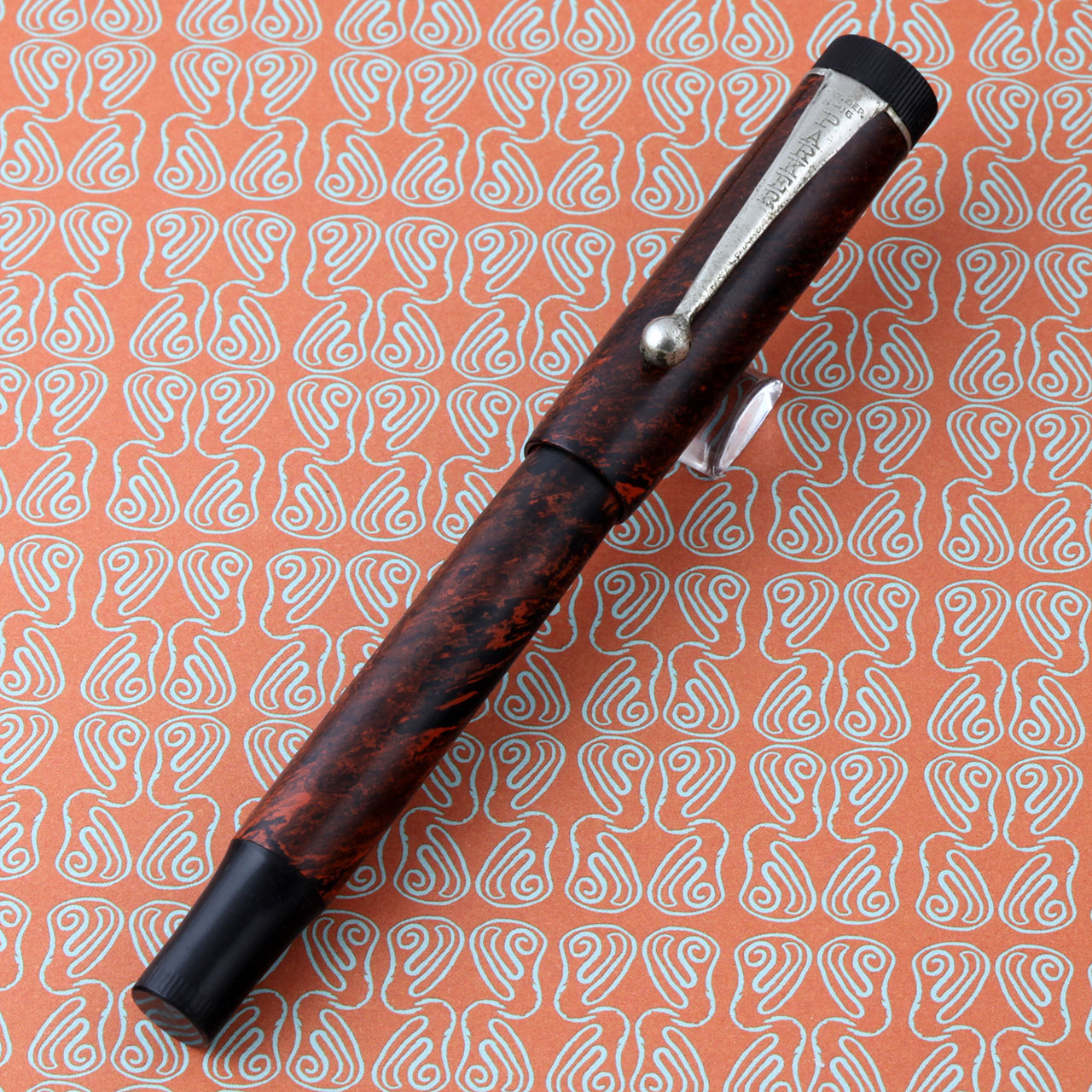 Parker Trench Pen in red brown and black mottled ebonite c1916-1918
Clips were sold separately:
German Nickel Silver - $.25
Gold Plated - $.75
Solid Gold (Green) - $5.00
Identification guide and features: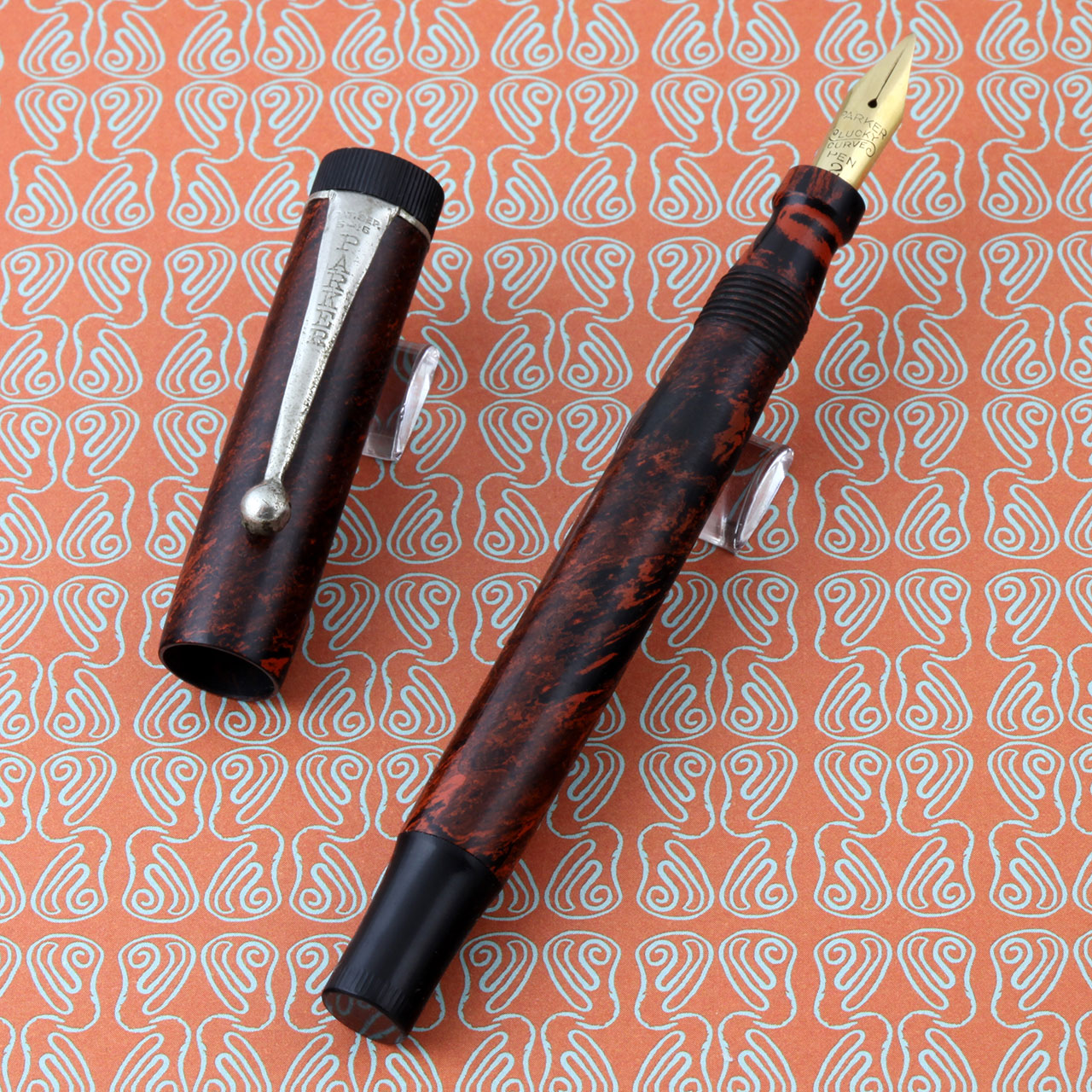 Parker Trench Pen in red brown and black mottled ebonite c1916-1918
The Parker Trench Pen is an ordinary hard rubber eyedropper fill pen with an extra-long end cap for storing ink pellets so the user does not have to carry an ink bottle.
Colors included black, red brown and black mottled ebonite with matching cap, barrel and section, and red ebonite with black section and end cap
German nickel-plated trim offered in 1916, later models offered with gold plated trim
Cap unscrews
14 karat gold Number 2 nib stamped Parker Lucky Curve Pen
Nib grades offered included fine, medium, coarse (broad), half-stub, stub, manifold, oblique, stenographer, bookkeeper, and ballpoint each with flexible options
Parker Lucky Curve feed
Eyedropper-filler
Long black ebonite end cap for storing ink pellets
Four model sizes
Performance
This Parker Trench Pen is a very rare red brown and black mottled ebonite made c1916-1918. The 4 9/16 inch long pen has a 5/8 inch long end cap and is fitted with a Number 2 solid gold unhallmarked nib. The clip is nickel plated. The pen is very well made, with everything fitting together tightly.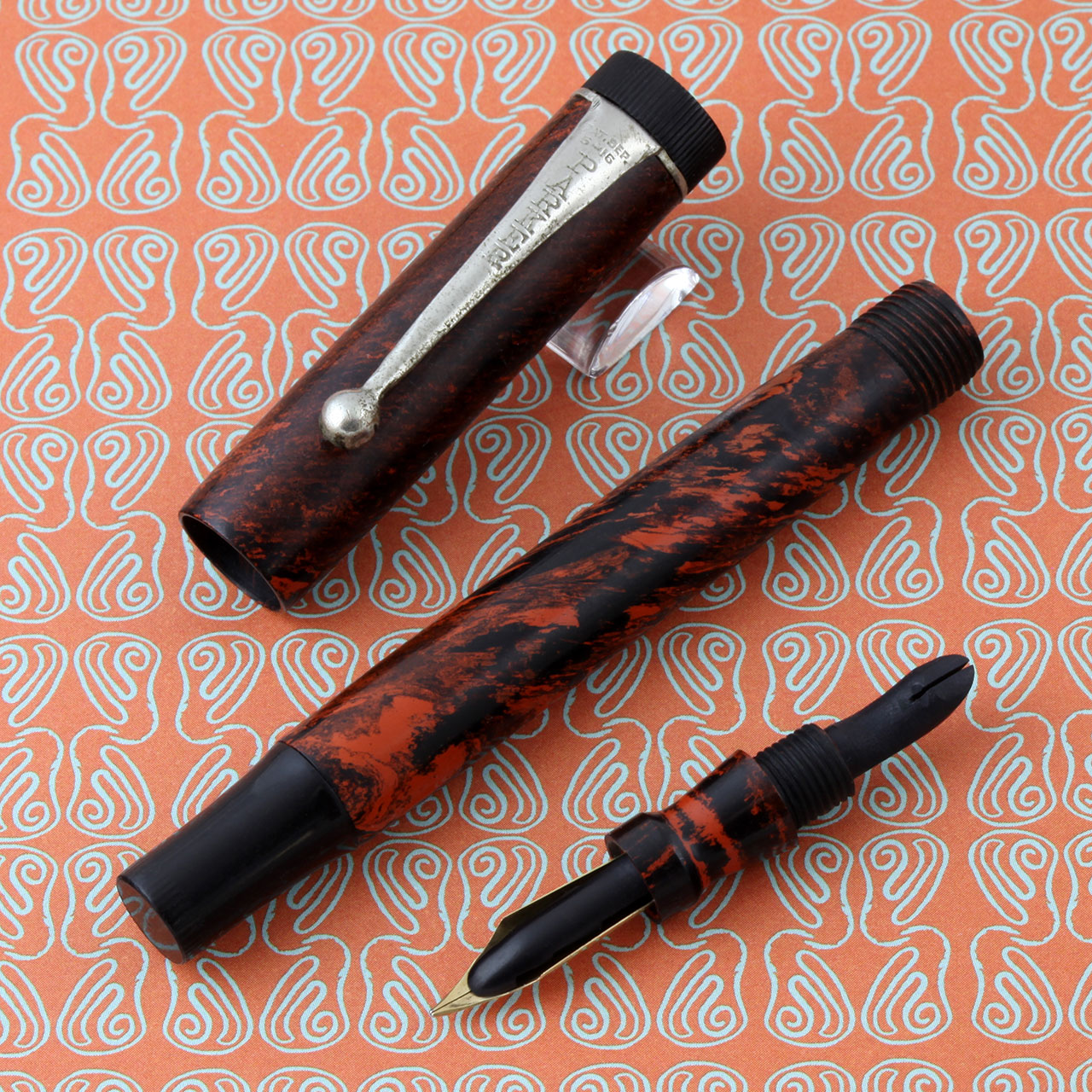 Parker Trench Pen in red brown and black mottled ebonite c1916-1918
The 14 karat gold nib is has an attractive stamping. I did not fill or dip test the pen as it was loaned for photographs. Based on other same period examples of Jack Knife Safety pens, I would imagine the nib writes quite nicely.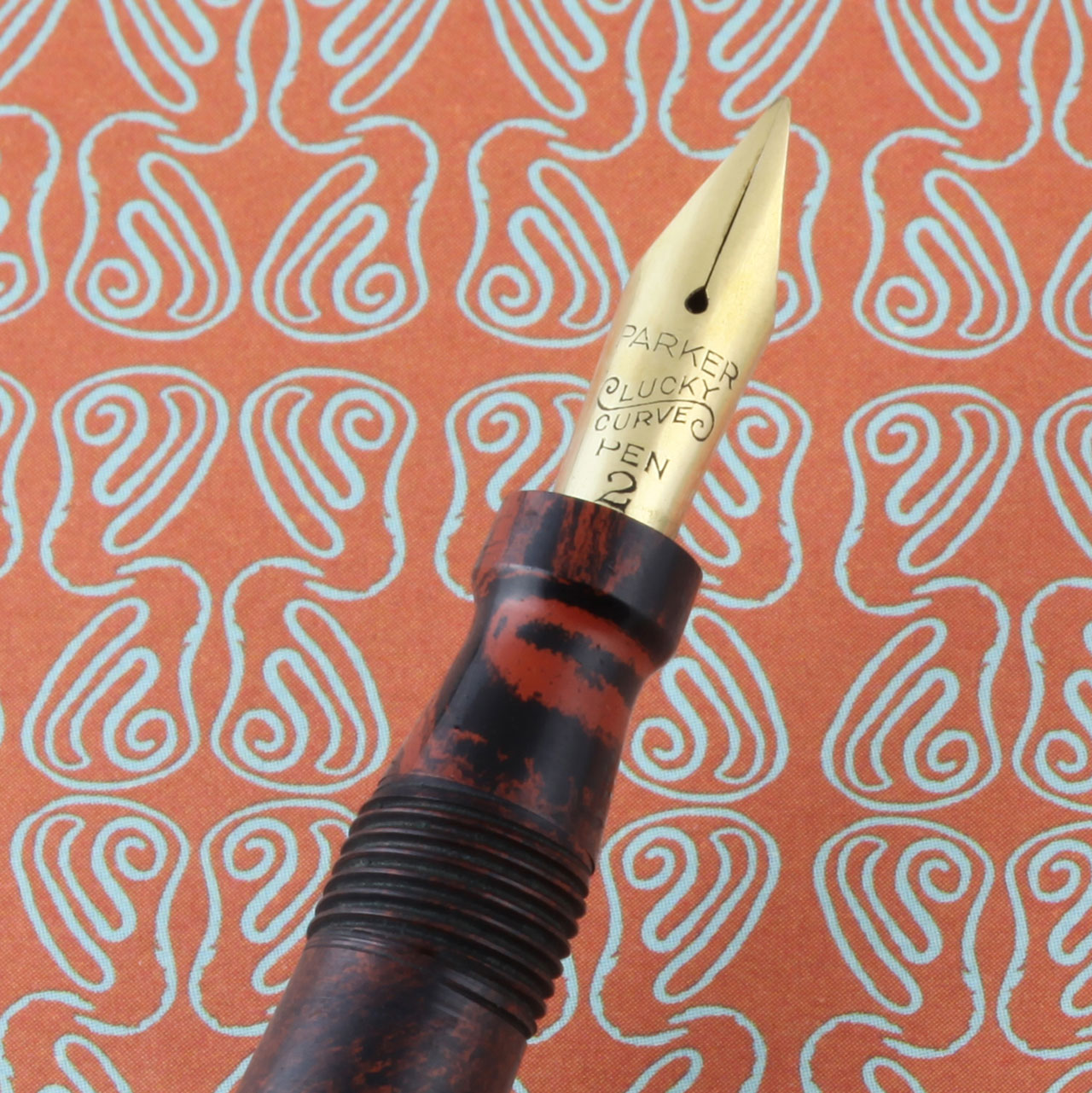 Parker Trench Pen nib section
The imprints on the cap and barrel are light but clear and hard to make out in the highly marbled ebonite. The pen is small and feels very good in the hand, though I would not post it given its age.
Parker Trench Pens are rare enough in black or red ebonite. It's possible that once they served their purpose in wartime they were discarded in favor of self-filling pens. This example in red brown and black mottled may be one of fewer than five pens still in existence. It was a real treat to be able to see it in person and take a few photos!
---
Acknowledgments
Thanks to Andy Lambrou for loaning the Parker Trench Pen photographed in this article.
Thanks to Len Provisor for providing the photo of the Parker Ink Pellet packages.
References
Association Men, Page 313, December 1918
Cosmopolitan, April 1918
Fountain Pens of the World by Andreas Lambrou, © 1995 Zwemmer, London, United Kingdom
Parker Lucky Curve and other Parker Pre Duofolds 1894—1929, by Tony Fischier, © 1995-2017 Tony Fischier and The Parker Pen Company/Sanford Ecriture
Scribner's Magazine, Page 45, January 1919
The American Magazine, December 1918
The Catalog of Parker Fountain Pens, © 1918 The Parker Pen Company, Janesville, Wisconsin, USA
The Independent, Page 157, January 26, 1918
The Independent, Back Cover, November 9, 1918
The National Magazine, Page 565, December 1918
The Red Cross Magazine, November, 1918
The Saturday Evening Post, December 7, 1918
The Six Epochs of Writing, © 1916 The Parker Pen Company, Janesville, Wisconsin, USA
The Youth's Companion, Page 656, December 5, 1918
United States Patent Office Patent 512,319, registered January 9, 1894
United States Patent Office Patent 1,028,382, registered June 4, 1912
United States Patent Office Patent 1,197,224, registered September 5, 1916
Interact
Comments on this article may be sent to the author, Jim Mamoulides