Wearever Saber c1958-1962
Jim Mamoulides 7/26/15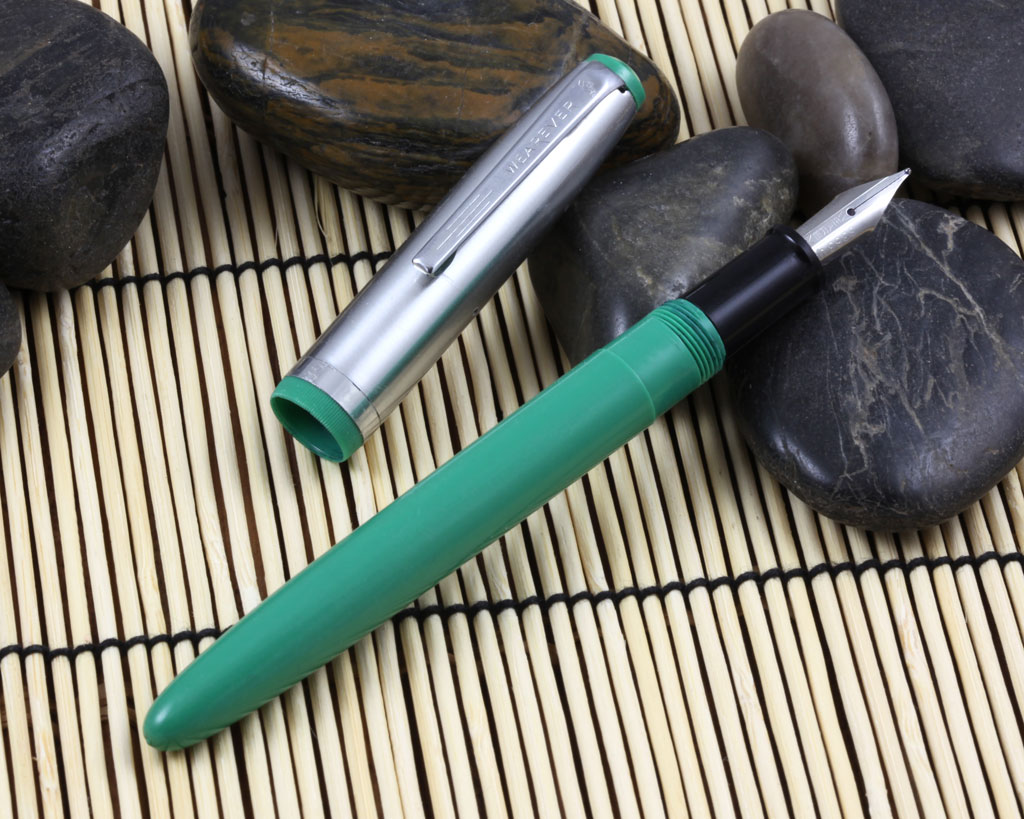 Wearever Saber Aqua fountain pen open c1958-1962
Click the image above to see a full screen slideshow
The Pennant evolves into a cartridge pen!
Based on advertising and trademark application dates, the Wearever Saber cartridge fountain pen appears to have been introduced in 1958 and marketed at least through 1962. David Kahn, Inc. applied for cartridge fountain pen patents in 1956 and 1959 that align with design features of the Saber and states the first use of the Saber name in their 1958 trademark application of 1960. Advertisements for the Saber pen can be found running from 1958 through 1962.
The Wearever Saber is nearly identical in appearance to the second generation Wearever Pennant and overlaps its production. The caps interchange between the two pen models and appear to have no differences in construction. The Saber's barrel appears to be a Pennant barrel without the lever fill mechanism and with the addition of threading for a screw in section. The Saber's section is the same size and shape and differs only from the Pennant's by having barrel threads and a molded in cartridge nipple. Both pens use the clear C-Flow feed. Also as with the second generation Pennant, the Saber's cap can be found with either a narrow 1/8 inch or wide 3/8 inch polished band in the metal sleeve overlay. The Saber and Pennant are definite relatives, like an identical twin brother and sister. My best guess is when David Kahn, Inc. wanted to launch a nicer quality cartridge pen, the company took advantage of the Pennant's straightforward design and converted it into a cartridge pen, using a new Saber trademark.
One significant difference between the Saber and the Pennant is the nib. Where the Pennant nib has an "overfeed" bar grafted down the center line of the nib, the similar looking Saber nib does away with this feature and instead has a flat center section with "WEAREVER" stamped down the face. The nib grade and number stampings give both nib types a similar overall appearance. Omitting the overfeed allows for an interesting view through the clear feed from the front and back.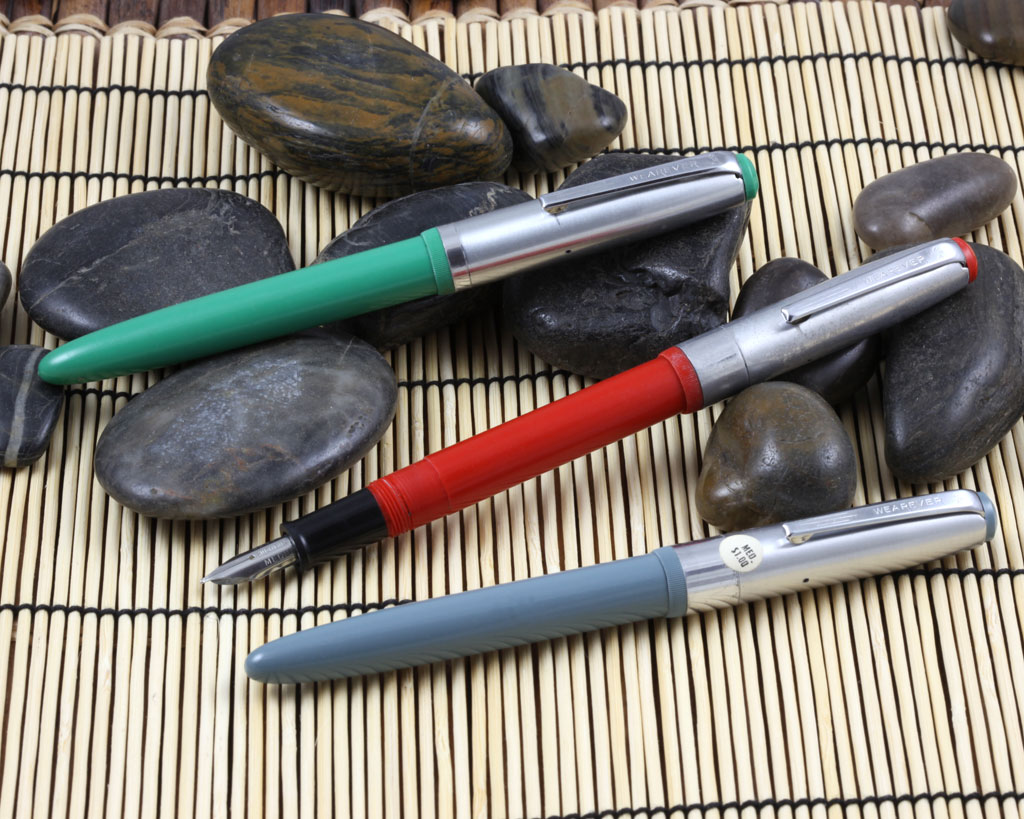 Wearever Saber Aqua, Red and Gray fountain pens c1958-1962
Note commonly found scuffing on cap of red pen
Many pen manufacturers introduced cartridge pens in the 1950s, though the idea of a fountain pen that uses disposable cartridges goes all the way back to 1890 with the Eagle Pencil Company glass cartridge pen. With the advent of stable, inexpensive injection molded plastics that could be easily mass produced, the concept of a fountain pen with a replaceable ink cartridge became more practical. Pressure in the marketplace from the relatively new mass produced inexpensive and quality ballpoint pens being introduced also led manufacturers to revisit ways to make fountain pens less messy to deal with. Wearever was already king of the low price market, so making a cheap, high volume quality cartridge pen made sense.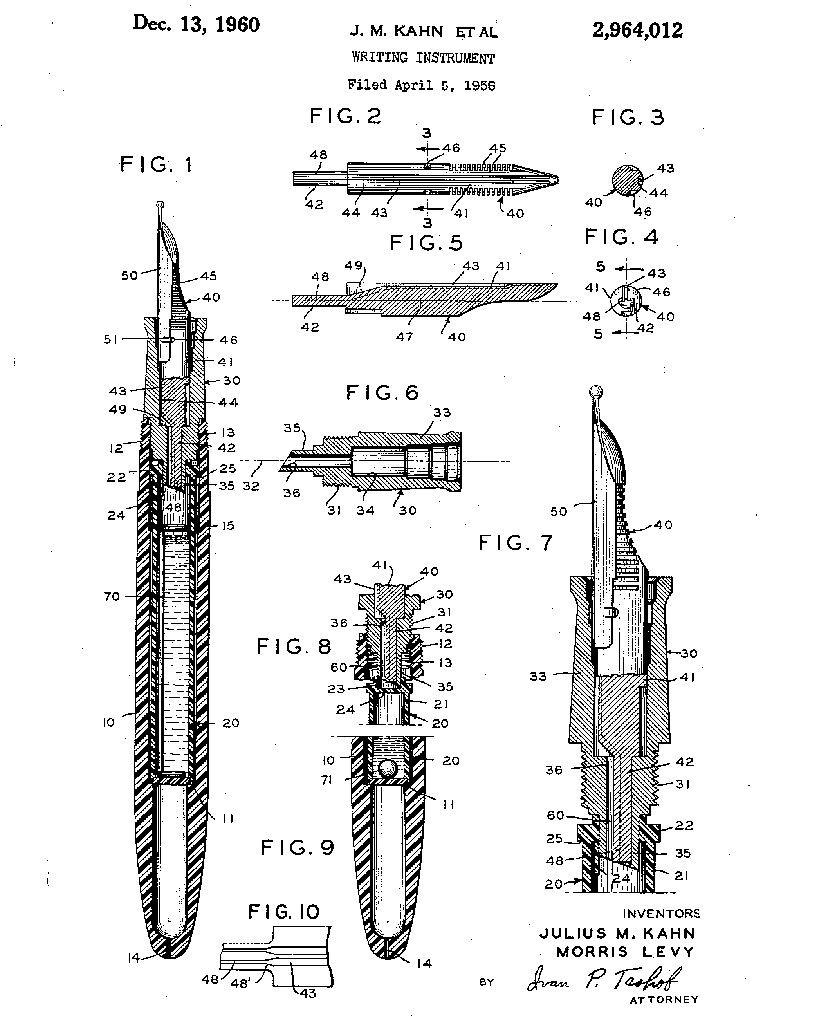 David Kahn, Inc. Patent US2964012 A showing the fountain pen cartridge design with a small ball inside
David Kahn, Inc. was no stranger to putting out patents on its designs. The company held two patents related to ink cartridge fountain pens filed in 1956 and 1959, and the essential innovation over other contemporary designs was the insertion of a small ball inside the cartridge. According to patent US2964012 A, "When the writing instrument is placed in writing position, the sphere . . . sinks in the writing medium and contacts the protruding portions of the feed bar and pen section to initiate capillary flow of writing medium from the cartridge." For this to work, the nipple that punctures the cartridge is angled, so the ball does not cover the opening of the feed. The action of inverting the pen to write with it causes the ball to drop and insure any ink that may be beading in the cartridge makes it to the feed.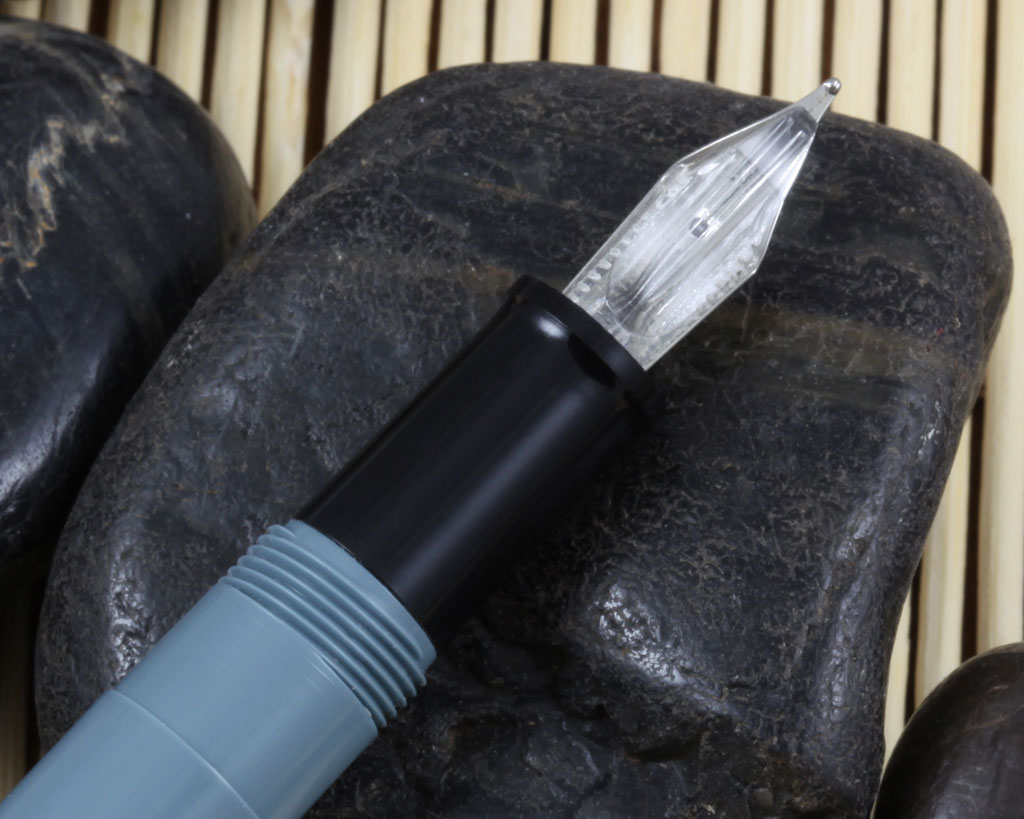 Wearever Saber fountain pen C-Flow clear feed detail
The Saber continues the use of the clear "C-Flow" feed from the Pennant. This is a clear plastic feed that allows the user to "see the flow" of ink and know when to refill the pen. When the feed starts looking light on ink, it is time to refill the pen. This design, trademarked in 1943, replaced visulated sections on Wearever Pacemaker and Zenith pens starting in the mid 1940s.
Wearever offered the same five point choices on the Saber as on the Pennant: Extra Fine, Flexible Fine (or Flexfine), Medium, Broad, and Steno, though the flexible was more of a semi-flex or soft touch nib in practice.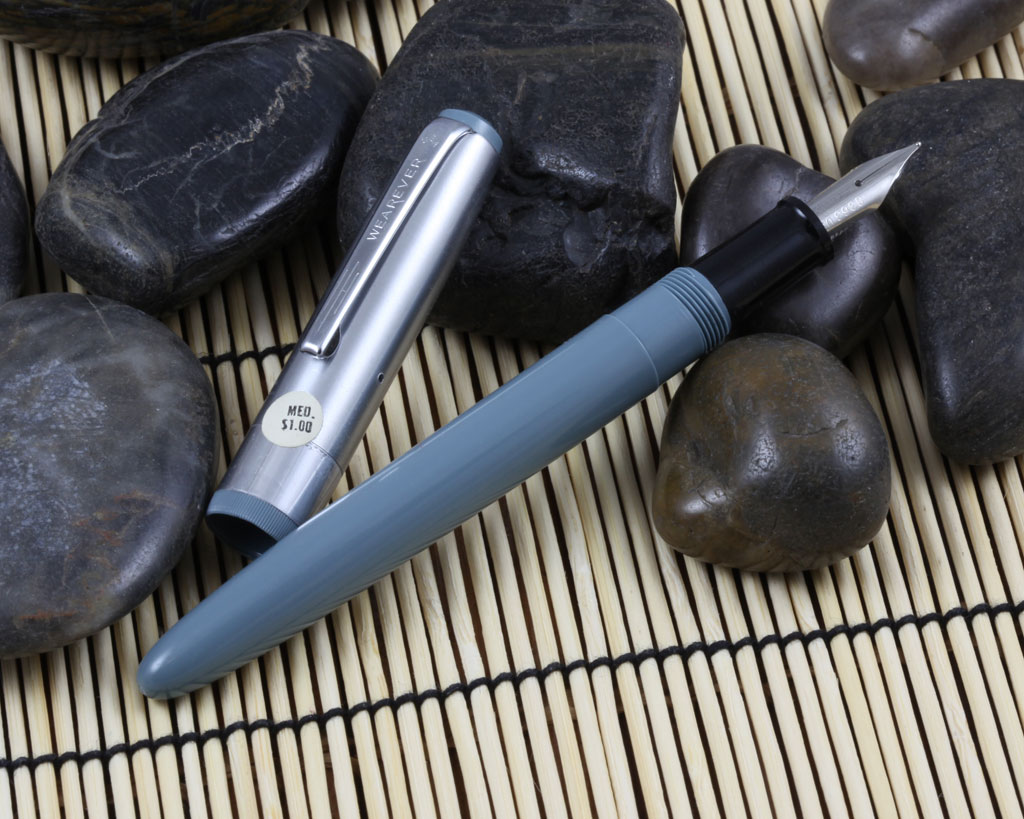 Wearever Saber Gray fountain pen c1958-1962
All this and cartridges, too!
David Kahn, Inc. differentiated its cartridge design from market leading Sheaffer's design by giving it a distinct domed end and a bright metal trim band. Instructions show this domed end goes in the barrel first and the action of screwing the section onto the barrel punctures the cartridge and allows the flow of ink into the section. Wearever cartridges are even screen printed with an arrow indicating which end goes into the barrel. No fooling around here. Such an elaborate design had to be more expensive to make than the simple Sheaffer cylinder, but it had to be different in order to lock customers into buying Wearever cartridges as well as avoid a patent lawsuit. Cartridges were offered in six colors: Permanent Blue Black, Washable Blue, Black, Red, Green and Peacock Blue.
Reading the two cartridge fountain pen patents points out the essential and simple design of the writing front end of the Saber. The section, nib and feed are are made in a way where the section itself incorporates the cartridge piercing nipple in a single molded piece. The clear C-Flow feed is designed to mate into the section and nipple and the nib is sandwiched in between. Three parts total. Considering the Saber was priced at $1.00, having only about ten parts among the cap, barrel and section must have made the Saber a higher profit margin product for David Kahn Inc. than the more complex lever-fill Pennant selling at the same price point.
Legacy
The Saber appears to have been re-branded as the Wearever Ink Cartridge Pen at some point at the end of its run, as there are examples identical to the Saber that were sold individually and with a matching pencil under that name. This was either a brief change or to move stock as other, more cheaply made pens also called Wearever Ink Cartridge Pen begin to appear in advertisements in 1963. Many pen companies re-used brand names as they updated or replaced products. By the 1970s, the Saber name was being used on nylon tip throw away marking pens.
The company moved from North Bergen, New Jersey to Deer Lake, Pennsylvania in about 1965. David Kahn Inc. ended 90 years of family ownership with owners Alvin Kahn and his father, Julius selling the company to the Dixon Ticonderoga Company for $4.7 million in 1987. Annual sales at the time of purchase were about $4-5 million, with about half of that in the ballpoint pen market. The company continued to focus on mass market products at big box retailers like Woolworths and Walmart. At the time of sale, the company claimed to be the "only writing instrument manufacturer to make all its own components from raw materials" and had about 103 employees.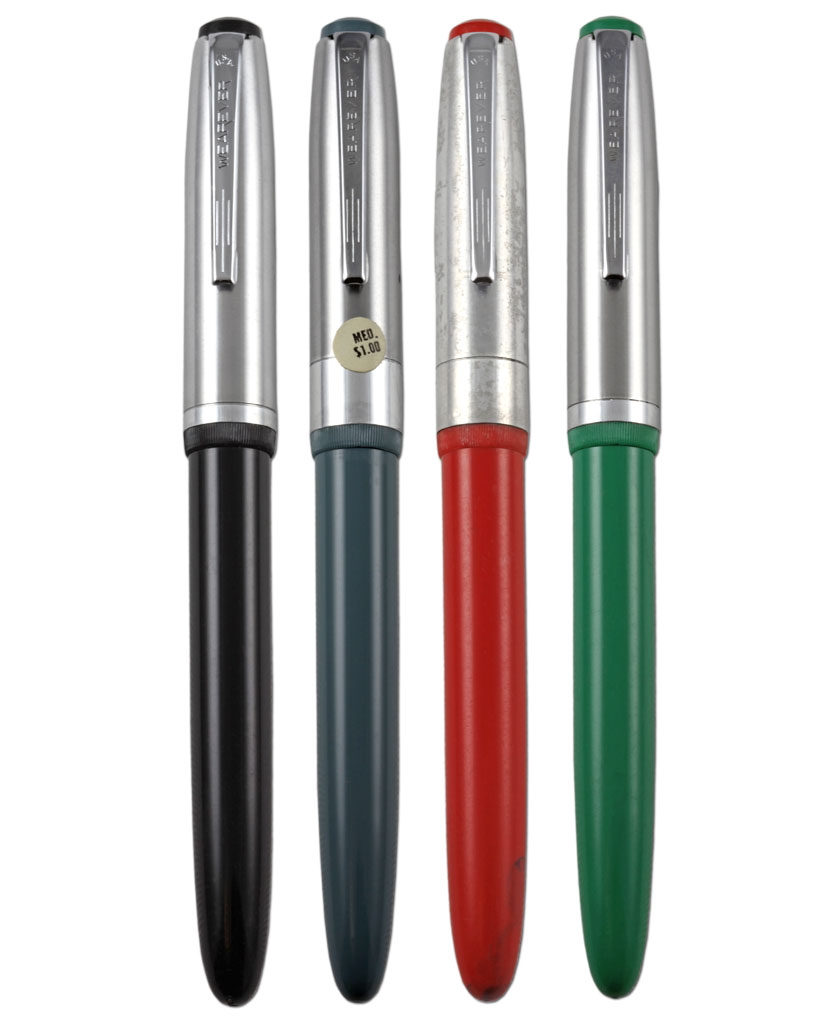 A lineup of Wearever Saber Cartridge Pens c1958-1962, black, gray, red, and aqua.
Note cap scuffing and barrel staining on red example, common with pens in the field.
Identification guide and features:
Marketed c1958-1962, based on advertising appearances, trademark, copyright dated ephemera and observed examples. All fountain pens are cartridge fill. Wearever did not offer a converter.
Injection molded solid color plastic resin cap and barrel
Advertised colors: aqua, red, gray, and black
Cap has silver color metal sleeve overlay
Base of cap has coin edge segment that matches barrel color
Cap top matches barrel color
Cap sleeve has either 3/8 or 1/8 inch polished band section near cap lip - the narrower band may be a later development, but there is no hard evidence
Chrome metal clip with USA at top, WEAREVER down the face and three lines near the tip
Stainless steel nib marked with nib grade on one side face, nib number on the opposing side, and Wearever down the center
Five nib grades: #8361 Extra Fine, #8362 Flexible Fine (or Flexfine), #8363 Medium, #8364 Broad, and #8365 Steno
Clear "C-Flow" feed
About 5 1/2 inches long capped and 6 1/4 inches posted
Uses Wearever cartridges
Retail price for the fountain pen was US $1.00, replacement cartridge packs of six were US $.49
Cartridge colors included #90BB Permanent Blue Black, #90WB Washable Blue, #90K Black, #90R Red, #90G Green and #90L Peacock Blue
Packaged on hang cards or open stock presented on counter displays
Performance
Wearever Saber cartridge fountain pens are much less common than Pennants. They will sometimes be mislabeled as Pennants or cartridge Pennants online, so if you are online looking for one, you will need to make sure the pen offered is not a lever fill pen. The pen was also sometimes packaged as the Wearever Ink Cartridge Pen, though its unclear when and for how long. The other issue with any Wearever cartridge pen is the cartridges themselves. These pens have not been made in at least 40 years and most likely any cartridges you find are going to be dried out. Not to worry. Make sure if you get one, you get at least one undamaged cartridge with it. Wearever did not make converters and other brand converters are not going to fit correctly.
There are two ways to fill an empty cartridge. The Wearever instructions actually suggest using an empty cartridge in the pen, dipping the pen in an ink bottle, and squeezing the cartridge like a squeeze converter to fill it. It will work, but it's not a great method and risks cracking open the cartridge and limiting its use. A better method is to get a refill kit with a blunted syringe and using the syringe to transfer ink from the bottle to the cartridge. This effectively makes the pen an eyedropper fill pen, but you will get use out of it with this method.
The Saber, like the Pennant, is very durable and should work unless the pen has been filled with permanent ink. Flushing the pen can be done running it under a warm tap or using a cartridge or bulb. Like the Pennant, the Saber's metal cap is prone to easily pick up scratches and will often be found that way. Just be thankful they aren't expensive.
My black Saber test pen is fitted with a medium nib. It's a full size pen, about 5 1/2 inches long capped and 6 1/4 inches posted. It's light, but well balanced, posted or not.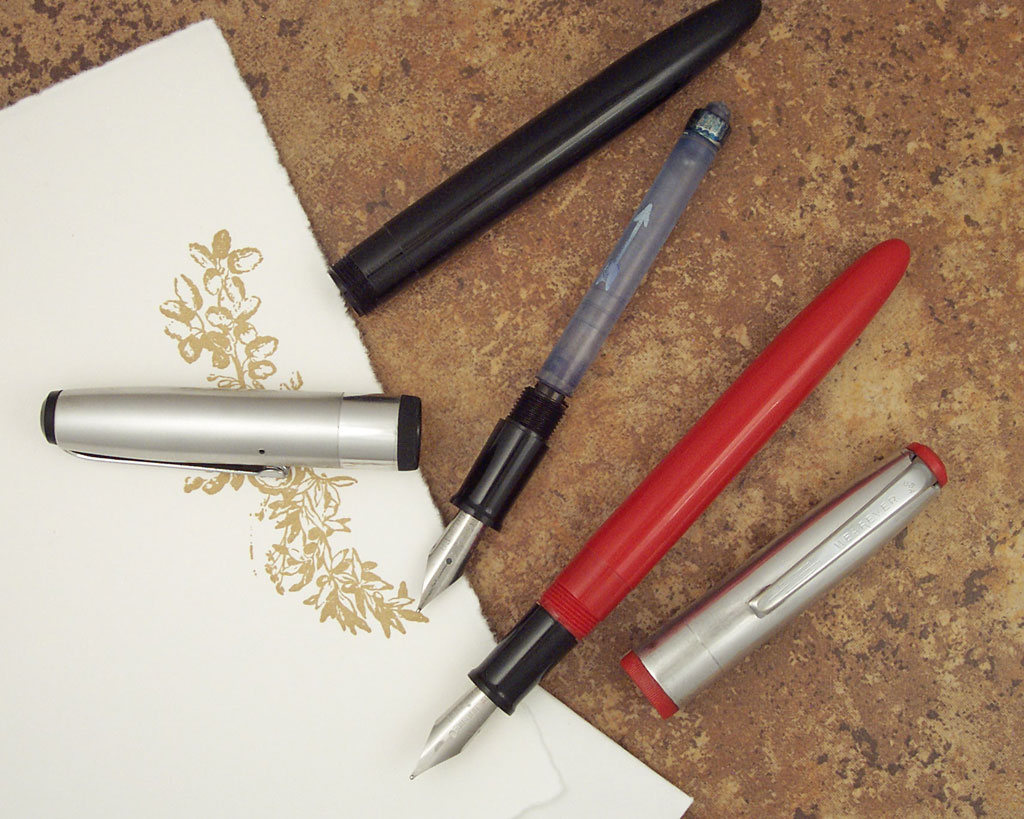 Wearever Saber Black fountain pen open (Top) showing cartridge and Wearever Saber Red fountain pen (Bottom)
Note arrow, domed end and bright metal band on cartridge
I'll admit that I don't have a lot of patience with refilling cartridges, so that did not score any points in my book as far as regularly using a Saber, but after dealing with that, I was very pleasantly surprised at how nice and smooth the Saber's medium nib was. Wow, I could actually use this pen regularly.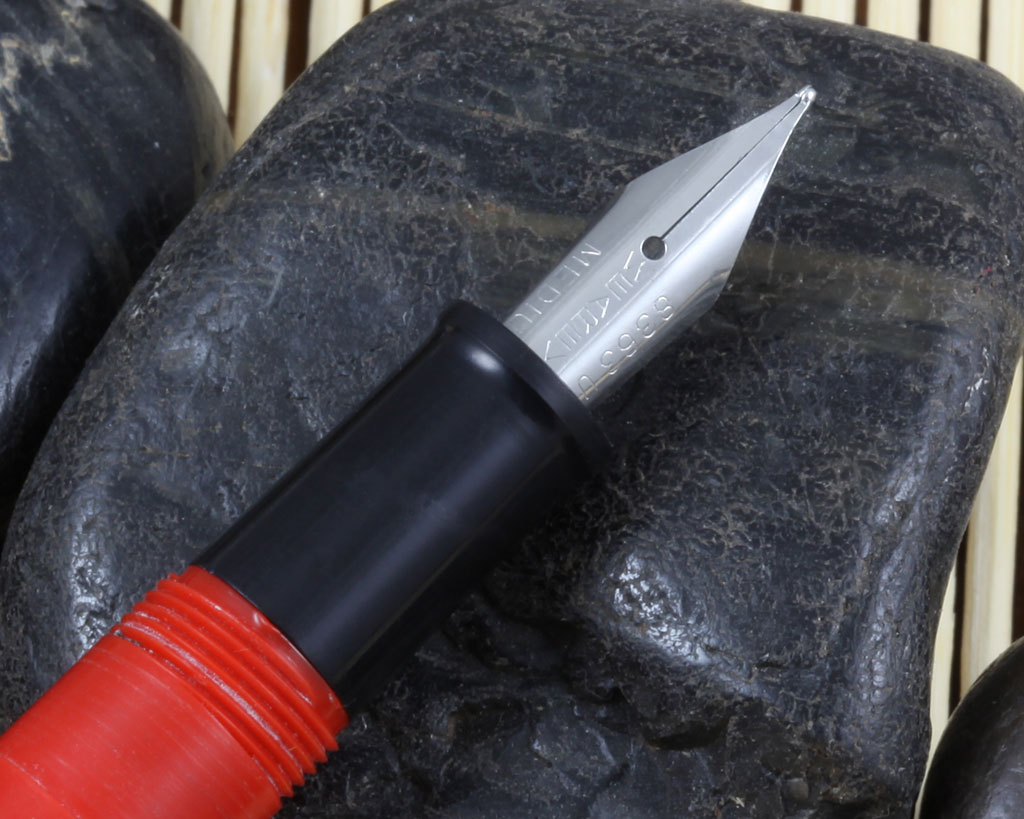 Detail of Wearever Pennant Saber medium nib
For an every day pen, the Saber writes well, is light and a good size. Filled with ink, it's a pleasure to pick up and jot notes with. On the other hand, dealing with refilling cartridges makes the pen a commitment. At minimum, one will need spare cartridges to use like converters, knowing they will wear out, or a refill kit or blunted syringe.
Like Pennants, Sabers suffer from easily scratched and scuffed metal cap sleeves and you are likely to find many examples in the field. The plastic is susceptible to staining, which a polishing compound can often take out. Even new old stock pens may show shop wear because many were sold in loosely packaged in boxes of twelve for store display cards so the pens could lightly scuff each other even in the package.
Pennants may be ubiquitous, but Sabers are not. If you are looking for one, you may have to pick through a bunch of Pennants to find the one that does not have a lever on the side of the barrel. They won't be any more expensive than a Pennant, but expect a little more work than a simple lever filler.
---
References
"Dixon Ticonderoga Acquires Nearby Wearever Facility," Tom Moylan, The Morning Call, January 8, 1987
"New Owner Draws Out Best In Wearever," The Morning Call, May 10, 1987
Undated Wearever Saber marking pen flyer
Undated Wearever Saber cardboard hang card with instructions
Undated Wearever Ink Cartridge Pen instructions
Wearever cartridge pen cardboard sales hang card © copyright 1967 David Kahn, Inc.
Wearever Saber trademark 0709641, mark text "SABER," filed with USPTO on January 8, 1960, showing first use in commerce January 24, 1958
Wearever C-Flow trademark 0399725, filed with USPTO on August 25, 1942, registered January 26, 1943
Writing instrument patent US 2964012 A, Kahn David Inc., filed April 5, 1956, granted December 13, 1960
Writing instrument patent US 3087463 A, Kahn David Inc., filed February 13, 1959, granted April 30, 1963
Advertisements from the following:
Schenectady Gazette - August 27, 1958
Toledo Blade - October 8, 1958
Matawan Journal - December 11, 1958
Reading Eagle - December 3, 1959
Torrance Press - September 10, 1959
The Dublin Progress - August 26, 1960
The Pittsburgh Press - August 31, 1960
Eugene Register-Guard - September 11, 1960
Toledo Blade - December 12, 1960
The Sumter Daily Item - August 24, 1961
Toledo Blade - October 18, 1961
The Milwaukee Journal - October 2, 1962
Interact
Comments on this article may be sent to the author, Jim Mamoulides