Wearever Gallery
by Jim Mamoulides 1/2/02 - Updated 7/24/04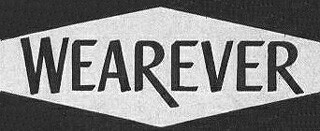 Wearever: the Greatest Name in Fountain Pens! Well, actually, far from it. Wearever always worked on quantity versus quality, and frankly, for the most part, their pens show it. In the 1950s, Wearever called themselves the "World's Largest Fountain Pen Manufacturer." Doubtless quantity ruled somewhat over quality. Wearever was the king of the low rent district, making all sorts of cheap pens in all flavors and colors for the public to consume.
Imagine a walk through the local dime store in your town, USA in the 1950s. At the pen counter, under all those pretty, and expensive pens, or hanging on a wall card rack you might find a few boxes of pens more to the liking of your wallet. You might see some Pennants or Supremes featured as low cost alternatives. I've reviewed those pens elsewhere on PenHero.com. Here, I selected a few of the "other" Wearevers I had knocking around and included them in this gallery, just to let you know that Wearever wasn't all about serious, high quality fine pens!
Wearever Pencils From The 1930s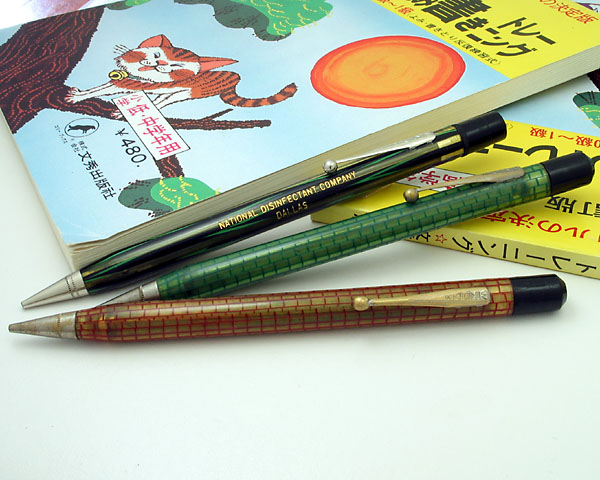 A Set Of Wearever Translucent Pencils c1930s
Starting off with pencils might not make sense on a site named PenHero.com, but many pencils made in the 1920s and 1930s are as interesting as their higher priced pen companions. Eversharp made many more pencils than pens, and mechanical pencils were very commonplace writing instruments in the period.
This set of translucent Wearever pencils mimics those made by Eversharp, which had an entire line devoted to large pencils, many of which were made from very wild celluloids, in opaque, translucent, and windowed. Wearever was beginning to take a leadership position in the low price market, and often copied and modified the designs of the first line manufacturers.
Wearever In The Late 1930s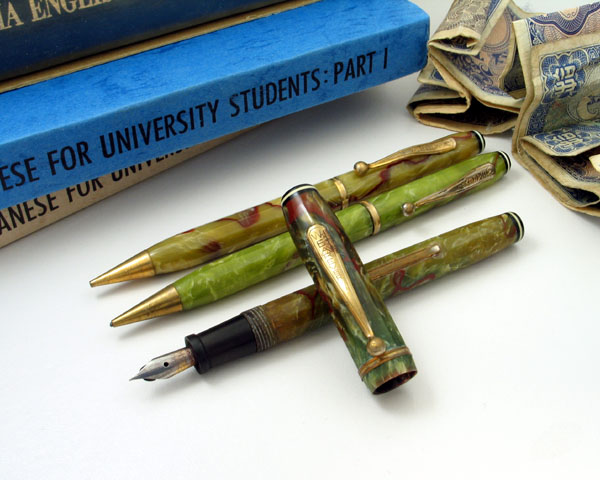 A Wearever Late 1930s Pen And Two Late 1930s Wearever Pencils
Wearever began to make quality low end pens in earnest in the late 1930s. Many of these pens, such as some Supreme models, were fitted with 14 karat gold nibs, though Wearever found a way to cut costs by mounting a very small gold nib in a massive steel frame, giving the impression of a standard size nib. Many of the pens from this era will have "Durium" nibs, and some of those will have 14 karat gold plate. Although the plastics used on many Wearevers from this period have proven quite durable, the plating generally was cheaply and thinly applied, meaning even mint examples may show plating loss. In general, these pens are as hefty and durable as their more expensive competition. They were just made of cheaper stuff.
Wearever Child's Set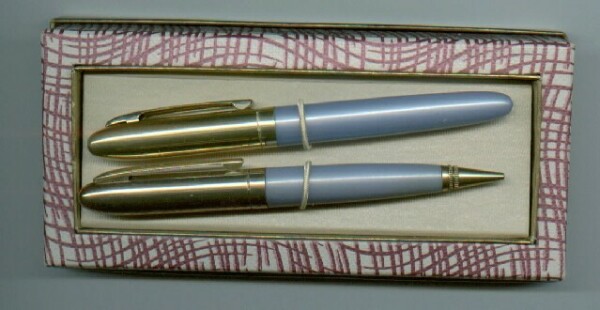 Wearever Periwinkle Child's Set c1950s
Wearever made pens for every purpose, including an extensive women's line, similar to the Lady Sheaffer's pens and pens for children. This set is very small, each piece hardly 4 inches long.


Wearever Periwinkle Child's Pen c1950s
The gold caps are best described as gold tone, and the plastic is that soft plastic toys are made from. The pen and pencil really work, but I wouldn't vouch for durability.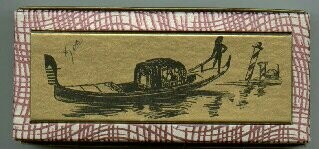 Wearever Periwinkle Child's Set Box Closed c1958
Every box tells a story, and this one is no exception. Apparently the owner of this tiny set is supposed to imagine they are on a gondola ride in Italy while they are using it!
Wearever Red / Gold "Taperite Citation" Type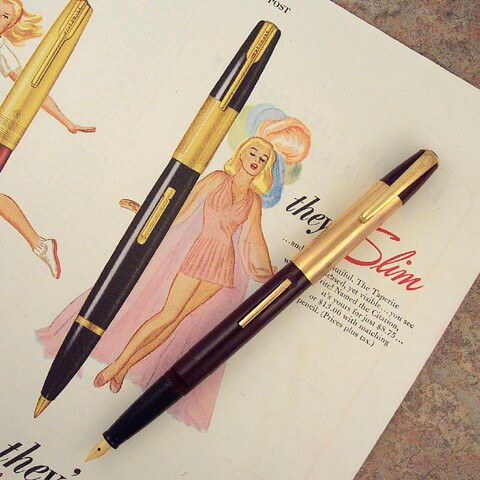 Wearever Red / Gold "Taperite Citation" Type Pen c1945-55
Photographed On A Waterman Taperite Advertisement
As with the better known and advertised Pacemaker of the late 1940s, Wearever made copies of other popular pens. This unnamed model is an obvious attempt to play on or copy the Waterman Taperite Citation. This set is somewhat better made than the others in this photo study, and seems to be intended more for a serious daily user than as a starter or giftie pen. The gold plate is actually decent quality and the pen and pencil both work fairly well.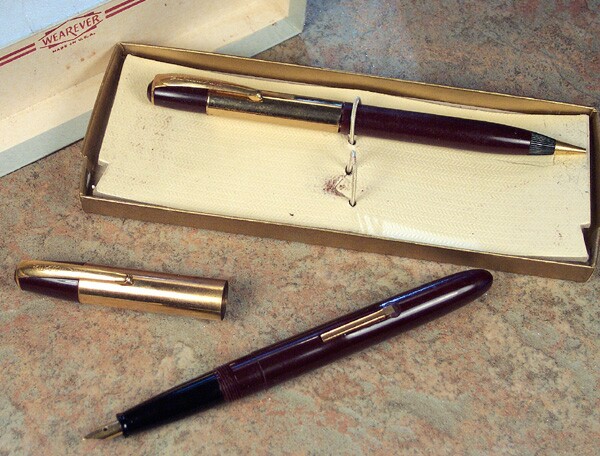 Wearever Red / Gold "Taperite Citation" Type Pen Set c1945-55
Think of the Taperite, and you'll get the idea behind this really tiny nib. It's gold plated and writes slightly better than a student pen. Very stiff.
Wearever Gold "Bullet" Set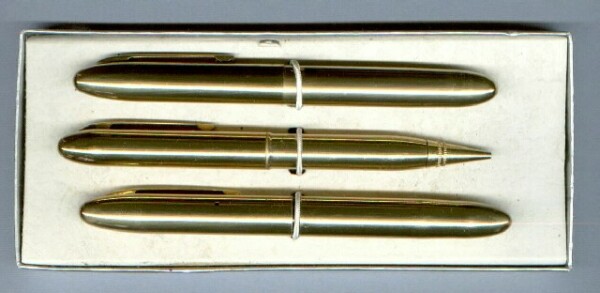 Wearever Gold "Bullets" Set c1955-1960
This tiny set consists of a fountain pen, pencil, and capped ballpoint. The ballpoint uses the stick type refill that started to appear in 1955, thus the dating. Surprisingly small at about 4 inches long each, the pens post to about 5 1/4 inches, making them adult size usable. The plating is a thin wash type, but the pens did resist scratching pretty well in this case.


Wearever Gold "Bullets" c1955-1960
Following the Taperite copy, this pen also has a really tiny nib. It's gold plated and writes very firmly.
Wearever Pioneer and Pennant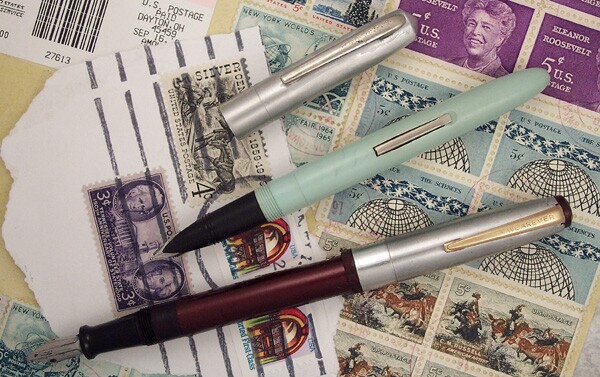 Wearever Pioneer In Pale Green (Top) and Pennant In Burgundy (Bottom) Both c1950-1963
The transition into the 1950s led Wearever to focus more on really cheap, high volume manufacture pens and away from challenging the first line manufacturers with a similar, but much lower priced product.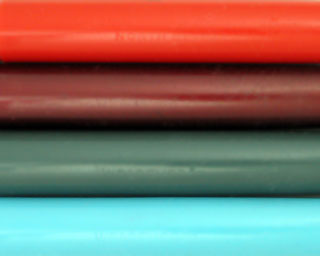 Some Of The Wearever Pennant Color Palette
Like most pen manufacturers, Wearever switched from colorful marbled plastics to injection molded plastics entering the 1950s. New lines were introduced, at even lower prices, including the Pennant, the Pioneer, and the Supreme.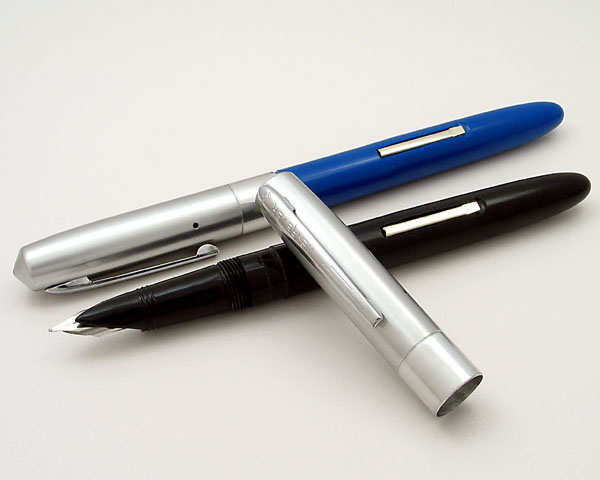 Wearever Pioneer In Blue and Black c1950-1960
Like everyone else in the pen business, Wearever cooked up a hooded nib pen, which really only consisted of a long tab extending from the section over the top of a very ordinary open nib. The Pioneer began as a lever-fill model with a long run in the 1950s. Wearever then converted to pen to a cartridge filler. The Pioneer was a lower quality pen than Wearever's Pennant, selling for only US 50 cents vs. the Pennant's US $1.00.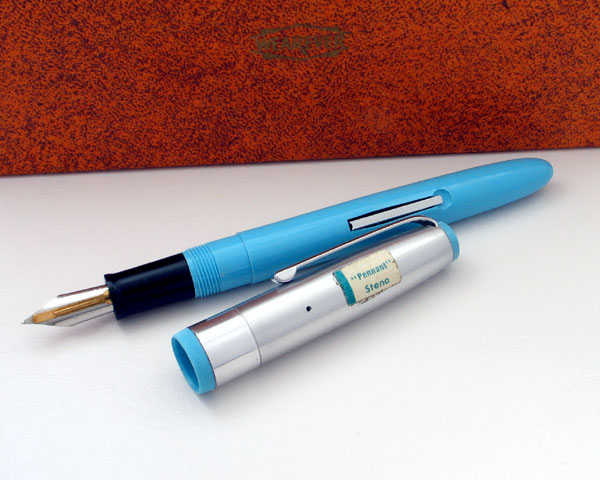 Wearever Pennant In Pastel Blue c1950-1963
The Pennant was the flagship model in the 1950s, and was a cheap, but well made utility pen. Interestingly, Wearever offered the Pennant with replaceable nib units, which consisted of the nib and section, fitted with a sac. The section pulls out and is easily replaced.
Performance
Note: It was January 2, 2002 when this article was first written, and it contains elements from every year PenHero.com has been on-line.
It's cold and snowing a lot for our region tonight. I decided to put this page together more as a diversion than as a serious study. This collection is what you find frequently at flea markets and auctions. These are desk drawer pens, pens in pen cups, pens in children's things, even found on eBay.
Wearever made a lot of pens. Use them to learn on. You can always find more.
Happy New Year!
Cheers,
Jim Mamoulides
---
Acknowledgement
Thanks to Harry Shubin for loaning several of the pens shown here. He knows which ones are his, I think.
Comments on this article may be sent to the author, Jim Mamoulides
PenHero.com Bibliography