Waterman Skywriter c1950-1953
by Jim Mamoulides, November 10, 2002, updated May 31, 2004 and December 15, 2012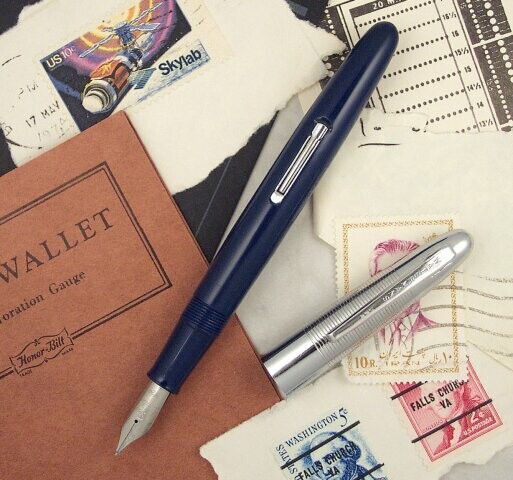 Waterman Skywriter Chrome / Blue c1950-1953 open
A tale of three Skywriters
Collectors who have run across a pen marked "Skywriter" may do a double take, as there are actually three very different pens, from different eras, all from Waterman, and each is representative of changes in the direction of the company. The first pen was an all-plastic pen made by Waterman for the Aiken-Lambert pen company, significant in that it is the last pen made under the Aiken-Lambert name before the company was fully absorbed into the parent Waterman company. Waterman purchased Aiken-Lambert in the late 1930s.

Airplanes were the pinnacle of engineering in the late 1930s and early 1940s and pen manufacturers wanted to capitalize on this, with examples like the Sheaffer SkyBoy and Eversharp Skyline, so a pen called Skywriter would certainly fit in. The first generation was the Aiken-Lambert "SkyWriter," as shown in a 1937 sales brochure featuring a flying plane on the first page.
These first SkyWriter pens were made in the US and Canada and can be identified by the imprint on the barrel with either "SKYWRITER MANUFACTURED IN CANADA BY ALCO DIVISION L. E. WATERMAN CO." or "THE SKYWRITER AIKEN LAMBERT MADE IN U.S.A. BY L. E. WATERMAN CO." These lever-fill pens have an elegant Art Deco clip, gold or silver color trim, and one or two cap bands. They featured an "ink gauge," a transparent section window seen in many late 1930s pens that allowed the user to see how much ink was left. These SkyWriters were value priced at $1.50, pretty inexpensive for a pen with a 14 karat gold nib, which was marked "14 KT. ALCO U.S.A," and had matching pencils at $.75. They were offered in men's and ladies' sizes in a variety of Pyralin colors including swirled marbles and stripes. The striped colors are shown in the 1937 brochure included Brown Pearl, Green Pearl and Gray Pearl, and Jet Black.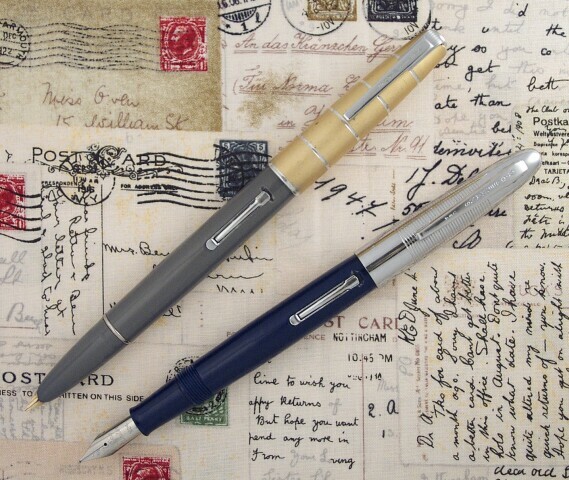 Waterman Skywriter Chrome / Blue c1950-1953 with Taperite Crusader Gray c1945-1953
The second generation Skywriter, covered in this article, debuted probably in the late 1940s, following the Waterman Taperite line, and probably ran through 1953, just prior to the introduction of the Waterman C/F. Pens with bright silver color caps started coming into fashion in the late 1940s and examples include higher line pens such as the Sheaffer Triumph and Touchdown Sentinel pens, and the Eversharp Symphony, both of which used caps made of stainless steel. Lower line models, such as the Sheaffer Craftsman Tip-Dip were also brightened up by adding polished stainless steel caps. Wearever introduced chrome plated capped pens, but the plating was light and highly susceptible to scratching. The Waterman Skywriter served as a competitive, but high quality entry level pen against popular priced pens from Esterbrook and the entry level pens from Parker and Sheaffer.

The 1950s Skywriter is a lever-fill pen with a distinctive bright heavy spiral ribbed cap, chrome plated rather than the polished stainless steel seen on other maker's pens. The cap has a plastic inner cap that mates very nicely to the plastic barrel, which would help to avoid metal on plastic stripping problems. The clip is stamped "Watermans USA" down the length. The barrel is imprinted "Waterman's" over "Skywriter" over "Made in USA". For a cheapie, this is a fairly heavy and high quality pen. I would put this pen well ahead of the Sheaffer Fineline in terms of overall quality, a similar looking pen, which has very poor cap plating. Barrel colors included red, blue and black. Some collectors have found gold trim versions of this pen with a smooth cap.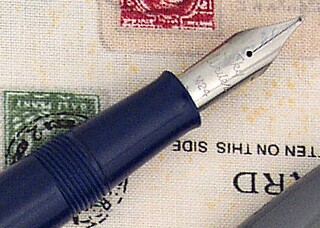 Nib detail of Waterman Skywriter Chrome / Blue c1950-1953
The Skywriter came fitted with a very smooth writing stainless steel nib stamped "Sky" over "Writer" in an attractive script style and the nib grade stamped underneath. Waterman advertised this nib as the "Jet Point." Unlike the first generation SkyWriter, the second generation pen has a Waterman lever-box type lever-fill system.
The 1950s Waterman Skywriter is not well documented, as is the case with many entry level pens, so research on the model, pricing, and advertising was quite difficult. Much more is written about the earlier Skywriter, as it represents a transition.
Identification guide and features:
Ribbed metal chrome plated cap, smooth gold plate version also seen
Red, blue or black plastic cap and barrel

Barrel imprinted "Waterman's" over "Skywriter" over "Made in USA"

Chrome or gold plated trim
Clip stamped "WATERMANS" down the face
Five stainless steel nibs offered: bookkeeping, medium, bold, steno, and manifold

Nib stamped "Sky" over "Writer" in script with the nib grade stamped underneath

Screw on cap
About

5 1/8 inches long capped and 6

inches long with the cap posted on the end of the barrel
Weighs 1.0 ounces
Lever filling system
Retail price of the chrome plate trim fountain pen, model 176, was $1.95, fountain pen and pencil set, model TX176, $2.95, matching Ball Pointer ballpoint pen, model B-103, $1.95
Presented in a paperboard gift box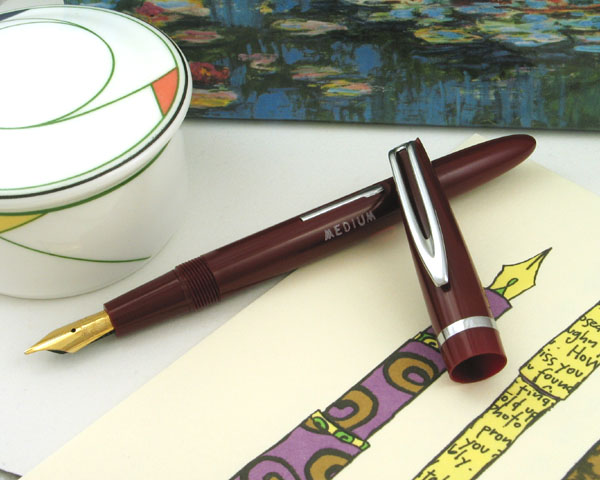 Late version Waterman Skywriter, note strong C/F design influence
The third and final Skywriter, obviously strongly influenced by the C/F, and as a result, debuted probably after 1953. Though the design is strongly influenced by the C/F cartridge filling pen, this Skywriter is a lever fill pen. As with the second version, the C/F style Skywriter is well made, a high quality entry or school pen.
Performance
I frankly was very surprised at the quality level of this pen when I first got it. The bright chrome cap is very shiny and is obviously very heavily plated, being quite resistant to scratching, a trait I associate with the well made caps from the early Eversharp Symphony and early Sheaffer Triumph and Touchdown Sentinel pens. The pen is heavier than a similar sized Sheaffer Fineline, which I imagine it competed with, and seems far better all around in terms of manufacture, fit and finish. The general shape is very much in line with Sheaffer pens, more than the Waterman style, especially in the bullet cap with the front mounted clip.

It's a full size pen at 5 1/8" long capped and 6" posted. The plastic barrel is heavier plastic and polishes up well. The pen sits fairly low in the pocket because of the high placement of the clip, and rides snug. It posts securely, similar to Sheaffer pens, and I found I preferred writing with the cap on as it made the pen heavier and felt more balanced. The lever is the typical Waterman stiff box type and fills with a couple of quick, short strokes.
The nib is the story on this pen: a very smooth and even writing stainless medium. There isn't much give, but I don't expect much in 1950s pens. The nib defies the price point of this pen.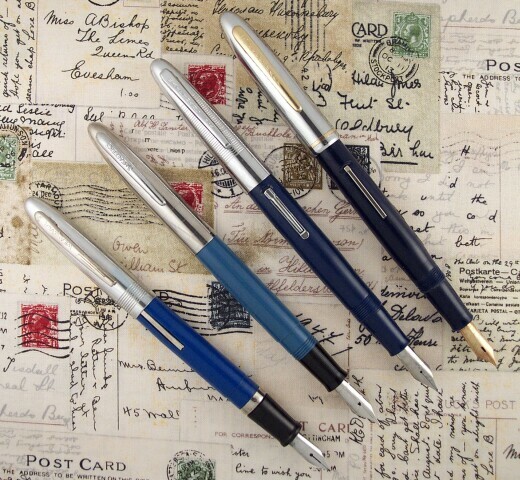 Grouping of chrome capped pens from the 1950s
Left to Right: Wearever Supreme / Sheaffer Craftsman / Waterman Skywriter / Eversharp Symphony
This is a really nice everyday user pen. It does what it was made to do and does it well. The chrome may not be for everyone - imagine a bumper sticking out of your pocket - but it's well done. These later Skywriters don't generate much interest with collectors, but neither are they abundant. They should be priced in the modest end of the market, even for nice examples. Don't overlook these pens if you want a nice, bright, but inexpensive writer!
Selected References
PenHero 365: Waterman Skywriter, Jim Mamoulides, January 11, 2010, © Copyright 2010, Jim Mamoulides / PenHero.com
Silver 1950s Waterman Skywriter, P. Munson, May 14, 2012, Fountain Pen Restoration, USA
Waterman 1st Generation Skywriter, P. Munson, December 3, 2012, Fountain Pen Restoration, USA
Waterman's Pen Profit Facts, undated, c1953, Waterman Pen Company, Seymour, CT, USA
Waterman SkyWriter, P. Munson, March 1, 2012, Fountain Pen Restoration, USA
Waterman SkyWriter and Vis-O-Pen brochure, September,1937, The Aiken-Lambert Company, New York, NY, USA
Acknowledgement
Grateful thanks to Andy Evans of Andy's Pens for supplying the red C/F style Skywriter pen. This pen will be reviewed in a later article.
Interact
Comments on this article may be sent to the author, Jim Mamoulides
---
Pen Clubs
Fountain Pen Discussion Forums
Social Media