Wasp Addipoint 1934-c1940
by Jim Mamoulides 4/11/02 - Updated 9/30/03
Thanks to Ross McKinney

Stealth Branding
The Depression was a difficult time for pen companies, even for a sales leader like Sheaffer. Many companies responded to the drop in demand from tighter pocketbooks by reducing lines or lowering standards on their products in order to make them more price competitive. Others, like Sheaffer, maintained their high standards on their first lines and introduced sub-brands to compete in the low-price market.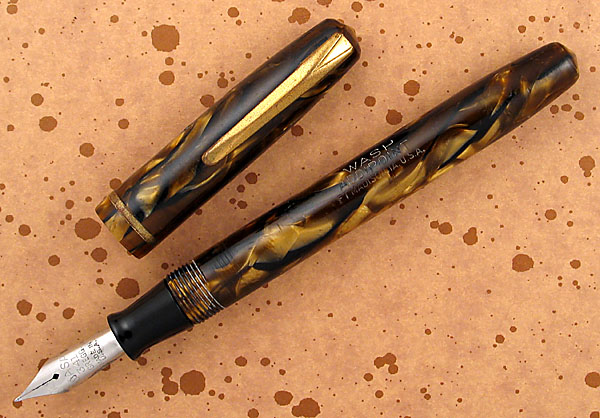 Wasp Addipoint Brown Marble Lever Filler c1934-1939 - Standard Size
Sheaffer introduced the Wasp sub-brand in 1934, the name literally an acronym for "W. A. Sheaffer Pen". This acronym can be traced back to advertising from the second decade of the twentieth century appearing as shorthand for the company name.


Sheaffer's 1919 Advertisement Detail - Note Wasp Initials on Copyright
Some premium brands were comfortable with their name on their lower lines. Conklin imprinted their All American line on the barrel with the Conklin name, but did not stamp the name on the line's 14 karat nibs, leaving room for a perception of higher quality with the premium line.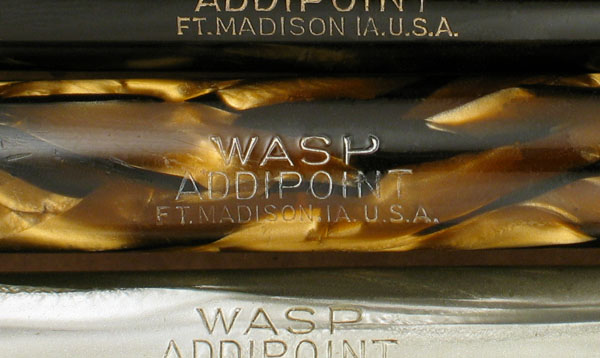 Detail Of Wasp Addipoint Imprints
Sheaffer was very concerned about the image of its flagship brand, and so the Wasp pens were not imprinted with the Sheaffer name on the barrel or stamped on the nib. The barrel imprints did reveal the company address, "Ft. Madison, IA USA", just as on the rest of the Sheaffer lines, so it was no secret who made the pens. Sheaffer followed this same pattern with other second lines, such as the Vacuum-Fill. Advertising in the late 1930s stated "Division of Sheaffer Pen", so Sheaffer was interested in pulling the sub-brand up, more than dragging the premium brand down.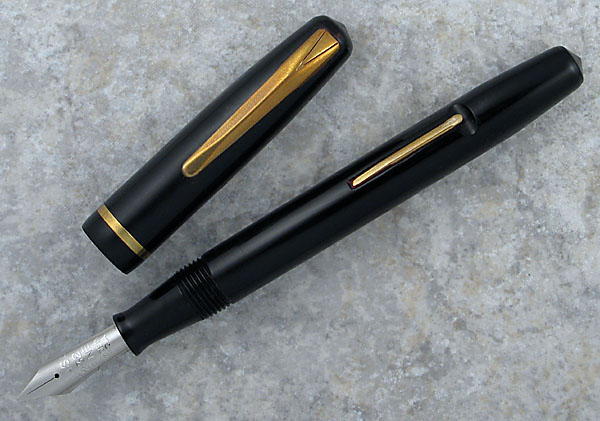 Wasp Addipoint Black Lever Filler c1934-1939 - Junior Size
Wasp pens came in at least three models, the Addipoint, the Clipper, and the Rite-o-Way. Clippers were offered as both lever-fillers and Vacuum-Fillers after the Vacuum-Fill was introduced.
Time For A Change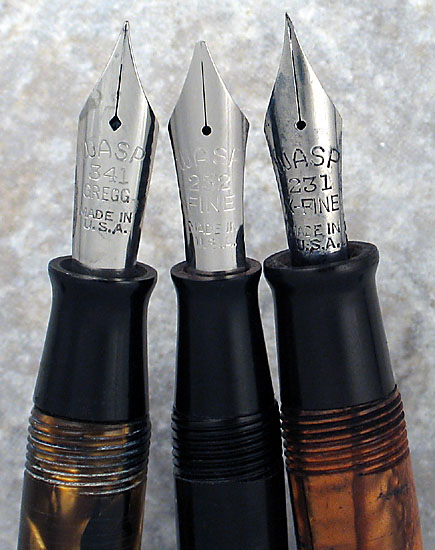 Wasp Addipoint Nib Detail
Left To Right: Gregg Shorthand Nib / Fine Recut To Oblique / Extra Fine
The Addipoint pen is notable for being the first attempt by Sheaffer to have an easily changeable nib, which could be done at the point of sale by the dealer or the user. This concept will resonate with collectors familiar with the more well known Esterbrook pens and their interchangeable nib and feed units. Sheaffer Tip-Dip Touchdown Cadets and Craftsman pens of the late 1950s and early 1960s used this method and had easily changeable screw-in nib and feed units.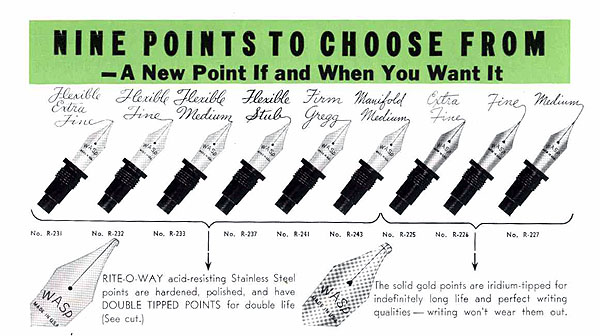 Nib Chart for Wasp Rite-o-Way Pens - Scan Courtesy Ross McKinney
Stainless steel Addipoint nib units sold for US $.25 and solid gold nib units sold for US $.75. Advertisements, catalog references and examples of display material do not indicate the nibs are 14 karat, so some other alloy may have been used. One Clipper advertisement from 1940 declares, "Real 12 K Gold Points!", so it's possible the unmarked nibs are a 12 karat alloy.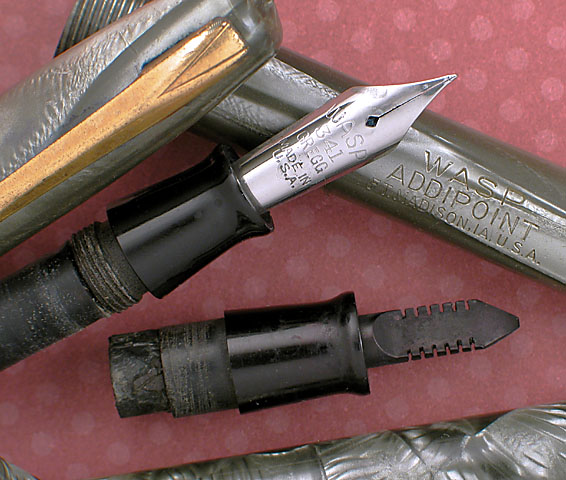 Wasp Addipoint Gray Pearl Lever Filler c1934-1939 (Top) With Section Removed
Standard Wasp Section Below - Note Threads On Addipoint Section
Available nib unit points included:
225 - Solid Gold Extra Fine
226 - Solid Gold Fine
227 - Solid Gold Medium
231 - Stainless Steel Flexible Extra Fine
232 - Stainless Steel Flexible Fine
233 - Stainless Steel Flexible Medium
237 - Stainless Steel Flexible Stub
241 - Stainless Steel Gregg Shorthand
243 - Stainless Steel Manifold Medium
And In Two Sizes!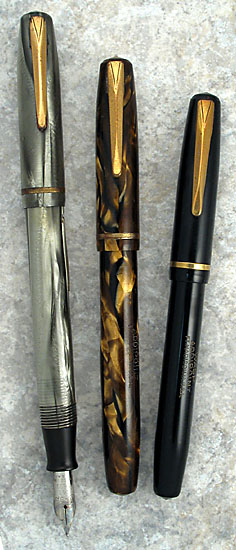 Collection Of Early Wasp Addipoints c1934-1939 (Left To Right):
Gray Pearl Lever Filler - Standard Size
Brown Pearl Lever Filler - Standard Size
Black Lever Filler - Junior Size
The Addipoint came in two sizes, a small, junior size pen, about 4 3/4 inches long capped and a larger, standard sized version about 5 inches long. The early model was offered with rather cheaply applied gold plating of the clip and cap band, instead of the heavier and more durable gold fill found on Sheaffer branded pens.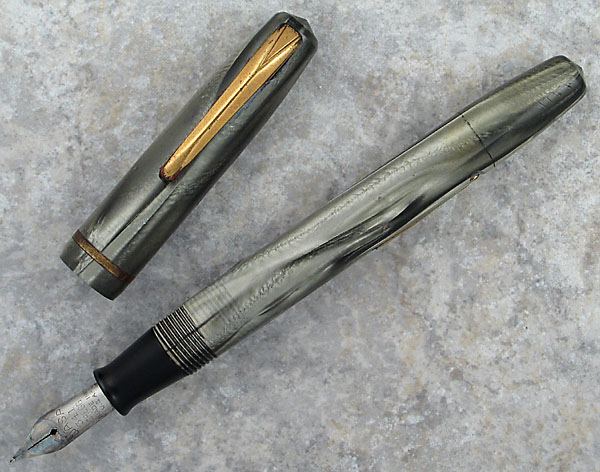 Wasp Addipoint Gray Pearl Lever Filler c1934-1939 - Standard Size
The early pens were offered in at least two two color schemes, as well as solid black. There is a marble pearlized plastic in green, brown, and gray, very similar to Esterbrook plastics. Another plastic is more of the "camouflage" or "leaf" pattern common on many 1930s vintage pens, these appear to also have been offered in green, brown, and gray. The Clipper line was priced from $1.95 to $3.95, so the Addipoint, being a lower line, likely priced lower.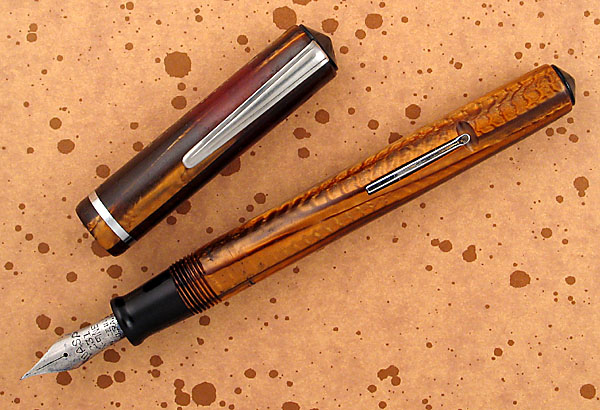 Wasp Addipoint Brown Pearl Lever Filler c1940 - Standard Size
The Addipoint went through a design change late, possibly by 1940, as the United States military began requiring pens that could fit neatly in a buttoned breast pocket. This lead many manufacturers to move clips to top mounted designs instead of front mounted clips. The redesigned Addipoint has a cap and barrel "jewel". This later version was appears to be trimmed in stainless steel, a very durable and simple choice for a low cost pen. Offered in marble pearlized plastic in green, brown, and gray, even more strongly like the Esterbrook plastics.
Performance
I tested a black early Addipoint in the smaller of the two sizes. It's both shorter and slimmer than an Esterbrook J, about 4 3/4 inches long capped and 6 inches posted. It's a very simple pen that shows its economy intent. Compared to other Sheaffer pens, the standout difference is the gold plating, which is bright and shiny enough, but has a wash look that gives away that this is not a top-line pen. The cap is a screw on type and posts securely on the end of the barrel, not very deeply. The clip is front mounted, but fairly high, allowing the top of the pen to peek out of the pocket when worn. Of note on Wasp pens is the "V" symbol that appears on the top of the clip. On some Wasp pens there are a set of these.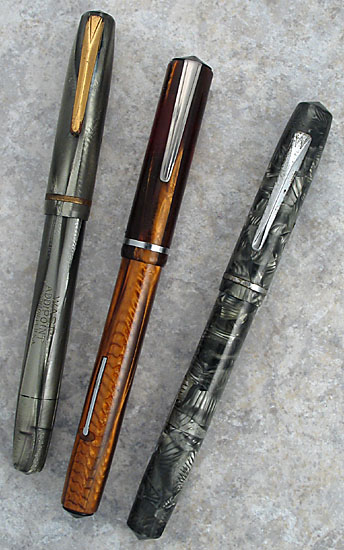 Wasp Pens Collection (Left To Right)
Early Gray Pearl Addipoint c1934-1939
Later Brown Pearl Addipoint c1940
Wasp Lever Filler c1934-1939
The pen is well made and everything fits together tightly, including the nib. This was a desk-drawer pen that I found and was pleasantly surprised at how well it polished up. A trip to Hal Arnold has it in top condition. The black plastic and the trim came to life after that restoration trip.
The pen fills quickly and easily with a stroke of the straight, plain lever. The nib is surprisingly large in proportion to the pen, and very bright. It is very firm and writes wet and smooth. Definitely a good everyday user.
If you have several Wasp Addipoints to play with, it is amusing to unscrew the sections and try different nibs. I did this, switching between a stainless fine, extra-fine flexible and Gregg shorthand. Nothing tricky in swapping the section, nib, ink sac and all. All wrote well, with the flexible notable for not being nearly as flexible as found on many better quality gold nib pens.
Wasp pens are generally inexpensive and well made, which is no surprise considering they are Sheaffers. There are some collectors who seek them out, but in general, a really nice collection of Wasps in a variety of colors and models can be made without a wallet breaking investment. The lever fill pens are no big deal to restore, though the Vacuum-Fill pens need to be done by someone who is good with Sheaffer Vacuum-Fill pens.
---
Acknowledgement
Thanks to Ross McKinney for providing scans and additional information on the WASP Addipoint and their replacement nibs.
Comments on this article may be sent to the author, Jim Mamoulides
PenHero.com Bibliography