Sheaffer Stratowriter 1946-1950
by Jim Mamoulides 8/15/02

The Mad Rush to Market
The pen market in the mid 1940s saw the first foreshadowing of the changes to come in the industry. The depression weeded out weak companies and the technology change from fountain to ballpoint pens would weed out many of the strong that remained. 1946 was a watershed that saw the race between Eversharp and Reynolds to be the first to introduce the new ballpoint pen to the market. The spectacular success and nearly immediate collapsing failure due to poor quality of the now infamous Eversharp CA (for Capillary Action) pen was part of the ballpoint's birth pains. Eversharp played fast and loose with its rushed product and got burned badly.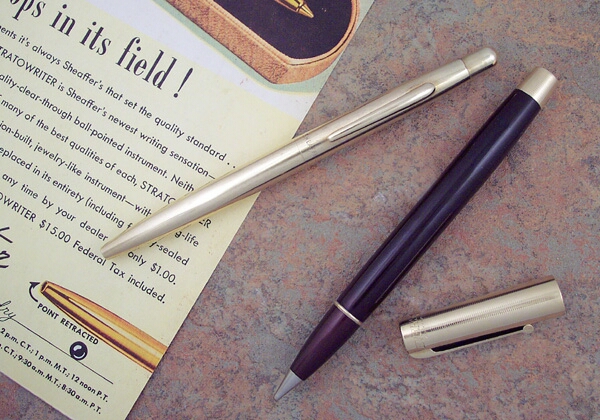 Sheaffer Stratowriter (Top) and Eversharp Fifth Avenue CA Ballpoint (Bottom) Pens c1946
Sheaffer's First Ballpoint Pen
Sheaffer was also keen to enter this new market and announced its own ballpoint, the RA.I Stratowriter, in 1946. Sheaffer initially marketed the Stratowriter as a standalone pen with an all new design, rather than incorporate it into its existing lines as an option, as with a pencil. As with many pens in the 1940s, the name was chosen to associate the pen with aeronautics, which was the "high-tech" of the time. Eversharp had done this with the Skyline name, and Sheaffer had previously used "Skyboy".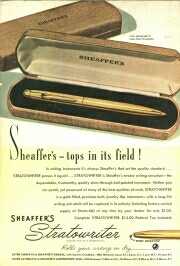 Sheaffer Stratowriter Advertisement 1947
The first pens were all gold-filled, followed later by a 14 karat gold version. They weren't cheap, either, being marketed as a precision jewelry item. It would be a decade before the cheap throw away ballpoints popularized by the BIC company would invade the market. The gold-filled pen sold for US $15.00 in 1947 and Strato-Ink refills sold for US $1.00 each. A capped Tuckaway model was introduced in 1947 and also sold for US $15.00. Refills were available in red, green and blue ink. The cartridges were advertised as able to write "a clean, even, permanent line several miles long without refilling."
Although it appears to be very similar to a modern push button ballpoint, the ballpoint cartridge is extended using a press and twist mechanism that requires two hands to operate. Sheaffer would eventually drop this mechanism (though not the cartridge) in favor of capped pens until it introduced a truly modern push-button ballpoint and new cartridge system in 1955. Use of this new retracting mechanism took the public some getting used to, and as a result, Sheaffer developed a slip on cover for the point in late 1946 to prevent pocket stains when the ballpoint tip was left extended.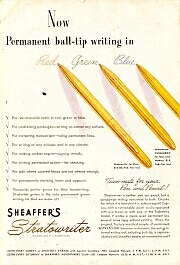 Sheaffer Stratowriter Advertisement 1947
After the Eversharp debacle of 1946, Sheaffer was quick to market the Stratowriter as a dependable and reliable pen, which it proved to be. The name was quickly shortened to simply "Stratowriter". In 1947 advertisements, the pen was promoted as neither a pen nor a pencil, the term "pen" at the time being associated with fountain pens, and the new pen's shape being more like a high-end mechanical pencil. The Strato-Ink cartridge was advertised for any application needing permanent ink or where pencil was not "intense enough." Sheaffer even went so far as to say the green cartridges were "the only permanent writing ink (in that color) that we know of!"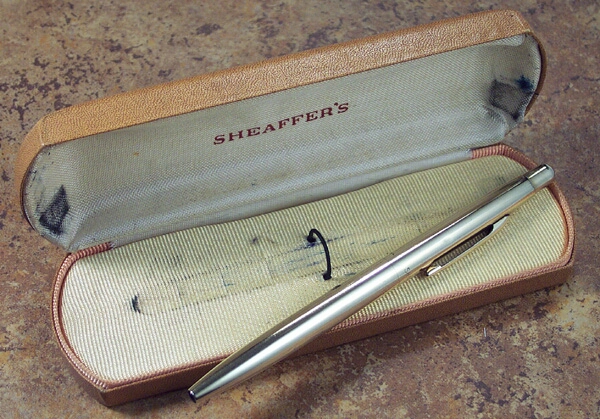 Sheaffer Stratowriter c1946 in Leatherette Case
Stratowriter Becomes a Brand
By 1948, Sheaffer had begun to incorporate the new ballpoint into its regular pen lines. This seems to correspond with the changeover to injection molded plastics in the pen lines that same year. The new pens were given the Stratowriter name, becoming more of a trade name for Sheaffer ballpoint pens than a single pen model or line. The pens followed the construction of the fountain pen in each line, being capped instead of retractable, creating a three pen sets, and were marketed singly and in triple sets with the matching pen and pencil. The original Stratowriter model was phased out.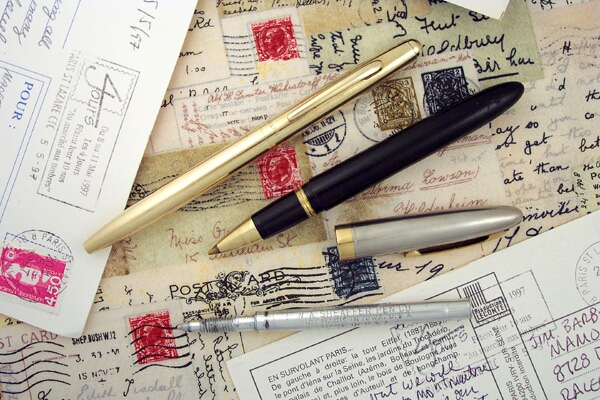 Sheaffer Stratowriter c1946 (Top) and Sentinel Deluxe Stratowriter (Middle) c1948
Note Sheaffer Cartridge (Bottom)
Sheaffer continued to use the Stratowriter name for ballpoint pens through the changeover from lever-fill and Vacuum-Fill fountain pens through the new Touchdown model and until the introduction of the Thin Model, or TM Touchdown pens in 1950, when the name was phased out.
Performance
The first Stratowriters aren't rare, but they are uncommon. Being a ballpoint, many collectors overlook them, probably because, as with many vintage ballpoints, they don't often write! These pens were designed to work with an early ballpoint cartridge that no direct retrofit exists today. Some Stratowriter owners have sleeved their pens to accept modern ballpoint and rollerball refills. That being said, the pen will write as well as the refill used, so I'm going to focus more on the construction and what to look for in this review.
One of the first things I noticed about the Stratowriter when I first picked it up is how much it looks like a large gold-filled modern push-button ballpoint. This was a very forward looking design statement that reflects on all subsequent push-button pens and obviously has its own roots in the push-button / repeater pencils that precede it. In the hand, this 5 1/4 inch long slender pen feels like a modern, substantial ballpoint. The clip is a bit further down the barrel than I'm used to, but that sets the pen apart, having no other trim statement than the large rounded button, and makes the pen ride high in the pocket. The balance is good, and if you have one that is rigged to write, it feels right writing (say that three times quickly!).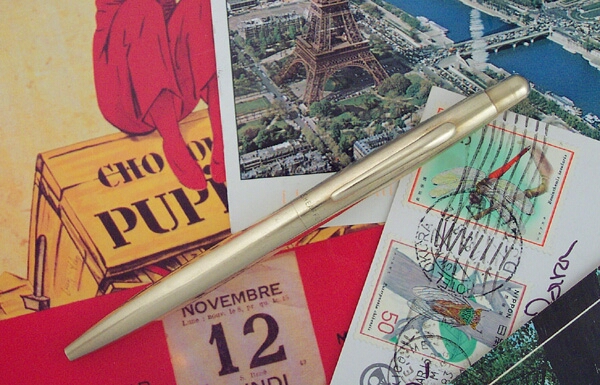 Sheaffer Stratowriter c1946
There is some speculation that the original refills used a composition similar to Parker's Liquid Lead than a more modern waxy ink. I frankly don't know, but the one refill that I have that writes (faintly) writes very similarly to the one Liquid Lead refill I have that writes (faintly).
This is a really well made pen, as consistent with Sheaffer products of the 1940s. The plating is very durable and was easy to buff up to a nice finish. The locking mechanism is a fussy design, but works just as it is supposed to.
I've seen original Stratowriters offered at a wide range of prices, probably because the market for them is not well established, they aren't overly popular, and in some cases, they don't work, so the dealer thinks they won't go for much. My advice is don't pay too much for one of these. Reward comes to those who wait. This pen was about the same as a modern Jotter at your local pharmacy. Watch out for dents, dings, and deep scratches, as they won't come out.
An interesting and historic pen to add to your collection, or converted, a great conversation starter!
---
Comments on this article may be sent to the author, Jim Mamoulides
PenHero.com Bibliography