Sheaffer Jade Senior 1924-c1934
by Jim Mamoulides 3/24/02 - Updated 9/15/03

The First Successful Plastic Pen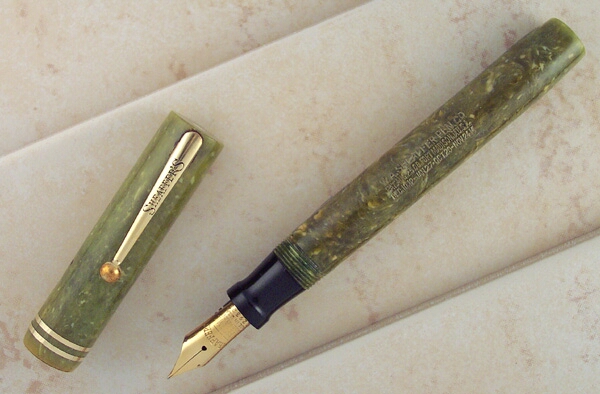 Sheaffer Jade Senior c1928
1924 was a banner year for Sheaffer. In that year Sheaffer became the first pen company to mass-produce plastic pens, giving the cellulose nitrate plastic developed by DuPont the trade name "Radite". Radite pens were initially made in black and an entirely new color for pens: jade green. Sheaffer would later produce models in coral and by 1928 in black and white marble and a very rare blue. Sheaffer led the industry into the production of all plastic pens and soon Parker, Conklin and others followed suit. Not to rest on this alone, 1924 was also the year the enduring White Dot trademark was introduced, appearing on the top of the pen cap.
It was the Jade model that captured the public's attention, being featured heavily in Sheaffer advertising, along with emphasis on the White Dot, which at that time, was the mark of Sheaffer's lifetime guarantee. Some sources say that the pen, along with Sheaffer's advertising campaign, allowed Sheaffer to capture as much as 25 percent of the market by 1925.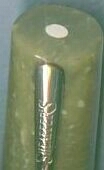 Detail Showing Sheaffer Jade Senior White Dot
Big And Green


Sheaffer Jade Senior c1928 Imprint
The Senior is a very large pen, 5 1/4 inches capped and 6 3/4 inches posted. It was complemented with a matching pencil, similarly simple in design. The first models, produced in 1924, were plastic versions of their hard rubber flat-top line, with a long straight ball-end clip with Sheaffer's engraved down the length and a wide single cap band. The White Dot is an inlay, placed in a drilled round socket in the top of the pen. The body of the pen was unadorned, having a straight, plain lever, and a rather detailed imprint.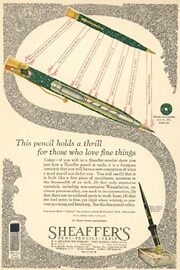 1928 Sheaffer Pencil Advertisement
In 1925, Sheaffer introduced the Titan pencil, a much larger model, with a girth to compliment the large size of the Senior pen and featuring a flared gold plated cap engraved with the Sheaffer's name. By 1925 a junior version of the pen was made, about 4 7/8 inches long capped.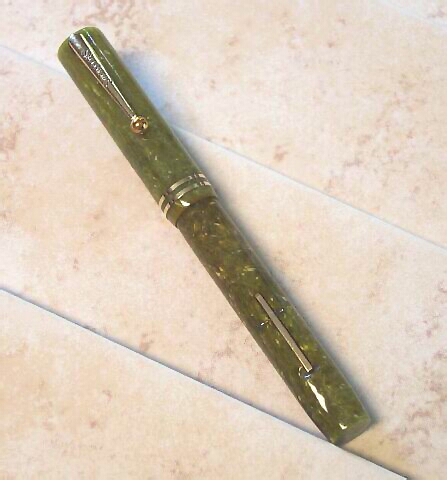 Sheaffer Jade Senior c1928
In 1928, Sheaffer put two narrow bands on the cap for its final years of production, and though most sources date the final year of production at 1928, it is possible the pen was continued in production through 1934, or even later. In 1929 Sheaffer again trumped the pen world with the announcement of the Balance, which was introduced in the flagship jade color.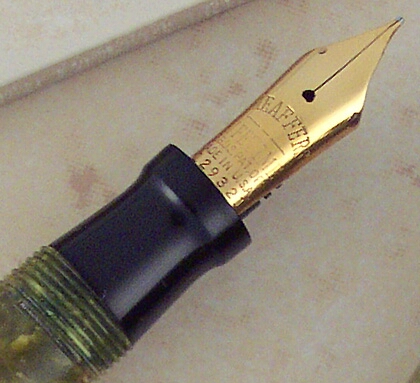 Detail Of Sheaffer Jade Senior Nib
Sheaffer advertised that the Jade Senior and its siblings was available fitted with a nib "capable of making three clear carbon copies", a departure from the flexible nibs typical on many competitive pens and a foreshadowing of stiffer nibs on pens in the decades to come. Sheaffer marked the nibs with "Lifetime" and a serial number. It's possible that the move to thicker, stiffer nibs was the direct result of the push to lifetime guarantees. It's less likely that a heavy, stiff nib is coming back with problems than a lighter, highly flexible nib. Sheaffer later discontinued tracking the serial numbers as the paperwork became too ponderous.


Sheaffer Jade Senior Showing Typical Discoloration
One of the unfortunate problems with these early plastic pens is they are highly prone to discoloration, both from reactions between the rubber sacs and the plastic and from ink staining. It is not uncommon to find these pens with different body and cap discoloration from these problems. This example has ink staining around the base of the cap.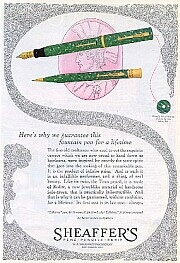 1926 Sheaffer Jade Senior Advertisement
The other problem is variation in color due to age. What looks like a bright jade green in Sheaffer advertisements from the 1920s is often unseen on actual examples, which more often are a muted color, brown, or a pea soup color. There is some debate over whether Sheaffer and DuPont changed the formulation of the plastic and whether there are two versions of the jade, one brighter than the other, but this debate will have to be resolved elsewhere.
Performance
I have had several Jade Seniors and they all had certain consistent features. These are really large pens, similar in size to their contemporary, the Parker Duofold, though less adorned, being without contrasting top and end caps and the ringed clip. This review will focus on the non-discolored Senior shown above. The pen is 5 1/4 inches capped and 6 3/4 inches posted.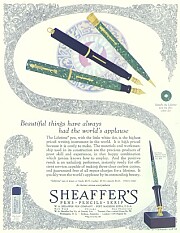 1928 Sheaffer Jade Senior Advertisement
Posting the cap is not necessary on such a large pen, but it feels balanced whether posted or not. It's not overly heavy, nor is it light in the hand. Those with smaller hands or who like a lighter weight pen may want to use this pen unposted. Again, it compares very much to a Duofold Senior in the hand.
The finish on these pens, when restored, can be quite stunning. They polish up very well and even unrestored pens tend to show some gleam when cleaned up. As with most all plastic pens, some models can be stripped easily. The cap and section fit securely, being well made, and the cap stays on in the pocket. The clip is large enough and has enough give to fit over fairly thick fabric, needed at a time where pens often rode in coat pockets. Because it is front mounted, the pen rides fairly high in the pocket.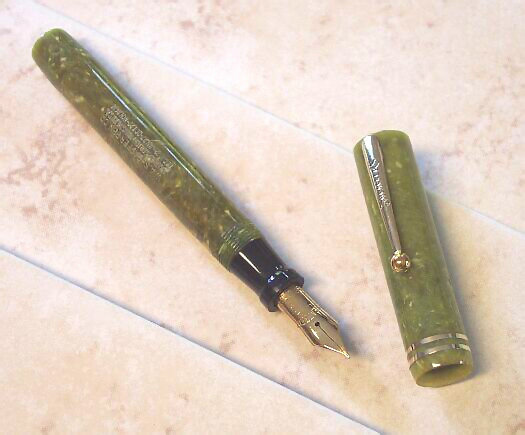 Sheaffer Jade Senior c1928
The jade plastic doesn't have much in the way of depth, but if you compare to real jade, that's the way it should look. It has a lot of character and visual appeal. Discoloration is a problem with these pens, so uniform color pens go for a premium over stained ones, and bright colored ones go for a ransom. In my experience, the jade plastic is not as prone to cracking as other plastics from the period.
The pen fills easily with a single stroke of the lever. Sheaffer, the inventor of the lever fill pen, seems to have the most straight forward approach, with the lever allowing a lot of flex and, unfortunately on many pens, not staying put when not in use. Other manufacturers, in attempts to skirt Sheaffer's aggressively protected patent, did make some improvements to the design. No complaints, though.
Senior nibs are huge, and all the examples I've tried are pretty close to being manifold in stiffness. This pen has a stiff nib that I believe would write easily through three carbons. In spite of that, this one and others I've tried are very consistently smooth writers. As typical, this one writes an even, somewhat wet line, and inks as soon as the nib touches paper. A very nice writer.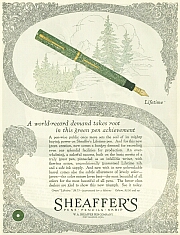 1925 Sheaffer Jade Senior Advertisement
Sheaffer Jade Seniors were best sellers in the late 1920s and are reasonably easy to find, if you are not picky about condition. A decent example with modest problems with discoloration or loss of color can be had fairly inexpensively and they are inexpensive to restore. Pristine pens will leap to much higher prices. I personally think that this is a pen that a collector should want to place in a representative collection, showcasing major models. The good news is that these are good user pens as well.
---
Comments on this article may be sent to the author, Jim Mamoulides
PenHero.com Bibliography