Parker Vector 1981-Present
by Jim Mamoulides 1/5/02 - Updated 7/4/03

The Vector design is a simple, clean, tubular format, and is well suited for mass production. It anchors the lowest end of the Parker line with a quality product. The precursor to the Parker Vector was a simple cylindrical plastic cap and barrel rollerball pen called the RB1. Parker added the FP1 fountain pen in 1984.
Parker redesigned the pen, shortening the cap and lengthening the barrel, renaming the line Vector in 1986. The updated line was relaunched with the introduction of new Standard, Vogue, Stainless Steel, and Special models. The Vogue model was renamed Mode in 1987. In 1988 Vector clips and cap buttons were changed to stainless steel. A popular Camo version was added in 1989 and all-metal anodized Matte Black pens were introduced in 1990.
In 1994, Parker updated the line, calling it the Vector 2, with Standard, Sport, Stainless Steel, Matte Black, and Deluxe models. Screenprinted models were added in the late 1990s: Primitive (1997), Fusion (1998), Skyline (1999), and Timeline (1999). Standard colors were updated in 1999. In 2000, Parker revamped the Vector line again with new standard colors and a revised clip, making the clip softer and adding anodized black and gold plate to the trim choices.
The Vector, an entry level pen, shares the fundamental simplified and unadorned clip design with the Arrow, the entry level fine pen, though the Arrow's clip has sharper edges and is mounted on a spring steel strip rather than bent and attached at the cap top. Both pens have a "minus sign" decoration on the cap top, another element that would lead one to think the same person designed both pens.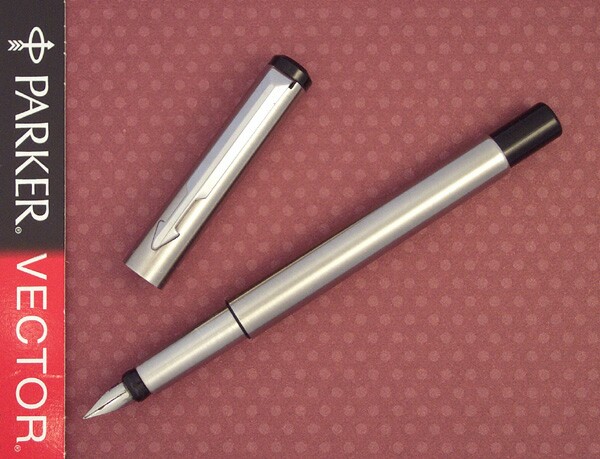 Parker Vector Flighter c1998 - USA
The Vector in effect parented other Parker lines. The later Parker 88, introduced in 1988, is in effect an upscale Vector, with gold plated parts, including the nib, and metal construction with either lacquer or precious metal plating. The Vector's nib shows Parker 45 heritage in both shape and writing quality. The later Reflex uses essentially a Vector nib in a brand new cap and barrel.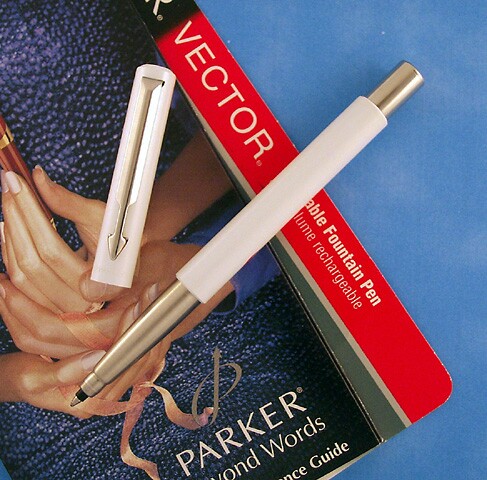 Parker Vector Rollerball c1995 - USA
The base Vector is an all-plastic school pen line with four writing modes: fountain pen, capped rollerball, pushbutton ballpoint, and pushbutton pencil. The base pen comes in a kaleidoscope of molded solid colors, prints, and translucent molded patterns. Vectors are often used by promotional firms as logo gift items. There are also two higher line all-stainless models, one in a "Flighter" finish and the other in black anodized. These models use cap-actuated mechanisms for the ballpoint and the pencil. All the trim on the pen is stainless or chrome plated (some select printed models have black anodized trim) and the fountain pen is fitted with a fine or medium stainless steel nib.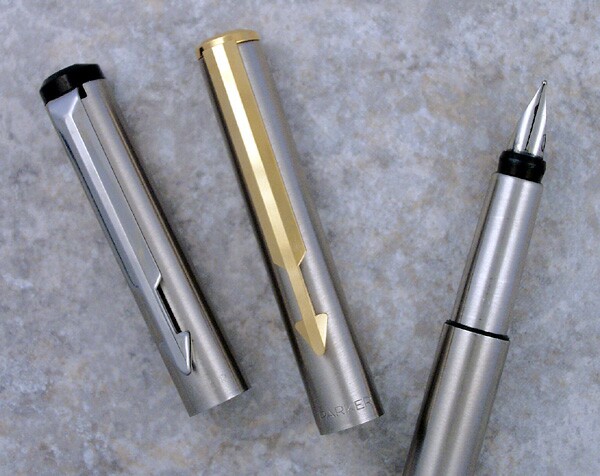 Parker Vector Flighter Cap (Left) And The Very Similar Parker Arrow Clip (Right)
Note Vector Nib Detail Far Right
The standard Vector retails for US $8.50 for the fountain pen, US $6.95 for the capped rollerball, and US $5.99 for the pushbutton ballpoint and pushbutton pencil. Translucent and printed Vectors are about one US dollar more. All metal models are about five US dollars more and are not generally available in North America. Most Vectors come on hang cards, though some are sold in boxes. There is also a popular Vector calligraphy set with four nibs (fine, medium, broad and double broad), ink cartridges, paper and an instruction book that retails for US $35.00.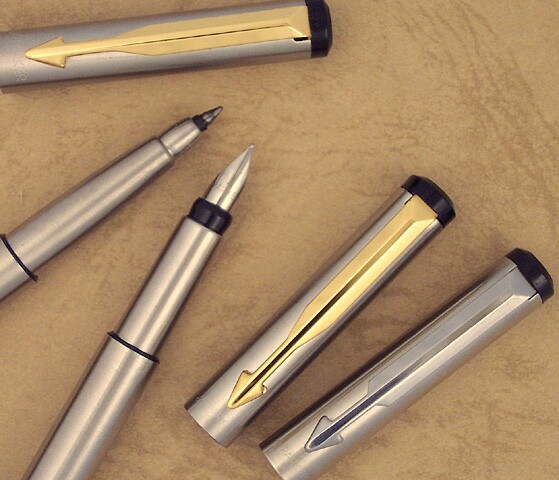 Parker Vector Rollerball And Pen c2002
Gold Plate Clip Is Newer Tapered Design (UK Made Pen)
There are actually two Vector clip designs. One has a more tapered cut to the leading edge of the "feather" section of the clip. Most have the design shown here.
Vectors are numerous, especially as promotional pens. Parker has even made special packaging for promotional items, including all-metal cases. Vectors are not typically sold with converters in North America, but on cards with two cartridges. I've now seen European and Asia / Pacific packaging, sometimes boxed, where the pen is shipped with a slide converter, as in the Rialto. A press-bar converter from an 88 / Rialto will also fit.
Performance
I usually am attracted to school pens, but the Vector has never been one I especially wanted. My first Vector was a freebie promotional rollerball, which did write extremely well, and for a long time, I associated good rollerballs with that pen. It spent a lot of time in a loop in my Daytimer. The first Vector that really grabbed me was the Flighter. I didn't even know these existed until I saw one on eBay. I had to have it. I admit I was well into a Flighter run at the time and chased a lot of stainless steel, but the little Vector Flighter turned out to be a durable and dependable pen.
The Vector is a small and slender pen at 5 1/8 inches long capped and 6 1/8 inches posted. Most Vectors are going to be light in weight, but the all-stainless model is husky for a little guy. The Vector was designed for the cap to easily snug onto the end of the pen and seems quite happy there. Posted, the pen is like a long, fat pencil, but is well balanced for writing. This is a well thought out design.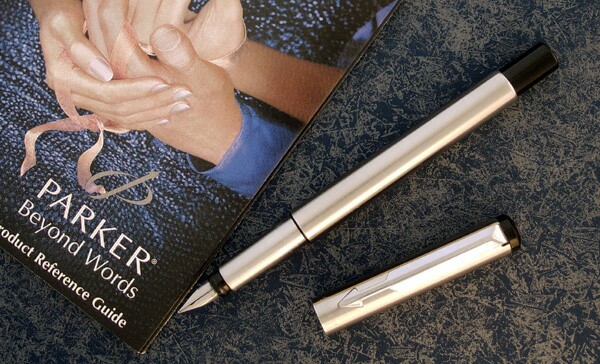 Parker Vector Flighter USA
Vectors work just fine with the Parker long refill cartridges. They don't dry out quickly and they have good capacity. Vector nibs are stiff, but smooth and generally write fairly wet. Not bad for an everyday pen.
The clip has enough spring to slip onto even a heavy shirt, and because of the high position of the clip, the pen will sit low in the pocket.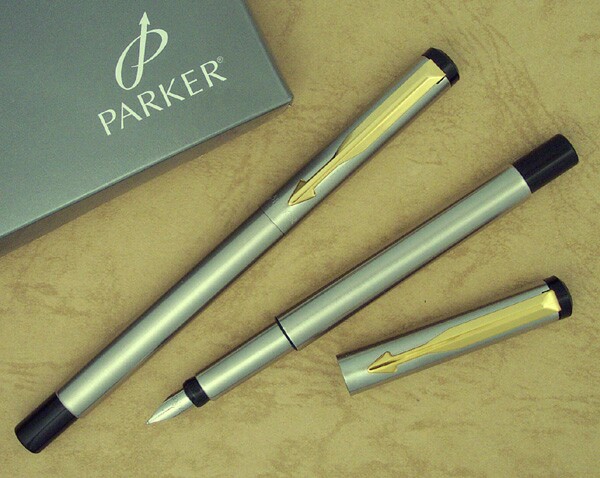 Parker Vector Flighter Rollerball And Pen UK
The Vector, to me, is a pretty boring pen that Parker has jazzed up with a lot of colors and designs. I can understand why collectors go after the many, many variations made. The tube barrel and cap are a perfect canvas for interesting creativity, which is what the pen really needs. Plain Vectors are just that. The Flighter version has enough weight to give the little pen substance and presence that the plastic cap and barrel pens simply don't have. It's a refillable writing stick. The Vector is good, cheap, and reliable, just not exciting.
---
Acknowledgement
Thanks to Konstantin Mihov for Vector Background Information and to Kris Van Hulle for information on converters in Europe.
Comments on this article may be sent to the author, Jim Mamoulides
PenHero.com Bibliography