Parker Vacumatic Golden Web 1936-1937
by Jim Mamoulides, February 16, 2002, updated December 11, 2012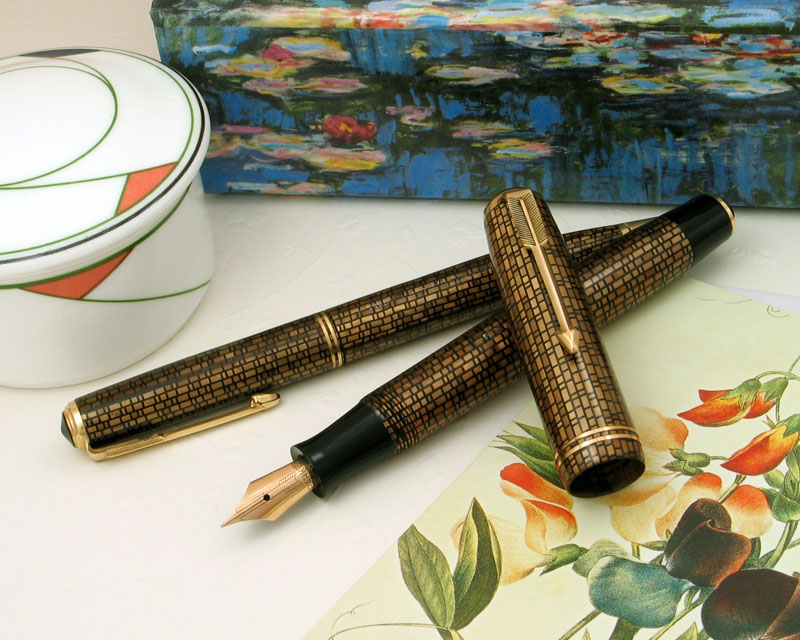 Parker Vacumatic Golden Web pen and pencil set
A most uncommon Vacumatic
In 1936 Parker introduced one of the shortest lived Vacumatic models, a brickwork pattern commonly known as Golden Web, though also known as Brown Pearl or Golden Pearl. The pen was made for two years, 1936 and 1937. As such, it is one of the least common Vacumatic designs and is highly sought after, commanding a premium price. The Golden Web pattern was advertised and catalogued in two sizes, a Junior model (4 7/8 inches long) and a Junior Slender or Juniorette (4 3/4 inches long and slightly longer than other Vacumatic Juniorettes). Collectors have also identified a third version of the pen, called a "Long Junior." All are essentially Junior size in diameter.

Parker Vacumatic Golden Web imprint
The Golden Web pen is made from a sheet of golden brown brickwork celluloid that is "wrapped" into the tubular pen shape with a visible seam. The black lines in the material are actually transparent amber, allowing, as with other Vacumatics, a view of the ink supply in the pen.
All Golden Web fountain pens were priced at US $5.00 and were fitted with two cap bands. Matching pencils sold for US $2.50. Parker also introduced in 1936 another new Junior model in Transparent Black, having a black reticular material with a web pattern in transparent plastic.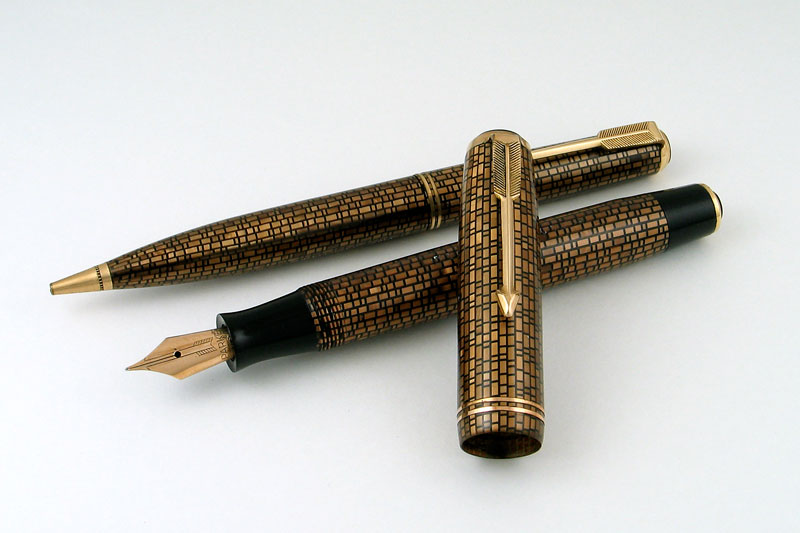 Parker Vacumatic Golden Web pen and pencil set
Unlike other vacumatics being produced in 1936 and 1937, the Golden Web had a black blind cap and black cap jewel, where other Vacumatics that model year had matching body color blind caps and jewels. The section is also black. This is likely due to the celluloid material being a sheet rather than a tube, and probably harder to form into the pieces required.

The full Vacumatic line had four larger Vacumatic models: Over-Size and Senior which sold for US $10.00, and Standard and Slender which sold for US $7.50. All the larger pens had three cap rings and were available in burgundy, grey, emerald, and golden brown laminate as well as black.

One reason the Golden Web may have been discontinued is the switch in 1937 to the Speedline filler. Unlike the Twist filler aluminum plunger, which retracted and locked into the body of the pen, the Speedline aluminum filler plunger remained extended under the blind cap when not in use. The Speedline filler required a longer blind cap, and effectively a redesign of the pen. It was easier and faster to use, and less prone to breakage.

The construction of the Golden Web, with its wrapped celluloid may have required a retooling that Parker found overly expensive. Whatever the reason, the pen was dropped from the line after 1937.

Vacumatics are solid, durable everyday pens that are very simple to use and allow the user to easily monitor the ink supply. Unlike the Duofold line that it replaced, the Vacumatic used the body of the pen to store the ink, allowing the pen to carry, as Parker advertisements proclaimed, 102% more ink, than bladder or sac filled pens. The Vacumatic filling system lasted well into the 1940s, and was used on the early models of the Parker 51.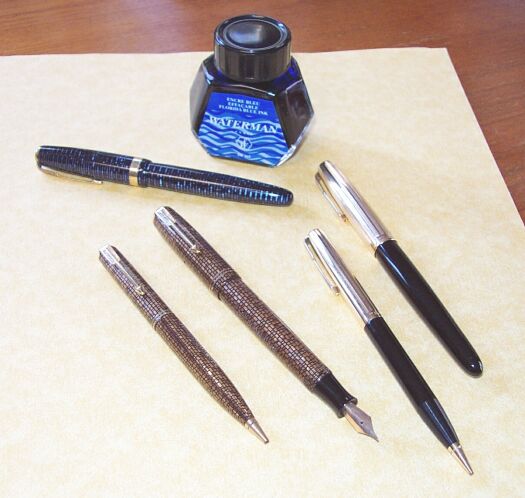 A grouping of Parker Vacumatic pens, clockwise from top, blue stripe, 51, and Golden Web
One of the distinctive features of the Vacumatic pens is the Parker "Arrow" nib. As with the famous Parker Arrow clip, designed by Joseph Platt, a New York artist, the Vacumatic line introduced the Arrow trademark that Parker uses to this day.
Identification guide and features:
Catalog names include Golden Web, Golden Pearl, Brown Pearl, and Brown
Cap and barrel are formed from a sheet of golden brown brickwork celluloid that is "wrapped" into the tubular pen shape with a visible seam
Gold plated Parker Arrow clip
Two gold plated cap bands
Solid 14 karat gold nib with Arrow design over "PARKER" over "14K"
Cap screws on
Full line of Vacumatic nibs available
Three versions:

Junior model 123 (4 7/8 inches long capped), Junior Slender or Juniorette model 121 (4 3/4 inches long capped) and Long Junior model 123, also (5 3/16 inches long capped)

Weighs .8 ounce
Lock-down (first generation) Vacumatic filling system
Retail price for the fountain pen was US $5.00 (all versions) and matching Junior pencil, model 621, was US $2.50
Presented in a Parker gift box
Performance
The Golden Web shown in this article is the Junior model, fitted with a stiff medium nib. It's a short, but stout pen, about 4 7/8 inches long capped and 5 7/8 inches posted.
Vacumatics are generally very well built, and this one is no exception. The golden brown brickwork celluloid is very visually appealing and the pen feels very good in the hand. The cap posts snugly and feels like it will stay put.
The Lock-down filler is easy to use, but certainly not as easy as the later aluminum Speedline and third generation plastic plungers. It's a little tricky and two-handed to lock the plunger back in place, but there is positive feedback, which is good. This would be really annoying if the locking mechanism were to wear out. It's no surprise that Parker opted for a simpler style plunger as an improvement.
Most Vacumatics I've tried have fairly stiff nibs, but tend to be very smooth writers, and this one is, too. Add a little flex and this would be a really expressive writer. No complaint, though.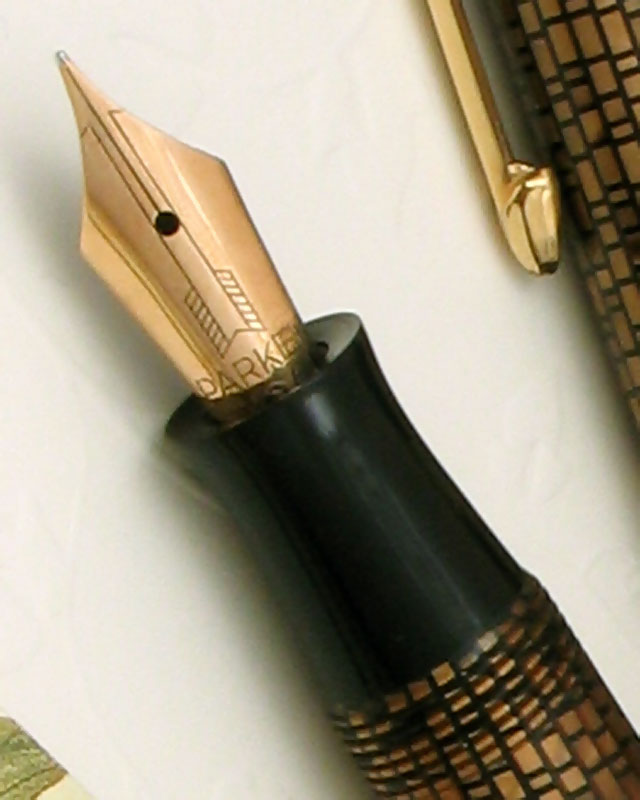 Parker Vacumatic Golden Web nib detail
In any grouping of Vacumatics, the Golden Web always stands out. It's a pen that I've noticed non-collectors will gravitate to when shown a grouping of pens.
Other than the many interesting prototypes that are truly rare pens, the Golden Web is going to be a unique pen in a Vacumatic collection. It actually is a very good pen to use daily, as are most Vacumatics. It's also completely unlike the majority of pens one will see in a business environment.
The Golden Web is definitely a keeper!
Selected References
Fountain Pens of the World, Andreas Lambrou, Copyright © 1995, Zwemmer, London, England
Fountain Pens: United States and United Kingdom, Andreas Lambrou, Copyright © 2000, Phillip Wilson Publishers Ltd, London, England
Parker Brochure on Vacumatics and Challengers, 1936, Parker Pen Company, Janesville, WI, USA
Parker Catalog, 1937, Parker Pen Company, Janesville, WI, USA
Parker Golden Arrow, Vacuum Filler, Vacumatic, Tony Fischier and The Parker Pen Company®/Sanford Ecriture, Copyright © 1995-2012
Parker Vacumatic, Geoffrey Parker, David Shepherd, Dan Zazove and Parker Pen Company, Copyright © 2008, Surrenden Pens Limited, Brighton, UK
Interact
Comments on this article may be sent to the author, Jim Mamoulides
---
Pen Clubs
Fountain Pen Discussion Forums
Social Media