Parker Reflex 1999-Present
by Jim Mamoulides 1/5/02 - Updated 6/30/04

Parker launched the Reflex line in 1999 and it was an immediate sales success. That same year Gillette sold their Stationery Division to Newell Rubbermaid, who combined the Parker and Waterman brands under the Sanford banner, along with Rotring, as well as other non-fountain pen brands.
The Reflex is a new all-plastic school pen line that incorporates a soft grip section. The line has four writing modes: fountain pen, capped rollerball, pushbutton ballpoint, and pushbutton pencil. This is a larger model than the earlier Vector entry-level pen line and is priced slightly lower than the base model all-plastic Vectors. Unlike the more developed Vector line, the Reflex comes only in solid all-plastic molded colors.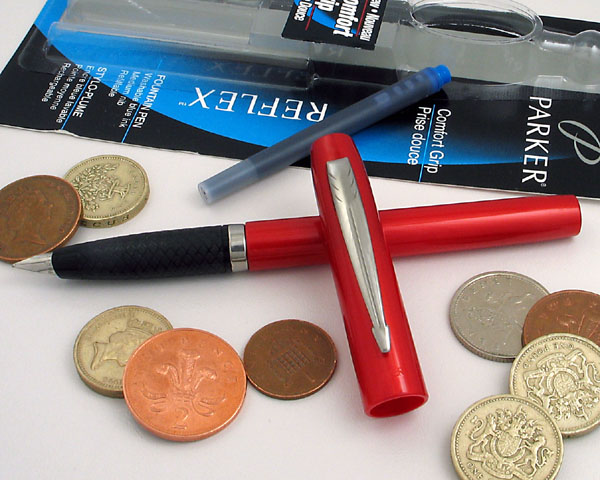 Parker Reflex Red c2001 - UK
The Reflex debuted in 1999 as an all-plastic pen line molded in four solid colors: blue, black, red, and green. Although probably not intended, the plastics in these pens shows a subtle marbling effect. In 2000, Parker added stainless a steel ballpen and pencil to the line.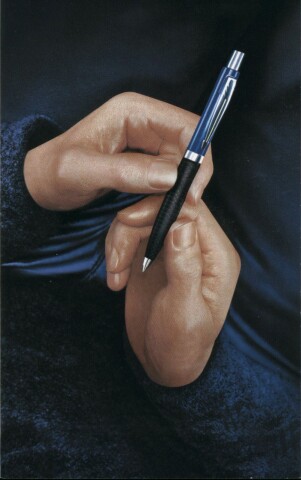 Detail Of Parker Reflex Blue Ballpoint From 2001 Parker USA Catalog
Interestingly, the Reflex reviewed in this article was packaged in 1999 and shows a slightly different clip design than the pens in the 2001 Parker catalog. The arrow on the 1999 pen's clip has an outline of the fins stamped with no feathers and the clip is heavier all the way to a larger, more blunt tip. The clip on the 2001 pen has three feather marks on the arrow with no outline and the clip tapers to a sharper point. Such attention to detail on a school pen!
The 2001 Parker catalog shows retail prices of US $7.49 for the fountain pen, US $6.99 for the capped rollerball, and US $4.99 each for the pushbutton ballpoint and pushbutton pencil. All the trim on the pen is either stainless or chrome plated and the fountain pen is fitted with a fine or medium stainless steel nib, almost identical to the nib on the Vector.
The Reflex comes only in one size and trim style. Pens vary only in choice of color.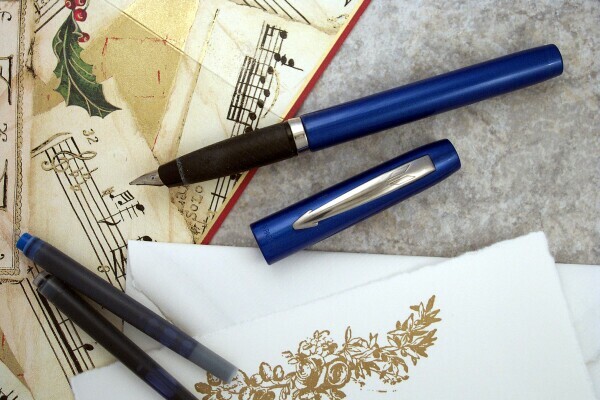 Parker Reflex Blue c1999 - UK
Identification guide and features:
Plastic cap and barrel in four solid colors: blue, black, red, and green
Black cap top and barrel end "jewel" insert
Chrome plated clip with arrow design
1999-2000: fixed ear clip with outline feather group
2001-present: spring loaded clip with three pairs of feather marks
Small conventional stainless steel nib, stamped "PARKER"
Nib grades included fine and medium
About 5 5/8 inches long capped and 6 1/4 inches posted
Black rubberized diamond pattern section
2001 Retail price US $7.49 for the fountain pen, US $6.99 for the capped rollerball, and US $4.99 each for the pushbutton ballpoint and pushbutton pencil
2001 Retail price US $6.99 for the retractable stainless steel ballpoint and US $13.99 for the retractable stainless steel ballpoint and matching pushbutton pencil set
The Reflex line is sold singly and in combination sets, usually on hang cards. Reflex pens are not sold with converters, but a standard Parker piston converter, such as the one the Sonnet uses, will fit in the long barrel and work nicely.
Performance
I happen to have a fondness for school pens and have a habit of picking ones that catch my fancy when I'm in office supply stores, especially when they are in the clearance bins. This probably explains the box full of them I have sitting on my pen cabinet. The Reflex has particular appeal because it writes decently, as do most Vectors, and is large enough to fit the standard Parker piston converter, which makes an avid bottle-filler very happy. It's amusing to think that the converter costs as much as the pen!
The Reflex is a much larger and fatter pen than its Vector sibling, being 5 5/8 inches long capped and 6 1/4 inches posted. It's quite lightweight, being all plastic and sold as cartridge only. The review pen is made in the UK and is fitted with a smooth but unexpressive stainless medium nib that looks lifted straight from the Vector. The nib is stiff, but writes a nice, even, wet line and is smooth enough to encourage everyday use.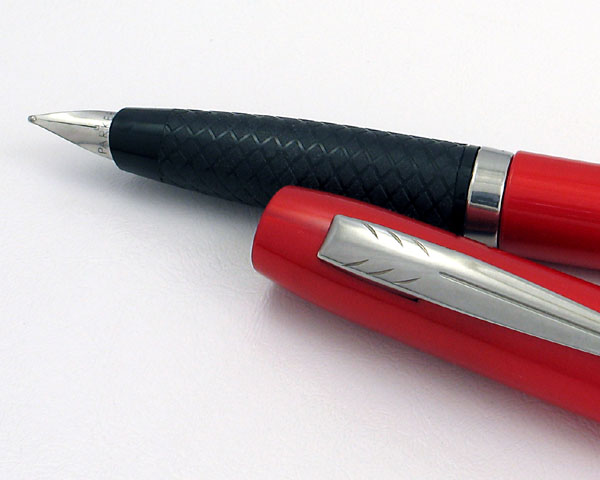 Parker Reflex Red Nib Detail - Note Similarity To The Vector Nib
The Reflex, being very light, feels more balanced with the cap posted, but is fine without, having a long barrel. The cap does sit snugly on the end of the barrel when posted.
The rubberized grip section is a welcome plus on the Reflex and is appreciated during extended use. The ballpoint and pencil are almost half covered in this stuff, which is a bit much, in my opinion. The material does tend to fade or whiten in color a bit over time, which is an unfortunate tendency with rubber parts, and is not aesthetically pleasing.
The early version Reflex clip is a big front mounted thing with very little give, making it less happy pocketing and removing. It's very tightly mounted and quite large, so don't worry about it getting sprung, but it's not easy to use. Parker fixed this problem in 2001 with a new spring loaded clip. This is a very welcome change, and makes the pen much easier to clip onto thick material, a must for the school market.
The Reflex is designed to use the Parker long refill cartridges, but because of its extra length, it can also fit a standard Parker piston converter, as fits the Sonnet, or the newer cheap, slide converters, as seen in Vectors and Rialtos. Being able to use a converter is a big plus if you want a cheapie that you can bottle fill. The only disadvantage is that the section cavity is very deep and covers all of the converter's window, so you won't be able to check ink level with a converter installed. Parker cartridges work well enough, though, and seem to last fairly long in these pens without drying out.
Is the Reflex a good choice as a school pen? It's durable, takes abuse, and is cheap, all the right answers for something that will be tossed in a knapsack. It has the right companions, rollerball, ballpoint, and pencil. If it means anything, my 12 year old really likes the Reflex, and she has the run of my pen collection!
---
Acknowledgement
Grateful thanks to Clif Swinford for pointing out that the new version of the Reflex has a spring loaded clip. That prompted me to get a new one, try it out, and update the article!
Comments on this article may be sent to the author, Jim Mamoulides
PenHero.com Bibliography