Parker Duofold Replica By Chris Thompson
by Jim Mamoulides, January 12, 2002, updated July 5, 2002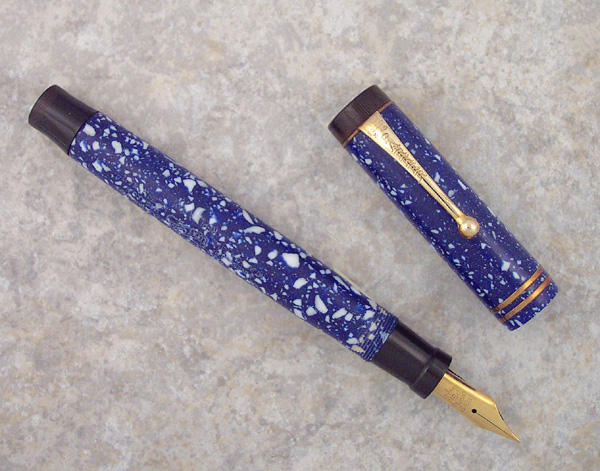 An outstanding replica of a c1928 Parker Duofold Lapis Flattop
Fabulous and faux, a real tribute to an historic pen
The bug had bitten me really hard. I really wanted a Lapis Senior Duofold flattop. The problem: a really nice one was going to cost a mint.

The large size replica Lucky Curve imprint is hard to see, but it's really there
At about the same time I was on this quest, I ran across a posting on the Zoss Pen List from a man named Chris Thompson who was turning Duofold replicas in Oklahoma. The pictures showed an exact copy of an old Parker flattop with original Duofold parts, right down to the imprint, which included the statement "Replica 2000." Chris Thompson does not want his pens to be known as copies, or to deceive prospective buyers or future owners.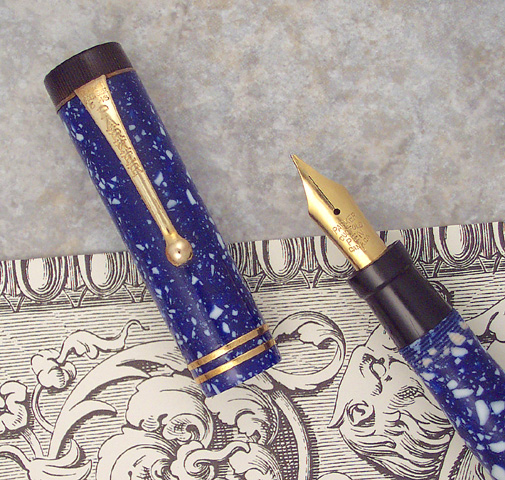 Parker Duofold Senior Lapis Replica 2001, cap and nib detail
After a few emails back and forth, I decided on a Lapis model, pictured in this article. Chris was very quick turning it around, and emailing me pictures and progress reports. Soon the pen arrived.

With original Duofold parts becoming harder or more expensive (Chris has to find them from somewhere, including complete pens), new nibs and sections from the current Duofold are being offered and the clips and plastic parts may be offered from replica made sources. Chris is very up-front about this. You will get what you want, but it may affect the price.
Performance
The "Lapis" material in this pen is made from the same stuff used to make counter tops, giving the pen a cool to the touch feel. If you ever wondered what a stone pen would feel like, this is it. There were actually two types of the Lapis plastic used by Parker, one having white flecks, which this material mimics, and the other having black and dark blue flecks.
Everything about this pen says, "I'm a brand new vintage Duofold", just as if I had a new old stock pen. All the vintage parts are in superb condition and everything fits together like a new pen. Chris does excellent, high quality work. You will not think of this as a "craft" or kit pen. In effect, these are exactly like the originals, save the imprint, which clearly states, "Replica 2001".
One of the reasons I reshot this entire article was to do justice to this pen.
The simple answer to how the pen writes, is exactly like the original. In every way, this is a flattop Duofold.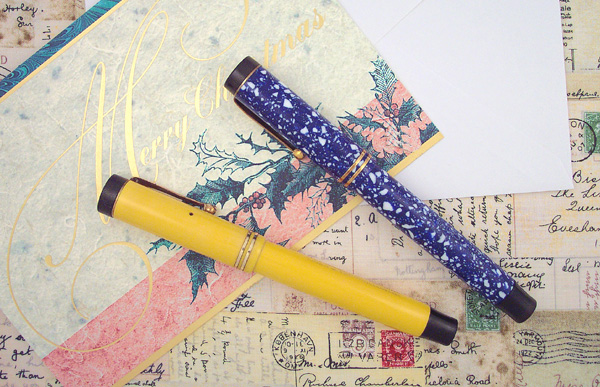 Thompson Duofold Senior Lapis Replica 2001 and an authentic Parker Duofold Mandarin c1928
If I have a gripe about this pen, it's that the cap does not post securely. I have a feeling this is more due to the material than Chris' workmanship. At the Washington DC pen show, I looked at a number of his pens, and all the plastic ones are identical to the real thing and post the same. In every way, these are the highest quality pens.
The pen fills with a press of the button. I had the nib changed to a broad Canadian nib, which writes like a wet paintbrush. This is the smoothest Duofold nib I have, with a lot of flex and character, and I felt the Thompson Replica pen deserved a top signature nib. Now it's the perfect nib to sign one's name with flair. I moved the excellent medium nib he shipped the pen with to another pen.
These pens are extremely well made, and for the price, US $300 and up, are a real value. Vintage parts may make the pen cost more. Chris does offer modern Duofold nibs as an option. I can't say enough good things about the pen, and the man that stands behind them. Highly recommended for anyone who wants an homage to a great pen of the past with the quality and reliability of a skillfully made custom limited edition.
Acknowledgement
You can find the link to Chris' site here: Chris Thompson Pens and in the PenBookmarks section.
Interact
Comments on this article may be sent to the author, Jim Mamoulides
---
Pen Clubs
Fountain Pen Discussion Forums
Social Media