Parker Duofold Greenwich Special Edition (UK) 1999
by Jim Mamoulides 7/4/02

The Parker Duofold Greenwich was a 1999 special edition fountain pen and rollerball created to commemorate the Millennium. The pen also commemorates the Royal Observatory in Greenwich, England, where traditionally at midnight each new day begins. Parker was the only pen company licensed to produce an official Greenwich pen, and use the Greenwich logo, to mark the Millennium celebration.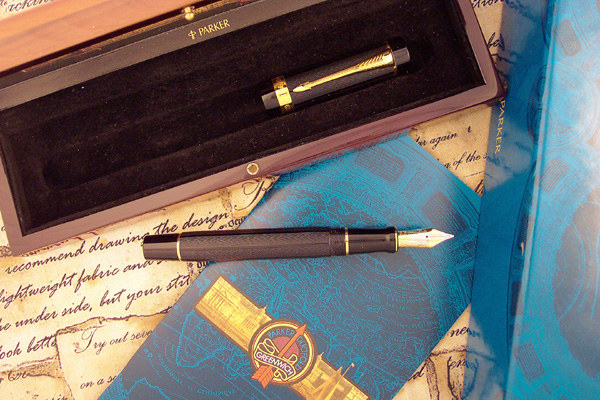 Parker Duofold Greenwich Special Edition 1999 With Box and Papers
The Greenwich is a black Centennial sized Duofold with an machine engraved Fougere pattern cut into the black acrylic cap and barrel. A special Greenwich emblem is set into the cap top. An extra wide single cap band is engraved "Parker Duofold Greenwich" in all caps. Removing the cap reveals a very large 18 karat gold Duofold nib engraved with the Parker arrow and Duofold name and masked in platinum.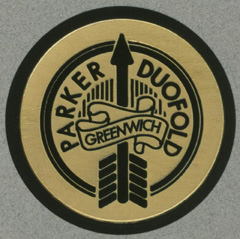 Parker Duofold Greenwich Cap Top Logo
Only medium nibs were originally fitted, although Parker did offer exchanges for other nib sizes. It's presented in a high gloss lacquered wooden box which is packaged in a box Greenwich themed outer box with Greenwich literature.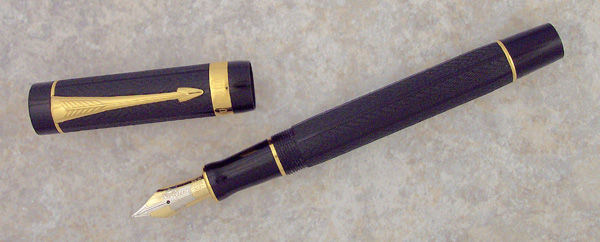 Parker Duofold Greenwich Special Edition 1999
The original retail price of the pen was US $440.00, which would have made the pen a modest premium over the US $415.00 for the Pearl Gray and Pearl and Black Centennial models, the highest priced pens in the standard line, and much less than typical limited editions. The black pen that the Greenwich is based on sold for US $370.00 in 1999. The rollerball sold for US $250.00, a premium over the standard black rollerball, which sold for US $195.00.
There is some contradictory information as to how many pens and rollerballs were produced. As this was not a finite Limited Edition, Parker neither numbered the pens nor serialized them. Initial production was to be about 1,000 pens and 1,000 rollerballs, with about 500 of each planned for distribution in the USA. As the pen sold much better than the rollerball, several dealers have reported that they were told that Parker curtailed the rollerball production short of the 1,000 planned, but Parker may have produced as many as 3,000 of the pens due to demand.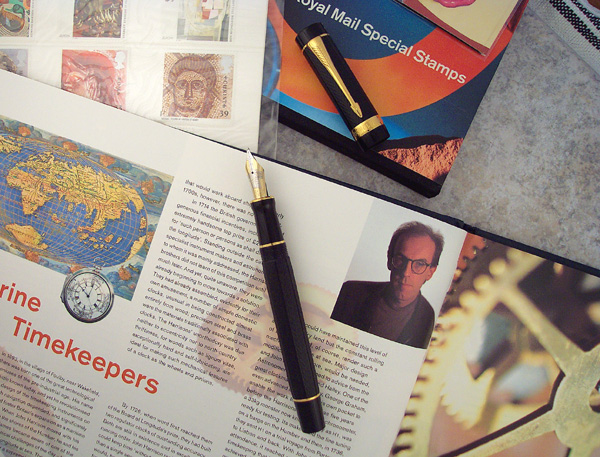 Parker Duofold Greenwich Special Edition 1999
The fountain pens sold out pretty quickly when released, though apparently better in the USA than in Europe. Interestingly, the Greenwich was a finalist for best pen in the on-line Robb Report in 2000.
Performance
The Greenwich is essentially like any other modern flat top Centennial Duofold in terms of size, heft, fit and finish. The major difference is the chased Fougere pattern machined into the acrylic body, which gives the pen a distinctive matte look, and the engraved extra wide single cap band. The nib is and writes as all modern Duofolds do, a bit stiff, a bit wet and a touch of a ballpen feel to the tip. I wish that Parker had left off the cap ring engraving, which I think comes off a tad cheesy looking. Not as bad as cheap Montblanc knock-offs, but not great, either. A plain band or a design would suit the pen much better.
I have to admit that I enjoy this pen a lot. It's big, at 5 3/8 inches capped and huge at 6 3/4 inches posted, but it does post more securely than some other Duofolds I have used. Like all Centennial Duofolds, the pen is slightly top heavy (and extra long!) with the cap posted. The pen uses standard Parker cartridges or an included converter.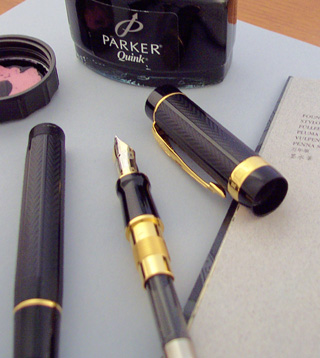 Parker Duofold Greenwich Ready for Quink
Filling is as with most converter pens, unscrew the section, dunk and twist. The Greenwich is a slightly wet writer which lays ink on contact, and has the typical smooth Duofold nib which means not much flex, but it does glide well on paper. It works well as a daily user, starting up every time, even when set down uncapped.
Given the limited number of pens made, the Greenwich hasn't leapt in value since released, so new and used pens can be found, and when they do turn up, usually near the original release price, sometimes less. Except for the cap ring engraving, this is actually a pretty understated pen for its size, and has excellent work a day habits. I could find it in the rotation frequently.
---
Comments on this article may be sent to the author, Jim Mamoulides
PenHero.com Bibliography