A Parker 51 Fantasy Trip - Part 1
by Jim Mamoulides 2/29/04

The World's Most Copied Pen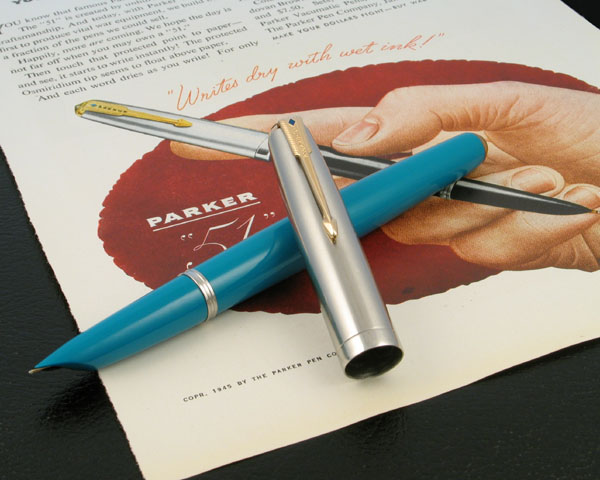 Parker 51 Fantasy In Turquoise - Ariel Kullock c1990s - Argentina
The Parker 51 was introduced to the world in 1941, a pen that would herald the modern age of the fountain pen and a pen that would be emulated and outright copied ever since. Truly one of the watershed designs, the Parker 51 is one of the most recognizable products ever made.
The hooded nib design was such a radical change from traditional open nibs, that virtually every other pen manufacturer followed suit with something similar. The design's influence continues in many
Parker chose the name "51" both as the anniversary of the company's 51st year, and as a global brand name that would not require translation. The 51 remains one of the longest continuing production designs, with the original Vacumatic filling pen being produced until 1948, the original Aerometric design produced until 1969, and a final squared ended design, similar to the Parker 61 produced until 1972.

Parker 51 Fantasy In Mustard - Ariel Kullock c1990s - Argentina
The 51 was revived in 2002 with two Special Edition models. Though these pens have the look of the Vacumatic era pens, they are cartridge / converter fillers.
The 51 influenced numerous following Parker designs. The 61 was an update with a more slender design and a unique filling system. Elements taken from the 51 can be seen on the 45, the 50, the T-1, and the new 100.
Fantasy In Argentina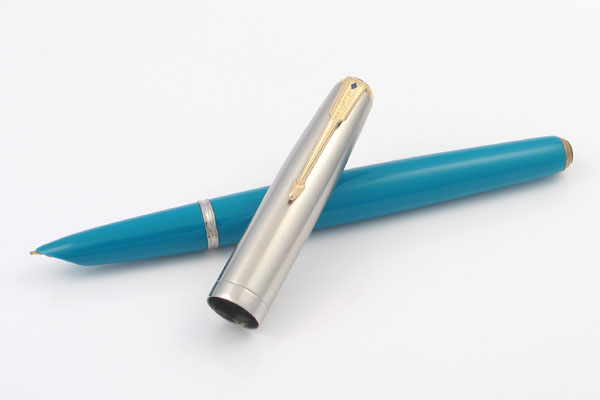 Parker 51 Fantasy In Turquoise - Ariel Kullock c1990s - Argentina
These two 51 fantasy pens are 1990s vintage pens made by Ariel Kullock, a very creative collector, restorer, and maker of unique pens in Buenos Aries, Argentina. Several collectors have been inspired to make replacement hoods and barrels for Parker 51s and examples in unusual plastics and hard rubber can be found from various sources around the world.
Argentina appears to be a major source of parts and complete pens as Parker had a factory there and the machinery and talent for making them still exists there.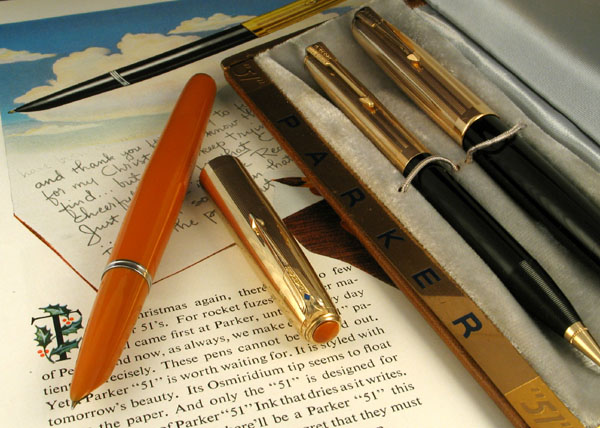 Parker 51 Fantasy In Mustard With A Parker 51 Vacumatic Set
Many pieces are a combination of new old stock nibs, feeds and fillers with newly made hoods, barrels and cap pieces assembled into essentially new or "like-new" fantasy pens. Some of these pens look essentially like the original, but many are made with wild colors, including swirls and shades not used by Parker.
Prices for fantasy pens of this quality can be anywhere from reasonable to ridiculous. Some Vacumatic fantasy models will sell in the US $150.00 range, where other, similar pens can be found outside Argentina for two or three times that.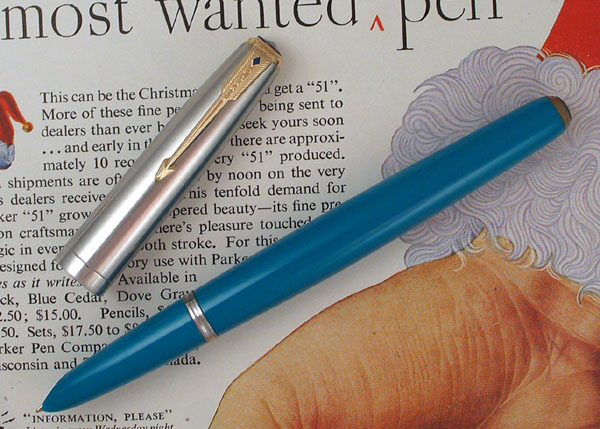 Parker 51 Fantasy In Turquoise - Ariel Kullock c1990s - Argentina
Performance
These two pens are simply stunning. When I first took them out of the carefully packed box, the vivid color captured my attention. I've seen a lot of Parker 51s and these both gave me the clear feeling of what a new one must have looked like back in the 1940s.
The mustard colored pen is actually more of a ginger color, according to my non-colorblind wife. This one gives a real sense of what the pen must have looked like when taken out of the box for the first time. It's nearly perfect and mark free. The illusion holds until the cap is tipped up and the eye falls on the mustard jewel. Interestingly, the blind cap jewel is pearl. Obviously, Ariel Kullock had a fit of whimsy with the cap.
Every detail of the construction is perfect. The fit and finish are excellent, and I looked for things to criticize! The cap is a 1/10 14 karat gold vintage cap, but the clip appears to be a new casting, or possibly a vintage one that has been completely reworked and replated. This looks like a new pen. Aside from the cap jewel, the only other vintage miss would be the clutch ring, which does not have a gold filled center.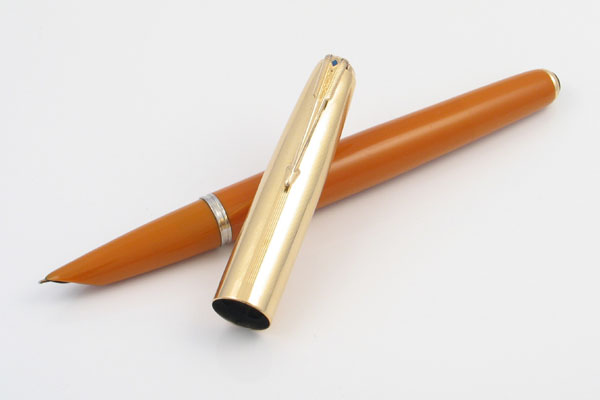 Parker 51 Fantasy In Mustard - Ariel Kullock c1990s - Argentina
The pen is essentially the same dimensions as a vintage 51 vacumatic, being about 5 1/2 inches long capped and 6 inches posted. It's no different in terms of excellent balance, capped or posted.
The pen has the clear plastic Vacumatic plunger under the blind cap, indicating a later mechanism. Filling is no different, several strokes of the plunger sucks up a good quantity of ink, and with a quick wipe of the hood, we're ready to write.
As expected, the nib is a firm and very smooth fine with some feedback from the paper. It's a slightly dry but even writer. There's no flex, but the writing experience is typical 51. This would make a very nice and attractive daily user.
If I had anything to criticize, it would be a concern that ink might stain the plastic. I haven't noticed this on vintage 51s, but I've seen this on newer pens, and I don't know how this plastic would hold up to staining. That would be a shame.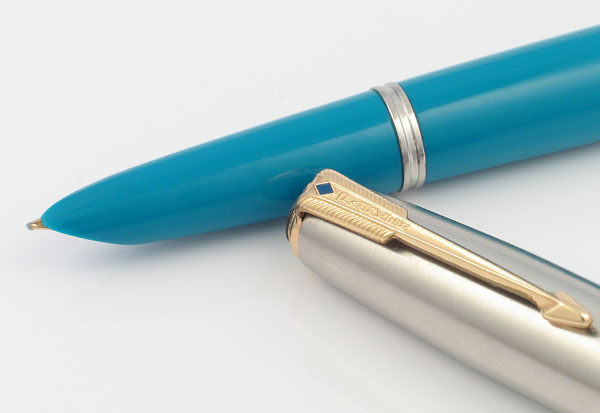 Parker 51 Fantasy In Turquoise - Ariel Kullock c1990s - Argentina
The turquoise colored fantasy 51 is a stunner. Every part of the pen looks new. I was actually wondering if it had any vintage content other than the filler and the pearl cap and barrel jewels. The clip looks like a replacement. It's just too perfect and the gold plate has a flat or matte tone, not the bright shiny look of vintage parts.
The nib is a wetter fine / medium and is more of a glider, likely due to ink flow. Operation is just like the mustard pen, and like any late 51 Vacumatic.
The turquoise blue color, a strong 1950s choice seen on Sheaffer Snorkels and Parker 61s, works surprisingly well on the 1940s design. It makes the pen stand out on any surface it's placed, and has great eye appeal. This is a showoff pen.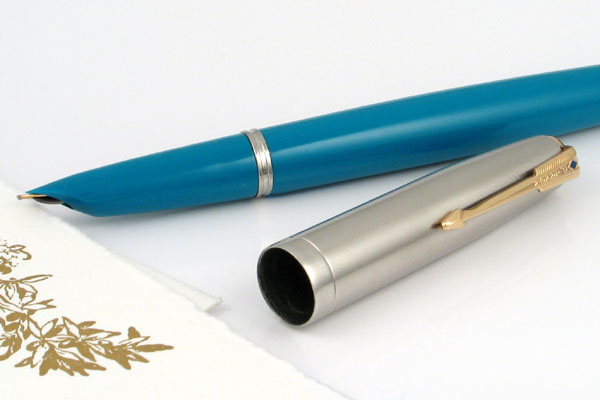 Parker 51 Fantasy In Turquoise - Ariel Kullock c1990s - Argentina
I had the opportunity to spend a lot of time with both of these pens and they were both a delight. Of the many choices of Parker 51 fantasy, copy, and inspired by pens I've seen, these two are standouts. In many ways I could favor the turquoise pen over a vintage 51 and can now see why Parker chose that color for the 2002 revival pen.
Should you have the opportunity to see or own one of these, seriously consider it. They are excellently made and work wonderfully. Too bad Parker did not take this approach with their fantasy pen, the 2002 Special Edition. These are better pens and better examples of what made the 51 the great pen it was.
Because there is quite a bit of price variability with these pens, I would strongly recommend a careful search and work with a reputable dealer.
---
Acknowledgement
Grateful thanks to Harry Shubin for supplying the two beautiful Ariel Kullock Parker 51 fantasy pens. Harry was not only kind enough to loan the pens, but was also very helpful in supplying background on their origin.
Comments on this article may be sent to the author, Jim Mamoulides
PenHero.com Bibliography