Mabie Todd Eyedropper Pens
by Jim Mamoulides 8/18/02 - Updated 10/4/04

Writing Instrument as Jewelry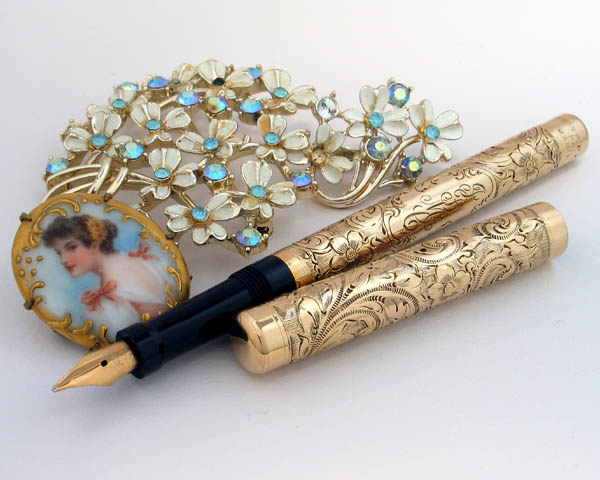 Mabie Todd Swan Solid 14 Karat Gold Hand Engraved Overlay Eyedropper c1914 Open
Mabie, Todd & Company was formed in New York City in 1860, as partnership of John Mabie and Edward Todd. The company made many ornate and beautiful writing instruments, including gold pens, which would today be called nibs, early patent pencils, dip pen holders, and pencil cases. These were jewelry quality instruments made from gold, silver, hard rubber, ivory, and exotic woods. An early advertisement from 1869 even lists toothpicks.
In 1873, with the retirement of John Mabie, the company became Mabie, Todd & Bard. The company also marked its twenty-fifth anniversary in 1873, with George W. Mabie and John H. Mabie, John's sons, Henry H. Todd, and J. Sprauge Bard. Even though J. Sprauge Bard had joined the company, there was no merger between Mabie, Todd & Company and Bard Brothers. The company was part of New York's burgeoning pen making industry that included Aiken, Lambert & Company, A. A. Waterman, and L. E. Waterman, among many others.
Mabie, Todd & Bard introduced their first fountain pen based on an 1878 patent by William W. Stewart. The new pen was the Calligraphic pen, a gold pen with a hard rubber holder that the company exported to England in 1880. An interesting feature of the Calligraphic is the coil spring overfeed, which looks like a little spiral that sits forward on top of the nib.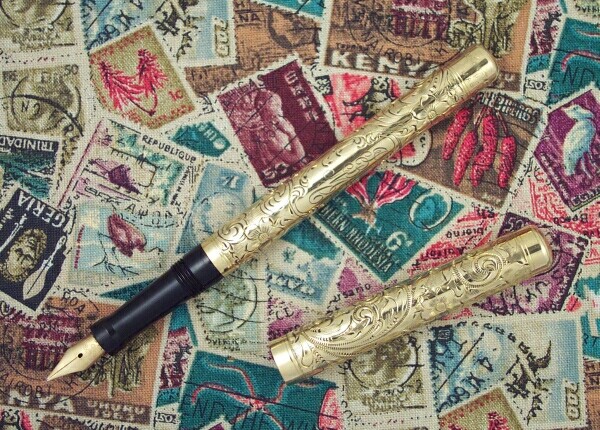 Mabie Todd Swan Solid 14 Karat Gold Hand Engraved Overlay Eyedropper c1914 Open
Ornate Swans
The first Swan pens probably appeared sometime around 1890, based on company trademark filings indicating that the name had been in use since 1890. David Moak, in Mabie in America: Writing Instruments from 1843-1941, says, "The choice of "Swan" as the name for a pen model is entirely apt, as quills made from swan feathers were highly prized for their writing qualities and "pen" is also the word for a female swan."
Mabie, Todd & Bard only made eyedropper pens, and many examples show an over and under feed. Pens were made from metal overlaid on hard rubber, including solid gold, sterling silver and gold filled as well as black hard rubber pens, decorated with chased patterns and metal ornaments, including bands and end caps. Overfeeds were made both from hard rubber and from gold. In the first decade of the Twentieth Century, the company introduced several innovations, including a new "Safety Fountain Pen" which featured a screw on cap guaranteed not to leak, replacing the slip on cap design used on earlier models, a new ladder feed, which better regulated ink flow, and a unique "Inksight" pen, with clear "porthole" window in the barrel that allowed the user to see the level of remaining ink in the pen.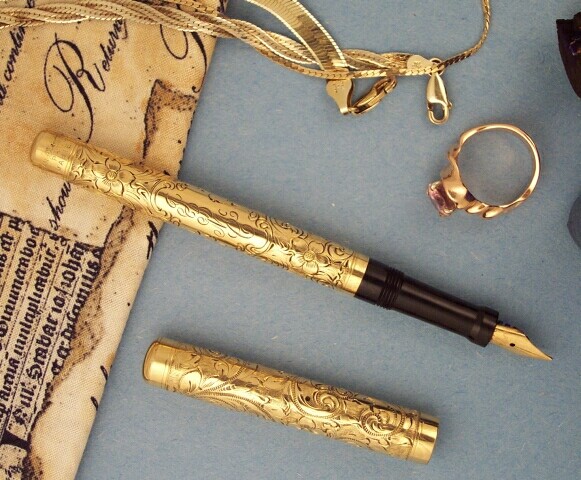 Mabie Todd Swan Eyedropper c1914 With Some Other Jewelry Items
Mabie, Todd & Company was incorporated in 1907 with George W. Mabie as the major shareholder. This company was a continuation of the company, now as a corporation rather than a partnership. Between 1910 and 1915 the company was sold to Albert Watts, who had run the European business, and George Mabie retired.
Mabie, Todd sold pens and ink pellets to the military for soldiers in World War I. The soldier would drop the pellets in the barrel of the pen and pour in water to dissolve them and make ink. In 1917 the company introduced a special pen that had a small compartment in the bottom of the barrel where these ink pellets could be stored until needed. These pens eventually became known as "Trench Pens."
Manufacturing in United States continued after the First World War, but the brand fell behind in sales to the leaders, such as Sheaffer, Parker, Waterman and Conklin. Mabie, Todd's USA operation continued to make top quality pens in the 1920s and early 1930s, including the sought after Eternal line. Although the brand flourished in Europe, during the Great Depression the USA operation flagged and was dissolved by 1941.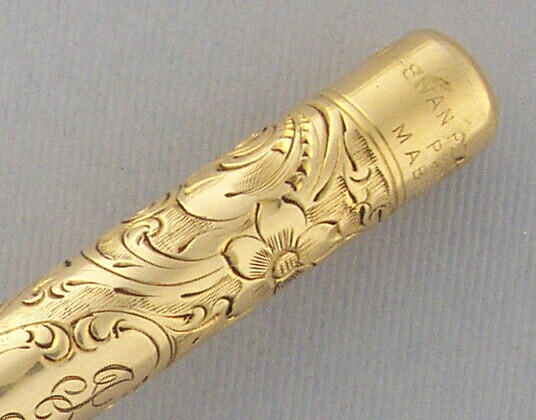 Engraving Detail of Mabie Todd Eyedropper c1914 - Note Swan Engraving
Performance
Mabie Todd eyedropper pens show some of the most elaborate and beautiful engraving work of any pen manufacturer and are prized by collectors. Mabie Todd pens are notable for particular attention to detail. This example shows highly detailed engraving and yet the quality is uniform throughout. All of the surfaces are smoothed of any rough edges and everything fits together perfectly. This model has the Safety Screw Cap, which ensures no leakage when the filled pen is put away. This cap design dates to a 1904 patent and was in general use by 1910. The pen also has the hard rubber "ladder" style feed. Many early Swan eyedropper models, unlike this example, have a special stepped or buttoned barrel end, a design to make secure posting easier.
It would be hard not to say that this is the most beautiful pen I have ever picked up. This is the sort of pen that everyone in the room will want to look at. Beyond the visual appeal of the hand engraving, which twists around the cap and barrel is the texture of the pen in your hand. I can't help but run my fingers along the body and feel the impressions made by the master jeweler who engraved this pen. The twisting vines and flowers both treat the eye and the hand. I almost forgot that this is something designed to write with, not just a beautiful ornament!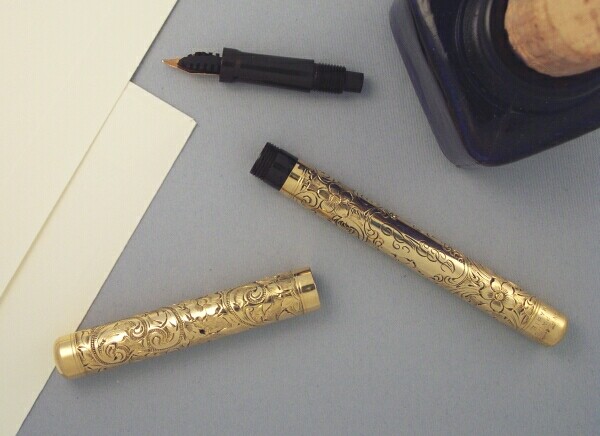 Mabie Todd Swan Eyedropper c1914 Open and Ready For Filling - Note Ladder Feed
The same collector who loaned this pen also gave me an antique blue corked inkwell, now filled with a large quantity of Waterman Florida Blue, which should be good for dipping this pen to try it out. I will have to say up front, that I only dipped this pen. I couldn't make myself fill it as I did not want to attempt to clean it afterward and risk damaging the section or feed.
Being a solid gold overlay, the pen definitely has the heft of an all metal pen. It runs about 5 1/4" long capped and a really long 6 7/8" posted. It feels perfectly fine in the hand without the cap posted and is almost too long posted. I tried it both ways and liked it better with the cap off. Unlike most of the Mabie Todd eyedroppers I've seen from this period, this pen does not have a smaller diameter posting "knob" on the end of the barrel to make posting easier. It posts very securely, nonetheless.
Many eyedropper pens were sold as a set with a special large bulb eyedropper to use to fill it. Since I did not fill the pen, I can't relate the joys that eventually led to the self-filler revolution. Interestingly, Mabie Todd made eyedroppers well into the 1940s.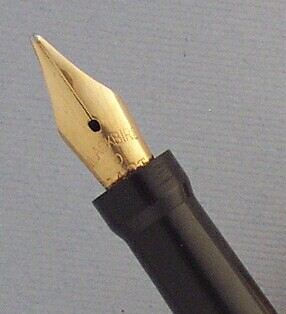 Mabie Todd Blackbird Nib
The nib is definitely one of the most flexible I have ever used. The tines split and spring back wonderfully while different pressure is used in writing. It's hard to say if the nib is a medium or a broad, but different hand pressure gets the whole spectrum. John Hancock would have liked this pen a lot. Considering its source, I imagine a wealthy lady in San Francisco sitting at her desk writing letters or invitations and using this pen to add flair to her handwriting. What a great writer!
Having no clip means this pen would need a carrying case or would be kept in a jewelry box on the desk. It's not going to travel in your shirt pocket really well!
This is as much jewelry as a writing instrument. It's a piece that I simply can't do justice to in pictures. If you ever see one of these in a pen cup at a flea market, buy it!
---
Acknowledgement
Grateful thanks to David Moak, author of Mabie in America: Writing Instruments from 1843-1941, an indispensable guide to Mabie, Todd & Company history in the USA. It's a unique, CDROM based eBook that thoroughly details the company history and penography. David was kind enough to supply a copy so that this article could be updated.
Comments on this article may be sent to the author, Jim Mamoulides
PenHero.com Bibliography