Wahl Art Deco Ringtop Pens 1921-1929
by Jim Mamoulides 12/28/02 - Updated 3/16/03

Tiny And Delicate
"Ladies, from fourteen up, wear Eversharp on a ribbon, chain, or cord, for convenience and style." This is the thought, from a 1922 Wahl Eversharp advertisement, that comes to mind when one picks up one of these diminutive 3 1/2 inch long pens. Interestingly, if you look through enough advertisements, you may see a quote like this: "Even if he has an Eversharp, give him another one for his watch chain or desk use." Imagine a tiny pen or pencil hung off your pocket watch chain.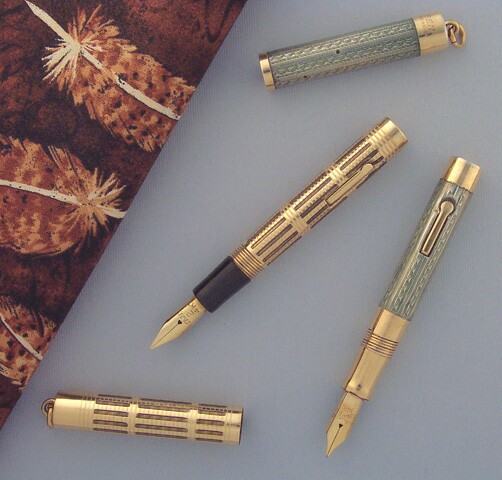 Wahl Ladies Ringtop Colonnade (Left) and Sterling Ribbon (Right) Pattern Pens
Now it's true that both of these selling points refer principally to the tiny Eversharp mechanical pencils, which quickly became best selling brand, to such an extent that the name Eversharp became synonymous with "mechanical pencil," but similar statements are made in other advertisements, indicating that Wahl was definitely trying to sell ringtops to all comers.
In the early 1920s, Wahl placed advertising emphasis on its all-metal pens, using the success of the Eversharp mechanical pencil to drive sales to the companion Wahl pen product. Wahl compared the pens with the craft of watch making, both in manufacture and in the delicate machine turned engraving patterns. Wahl boldly stated that their pens, even the tiny ringtops, had greater capacity than competing hard rubber or overlay pens, due to the thin but strong metal case allowing for a larger ink sac. Wahl also touted the smoothness of their nibs.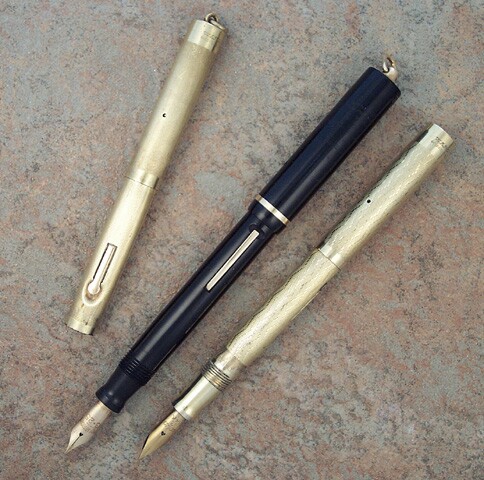 Wahl Gold-Fill Ringtops: Colonial Pattern (Left) and Ripple Pattern (Right)
Flanking A Sheaffer 3-25 Ringtop In Black Hard Rubber
Ringtop pens and pencils have a special cachet to many collectors. They are like little jewelry items as much as writing instruments. The pens are tiny, typically three to four inches capped, yet surprisingly long when posted, in some cases up to six inches. In my research, Wahl made three types of ringtops. Two are essentially the same pen, either in metal or hard rubber, where the cap and barrel fit together into a neat cylinder with a ring on the end of the cap. The hard rubber pens often have a metal crown on the cap top, cap rings, and an all-metal section, including the section threads. Most other manufacturers made hard rubber pens without metal parts other than the ring top and cap rings. Posted, these pen types retain the cylindrical look from the cap top to the section. These two types are the most commonly found Wahl ringtops.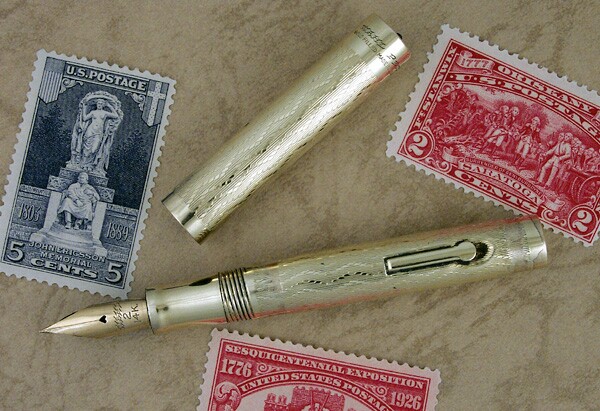 Wahl Gold-Fill Ringtop in Ripple Pattern
There are at least two common sizes, the Ladies model, about 3 1/2 inches capped and the "Midget" model, about 3 inches capped. The 1929 catalog lists the Ladies model for US $6.00 and the Midget model for US $5.00. Both models came in all the available machine turned designs. The PenHero.com article, Wahl Art Deco Metal Pens 1921-1929, contains an illustrated listing of many of the machine turned designs on these pens.


Wahl Ringtop Pen Set In Sterling Coral or "Brain" Pattern - Photos Courtesy Scott Miller
The second design is much less common, and some sources place them as briefly manufactured in the early 1920s. I've only seen examples of this design in all metal pens, but that is not to say that hard rubber examples do not exist. In this type, the pen cap is a cylinder with a much larger circumference than the barrel and has a tapered lip. The barrel is the same size and shape as the more common models, and the overall pen length is the same.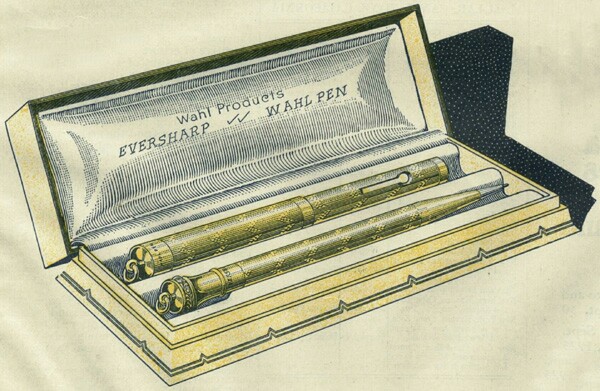 Detail From 1925 Wahl Eversharp Advertisement Showing Dart Pattern Ringtop Pen Set
Wahl offered these pens in a wide choice of hard rubber, gold-fill, sterling silver, solid gold and combinations through 1929, when Wahl finally made the transition from hard rubber to plastic. Wahl continued to make ringtop versions of its pens well into the 1930s, advertising Doric ringtops, for example. Pen and pencil sets were packaged in "silk lined" gift boxes that had the Wahl name or "Wahl Products" and "Eversharp and Wahl Pen" on and inside the box, drawing a distinction between the pen and pencil. Pens were offered for US $5.00 to $55.00, depending on the finish and material, and matching sets were priced from US $6.50 to $100.00.
Performance
These pens are like little jewels. The patterns range from interesting to dazzling. I can fully understand collectors who focus on Wahl machine turned pens and pencils. The appeal is much like collectible jewelry that writes. As I've noticed with other Wahl pens, even though they are all-metal, they are much lighter than a contemporary all metal pen.
The four pens that I reviewed for this sitting are ladies ringtop pens all between about 3 1/2 and 3 5/8 inches long capped, and nearly double to 5 1/8 inches posted. I also used a Sheaffer 3/25 ringtop as a comparison pen. The caps on all the pens post very firmly on the end of the barrels, but not particularly deep, which explains the added length posted.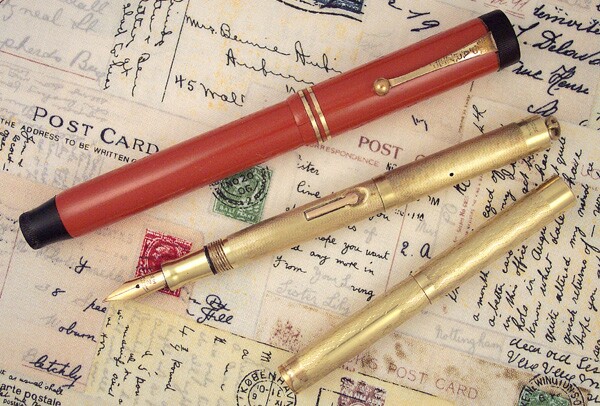 A Pair of Wahl Ringtops Next To A Parker Duofold Oversize "Big Red"
I dip tested all but one of the pens, as two are borrowed for this review, and one needs resaccing. Three have medium / broad nibs and one is a fine. All are glass smooth as I've grown to expect from Wahl, and all are quite flexible. All examples of these pens that I have seen are fitted with the small #2 nib. I imagine that ladies pens probably tended toward a more flexible nib, and most Wahl examples I've now seen are this way. These are great pens for writing quick notes and making signatures. All are very nice writers.
All of the pens have short levers with a spoon tab, which makes them easy to operate without a poked fingernail. They are quite small in the hand, where a large handed person might find them awkward to use. I usually "test drive" pens in my shirt pocket as part of the review, but since I don't really have the "urge" to sling a chain around my neck and go out and about in order to try that aspect of the pen out, I think I'll move on...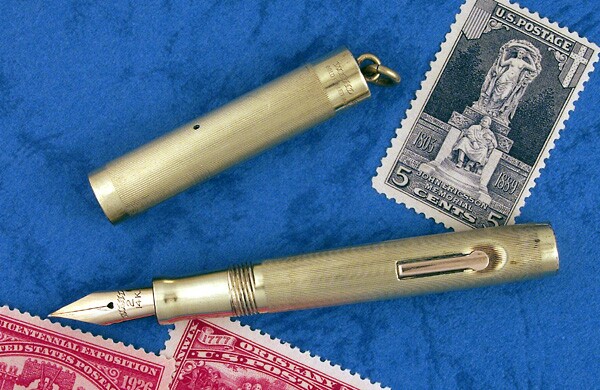 Wahl Gold-Fill Ringtop in Colonial Pattern
All the Wahl pens I've seen are wonderfully detailed and show a high quality of manufacture and finishing. In the field, one should be aware of dings and dents that seem to frequent these pens, and metal pens in general. Also look for scuffs that mar the machined pattern and wear to contact points, such as from posting, which may have started brassing.
I've noticed that Wahl ringtops tend to turn up at the inexpensive end of the spectrum. Beware of antique dealers who decide to put a premium on anything all metal. The matching pencils are often very inexpensive, but look for examples that work. Watch out for non-Wahl nibs. Being lever fillers they should be easy to restore, and lacking rubber cores, they won't have the problems common with overlays.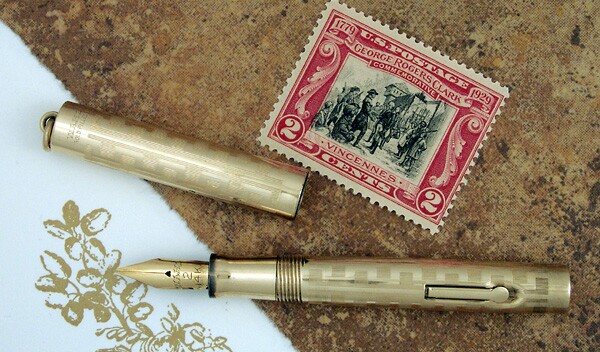 Wahl Gold-Fill Ringtop in Greek Key Pattern
Get a nice glass of wine and some high cotton content note cards and write some expressive letters. That's what these pens were intended for!
---
Acknowledgement
Thanks to Scott Miller for additional pen photos.
Comments on this article may be sent to the author, Jim Mamoulides
PenHero.com Bibliography