Élysée Edition No 1 Limited Edition 1993
by Jim Mamoulides 12/27/01 - Updated 12/27/03

Élysée's first Limited Edition pen began a series of three editions using Chinese Cloisonné art as the basis for the pen design. Each pen was the commissioned work of an artist, intended as an extended series, called Vernissage. The edition is based on the Parthenon, Élysée's top pen line.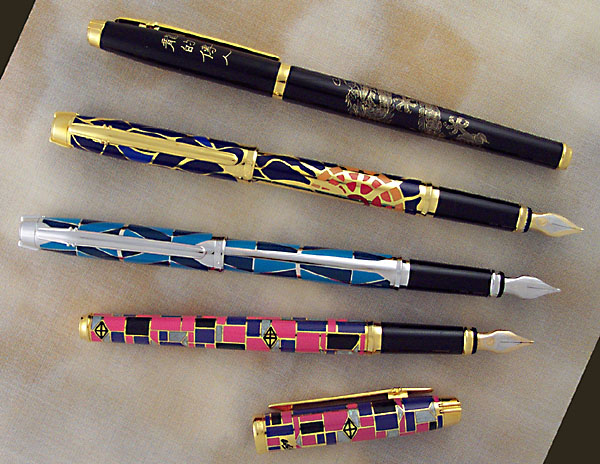 A Complete Collection Of The Four Élysée Limited Edition Pens:
Top To Bottom: Dragon / Impression No 1 / Edition No 2 / Edition No 1
Élysée Vernissage Collection
The first pen in the Vernissage series, the very geometric Edition No 1, was created by artist Karl Diesner. He says the purpose of his work is to "activate our vision." He prefers to work in bright colors and with geometric shapes, and this definitely shows in the design.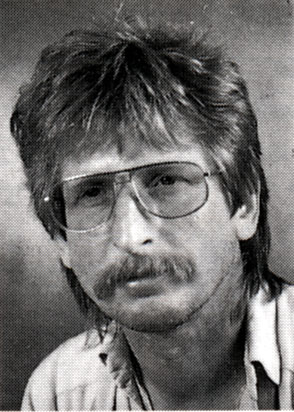 Karl Diesner
This pen, the most abstract of the series, is a mosaic of pastel colored geometric shapes. Black, blue, pink, and white marble come together in squares, rectangles, triangles, and other geometric shapes interchange with bright gold diamonds with a black cross design. A busy, yet orderly rendering. The busy design and the blue and pink combine in a bright Mondrian-like work that is similar to many modern Chinese Cloisonné objects.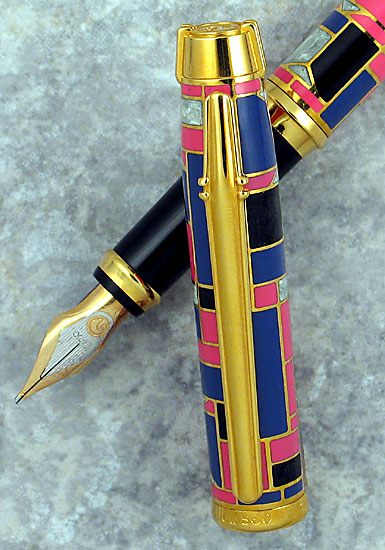 Élysée Edition No 1 Fountain Pen 1993
The first of the Vernissage series, introduced in 1993 as Edition No 1. The pen or multiple instruments were presented in a simple snap closure package with room for two instruments.
The Edition No 1 is fitted with a highly decorated two-tone platinum masked solid 18 karat gold nib in extra-fine, fine, medium, and broad point sizes. All Élysée Limited Edition instruments came with an implied lifetime warranty.
The Edition No 1 Limited Edition came in unnumbered instruments in four writing modes:
Fountain Pen - US $375.00
Capped Rollerball Pen - US $325.00
Twist Action Ballpoint Pen - US $275.00
Twist Action Pencil - US $275.00
Performance
The Edition No 1 is based on the all brass construction Parthenon, and thus has a similar weight and feel in the hand as the slightly larger Cross Townsend line. It is a long and slender pen, 5 5/8 inches capped and 6 1/8 inches posted. These are solid and substantial pens, yet nicely balanced, capped or posted. Having all three Cloisonné pens to review together, this review is something of a composite of my impressions of all of them, with the specifics of this particular pen.
The cap snaps securely both on the section and the barrel end, another similarity to the Townsend. The cap adds weight to a fairly heavy pen, but it is well balanced in the hand either way.
All the pens in the Vernissage Collection are decorated using Chinese Cloisonné technique that is smooth, but there is some slight variation where the enamel fill and the plated ridges meet. The metal surfaces are plated, not electroplated, which should make them wear well.
The clip is not very springy, so it probably won't clip well to a flannel shirt or a coat pocket, but it does the job well. The pen sits fairly deep in the pocket, but one should consider a starched shirt, as the pen's weight may cause it to flop around. The gold "winged" cap top makes this definite pocket jewelry that hints at the flashy pen hidden in your pocket.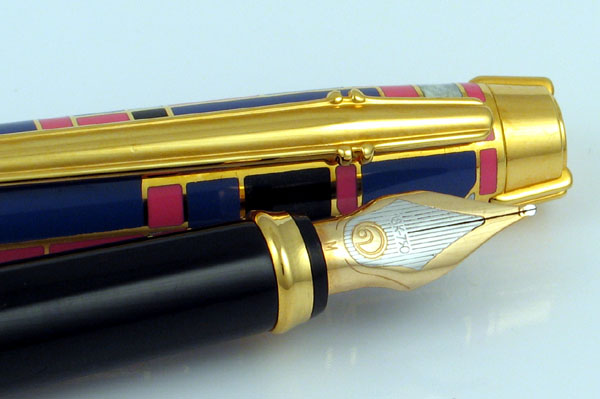 Élysée Edition No 1 Nib Detail
This Edition No 1 has a wonderfully smooth and even writing medium nib. The pen fills easily with a piston converter or standard international cartridges.
My one real gripe with the Élysée Limited Edition pens is the plating loss I've experienced at the end of the section. This problem is not unique to Élysée pens, but with other high-end brands. The problem seems to be controllable if the section is judiciously wiped after each filling, but it's a problem that should not happen.
The Élysée Limited Edition pens are good daily users with a very arty and flashy flair. Definitely not a button down pen.
As Élysée is out of business as of early 2000, these pens and their Parthenon siblings may become harder to find. As of this writing, the pens are turning up here and there at fair discounts, making this a pen to consider before they get away.
---
Comments on this article may be sent to the author, Jim Mamoulides
PenHero.com Bibliography