Diamond Point Lever Filler Pens: Late 1930s-c1953
by Jim Mamoulides, December 21, 2001, updated February 1, 2003 and January 4, 2012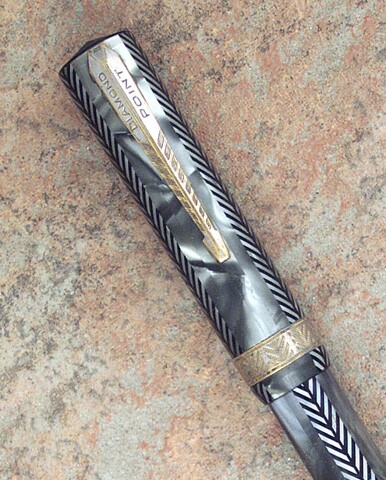 Cap detail of a c1937 Diamond Point pen in gray herringbone
A Diamond Point challenger
Surviving the Depression did not guarantee long term survival for many pen companies. Conklin, early on one of the best quality and largest sellers, fell on hard times in the 1930s, was sold, fell to second tier quality pens and faded out by the end of the 1940s. Diamond Point had a similar fate. The flattop Diamond Point pens of the 1920s were probably the best pens this second tier maker made, and are quite collectible. In the 1930s the company struggled, but still managed to put out quality products. By the 1940s, Diamond Point pens were smaller and another notch down in quality, and the company eventually ceased production by 1953.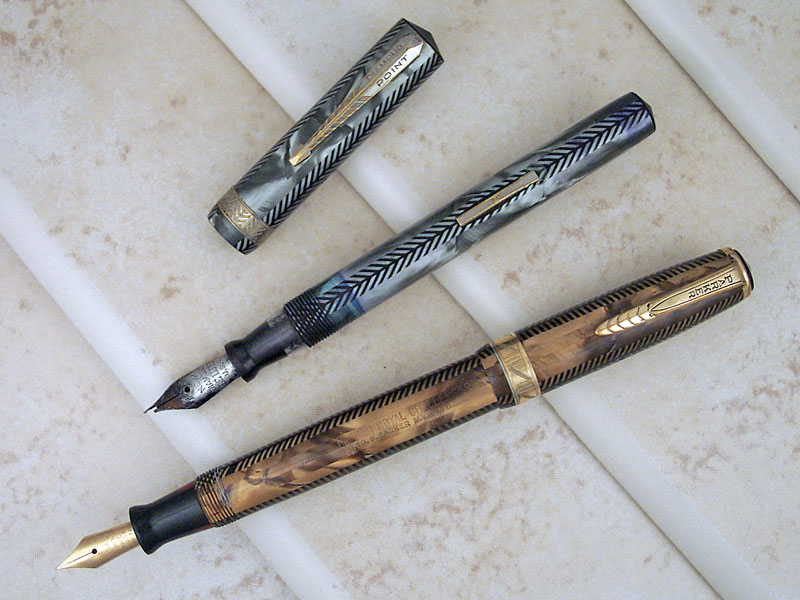 Diamond Point pen in gray herringbone with a Parker Royal Challenger c1937
A model that shows up often in cheapie bins are 1930s era pens that have a distinctive faceted clip, and as with earlier Diamond Point pens, very attractive plastics. The clip has facets and feathers,and the company name stamped, "DIAMOND" over "POINT", as read with the clip pointing to the left. As with earlier Diamond Point pens, this pen is a cylindrical tube construction with distinct end caps glued on. The metal parts are very lightly gold plated and wear pretty easily. This particular example has a raised concentric circle design on each end in black plastic. Others may have rounded or quite peaked end caps. Fit and finish of these pens is really quite good, in spite of the corners cut on plating and nibs. A design possibly borrowed from the Waterman 94. Dating the pen is difficult, but the plastic is the same as used on 1937 Parker Royal Challenger pens.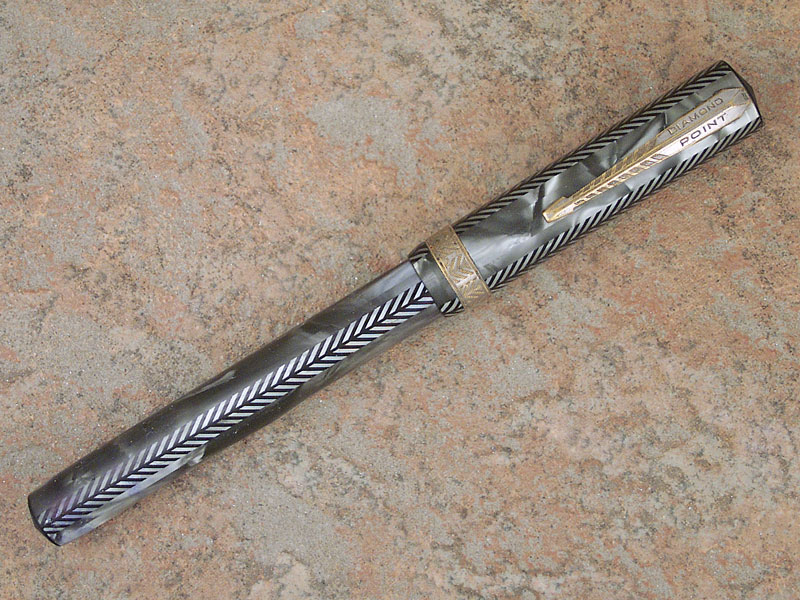 Diamond Point pen in gray herringbone
As with many prior Diamond Point models, this one came in a host of very interesting and often attractive plastics. This herringbone and gray marble plastic is nearly identical to the Parker Royal Challenger plastic, and interestingly, the cap band follows suit with a stamped herringbone design. This probably dates the line from the same period, late 1930s, possibly 1937, when most manufacturers were switching to streamlined pens. Also notable are the "feathers" on the clip, a nod to the Parker Arrow clip, perhaps?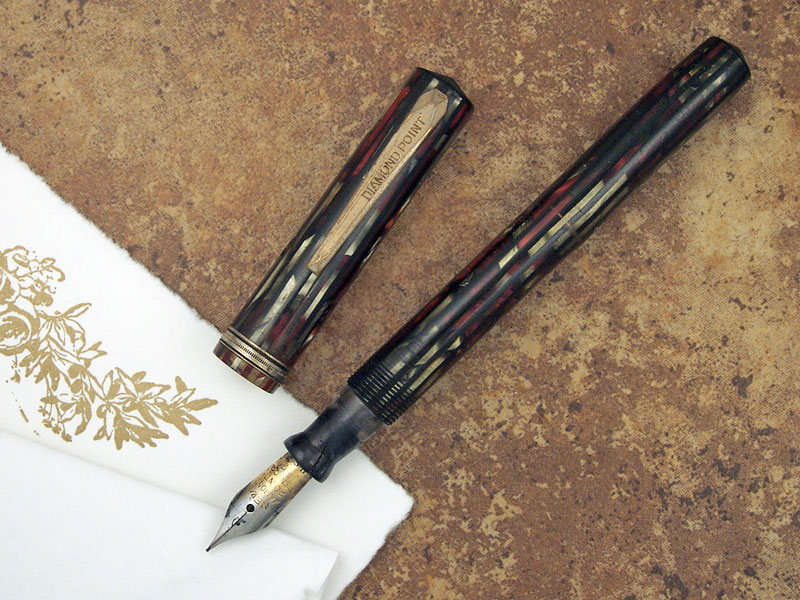 Diamond Point pen in red / green stripe, note flat faced clip
I've seen other examples of this model with longitudinal stripes, like the Parker Striped Duofold, crosshatch like late 1930s Eversharp Dorics and Coronets, and wide longitudinal stripes like the Eversharp Pacemaker. These plastics are all contemporaries, so late 1930s seems the right period. There are also solid color pens, and at least three cap band styles, also including a single plain band and a wide band with interlocking circles.
Nibs can be 14 karat or alloy, and are pedestrian writers, though some are more interesting than others. This particular one is marked "NEW DIAMOND DELUXE U.S.A.".
Streamline models
Probably in the early 1940s, Diamond Point introduced a more streamlined model. This pen has a tapered barrel and cap, with the clip mounted on the cap top with a metal crown. The clip is stamped "DIAMOND POINT" down the length, from top to bottom. Metal parts tend to be thinly plated, as with the earlier pens, but fit and finish remain very good.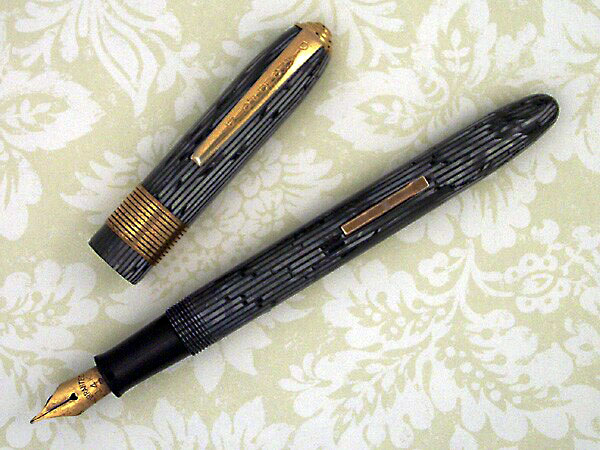 Diamond Point streamline gray stripe lever filler
There are a number of variations, including this type with a 1/2 inch wide ringed cap band and an all metal capped model with a 1/2 inch set of engraved rings where the cap band would be. All have the same clip. Later metal capped models may have a slip cap and a Taperite style semi hooded nib, and sometimes a metal barrel end cap.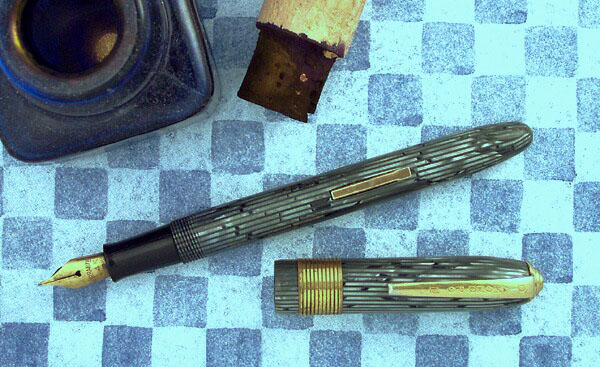 Diamond Point streamline gray stripe lever filler
Plastics range from marbled patterns as on this example, to longitudinal stripes, to plain colors. Nibs range from "Velvet Point", to plain "14 K" marked nibs, to "Special Alloy", as well as others.
This is one of the standard model Diamond Point pens from the 1940s. It's an unnamed model, as far as I can research. As with earlier Diamond Point pens, the pen was offered in very attractive plastics. This one has a swirled magenta plastic with quite a lot of depth that does not show well in the scan. Other versions of this pen were offered in striated and speckled plastics that are quite striking. The plating, though certainly not thick, is respectable and wears well. According to Rick Horne's Southern Scribe website, Rick acquired some very similar pens to this gray stripe model from the collection of the owner of the Diamond Point pen company, which "ceased pen production in the early 50s. The pens are New Old Stock unsold from his last large order in 1953."

Diamond Point streamline gray stripe lever filler
As with earlier Diamond Point pens of the late 1930s, the quality is good, but dropping a little, and it is fitted with a gold color nib marked "Velvet Point 6", probably indicating that it is plated. When compared to Wearever Pacemakers and Zeniths, this is a considerably better made pen, as all the parts fit together flush and generally look to be better quality. When compared to an Esterbrook, which it is very similar to in size, it is about on par.
Performance

Diamond Point streamline magenta
The streamline magenta Diamond Point pen shown in this article is fitted with a somewhat flexible medium nib. This review will focus on that pen, as the herringbone model needs nib work to bring it up to speed. The pen is about equal in size to an Esterbrook, about 5 inches long capped and 6 inches posted.

Diamond Point streamline magenta
The pen is well made and has held up very well. All the parts fit together tightly, the trim is uniformly plated, but is more of a wash than heavy gold fill. The cap screws on nice and tightly. It really compares very favorably to an Esterbrook. The plastic is the strongest point of this pen, no surprise considering Diamond Point pens in general. It has really great depth and shimmers as the pen is turned in the light. The cap posts well and stays put. The clip is obviously stamped, but the design is attractive and it holds well, placing the pen deep in the pocket.
The pen fills quickly and easily with a stroke of the straight, plain lever.

Diamond Point streamline magenta nib detail
The nib is smooth and actually writes very well, with no scratchiness. It has a tad of flex, but nothing to get excited about. A good writer.
Like Esterbrooks, this is a nice everyday pen that looks good and also like Esterbrooks, seems to be made from a plastic that resists discoloration, which is a real plus. I often wondered how Esterbrook could make so many great and inexpensive bullet-proof quality pens that age really well, and others could not. If you want an interesting lesser expensive brand that won't break your collecting budget, there are good quality Diamond Points out there to be had.
I got this pen as an eBay fixer upper and was very pleased at how nicely it turned out. This pen has since been sold to a happy owner.
Selected References
Fountain Pens of the World, Andreas Lambrou, Copyright © 1995, Zwemmer, London, England
Glossopedia of Pen Terms: Diamond Point, Richard Binder, Copyright © 2012 RichardsPens.com
Other Brands, Rick Horne, Copyright © The Southern Scribe
Parker Challenger, Tony Fischier and The Parker Pen Company, Copyright © 1995-2012, ony Fischier and The Parker Pen Company®/Sanford Ecriture
Interact
Comments on this article may be sent to the author, Jim Mamoulides
---
Pen Clubs
Fountain Pen Discussion Forums
Social Media