Sheaffer Pen Premieres Sheaffer Valor™ Collection At Paperworld Show In Frankfurt
by Jim Mamoulides, February 13, 2006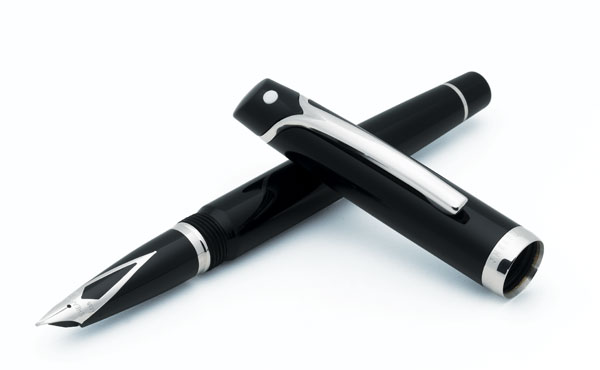 The new Sheaffer Valor in black resin with palladium plated trim and nib
A big splash for Sheaffer's new flagship pen
Sheaffer announced its newest flagship line, the Valor, at the Paperworld Show In Frankfurt, Germany on January 25, 2006. The pen combines the iconic Sheaffer Inlaid Nib with a completely new cap and barrel design, and in another new step, sourced the pen manufacturing from Italy. Following is the official press release from Sheaffer:
Frankfurt, Germany, January 25, 2006 – Sheaffer Pen today announced the world premiere of Sheaffer Valor™, a distinctive German-designed, and Italian-made luxury fine writing collection that ushers in a new era of premium product introductions from the Company.

The announcement is made and the new Sheaffer Valor is launched

Styled to define a new "classic Sheaffer design," Sheaffer Valor™ is a beautifully crafted writing instrument that offers exceptional quality and performance while enabling its owner to make a powerful statement of success and achievement. Sheaffer Valor™ is available in Fountain Pen and Roller Ball modes.

The crowd draws in to see the new Sheaffer Valor

"As has been the case with past key product introductions throughout our storied history, Sheaffer Valor™ will define a new era in fine writing for the Sheaffer® brand, an era characterized by distinguished product design, superior quality craftsmanship, and a unique fine writing experience," said Chris Mills, Group Director Marketing and Sales for Sheaffer. American engineered in accordance with Sheaffer's strict quality standards, the Sheaffer Valor™ collection features a robust wide-profile black machined acrylic body with an easy screw-on cap and boldly displays the unique attributes that have played key roles in defining Sheaffer's enviable history.

The Sheaffer booth

"The Sheaffer Valor™ Fountain Pen features the exclusive Sheaffer Inlaid Nib – first introduced in 1959 and still used and respected by fine writing instrument experts today – in 14K gold with or without palladium plate for a truly distinctive look and unparalleled fine writing experience," added Gretchen Dickenson, Group Brand Manager for Sheaffer." The Roller Ball combines the silky, flowing writing of a fountain pen with the convenience of a ballpoint. Both the Fountain Pen and Roller Ball modes feature a unique angled clip designed to proudly showcase the commanding Sheaffer signature White Dot®, recognized globally as a 'symbol of writing excellence.' The powerful look and feel of the Sheaffer Valor™ collection is further enhanced by either 22K gold or palladium plated accents. Each writing instrument comes beautifully packaged in a luxury wood gift box with high gloss cherry finish giving the product an exquisite overall presentation."

The Sheaffer Valor line in the display case at the show

Available worldwide at fine writing retailers beginning in June 2006, a Sheaffer Valor™ writing instrument makes a distinguished and confident statement, making it the perfect gift with which to "Write Your Own Legend."

The new Sheaffer Valor in its luxury wood gift box

Recognized globally as a leading luxury fine writing instrument brand, Sheaffer has delivered elegant and original products of the highest quality since its humble incorporation in 1913 in Fort Madison, Iowa. The brand's proud heritage has been written by a constant flow of landmark product collections, each playing a lead role in defining the key eras of Fine Writing in the 20th century, and each powerful enough to firmly establish Sheaffer today as "The Signature Pen since 1913™"!

The seating area at the show - note the White Dot logo tables

Sheaffer Pen is a division of BIC USA Inc., Milford, CT, distributor of stationery products, lighters and shavers.

The new Sheaffer Valor shown in the luxury wood gift box, with the box closed
Acknowledgement
All images used in this article are © Copyright 2006 Sheaffer Manufacturing Co., LLC. Press release © Copyright 2006 Sheaffer Manufacturing Co., LLC.
Interact
Comments on this article may be sent to the author, Jim Mamoulides
---
Pen Clubs
Fountain Pen Discussion Forums
Social Media