Montblanc Introduces Bespoke Nib Service 2012
by Jim Mamoulides, November 25, 2012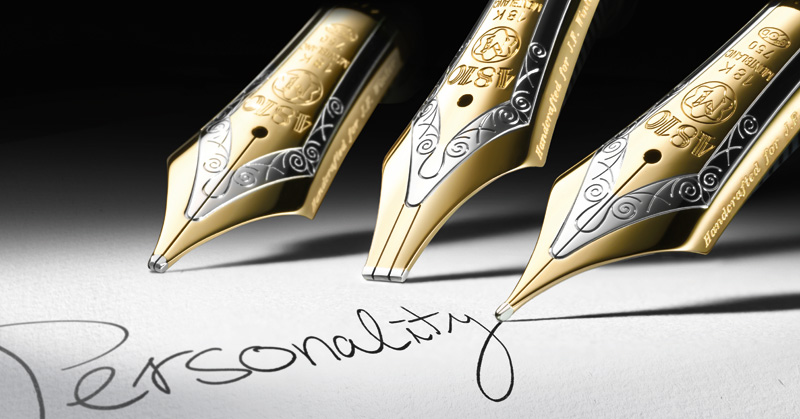 Montblanc bespoke nibs - note the personalized engraving on the edge and the two slit music nib in the center
100 years celebration of finest craftsmanship
The concept of a writing instrument customized to one's own hand has existed since the time feathers were cut into quill pens. Each person would cut the quill using a specialized knife, flat on one side and curved on the other, in a manner that best suited their personal writing style. The disadvantage of quills is that they eventually wear out. With the advent of manufactured metal nibs in the early 1800s, writers would gain a longer lasting writing instrument, but would lose any personal custom touches except in the selection of available nibs.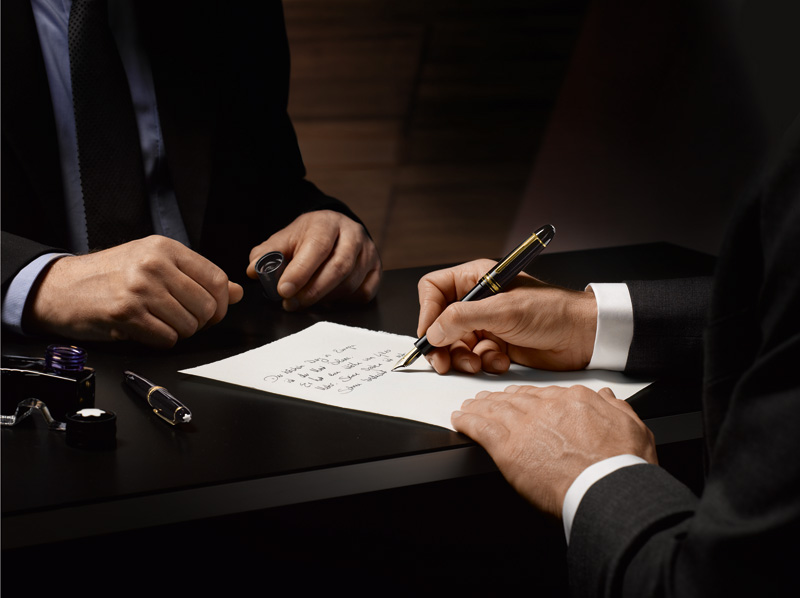 Testing a Montblanc pen
Because pen manufacturers are far away from most of their customers, being able to offer a variety of nib types, from firm to flexible, from extra fine to extra broad, has been a matter of pre-cutting and pre-grinding nibs to a selection of offers. In the 1940s, for example, Sheaffer offered 16 different nib types to their customers. Over time, as fountain pen use began to decline with the advent of the ballpoint pen in the 1950s, the variety of nib types have been reduced by many manufacturers to the point that it is not unusual to see fountain pens offered with only a firm medium nib.
Custom nib grinds have been recently and continue to be offered by a small group of craftsmen who regrind new and older pen nibs to fit the hand of their customers. This often requires a trip to a pen show or their studio in order for the nib grinder to match the nib to the customer. Nakaya, a Japanese pen company that makes custom handmade pens, offers custom ground nibs to their customers using an online interview process. Each nib is customized based on the answers to the questions.
Montblanc has now entered the bespoke nib business by capturing the writer's style through the use of specialized software, available at their boutiques. These "bespoke" nibs can even have the customer's name engraved on the edge, adding a very personal touch.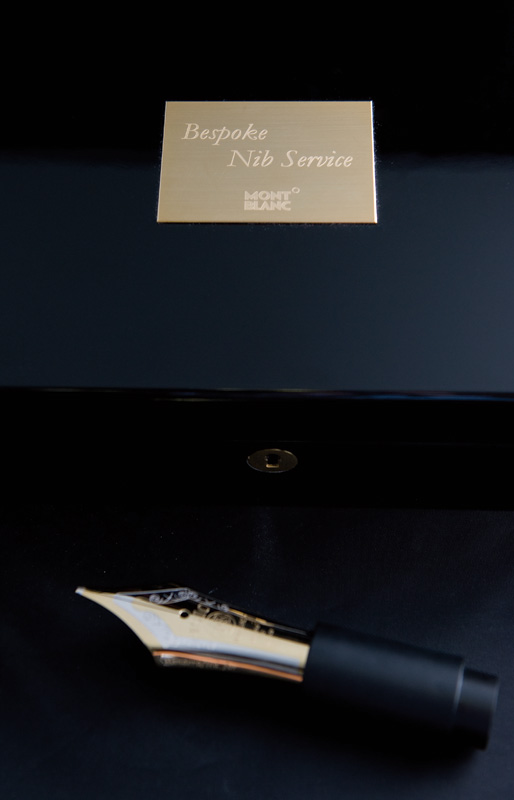 Montblanc bespoke nib service case with large example nib
Following is the official press release from Montblanc describing this service:
There is nothing more unique than a person's handwriting, as individual as a human fingerprint. Every stroke, every line of ink left on a paper reveals something special about its author. A signature is the lasting mark of someone's personality. So it was only a matter of time before Montblanc, manufacturer of the finest writing instruments, would develop the technology necessary to capture the individuality of human writing to offer the ultimate bespoke service – the creation of a personalized nib. Montblanc can now decipher the distinctive style and form of anyone's writing so that it can be emphasized in a bespoke nib.

Montblanc bespoke nib service large example nib and oblique tine example

Montblanc, recognized for over 100 years for its pioneering spirit and its innovation, is the first manufacturer to successfully identify the personal characteristics of an individual's handwriting so that this valuable data can be used to create a customized nib. Writing characteristics can now be analyzed and recorded, measured by special software exclusively made for Montblanc. Even though technology enables measurements to be taken, the nib is still handmade and the final decision and recommendation for a perfect nib can only be made by Montblanc's skilful master craftsmen of the nib manufacture. These expert artisans continue to inject Montblanc's writing instruments with a soul. Among the countless measurements, which are needed to ensure a perfectly personalized nib, five of them are key: writing speed, writing pressure, pen rotation, swing range and inclination angle. Once these measurements have been taken by Montblanc's writing culture experts, the bespoke nib is manufactured in an iterative process of hand grinding by the craftsmen of the nib manufacture to ensure a unique piece to be treasured by its owner. Precision is crucial to the process and every tiniest detail counts. Only a perfectly crafted nib will ever make it into the hands of its owner.

Montblanc bespoke nib service case open, showing test pens, example round, italic and oblique tine units, and large example nib unit

For an even more personalized touch, the gold nib can be inscribed with the customer's name: "Handcrafted for ...". This inscription, engraved into the precious metal, is a clear reminder that this is a one-of-a-kind piece that will never be copied. The owner of a personalized Montblanc writing instrument should be confident that every detail of his writing will come to life, with heightened emotion and style.
The Montblanc Bespoke Nib Service is available in selected Montblanc boutiques.
Acknowledgement
All images used in this article are © Copyright 2012 Montblanc. Press release © Copyright 2012 Montblanc. Company history sourced from Montblanc.com.
Interact
Comments on this article may be sent to the author, Jim Mamoulides
---
Pen Clubs
Fountain Pen Discussion Forums
Social Media