Fountain Pens of Japan 2012
by Jim Mamoulides, November 12, 2012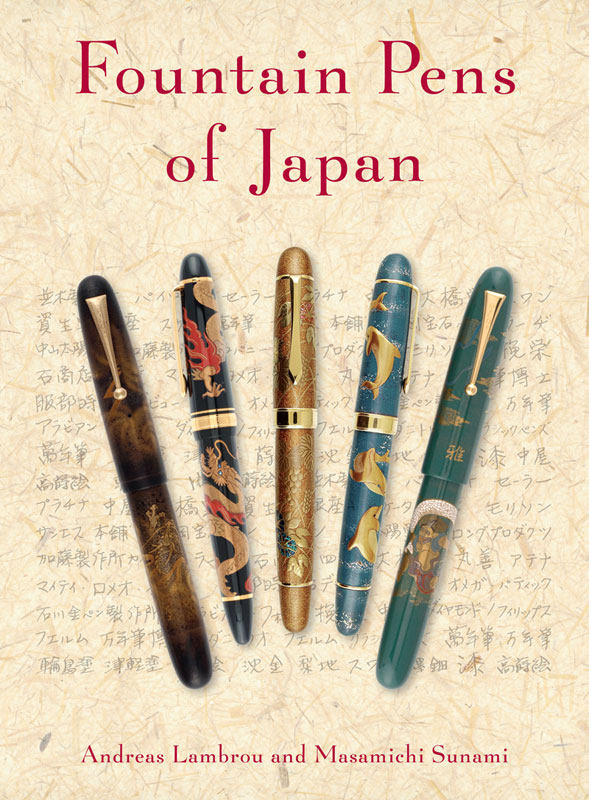 Master Edition dust jacket
Another major work by Andreas Lambrou, author of Fountain Pens of the World
Andreas Lambrou has brought out another major work to complement his growing library of pen books. His landmark book, Fountain Pens of the World, was released in December 1995, and had two reprints, in 1998 and 2005. A true coffee table book, in hard cover large format, measuring 12 x 9 inches with 448 pages, it was notable for its superb life size photography and narrative historic writing style and is treasured by many pen collectors.
Fountain Pens of Japan is the fourth major pen book by Andreas Lambrou, and is a collaborative effort co-authored with Japanese pen collector Masamichi Sunami. The two have worked together since 1980 and have long collaborated on Japanese pen projects. The book has been ten years in the making and is now being released.
I saw the first copy at the Washington, DC pen show on August 11, 2012 and am very impressed with the presentation and content. This book will deliver hours of interesting reading to any pen collector, but particularly those who are interested in Japanese and limited edition pens.
The specifications of the book will give some view of the size and scope (from the publisher's website):
Large format, hardbound cloth with dust jacket, 12 x 9 inches , 448 pages.
History of the fountain pen and its industry in Japan from around 1880 to the present. Major and minor manufacturers are covered. Pens, inks, ephemera and equipment used for hand pen manufacture in earlier eras are detailed.
Materials and techniques to embellish pens, are extensively discussed.
Customized pens for the Japanese home market pen trade and pens made or embellished in Japan, for other makers are included.
Professional photography throughout the book depicts the pens life size for easy identification.
A large number of prototypes not documented before are included.
More than 1,700 images are detailed, of those more than 500 vintage and modern pens that have not been previously documented in any book on pens.
The table of contents touches on aspects of collecting Japanese pens, including:
Lacquer and the art of Maki-e
Minor manufacturers - and there are many
Major manufacturers, including Pilot-Namiki, Platinum, Nakaya, and Sailor
Customized pens, including Classic Pens, Dani, and Parker
There are many brilliant photographs, including details on how a Maki-e pen is produced that will delight collectors. Many photos of unusual pens seldom seen outside of Japan, gathered from the personal collections of Japanese collectors and much more. This is a major work for pen collectors and should be in any library that focuses on fine pens and the art of Maki-e.
Below is a slideshow including the three dust jackets and examples of some of the pages, showing the stunning photography and attention to detail. This will be another of the treasured pen books Andreas Lambrou has released.
The book is available August, 2012 from pen dealers, their websites, and on Amazon.com.