PenHero 365: Sheaffer Balance Jade Green
by Jim Mamoulides, June 20, 2015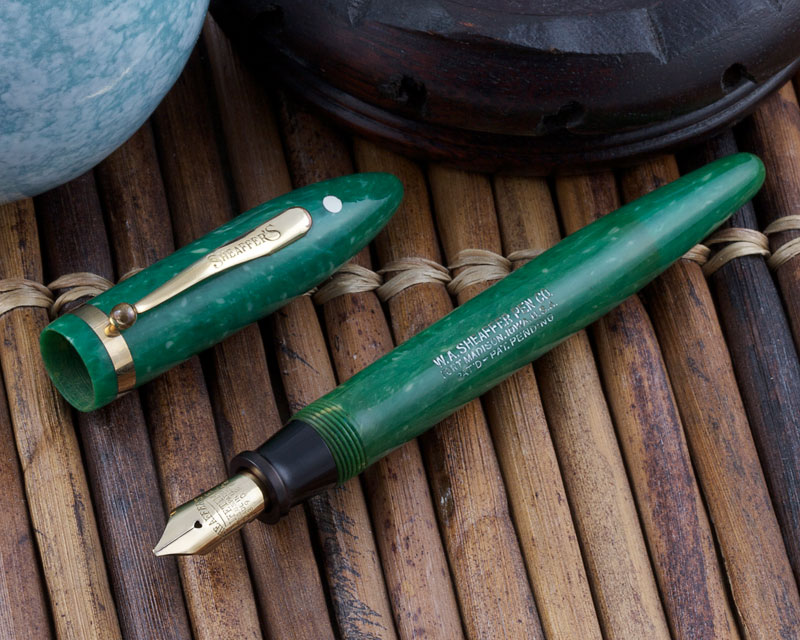 Sheaffer Balance Jade Green fountain pen model J8TC open
Click the image above to see a full screen slideshow
Sheaffer forever changed the design of fountain pens when the company launched the Balance line in 1929. The large cigar shaped flagship pen in Jade Green blanketed the USA in print advertisements. Up until the Balance, fountain pens were basically a cap and barrel cylinder with a nib inside that you wrote with. Design was limited to how decorative or colorful you could embellish the standard shape. Sheaffer threw all of that away with the Balance, which was so different it was unmistakable even in the owner's pocket. Needless to say, all other pen manufacturers immediately set about streamlining their pen lines in order to keep up.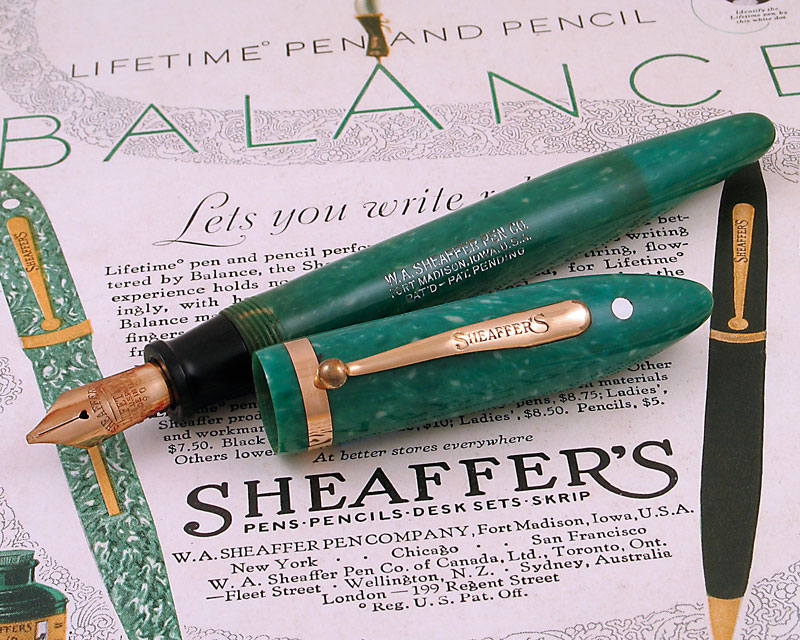 Sheaffer Balance Jade Green fountain pen open
Sheaffer continued to aggressively price the top pen in the line a premium over the market, $8.75, when a Parker Duofold sold for $7.00, the same price as the previous model year's flat top Jade model. The pen was offered with Sheaffer's full array of Lifetime nib types.
The impact this pen had on the market cannot be understated. Conklin introduced the streamlined cigar shaped Symetrik pen line in their 1930 catalog. Parker's 1930 catalog shows all Duofold models updated with a more streamlined shape. Wahl-Eversharp pens can be seen starting to be introduced with a more streamlined shape beginning in 1930s advertisements. Soon it would be more common to see streamlined pens being offered than not, and by 1940, cylindrical shaped pens would be gone from the market.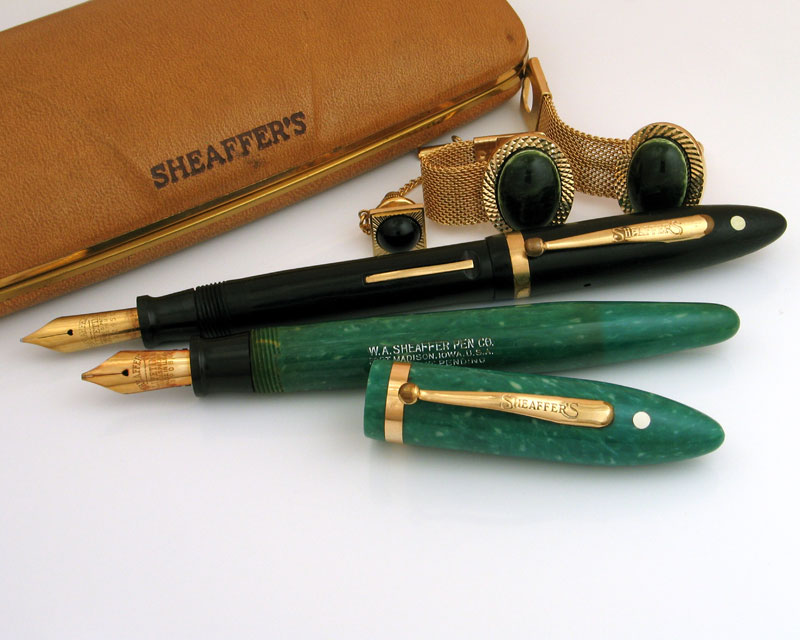 Sheaffer Balance Jade Green fountain pen open with standard size Sheaffer Balance Jet Black model 74TC posted
This Sheaffer Balance Jade Green is the largest model, J8TC, made in 1929 and 1930, and though it is a very large and long pen, it is quite light weight, weighing 0.7 ounce and being 5 11/16 inches long with the cap on and 6 inches with the cap posted on the end of the barrel. The uncapped pen is a 4 7/8 inches long by itself and tapered almost like a desk pen, making it quite easy to use unposted, though the pen posts quite securely and comfortably. It's a big pen, but not a heavy pen.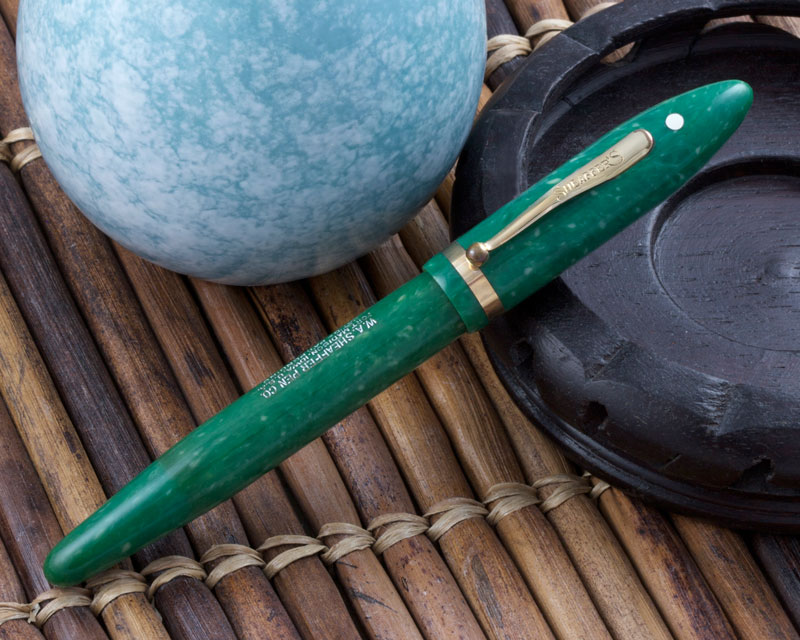 Sheaffer Balance Jade Green fountain pen closed
As with any Sheaffer pen from the 1920s, this Balance Jade Green uses Sheaffer's simple lever filling system, where with one stroke of the lever with the nib dipped in the ink bottle, the pen fills after ten seconds and is ready to write with a wipe of the nib and section.
I had long wanted a large size Jade Green Balance and when this one came available, I pounced on it. I found out, to my dismay, that the large Lifetime nib had a broken tine, so although the pen was in very nice condition with especially good color (discoloration from sulfur leaking ink sacs is a problem with Sheaffer Jade Green pens), it would not write. I gave the pen to Deb Kinney, who made a wonderful wide stub out of it, putting the large pen back into service. Needless to say, the stub writes wide and wet and is a lot like a paintbrush with up and down strokes and a laser beam with side strokes. A perfect calligraphy pen if you write really large letters.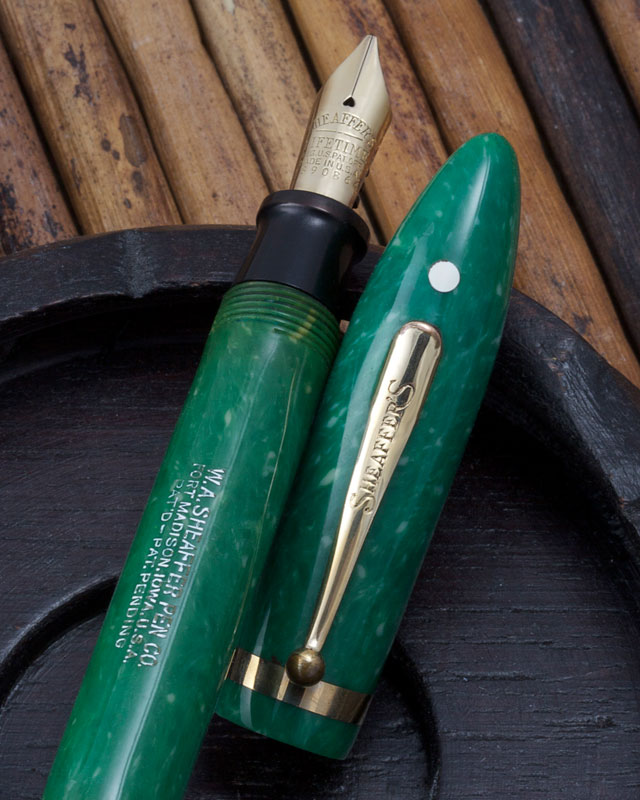 Sheaffer Balance Jade Green fountain pen cap and nib detail
The earliest and largest Jade Green Balances from 1929-1930 are the most appealing to me. I like the highly tapered barrel, which visually lengthens the pen and the overall asymmetrical shape from cap top to barrel end. Sheaffer was already in the process of redesigning the pen in 1930 to a more uniform cigar shape by rounding the tapered barrel end and this can be seen on the new blunter pens with the two-tone Feathertouch nibs introduced in 1931 advertisements.
The thing to pay attention to with Sheaffer Balance Jade Green pens is color, color, color. Having seen quite a few Sheaffer Jade Green pens, I believe there were different shades of the material used with some shades more vivid green than others. The material is highly prone to discoloration. Even this example shows a color change on the tapered end of the barrel where it is solid on the inside. The second serious problem is cracked or chipped cap lips. Lastly, they almost always have plating loss at the clip top and clip ball. The combination of these will determine a lot about the value of the pen. That said, although there are so many Balance pens to choose from in their long run from 1929 to 1941, this one is my favorite.
Interact
Comments on this article may be sent to the author, Jim Mamoulides