PenHero 365: Sheaffer Balance Statesman Rose Glow
by Jim Mamoulides, January 27, 2010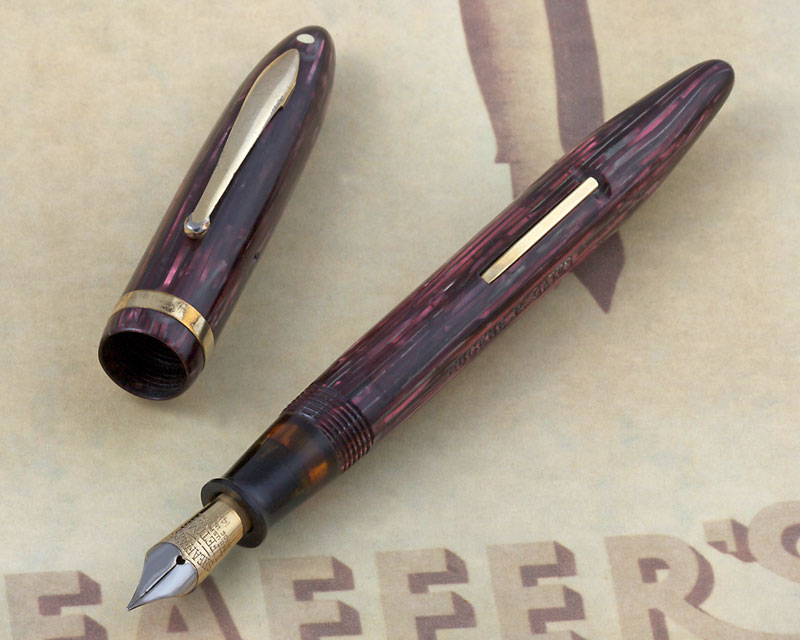 Sheaffer Balance Statesman Rose Glow fountain pen open

Rose Glow is one of the Sheaffer celluloid colors that will stir interest with collectors. Go to a pen club meeting and if there are Rose Glow Balance pens present, they will get passed around. I remember on two separate occasions at pen shows where I was excitedly shown a Premier size Rose Glow pen because it did not have a White Dot. Sheaffer must have infused some special properties into the Rose Glow celluloid as it has a strong affect on certain people.
The Rose Glow color appears in the 1936 through 1938 catalogs as available on all Balance models. Sheaffer described the color in the 1936 catalog as, "a warmer pastel maroon." It's definitely a rose color with hints of gray. This was also the first year for the visulated section on lever-fill pens, as seen on this example. Initially catalogued under the rather boring model name F74T, Sheaffer first called this particular pen model the Sheaffer Balance Statesman in the 1938 catalog. All Balance models were offered as either a lever fill or with the recently introduced Vacuum Fill system. Interestingly, Sheaffer offered this pen and the larger size Premier model at a price of $10.00. No "supersize me" pricing here. Collectors today value the larger pen more, and it will command a higher price.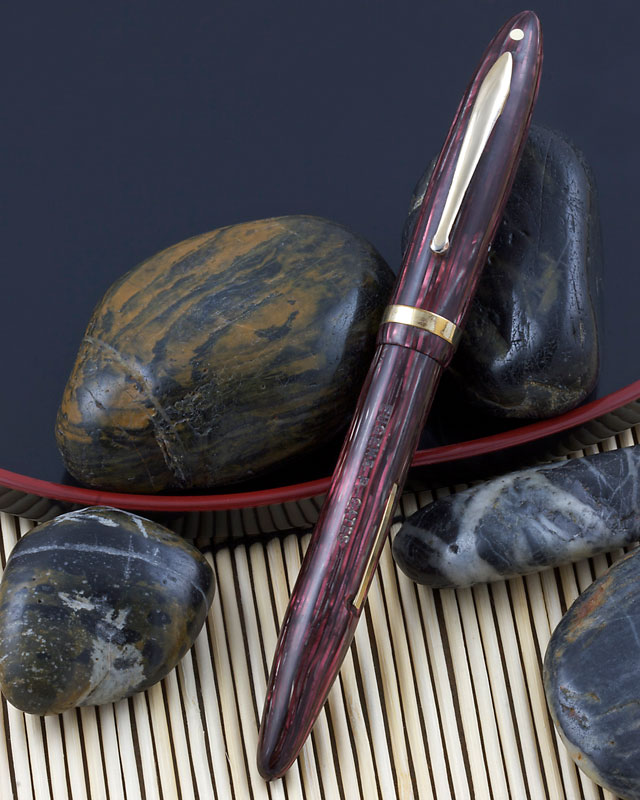 Sheaffer Balance Statesman Rose Glow fountain pen Closed
White Dot pens were fitted with the Feathertouch two way writing Lifetime nibs. Sheaffer finished these nibs to write one way in the normal position and finer with the nib inverted. I find this a gimmick, but it does show true on most of these pens. Sheaffer advertised this feature through the 1940s. The Feathertouch nib was advertised as better writing because of the platinum masking on the tines, especially on the nib slit. Sheaffer claimed that this improved the ink flow, but this was all marketing fluff.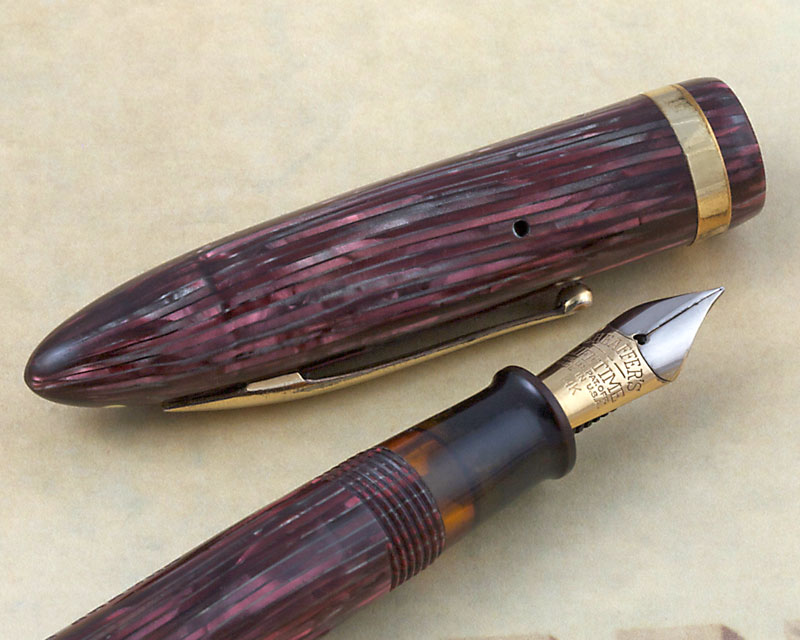 Sheaffer Balance Statesman Rose Glow fountain pen cap and nib detail
This Sheaffer Balance Statesman Rose Glow fountain pen is a standard size, yet very light weight pen, weighing 0.5 ounce and being 5 7/16 inches long with the cap on and a long 6 1/4 inches with the cap posted on the end of the barrel. I generally don't post Sheaffer Balance pens as the celluloid can be fragile and the first place for hairline cracks to show up is the cap lip, indicating posting with too much force. Better safe than sorry with these pens. Some Balance pens are fussy when posted anyway, with the cap not feeling particularly secure on the end of the barrel.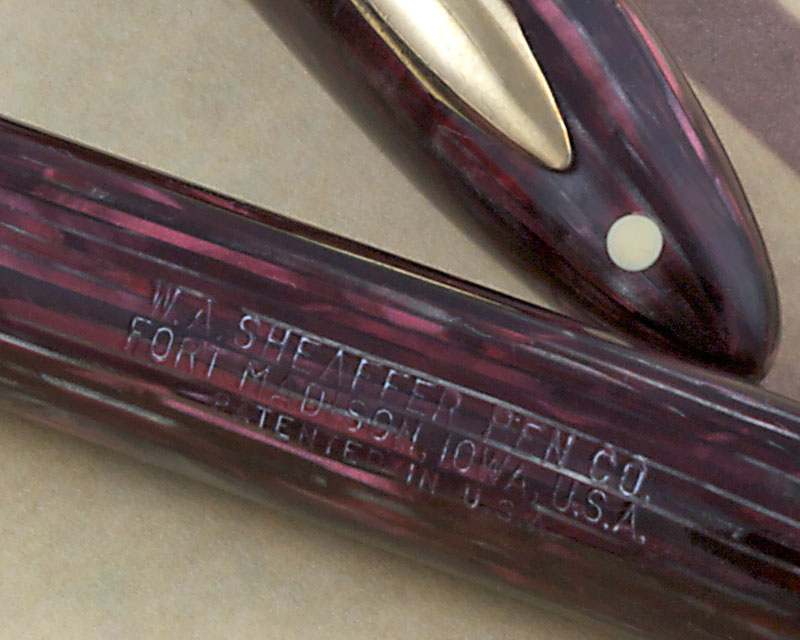 Sheaffer Balance Statesman Rose Glow fountain pen barrel imprint detail
Sheaffer Balance lever fill pens are simple to fill, insert the section in the ink, flip the lever, count to ten, wipe and write. They are also among the easiest pens to service, with most simply needing a new ink sac in order to put into service. This pen's extra fine 14 karat gold nib writes perfectly, smooth, but with a positive feel on the paper that lets you know you are writing. Having the ink view window in the section is nice, keeping you aware of when it's time to tank up. Interestingly, the section looks as if the black upper part has areas going clear, just above ink view window. I've seen this in other pens and it makes me wonder if these sections start out clear and are then somehow blackened from the ink view window forward. I have a few cases of cheapie pens where almost the entire section is clear.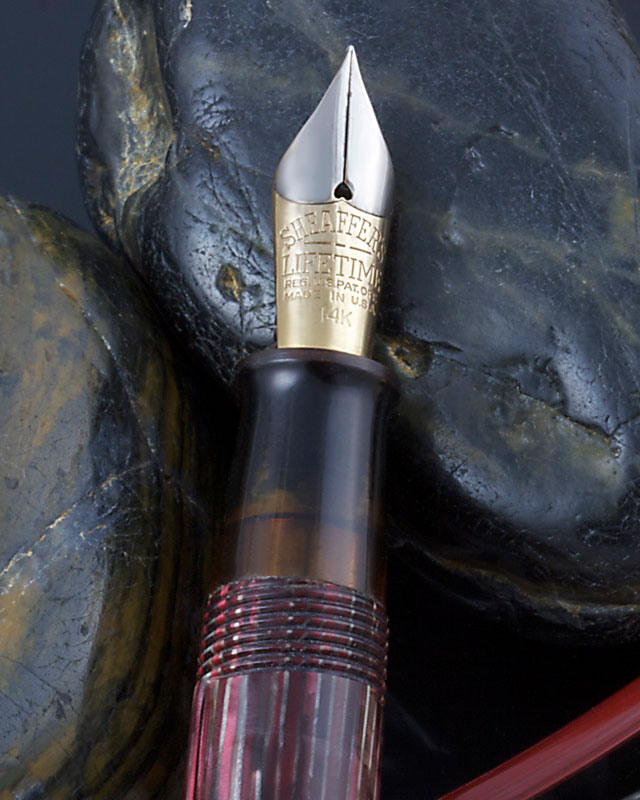 Sheaffer Balance Statesman Rose Glow fountain pen nib detail
Although Rose Glow pens aren't rare, they aren't the most common color, and have created something of a stir for some collectors, and thus get a bit of a premium when they go on sale, especially the largest size Premier model. I have also noticed that there are two shades of the Rose Glow celluloid, a quite dark shade and a brighter, lighter shade. In the pens I have seen, neither appears to be the result of fading or discoloration, so there may be two distinct shades. As the pens were sold over a three year period, it's possible that as Sheaffer ordered new raw material, there was some variation in the color. In any event, in my opinion this is one of the best Balance colors, and with Carmine, a much brighter red, one I seek when I look at Balance pens.
---
Discuss / Recommend what you read on PenHero.com
Follow us on Twitter: PenHero
Add a link to PenHero.com on your blog:
(Copy & paste code)
Please only use the photo provided. Use of other photos requires permission.
The provided link photo will change as we update the site.

Comments on this article may be sent to the author, Jim Mamoulides
PenHero.com Bibliography