PenHero 365: Venus Campus Pen Blue c1953
by Jim Mamoulides, January 23, 2010, updated October 9, 2015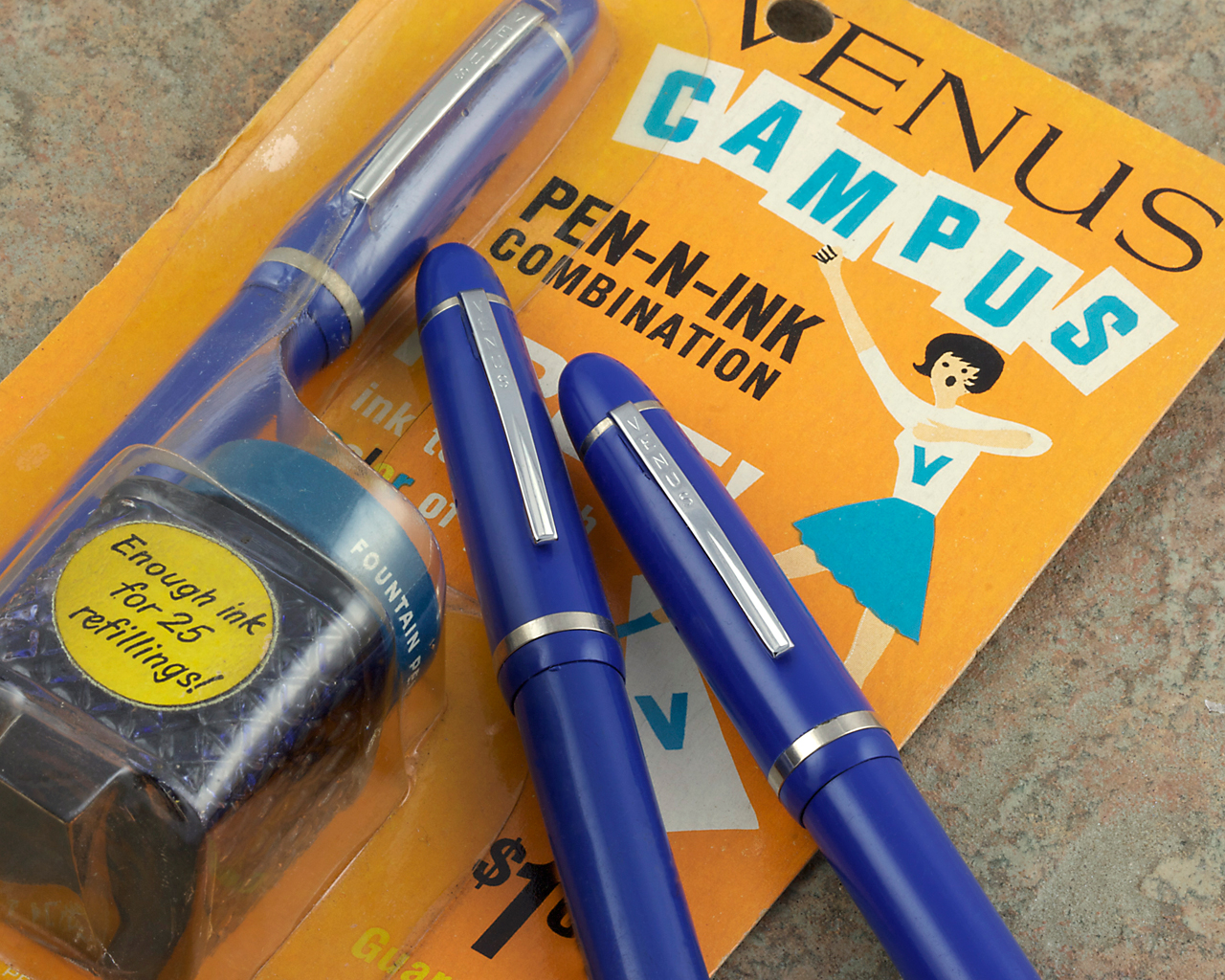 Venus Campus Pens in blue with blister pack
Click the image above to see a full screen slideshow
What could you get for a dollar in the 1950s? How about a "Pen-N-Ink" combination, with FREE ink that matches your pen? And the ink bottle comes with enough ink for twenty-five fillings! Can't beat that! When the Venus pencil company entered the fountain pen business, they consistently sought to provide a quality product at a value price. Venus asked customers to compare the 1940s President model with its 14 karat gold nib to the top pens on the market. What I see with most Venus pens I find is well made lower price point pens. Compared to a 1950s Wearever Pacemaker, an example of a quality lever-fill fountain pen at the bottom price point in the market, the Campus Pen seems to be a little better made and holds up better over time. Whenever I see Venus fountain pens in antique stores, I always check them out.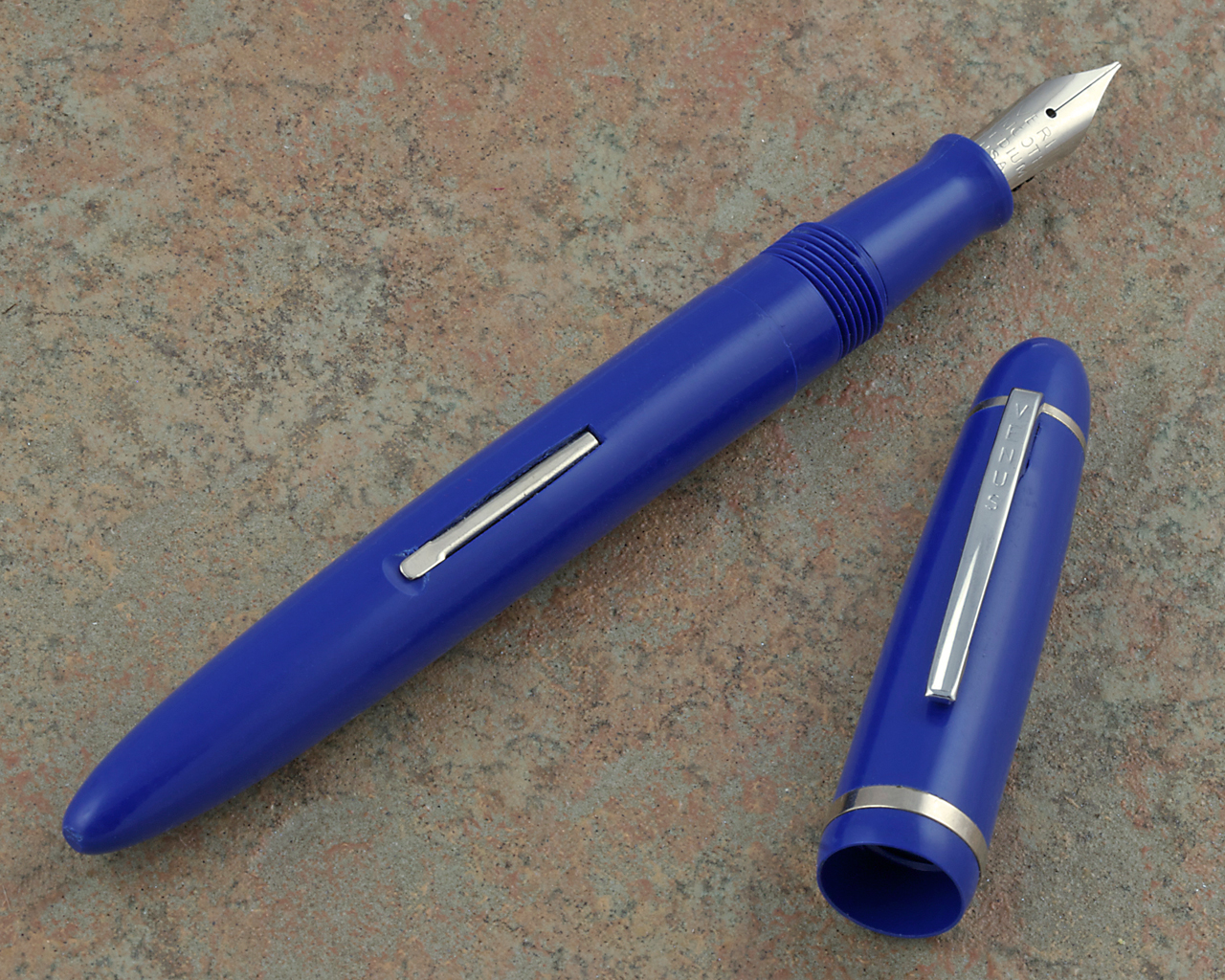 Venus Campus Pen open
It's very unusual to find blister pack marketed pens still in their packaging after fifty years, but I managed to find about a half dozen of these blue Campus Pen combination sets. The ink is actually made by Sanford, their Penit brand of washable Royal Blue. I have occasionally found Campus Pens by themselves, and all the examples I have found have been blue. I imagine they offered more colors than that, at least black and red, as I can imagine black and red ink, as well as green, but blue has been the only color I have seen so far, and certainly the only color blister packs I have seen. I think a neat collection would be one of each color and with each ink bottle.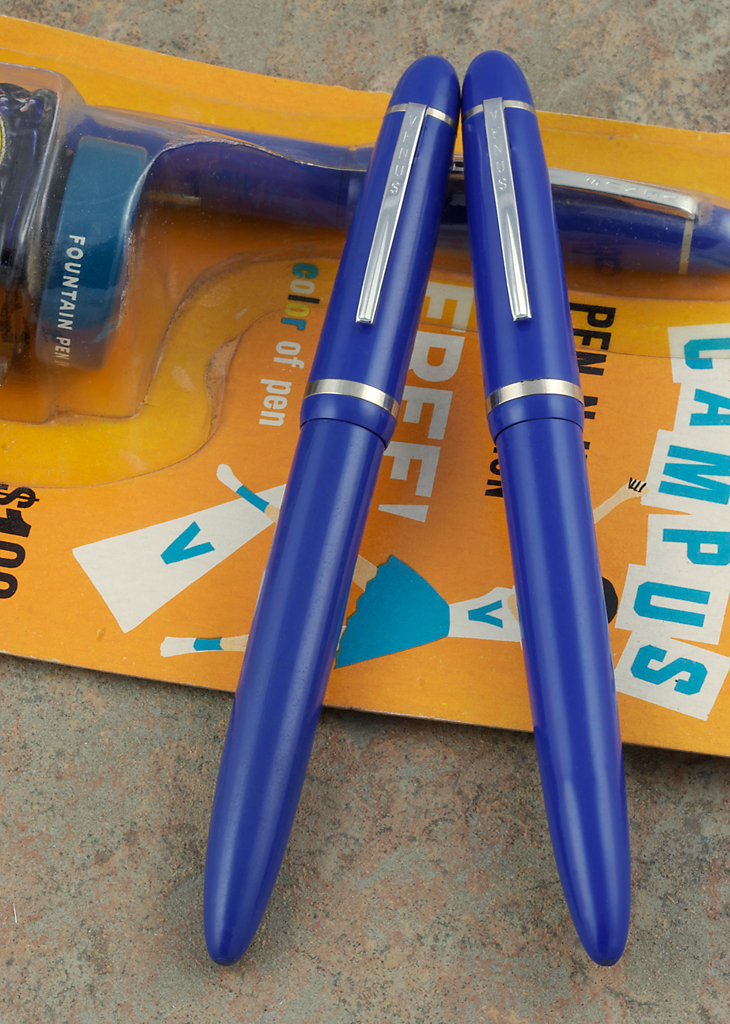 Venus Campus Pens closed with blister pack
Most of the focus in pen collecting is on higher end pens, and school pens such as this get lost in the shuffle. There won't be a lot of catalog or advertising material on them, as they were intended for the mass market, and in this case, the back to school market. These probably found themselves displayed on racks at five and dime and drug stores next to Wearever Pacemakers and Sheaffer Finelines.
This Venus Campus Pen is a standard size, yet very lightweight pen, weighing 0.4 ounce and being 5 1/4 inches long with the cap on and 6 1/8 inches with the cap posted on the end of the barrel. It's a standard cigar shape, made of injection molded plastic, and you can feel at the cap top and barrel end where the molding spur was snipped off.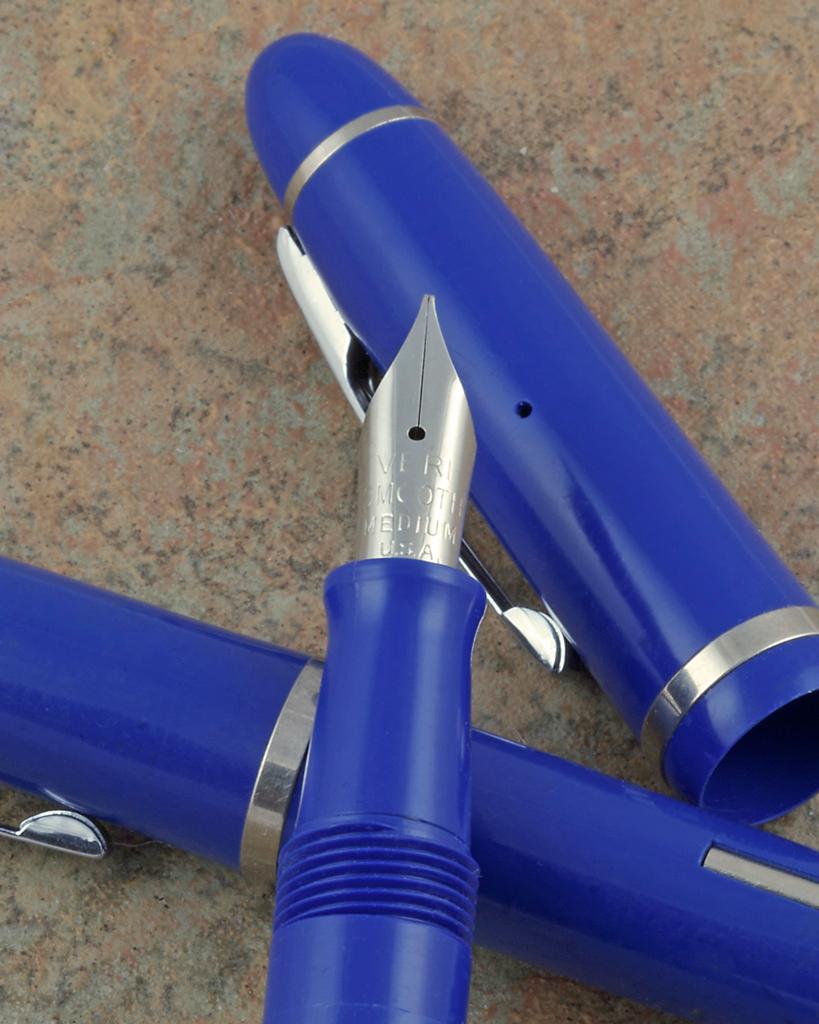 Venus Campus Pen nib detail
Identification guide and features:
There is very little information on the Venus Campus school pen. I've found no advertising, sell sheets or any other ephemera other than the packaging itself, which is undated. I have found an advertisement for the identical bottled Sanford Penit ink packaged with the Venus Campus fountain pen, dated September, 1953. The advertisement offers nine ink colors at ten cents a bottle. The ink bottle, the packaging graphics, injection molded construction and that it's a lever-fill pen suggests the pen is from the 1950s. I'll date it c1953, based on the Sanford advertisement. That the packaging says the pen comes with matching color ink suggests other color pens, such as black, red or green, but I have only actually seen blue, so take that as speculation. Venus also used the Campus name on a packaged set of sharpened wood covered crayon pencils.
Cap and barrel made from solid blue plastic

Clip stamped "VENUS" down the face
Silver tone trim, possible chrome plate or polished stainless
Stainless steel nib marked "VERI" over "SMOOTH" over "MEDIUM" over "U.S.A."
Medium nib
Nib has no tipping material - the ends of the tines are folded over
5 1/4 inches long capped, 6 1/8 inches long with the cap posted on the end of the barrel
Lever-fill mechanism
Sold on hang cards

Retail price was $1.00, including a 3/4 ounce bottle of Sanford Penit Washable Royal Blue color ink
Performance
This is a straightforward lever fill pen, you dunk the section in the ink, flip the lever, count to ten, wipe the section and nib, and write. Venus makes really smooth writing pens, and the medium stainless steel nibs on every example of this model I have seen write very nicely, with a smooth even line. I'm amazed that almost every Venus Campus Pen I have found was nearly or completely brand new and had a soft ready to use ink sac. Like many injection molded pens from that period, they are susceptible to warping if they have been stored in excessive heat, so watch for that in any you consider.
These are perfect starter pens. Think about something like one of these for that kid you know who would like a fountain pen of their own.
---
References
American Magazine, September, 1953, page 18
Venus Campus Pen-n-Ink Combination fountain pen and bottled ink package, undated
Venus Campus sharpened wood covered crayon pencils package, undated
Interact
Comments on this article may be sent to the author, Jim Mamoulides