PenHero 365: Sheaffer Snorkel Masterpiece
by Jim Mamoulides, January 8, 2010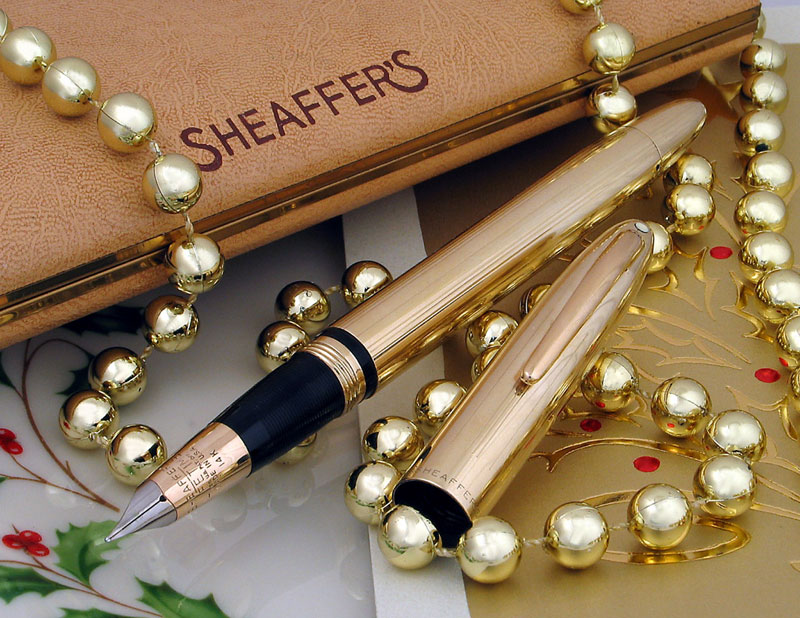 Sheaffer Snorkel Masterpiece fountain pen with presentation case
What pen do you bring with you to a memorial service?
Today, my job was to speak at my mother's memorial service. I picked out a dark blue herringbone suit, striped shirt and purple tie that my wife knew my mother liked. I had what I wanted to say outlined and so we went to the service. It was very good to see the church full of family and friends there to celebrate her life. My mother was dearly loved by many.

Today seemed like that day to pick a pen that would be meaningful and also my best. This would be difficult for me, as there are two pens in my collection that I put right at the top. One is a Sheaffer Snorkel Autograph that my wife and I call the "Alex McNab pen" as it has his very distinctive personal signature engraved on the wide cap band. If only my signature would fill the cap band as nicely.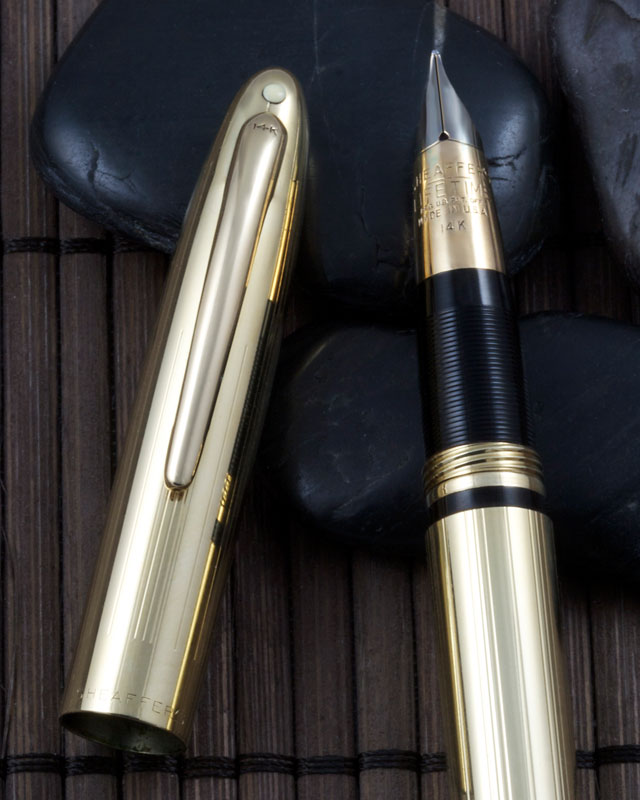 Sheaffer Snorkel Masterpiece fountain pen cap and nib detail
My other choice would be this Sheaffer Snorkel Masterpiece. The Masterpiece was the top of the line for Sheaffer, with the cap, clip, barrel, and end cap all made of solid 14 karat gold. The Triumph 14 karat two-tone gold nib with platinum mask was unique to this model, with "Lifetime" stamped on the nib. I've seen several Masterpiece examples, and not all of them have the Lifetime nib, indicating that Sheaffer only offered this initially or ran out of them over the run of the Snorkel line. Sheaffer also made 18 karat and 9 karat gold models in a fine barley in the UK. These were pricey pens, retailing for $110.00 in 1958.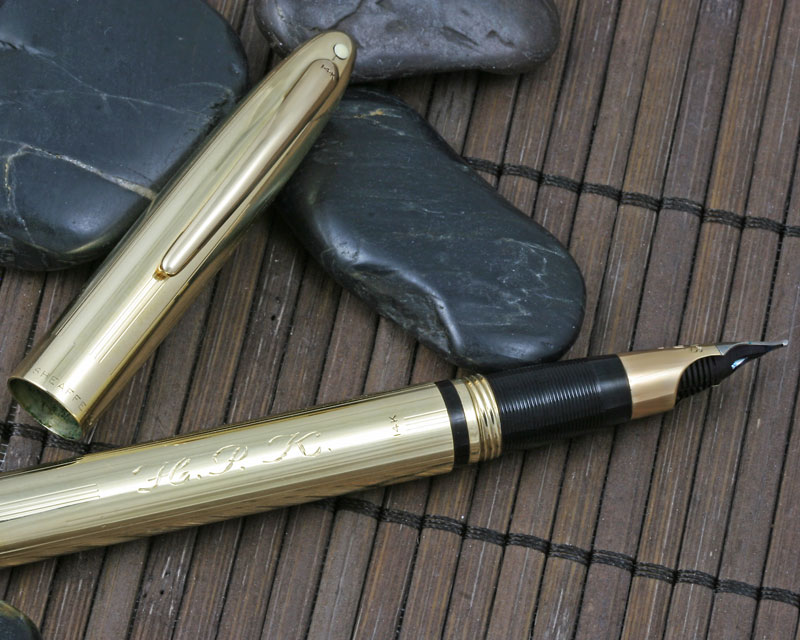 Sheaffer Snorkel Masterpiece fountain pen cap and barrel detail showing engraving
This particular pen found its way to me through Hal Arnold, who knew I wanted one, and how hard nice ones are to find. He was an eBay junkie, and spotted a listing with a blurry photo simply called "gold Sheaffer pen." He bid on it and won it, having been the only bidder. When it showed up, it was this nearly pristine Snorkel Masterpiece you see here with the initials "H. P. K." engraved on the barrel cartouche. He restored the filling system and buffed it up and sent it to me. He got the pen for a song, and all he wanted out of it was what he had in it. It was basically a gift. Thank you, Hal. Since Hal is now gone, I thought this choice doubly appropriate.
We also discussed what pen to use for the guest book. My dad originally wanted to use a fountain pen, but I nixed that, having plenty of experience with how many people don't know what they are doing when they pick up a fountain pen (this is a real issue, not a joke), and so I recommended we pick something easier to deal with. I helped pick out a nice Cross Century II Champagne Paisley pattern pen. That seemed very appropriate.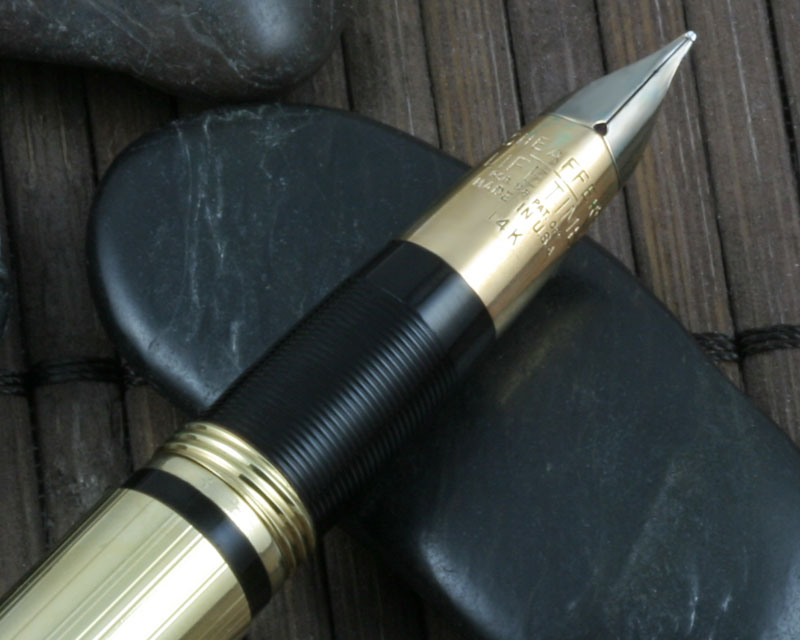 Sheaffer Snorkel Masterpiece fountain pen nib detail
The Sheaffer Snorkel Masterpiece is a slender and moderate weight pen, weighing 0.8 ounce and being 5 1/2 inches long with the cap on and 6 3/8 inches with the cap posted on the end of the barrel. The 14 karat gold Triumph Lifetime nib writes just amazingly well.
The Snorkel filling system is the most complex one ever put in a pen, and you can learn more about it in this article: Sheaffer Snorkel Filling System. Sheaffer designed it to make the pen able to be filled without having to wipe the nib, eliminating the mess and fuss of having a refillable fountain pen, as ballpoints were just coming into their own in the 1950s. This one fills simply, by unscrewing the barrel end cap, which extends the Snorkel tube, pulling out the plunger, inserting only the Snorkel tube in the ink, and depressing the plunger. Wait twenty seconds for the ink sac inside the pen to fill, retract the Snorkel and you are ready to write. I love Snorkels and have examples of every model in my collection. These are great everyday pens. You can see more about Sheaffer Snorkels in this article: Sheaffer Snorkel 1952-1959.
Interact
Comments on this article may be sent to the author, Jim Mamoulides
---
Pen Clubs
Fountain Pen Discussion Forums
Social Media