PenHero 365: Lady Sheaffer V
by Jim Mamoulides, January 3, 2010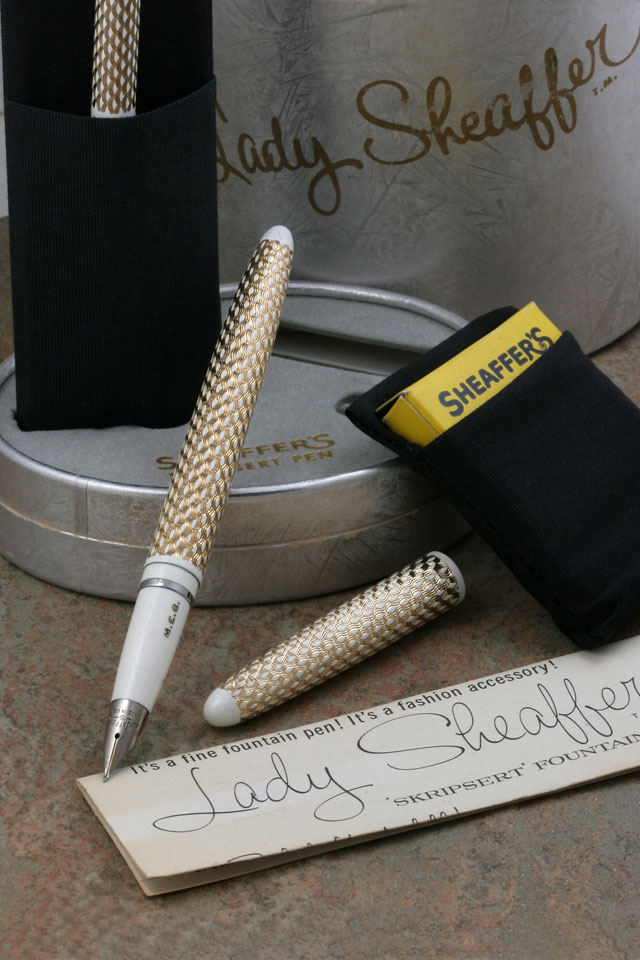 Lady Sheaffer fountain pen and pencil set complete with original packaging and accessories

My mother went to be with the Lord today.
She had been in and out of the hospital and rehab since the Monday before Thanksgiving.
She was back in the hospital Christmas week and while visiting her, she told me she wanted to go home.
We made arrangements for hospice care and she came home last Wednesday.
My daughter, an aspiring opera singer, gave her a command performance every night since. We could tell by the look in my mother's eyes, (she could barely whisper), that she treasured every single note. She was not able to come to see my daughter debut in her first opera lead. This was much better, much richer.
My dad, although he is happy that she is now at peace and knows she is in the best place ever, still has a big hole that was filled by fifty years with the love of his life.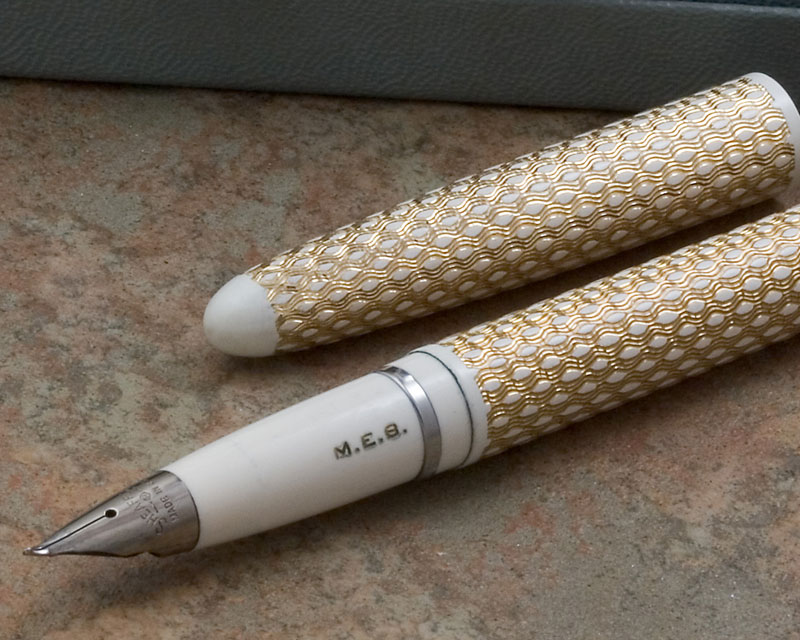 Lady Sheaffer fountain pen open showing nib detail
Coming home today, I have had to think about what I might have to say at the service coming up. I decided to start doodling out some thoughts and thought about this pen set.
This set did not belong to my mother. I got this c1959 Lady Sheaffer V pen set from a lady who was trying to figure out what she had and what it might be worth. When I helped her identify it, she asked if I wanted it. I really don't collect these pens, but a complete set, such as this one, would be very interesting to photograph, so she let me have it for a very nice price. I photographed it for an article, "Fineline to Mainline", in the Summer, 2007 PENnant magazine. These are two of the photos from that article.
My mother would have been in her twenties if she had been given a set like this one new. This is a cartridge only pen, and I decided to dip it and write a bit with it, imagining what it might have been like for her.
Although it was not hers, I think I will keep it to remember her, even though the initials are wrong.
My mother didn't care much about things, she cared about people, her family, and most of all, her Lord and Savior. She prayed fervently, and always for each of her children. I know we are the better for it.
My mother, who loved me very much, brought me to see Billy Graham speak at Carter Finley stadium in Raleigh, NC in 1973 when I was 13 years old. I remember when he made the altar call, I leapt up and tore down the concrete steps with her running behind me, calling me to SLOW DOWN! I was the first person on the field that night. I made my commitment that night, and she renewed hers. I am still changed by that moment.
She is free from all her burdens today, and "as for me, I know that my Redeemer lives, And at the last He will take His stand on the earth." (Job 19:25)
---
Discuss / Recommend what you read on PenHero.com
Follow us on Twitter: PenHero
Add a link to PenHero.com on your blog:
(Copy & paste code)
Please only use the photo provided. Use of other photos requires permission.
The provided link photo will change as we update the site.

Comments on this article may be sent to the author, Jim Mamoulides
PenHero.com Bibliography